This website uses cookies to ensure you get the best experience while browsing it. By clicking 'Got It' you're accepting these terms.
Illinois Officials Surrender to Fracking Industry, Residents Outraged by Negligence
May. 30, 2013 03:27PM EST
Energy
Following more than a week of sit ins at Gov. Quinn's office—which featured Illinois residents demanding a meeting to air grave concerns about fracking and objections to the behind-closed-doors, no-science negotiations that created the proposed regulations—a group of residents met with Gov. Quinn's Assistant Chief of Staff of Legislative Affairs Raghav Muralo, and Deputy Chief of Staff for Policy and Legislative Affairs Mary Morrissey from Attorney General Lisa Madigan's office yesterday. The group left both meetings greatly dismayed by the lack of knowledge and scientific understanding, demonstrated by officials at both offices, about the extraction of oil and shale gas via high volume hydraulic fracturing. Additionally, after more than a year of negotiations with industry to generate regulations that will serve as the rules of the road for fracking operations in Illinois, neither Gov. Quinn nor Attorney General Madigan has visited a drilling and fracking operation, a negligent oversight that shows an alarming disregard for the grave issues and public health impacts associated with the practice.
Award winning author and journalist Jeff Biggers was among those Illinois residents who met with the Governor's office. Biggers said, "Now in an 11th hour meeting before the historic fracking vote, it was mind-boggling to hear Gov. Pat Quinn's main legislative aide divulge that neither he, the governor, nor most of the negotiators of the admittedly flawed regulatory bill had ever found the time over the past year to make a fact-finding visit of a hydraulic fracking or nearby frac mining operation.  Without any independent scientists or health experts or impacted residents at the negotiating table, such a head-in-the-sand revelation is an unconscionable act of negligence that will ultimately define Quinn's legacy."
"Despite the fact that Gov. Quinn has campaigned on behalf of the fracking regulatory bill as a 'jobs bill,' tacitly embracing the Chamber of Commerce's clearly embellished job figures, Gov. Quinn's aide could not provide a single estimate or even a single reference to verified data on jobs per well or fracking operations at any other site in the country," Biggers continued. "In effect, Quinn's 'jobs bill' has gone up in smoke like the methane flares that will soon pockmark southern Illinois."
"When the jobs don't pan out and the water is toxic, traded away for carbon-based fuels, the Governor's aid confirms there is no contingency plan for our children's future or their health and well being down the road in the land of Lincoln," said Southern Illinois resident Tabitha Tripp, a member of Southern Illinoisans Against Fracturing Our Environment (SAFE), who also met with Gov. Quinn's aide. "The regulatory bill is an act of foolish short-sightedness that will condemn southern and central Illinois as well as future generations to a fate of radioactive soil, corrosive water and carbon particulate air."
Additionally, both offices showed an abdication of responsibility for the inevitable harms of fracking.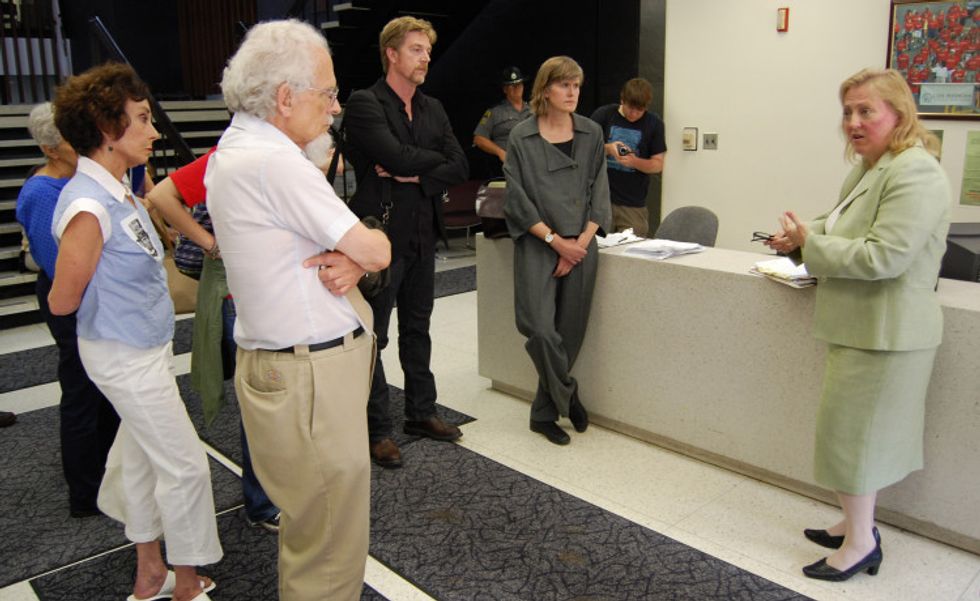 After meeting with Mary Morrissey of Attorney General Madigan's office, renowned biologist and author Sandra Steingraber, PhD, an Illinois native who is an expert on fracking, said, "In her conversation with a delegation of frightened citizens who dropped by the offices of the Illinois Attorney General on Wednesday afternoon, Mary Morrissey emphasized how hard she battled with industry to force them to the table and to concede to regulatory process and negotiate some basic rules.  Without the efforts of the attorney general, the industry would simply have its own way with Illinois. She clearly wanted an A for effort. Instead, we were all appalled. It was plain to us that the regulations are the result of political horse trading, not science, and that this industry is more powerful than the attorney general of Illinois. According to Morrissey, the industry fought these regulations 'tooth and nail.' Our question: if the oil and gas industry would go to war over the mere idea of regulations, what makes you believe they will meekly cooperate with their enforcement?"
Steingraber continued, "Everything that Morrissey said about the great difficulty of winning concessions of any kind—as though we should feel grateful—just underscored the need for a moratorium. Fracking is an outlaw enterprise. If we let this bull into our china shop, our wares will all be smashed and we ourselves gored."
The concerned residents emphasized that the regulatory bill was crafted by lobbyists and lawyers, without scientists or medical professionals, and with no public health or environmental studies. Among the many problems with the proposed regulations, the governor's office acknowledged in the meeting that they include no contingency plan for future water shortages, no studies or contingencies for the costs of public health costs down the road, no information regarding tourism or loss of jobs in other industries, and no study or real idea what the actual job numbers will be.
Following the meetings, the group went to the Assembly gallery, where residents will remain to bear witness to an expected vote on the regulations. They note that the movement against fracking is only beginning in Illinois, and that their movement is growing and will hold the governor, attorney general and legislators responsible.
On Tuesday, fracking victims from Pennsylvania and frac sand mining victims from three states sent letters to Gov. Quinn, Attorney General Madigan and the legislature urging them to pass a moratorium on fracking.
Visit EcoWatch's FRACKING page for more related news on this topic.
——–
Sign the petition today, telling President Obama to enact an immediate fracking moratorium:

EcoWatch Daily Newsletter
A Starbucks barista prepares a drink at a Starbucks Coffee Shop location in New York. Ramin Talaie / Corbis via Getty Images
By Cathy Cassata
Are you getting your fill of Starbucks' new Almondmilk Honey Flat White, Oatmilk Honey Latte, and Coconutmilk Latte, but wondering just how healthy they are?
By Sharon Kelly
Back in April last year, the Trump administration's Environmental Protection Agency decided it was "not necessary" to update the rules for toxic waste from oil and gas wells. Torrents of wastewater flow daily from the nation's 1.5 million active oil and gas wells and the agency's own research has warned it may pose risks to the country's drinking water supplies.
Swedish climate activist Greta Thunberg takes part in a "Friday for Future" youth demonstration in a street of Davos on Jan. 24, 2020 on the sideline of the World Economic Forum annual meeting. FABRICE COFFRINI / AFP via Getty Images
Treasury Secretary Steven Mnuchin pretended not to know who Greta Thunberg is, and then he told her to get a degree in economics before giving world leaders advice, as The Guardian reported.
The Visible Infrared Imaging Radiometer Suite on the Suomi NPP satellite acquired this image of forest fire smoke hovering over North America on Aug. 15, 2018. NASA Earth Observatory
New York City isn't known for having the cleanest air, but researchers traced recent air pollution spikes there to two surprising sources — fires hundreds of miles away in Canada and the southeastern U.S.
If temperatures continue to rise, the world is at risk from global
sea-level rise
, which will flood many coastal cities as seen above in Bangladesh. NurPhoto / Contributor / Getty Images
The mounting climate emergency may spur the next global financial crisis and the world's central banks are woefully ill equipped to handle the consequences, according to a new book-length report by the Bank for International Settlements (BIS), as S&P Global reported. Located in Basel, Switzerland, the BIS is an umbrella organization for the world's central banks.