Illinois Officials Surrender to Fracking Industry, Residents Outraged by Negligence
May. 30, 2013 04:27PM EST
Energy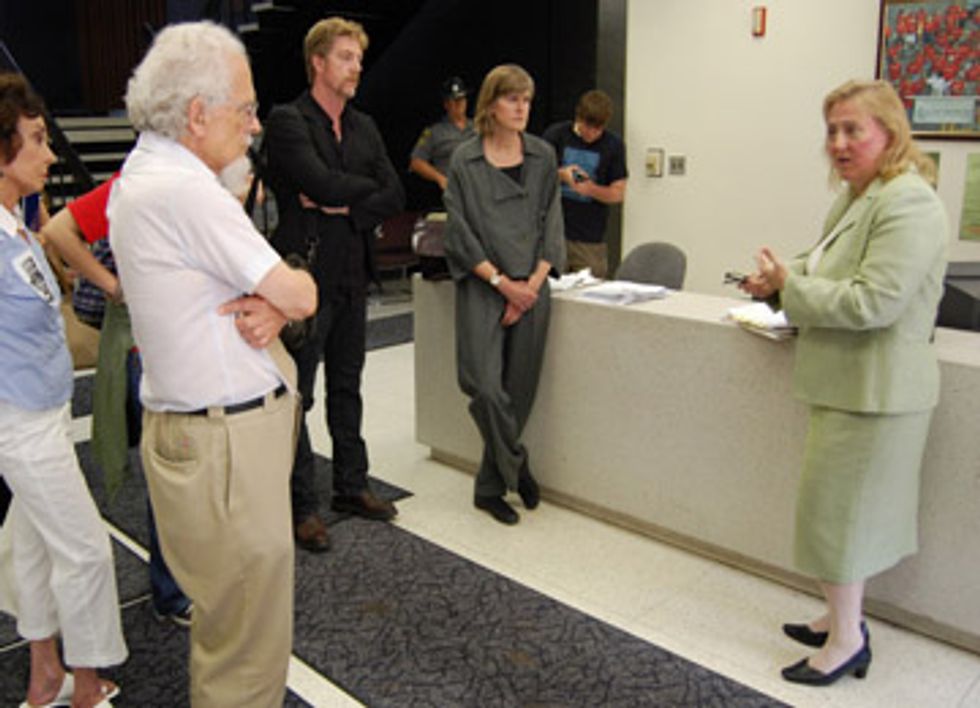 Following more than a week of sit ins at Gov. Quinn's office—which featured Illinois residents demanding a meeting to air grave concerns about fracking and objections to the behind-closed-doors, no-science negotiations that created the proposed regulations—a group of residents met with Gov. Quinn's Assistant Chief of Staff of Legislative Affairs Raghav Muralo, and Deputy Chief of Staff for Policy and Legislative Affairs Mary Morrissey from Attorney General Lisa Madigan's office yesterday. The group left both meetings greatly dismayed by the lack of knowledge and scientific understanding, demonstrated by officials at both offices, about the extraction of oil and shale gas via high volume hydraulic fracturing. Additionally, after more than a year of negotiations with industry to generate regulations that will serve as the rules of the road for fracking operations in Illinois, neither Gov. Quinn nor Attorney General Madigan has visited a drilling and fracking operation, a negligent oversight that shows an alarming disregard for the grave issues and public health impacts associated with the practice.
Award winning author and journalist Jeff Biggers was among those Illinois residents who met with the Governor's office. Biggers said, "Now in an 11th hour meeting before the historic fracking vote, it was mind-boggling to hear Gov. Pat Quinn's main legislative aide divulge that neither he, the governor, nor most of the negotiators of the admittedly flawed regulatory bill had ever found the time over the past year to make a fact-finding visit of a hydraulic fracking or nearby frac mining operation.  Without any independent scientists or health experts or impacted residents at the negotiating table, such a head-in-the-sand revelation is an unconscionable act of negligence that will ultimately define Quinn's legacy."
"Despite the fact that Gov. Quinn has campaigned on behalf of the fracking regulatory bill as a 'jobs bill,' tacitly embracing the Chamber of Commerce's clearly embellished job figures, Gov. Quinn's aide could not provide a single estimate or even a single reference to verified data on jobs per well or fracking operations at any other site in the country," Biggers continued. "In effect, Quinn's 'jobs bill' has gone up in smoke like the methane flares that will soon pockmark southern Illinois."
"When the jobs don't pan out and the water is toxic, traded away for carbon-based fuels, the Governor's aid confirms there is no contingency plan for our children's future or their health and well being down the road in the land of Lincoln," said Southern Illinois resident Tabitha Tripp, a member of Southern Illinoisans Against Fracturing Our Environment (SAFE), who also met with Gov. Quinn's aide. "The regulatory bill is an act of foolish short-sightedness that will condemn southern and central Illinois as well as future generations to a fate of radioactive soil, corrosive water and carbon particulate air."
Additionally, both offices showed an abdication of responsibility for the inevitable harms of fracking.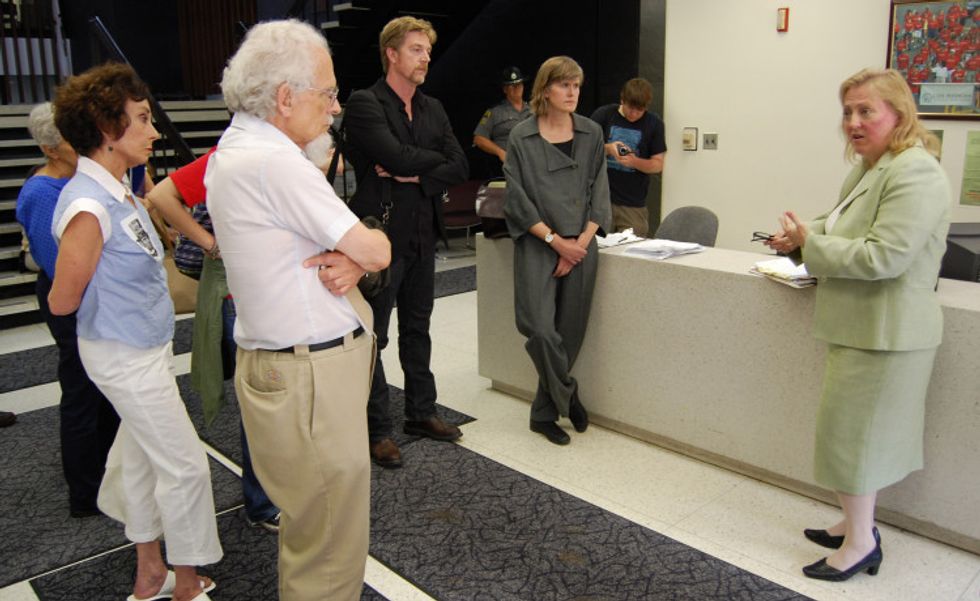 After meeting with Mary Morrissey of Attorney General Madigan's office, renowned biologist and author Sandra Steingraber, PhD, an Illinois native who is an expert on fracking, said, "In her conversation with a delegation of frightened citizens who dropped by the offices of the Illinois Attorney General on Wednesday afternoon, Mary Morrissey emphasized how hard she battled with industry to force them to the table and to concede to regulatory process and negotiate some basic rules.  Without the efforts of the attorney general, the industry would simply have its own way with Illinois. She clearly wanted an A for effort. Instead, we were all appalled. It was plain to us that the regulations are the result of political horse trading, not science, and that this industry is more powerful than the attorney general of Illinois. According to Morrissey, the industry fought these regulations 'tooth and nail.' Our question: if the oil and gas industry would go to war over the mere idea of regulations, what makes you believe they will meekly cooperate with their enforcement?"
Steingraber continued, "Everything that Morrissey said about the great difficulty of winning concessions of any kind—as though we should feel grateful—just underscored the need for a moratorium. Fracking is an outlaw enterprise. If we let this bull into our china shop, our wares will all be smashed and we ourselves gored."
The concerned residents emphasized that the regulatory bill was crafted by lobbyists and lawyers, without scientists or medical professionals, and with no public health or environmental studies. Among the many problems with the proposed regulations, the governor's office acknowledged in the meeting that they include no contingency plan for future water shortages, no studies or contingencies for the costs of public health costs down the road, no information regarding tourism or loss of jobs in other industries, and no study or real idea what the actual job numbers will be.
Following the meetings, the group went to the Assembly gallery, where residents will remain to bear witness to an expected vote on the regulations. They note that the movement against fracking is only beginning in Illinois, and that their movement is growing and will hold the governor, attorney general and legislators responsible.
On Tuesday, fracking victims from Pennsylvania and frac sand mining victims from three states sent letters to Gov. Quinn, Attorney General Madigan and the legislature urging them to pass a moratorium on fracking.
Visit EcoWatch's FRACKING page for more related news on this topic.
——–
Sign the petition today, telling President Obama to enact an immediate fracking moratorium:

Plastic bails, left, and aluminum bails, right, are photographed at the Green Waste material recovery facility on Thursday, March 28, 2019, in San Jose, California. Aric Crabb / Digital First Media / Bay Area News via Getty Images
By Courtney Lindwall
Coined in the 1970s, the classic Earth Day mantra "Reduce, Reuse, Recycle" has encouraged consumers to take stock of the materials they buy, use, and often quickly pitch — all in the name of curbing pollution and saving the earth's resources. Most of us listened, or lord knows we tried. We've carried totes and refused straws and dutifully rinsed yogurt cartons before placing them in the appropriately marked bins. And yet, nearly half a century later, the United States still produces more than 35 million tons of plastic annually, and sends more and more of it into our oceans, lakes, soils, and bodies.
Clearly, something isn't working, but as a consumer, I'm sick of the weight of those millions of tons of trash falling squarely on consumers' shoulders. While I'll continue to do my part, it's high time that the companies profiting from all this waste also step up and help us deal with their ever-growing footprint on our planet.
An investigation last year by NPR and PBS confirmed that polluting industries have long relied on recycling as a greenwashing scapegoat. If the public came to view recycling as a panacea for sky-high plastic consumption, manufacturers—as well as the oil and gas companies that sell the raw materials that make up plastics—bet they could continue deluging the market with their products.
There are currently no laws that require manufacturers to help pay for expensive recycling programs or make the process easier, but a promising trend is emerging. Earlier this year, New York legislators Todd Kaminsky and Steven Englebright proposed a bill—the "Extended Producer Responsibility Act"—that would make manufacturers in the state responsible for the disposal of their products.
Other laws exist in some states for hazardous wastes, such as electronics, car batteries, paint, and pesticide containers. Paint manufacturers in nearly a dozen states, for example, must manage easy-access recycling drop-off sites for leftover paint. Those laws have so far kept more than 16 million gallons of paint from contaminating the environment. But for the first time, manufacturers could soon be on the hook for much broader categories of trash—including everyday paper, metal, glass, and plastic packaging—by paying fees to the municipalities that run waste management systems. In addition to New York, the states of California, Washington, and Colorado also currently have such bills in the works.
"The New York bill would be a foundation on which a modern, more sustainable waste management system could be built," says NRDC waste expert Eric Goldstein.
In New York City alone, the proposed legislation would cover an estimated 50 percent of the municipal waste stream. Importantly, it would funnel millions of dollars into the state's beleaguered recycling programs. This would free up funds to hire more workers and modernize sorting equipment while also allowing cities to re-allocate their previous recycling budgets toward other important services, such as education, public parks, and mass transit.
The bills aren't about playing the blame game—they are necessary. Unsurprisingly, Americans still produce far more trash than anyone else in the world, clocking in at an average of nearly 5 pounds per person, every day—clogging landfills and waterways, harming wildlife, contributing to the climate crisis, and blighting communities. As of now, a mere 8 percent of the plastic we buy gets recycled, and at least six times more of our plastic waste ends up in an incinerator than gets reused.
It's easy to see why. Current recycling rules vary widely depending on where you live—and they're notoriously confusing. Contrary to what many of us have been told, proper recycling requires more than simply looking for that green-arrowed triangle, a label that may tell you what a product is made out of and that it is recyclable in theory, but not whether that material can be recycled in your town—or anywhere at all. About 90 percent of all plastic can't be recycled, often because it's either logistically difficult to sort or there's no market for it to be sold.
That recycling marketplace is also ever changing. When China, which was importing about a third of our country's recyclable plastic, started refusing our (usually contaminated) waste streams in 2018, demand for recyclables tanked. This led to cities as big as Philadelphia and towns as small as Hancock, Maine, to send even their well-sorted recyclables to landfills. Municipalities now had to either foot big bills to pick up recyclables they once sold for a profit or shutter recycling services altogether.
According to Goldstein, New York's bill has a good shot of passing this spring—and it already has the support of some companies that see the writing on the wall, or as the New York Times puts it, "the glimmer of a cultural reset, a shift in how Americans view corporate and individual responsibility." If the bill does go through, New Yorkers could start to see changes to both local recycling programs and product packaging within a few years.
What makes these bills so groundbreaking isn't that they force manufacturers to pay for the messes they make, but that they could incentivize companies to make smarter, less wasteful choices in the first place.
New York's bill, for instance, could help reward more sustainable product design. A company might pay less of a fee if it reduces the total amount of waste of a product, sources a higher percentage of recycled material, or makes the end product more easily recyclable by, say, using only one type of plastic instead of three.
"Producers are in the best position to be responsible because they control the types and amounts of packaging, plastics, and paper products that are put into the marketplace," Goldstein says.
Bills like these embody the principles of a circular economy—that elusive North Star toward which all waste management policies should point. By encouraging companies to use more recycled materials, demand for recyclables goes up and the recycling industry itself is revitalized. What gets produced gets put back into the stream for reuse.
If widely adopted, we could significantly reduce our overall consumption and burden on the planet. With less paper used, more forests would stay intact—to continue to store carbon, filter air and water, and provide habitat for wildlife and sustenance for communities. With less plastic produced, less trash would clog oceans and contaminate ecosystems and food supplies. In turn, we'd give fossil fuels even more reasons to stay in the ground, where they belong.
That would be my Earth Day dream come true—with little hand-wringing of fellow guilt-stricken individuals required.
Courtney Lindwall is a writer and editor in NRDC's Communications department. Prior to NRDC, she worked in publishing and taught writing to New York City public school students. Lindwall has a bachelor's degree in journalism from the University of Florida. She is based in the New York office.
From Your Site Articles
Related Articles Around the Web
EcoWatch Daily Newsletter
Rise and Resist activist group marched together to demand climate and racial justice. Steve Sanchez / Pacific Press / LightRocket / Getty Images
After experiencing California's wildfires, I researched the connection between wildfires and climate change. Even though I was only 13 at the time, I realized I needed to do everything in my power to advocate for our planet and ensure that we have a safe and habitable Earth for not only my generation's future, but for future generations. Every day, our planet is increasing its calls for our help. Our ice caps are melting; sea levels are rising; heatwaves and droughts are increasing. We're seeing more frequent wildfires, hurricanes, tornadoes, and other extreme weather events. Climate change is happening right now, and people all over the world are losing their livelihoods — and even their lives — as a result of the growing number of climate-fueled disasters.
My activism started with the youth climate strike movement, which began when Greta Thunberg started striking in front of the Swedish Parliament in 2018. However, I want to acknowledge that young people, especially youth of color, have been protesting and demanding action for the planet for decades. I'm honored to follow in the footsteps of all the youth activists who paved the way for my activism and for the phenomenal growth of the youth climate movement that we have seen since 2018.
My experiences in the youth climate movement have allowed me to see that one of the greatest barriers we have to urgent climate action is education. Because of the lack of climate education around the world, I founded Earth Uprising International to help young people educate one another on the climate crisis, which ultimately has the effect of empowering young people to take direct action for their futures.
The primary mission of Earth Uprising International is increased climate and civics education for youth. Climate literacy and environmental education are the first steps to mobilizing our generations. By adding climate literacy to curricula worldwide, governments can ensure young people leave school with the skills and environmental knowledge needed to be engaged citizens in their communities. A climate-educated and environmentally literate global public is more likely to take part in the green jobs revolution, make more sustainable consumer choices, and hold world leaders accountable for their climate action commitments. Youth who have been educated about the climate crisis will lead the way in adaptation, mitigation, and solution making. Youth will be the ones who will protect democracy and freedom, advocate for climate and environmental migrants, and create the political will necessary to address climate change at the scale of the crisis.
So this year, for Earth Week, I am thrilled to be organizing a global youth climate summit called "Youth Speaks: Our Message to World Leaders," on April 20. Together, in collaboration with EARTHDAY.ORG and hundreds of youth climate activists around the world, the summit will address our main issues of concern, including climate literacy, biodiversity protection, sustainable agriculture, the creation of green jobs, civic skill training, environmental justice, environmental migration and borders, the protection of democracy and free speech, governmental policy making, and political will.
From this summit, youth climate activists from all over the world will be creating a concise list of demands that we want addressed at President Biden's World Leaders Summit, occurring on Earth Day, April 22. We believe that youth must inform and inspire these critical conversations about climate change that will impact all of us!
For more information about our global youth climate summit, "Youth Speaks: Our Message to World Leaders," go to www.EarthUprising.org/YouthSpeaks2021. There, you will find information about how to participate in our summit as well as be kept up to date on the latest agenda, participants, and follow along as we develop our demands and platform.
The youth will continue to make noise and necessary trouble. There is so much left to be done.
This story originally appeared in Teen Vogue and is republished here as part of Covering Climate Now, a global journalism collaboration strengthening coverage of the climate story.
U.S. Interior Secretary Deb Haaland announced a pair of climate-related secretarial orders on Friday, April 16. U.S. Department of the Interior
By Jessica Corbett
As the Biden administration reviews the U.S. government's federal fossil fuels program and faces pressure to block any new dirty energy development, Interior Secretary Deb Haaland won praise from environmentalists on Friday for issuing a pair of climate-related secretarial orders.
"Today is a watershed moment in the history of the U.S. Department of the Interior," declared Jeremy Nichols, climate and energy program director for WildEarth Guardians. "With Secretary Haaland's actions today, it's clear the Interior Department is now working for communities, science, and justice. We are grateful for her leadership and bold action to put people over polluters."
David Attenborough narrates "The Year Earth Changed," premiering globally April 16 on Apple TV+. Apple
Next week marks the second Earth Day of the coronavirus pandemic. While a year of lockdowns and travel restrictions has limited our ability to explore the natural world and gather with others for its defense, it is still possible to experience the wonder and inspiration from the safety of your home.
Here are three new films to watch this Earth Week that will transport you from pole to pole and introduce you to the scientists and activists working to save our shared home.
Where to Watch: Apple TV+
When to Watch: From April 16
The coronavirus pandemic has brought home the stakes of humanity's impact on the environment. But the lockdowns also proved how quickly nature can recover when humans give it the space. Birds sang in empty cities, whales surfaced in Glacier Bay and capybara roamed the South American suburbs.
The Year Earth Changed captures this unique year with footage from more than 30 lockdowned cities between May 2020 to January 2021. Narrated by renowned wildlife broadcaster David Attenborough, the film explores what positive lessons we can take from the experience of a quieter, less trafficked world.
"What the film shows is that the natural world can bounce back remarkably quickly when we take a step back and reduce our impact as we did during lockdown," executive producer Alice Keens-Soper of BBC Studios Natural History Unit told EcoWatch. "If we are willing to make even small changes to our habits, the natural world can flourish. We need to learn how to co-exist with nature and understand that we are not separate from it- for example if we closed some of our beaches at for a few weeks during the turtle breeding we see that it can make a huge difference to their success. There are many ways that we can adapt our behavior to allow the natural world to thrive as it did in lockdown."
When to Watch: 12 a.m. PST April 9 to 11:59 p.m. April 18
In 1989, Will Steger led an international team of six scientists and explorers to be the first humans to cross Antarctica by dogsled. Steger and his team weren't just in it for the adventure. They also wanted to draw attention to the ways in which the climate crisis was already transforming the icy continent and to rally support for the renewal of the Antarctic Treaty, which would keep the continent safe from extractive industries.
In After Antarctica, award-winning filmmaker Tasha Van Zandt follows Steger 30 years later as he travels the Arctic this time, reflecting on his original journey and once again bringing awareness to changes in a polar landscape. The film intersperses this contemporary journey with footage from the original expedition, some of which has never been seen before.
"Will's life journey as an explorer and climate activist has led him not only to see more of the polar world than anyone else alive today, but to being an eyewitness to the changes occurring across both poles," Van Zandt told EcoWatch. "But now, these changes are happening in all of our own backyards and we have all become eyewitnesses. Through my journey with Will, I have learned that although we cannot always control change, we can change our response. I feel strongly that this is a message that resonates when we look at the current state of the world, as we each have power and control over how we choose to respond to hardships, and we all have the power to unite with others through collective action around a common goal."
After Antarctica is available to stream once you purchase a ticket to the San Francisco International Film Festival. If you miss it this weekend, it will screen again at the Minneapolis St. Paul International Film Festival from May 13 to May 23.
Tasha Van Zandt
When to Watch: From Earth Day, April 22
While many films about the climate crisis seek to raise awareness about the extent of the problem, The Race to Save the World focuses on the people who are trying to stop it. The film tells the story of climate activists ranging from 15-year-old Aji to 72-year-old Miriam who are working to create a sustainable future. It follows them from the streets to the courtroom to their homes, and explores the impact of their advocacy on their personal lives and relationships.
Emmy award-winning documentary filmmaker Joe Gantz told EcoWatch that he wanted to make a film about climate change, but did not want to depress viewers with overwhelming statistics. Instead, he chose to inspire them by sharing the stories of people trying to make a difference.
"Unless millions of people take to the streets and make their voices heard for a livable future, the politicians are not going to get on board to help make the changes needed for a sustainable future," Gantz told Ecowatch. "I think that The Race To Save The World will energize and inspire people to take action so that future generations, as well as the plants, animals and ecosystems, can survive and thrive on this planet."
Check back with EcoWatch on the morning of Earth Day for a special preview of this inspiring film!
By Michael Svoboda
For April's bookshelf we take a cue from Earth Day and step back to look at the bigger picture. It wasn't climate change that motivated people to attend the teach-ins and protests that marked that first observance in 1970; it was pollution, the destruction of wild lands and habitats, and the consequent deaths of species.