Ice Shelf Twice the Size of Manhattan Is About to Break Off From Antarctica
NASA scientists fear that a growing crack in the Nansen Ice Shelf may cause it to break free from the Antarctic coast and form a massive iceberg more than twice the size of Manhattan.
"Over the course of two years, a small crack grew large enough to spread across nearly the entire width of the Nansen Ice Shelf," NASA said in a post last week.
Ice shelves are thick plates of coastline ice that float over the ocean. This particular one, Nansen, measures about 20 miles wide and 30 miles long.
A team of scientists first noticed the crack in 2013, but two NASA scientists Christine Dow and Ryan Walker discovered in December 2015 that the crack had grown substantially. Dow and Walker were visiting the ice shelf to install GPS stations on it to track how it was affected by tides. When they flew over the area, they realized that it was no longer a small crack.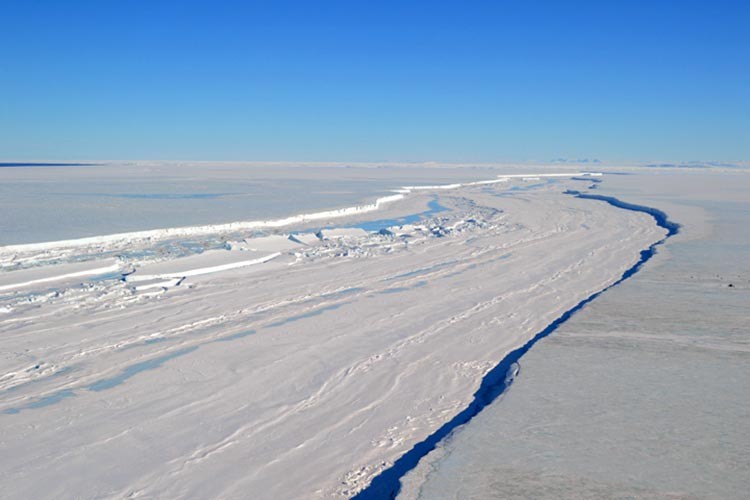 Satellite images taken when Dow and Walker returned confirmed what they saw on the ground.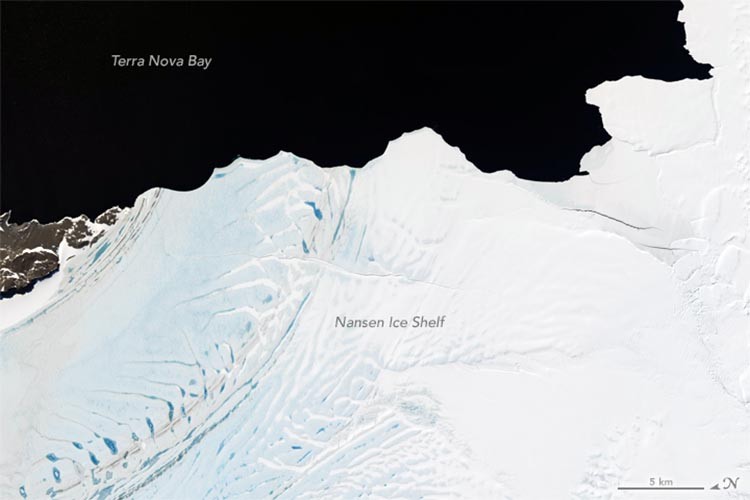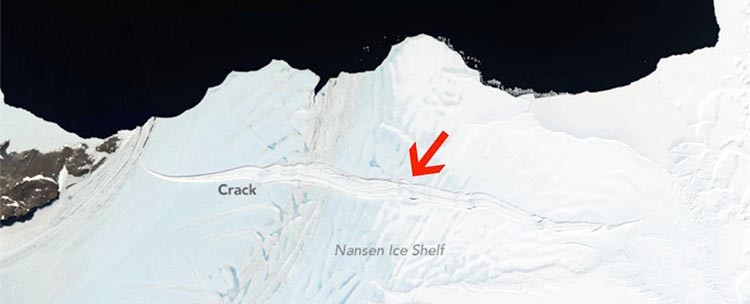 "There's a huge crack, miles long and sometimes over a hundred yards wide, which runs more or less parallel to the front of the ice shelf," Walker wrote in a post in December 2015. "Over the winter, the sea surface freezes and traps small icebergs in the crack, producing a fascinatingly broken icescape."
Antarctic winter is now setting in, and, as of this month, satellite imagery indicated the ice shelf was still attached. Though winter may not be enough to prevent the shelf from collapsing.
"Even in winter, strong winds can prevent the water beyond the shelf from freezing, so it is unclear whether the front will separate soon or hang on like a loose tooth," NASA said.
Although the ice shelf's collapse may sound catastrophic, IFLScience noted, there are two points worth considering:
"Firstly, ice shelves make up around 75 percent of the Antarctic coastline, and their total combined area is equivalent to 1.56 million square kilometers (603,000 square miles). If all of Nansen collapses, it will reduce Antarctica's ice shelf coverage by just 0.1 percent.
Nansen doesn't even register as a 'major' ice shelf, with those such as Ross, at around 472,000 square kilometers (182,000 square miles), dwarfing it. The Ross Ice Shelf partly collapsed at the end of the last ice age around 10,000 years ago, when a colossal chunk 280,000 square kilometers (108,000 square miles) in size fell into the sea over 1,500 years. That's 360 times the size of Manhattan Island, by the way.
Secondly, these ice shelves may be anchored to the land, but they do not actually significantly contribute to sea level rise—after all, they're already floating on the sea. So the collapse of Nansen by itself won't cause much harm, per se.
However, ice shelves like Nansen do act as vast barricades for glaciers behind them. When an ice shelf is removed, glaciers begin to tumble into the sea at surprisingly fast speeds—sometimes moving ten times faster than normal—and these will definitely cause the sea level to rise. So in effect, man-made climate change is breaking Antarctica's huge ice dams.
And while ice shelves have historically broken off and often reformed, ScienceAlert said the trend is alarming:
"Several iconic ice-shelf disintegrations, such as the Serson Ice Shelf in northern Canada, have been linked to increasing temperatures.
And the rate of ice shelf loss has also been speeding up. Over the past 20 years, Antarctica's Larsen ice shelves has pretty much decreased significantly, losing 75 percent of its area.
The icebergs produced by these types of events don't just pose threats to boats that get in their way, but also to marine life—such as the 150,000 penguins that died at the start of this year when an iceberg blocked their path to the sea, cutting off their food supply."
NASA researchers want to keep studying the ice shelves to better understand why they collapse and how to prevent it. Dow is already planning a trip with other researchers to study the crack this summer.
"I'm really interested to see whether this feature is occurring because of the topography around the ice shelf, or whether it was initially created by surface water flowing into a small ice surface crack," she said. "We're planning an intensive survey of this feature in the coming years and will hopefully get a handle on the causes."
YOU MIGHT ALSO LIKE
13 Million Americans at Risk From Rising Seas
February Smashes Earth's All-Time Global Heat Record by a Jaw-Dropping Margin
NOAA: Carbon Dioxide Levels 'Exploded' in 2015, Highest Seen Since End of Ice Age
Obama, Trudeau Agree to Safeguarding Arctic, Reducing Methane Emissions
Laurie Woolever
By James O'Hare
There are 20 million people in the world facing famine in South Sudan, Somalia, Nigeria and Yemen. In developed nations, too, people go hungry. Venezuela, for instance, is enduring food insecurity on a national level as a result of economic crisis and political corruption. In the U.S., the land of supposed excess, 12.7 percent of households were food insecure in 2015, meaning they didn't know where their next meal would come from.
Keep reading...
Show less
Melwater, Greenland ice sheet. Diane Tuft
Artists are taking the climate crisis into frame and the results are emotional, beautiful and stirring.
So you've seen the best climate change cartoons and shared them with your friends. You've showed your family the infographics on climate change and health, infographics on how the grid works and infographics about clean, renewable energy. You've even forwarded these official National Oceanic and Atmospheric Administration graphs that explain the 10 clear indicators of climate change to your colleagues at the office.
Keep reading...
Show less
May. 27, 2017 01:11PM EST
As the Trump administration moves full speed ahead on boosting the oil and fossil fuel industry, opposition to increased pipeline construction is cropping up in different communities around the country.
Keep reading...
Show less
May. 27, 2017 01:02PM EST
Minke whale stranding near Havergate Island in Suffolk. MCGA.
By Simon Evans
Last Saturday, two dead whales washed up on the coast of Suffolk, in eastern England, and a third was spotted floating at sea.
What happened next illustrates how news can spread and evolve into misinformation, when reported by journalists rushing to publish before confirming basic facts or sourcing their own quotes.
Keep reading...
Show less
May. 27, 2017 01:22PM EST
By Monica Amarelo and Paul Pestano
Sun safety is a crucial part of any outdoor activity for kids, and sunscreen can help protect children's skin from harmful ultraviolet rays. Kids often get sunburned when they're outside unprotected for longer than expected. Parents need to plan ahead and keep sun protection handy in their cars or bags.
Keep reading...
Show less
May. 27, 2017 01:02PM EST
By Joe McCarthy
A lot of people take part in community clean-up efforts—spending a Saturday morning picking up litter in a park, mowing an overgrown field or painting a fence.
Keep reading...
Show less
May. 26, 2017 03:22PM EST
Rink Glacier in western Greenland, with a meltwater lake visible center. NASA/OIB
Scientists have had their eyes on Greenland as its iconic glaciers have begun disappearing due to a warming climate. But, what they didn't expect to see was a whole new type of melting.
Keep reading...
Show less
May. 26, 2017 03:40PM EST
A coalition of conservation groups and others announced Thursday that a historic number of comments and petitions of support have been submitted to the U.S. Department of the Interior in support of Bears Ears National Monument. Despite the entirely inadequate 15-day comment period ending on May 26, more than 685,000 comments in support of Bears Ears National Monument have been collected.
Keep reading...
Show less


Get EcoWatch in your inbox