This website uses cookies to ensure you get the best experience while browsing it. By clicking 'Got It' you're accepting these terms.
Ice Shelf Twice the Size of Manhattan Is About to Break Off From Antarctica
Mar. 16, 2016 12:22PM EST
Climate
NASA scientists fear that a growing crack in the Nansen Ice Shelf may cause it to break free from the Antarctic coast and form a massive iceberg more than twice the size of Manhattan.
"Over the course of two years, a small crack grew large enough to spread across nearly the entire width of the Nansen Ice Shelf," NASA said in a post last week.
Ice shelves are thick plates of coastline ice that float over the ocean. This particular one, Nansen, measures about 20 miles wide and 30 miles long.
A team of scientists first noticed the crack in 2013, but two NASA scientists Christine Dow and Ryan Walker discovered in December 2015 that the crack had grown substantially. Dow and Walker were visiting the ice shelf to install GPS stations on it to track how it was affected by tides. When they flew over the area, they realized that it was no longer a small crack.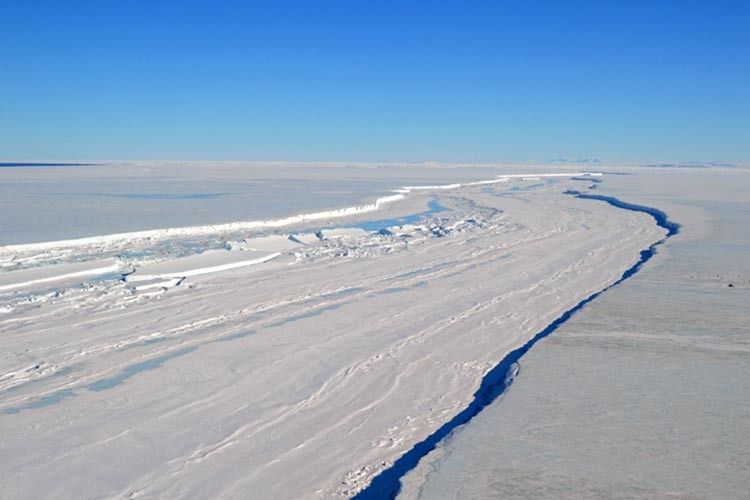 Satellite images taken when Dow and Walker returned confirmed what they saw on the ground.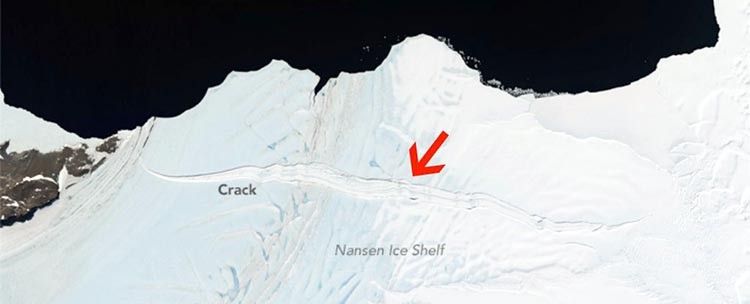 "There's a huge crack, miles long and sometimes over a hundred yards wide, which runs more or less parallel to the front of the ice shelf," Walker wrote in a post in December 2015. "Over the winter, the sea surface freezes and traps small icebergs in the crack, producing a fascinatingly broken icescape."
Antarctic winter is now setting in, and, as of this month, satellite imagery indicated the ice shelf was still attached. Though winter may not be enough to prevent the shelf from collapsing.
"Even in winter, strong winds can prevent the water beyond the shelf from freezing, so it is unclear whether the front will separate soon or hang on like a loose tooth," NASA said.
Although the ice shelf's collapse may sound catastrophic, IFLScience noted, there are two points worth considering:
"Firstly, ice shelves make up around 75 percent of the Antarctic coastline, and their total combined area is equivalent to 1.56 million square kilometers (603,000 square miles). If all of Nansen collapses, it will reduce Antarctica's ice shelf coverage by just 0.1 percent.
Nansen doesn't even register as a 'major' ice shelf, with those such as Ross, at around 472,000 square kilometers (182,000 square miles), dwarfing it. The Ross Ice Shelf partly collapsed at the end of the last ice age around 10,000 years ago, when a colossal chunk 280,000 square kilometers (108,000 square miles) in size fell into the sea over 1,500 years. That's 360 times the size of Manhattan Island, by the way.
Secondly, these ice shelves may be anchored to the land, but they do not actually significantly contribute to sea level rise—after all, they're already floating on the sea. So the collapse of Nansen by itself won't cause much harm, per se.
However, ice shelves like Nansen do act as vast barricades for glaciers behind them. When an ice shelf is removed, glaciers begin to tumble into the sea at surprisingly fast speeds—sometimes moving ten times faster than normal—and these will definitely cause the sea level to rise. So in effect, man-made climate change is breaking Antarctica's huge ice dams.
And while ice shelves have historically broken off and often reformed, ScienceAlert said the trend is alarming:
"Several iconic ice-shelf disintegrations, such as the Serson Ice Shelf in northern Canada, have been linked to increasing temperatures.
And the rate of ice shelf loss has also been speeding up. Over the past 20 years, Antarctica's Larsen ice shelves has pretty much decreased significantly, losing 75 percent of its area.
The icebergs produced by these types of events don't just pose threats to boats that get in their way, but also to marine life—such as the 150,000 penguins that died at the start of this year when an iceberg blocked their path to the sea, cutting off their food supply."
NASA researchers want to keep studying the ice shelves to better understand why they collapse and how to prevent it. Dow is already planning a trip with other researchers to study the crack this summer.
"I'm really interested to see whether this feature is occurring because of the topography around the ice shelf, or whether it was initially created by surface water flowing into a small ice surface crack," she said. "We're planning an intensive survey of this feature in the coming years and will hopefully get a handle on the causes."
YOU MIGHT ALSO LIKE
13 Million Americans at Risk From Rising Seas
February Smashes Earth's All-Time Global Heat Record by a Jaw-Dropping Margin
NOAA: Carbon Dioxide Levels 'Exploded' in 2015, Highest Seen Since End of Ice Age
Obama, Trudeau Agree to Safeguarding Arctic, Reducing Methane Emissions
EcoWatch Daily Newsletter
It was early in the morning last Thursday, and Jonathan Butler was standing on the Fred Hartman Bridge, helping 11 fellow Greenpeace activists rappel down and suspend themselves over the Houston Ship Channel. The protesters dangled in the air most of the day, shutting down a part of one of the country's largest ports for oil.
By C.J. Polychroniou
Climate change is by far the most serious crisis facing the world today. At stake is the future of civilization as we know it. Yet, both public awareness and government action lag way behind what's needed to avert a climate change catastrophe. In the interview below, Noam Chomsky and Robert Pollin discuss the challenges ahead and what needs to be done.
Food manufacturer General Mills issued a voluntary recall of more than 600,000 pounds, or about 120,000 bags, of Gold Medal Unbleached All Purpose Flour this week after a sample tested positive for a bacteria strain known to cause illness.
Imelda flooded highway 69 North in Houston Thursday. Thomas B. Shea / Getty Images
Extreme weather events supercharged by climate change in 2012 led to nearly 1,000 more deaths, more than 20,000 additional hospitalizations, and cost the U.S. healthcare system $10 billion, a new report finds.
Giant sequoia trees at Sequoia National Park, California. lucky-photographer / iStock / Getty Images Plus
A Bay Area conservation group struck a deal to buy and to protect the world's largest remaining privately owned sequoia forest for $15.6 million. Now it needs to raise the money, according to CNN.
This aerial view shows the Ogasayama Sports Park Ecopa Stadium, one of the venues for 2019 Rugby World Cup. MARTIN BUREAU / AFP / Getty Images
The Rugby World Cup starts Friday in Japan where Pacific Island teams from Samoa, Fiji and Tonga will face off against teams from industrialized nations. However, a new report from a UK-based NGO says that when the teams gather for the opening ceremony on Friday night and listen to the theme song "World In Union," the hypocrisy of climate injustice will take center stage.
Vera_Petrunina / iStock / Getty Images Plus
By Wudan Yan
In June, New York Times journalist Andy Newman wrote an article titled, "If seeing the world helps ruin it, should we stay home?" In it, he raised the question of whether or not travel by plane, boat, or car—all of which contribute to climate change, rising sea levels, and melting glaciers—might pose a moral challenge to the responsibility that each of us has to not exacerbate the already catastrophic consequences of climate change. The premise of Newman's piece rests on his assertion that traveling "somewhere far away… is the biggest single action a private citizen can take to worsen climate change."