This website uses cookies to ensure you get the best experience while browsing it. By clicking 'Got It' you're accepting these terms.
Hundreds Rally Telling Gov. Cuomo: 'Not One Fracking Well'
Feb. 04, 2013 02:30PM EST
Energy
Hundreds of New Yorkers packed the legislative budget hearing on the environment as Department of Environmental Conservation (DEC) Commissioner Martens testified. The opponents of fracking packed the hearing room with a sea of blue and with a long line out the door. After the hearing, opponents gathered in the Capitol's Million Dollar Staircase to tell Governor Cuomo and Commissioner Martens not to go forward with fracking. The crowd was emboldened by a new statewide poll showing public opinion evenly divided with opponents much more determined than supporters.

"The Cuomo administration's secrecy and changing explanation of its health review provide the public with little confidence that our health is being prioritized ahead of gas industry profits," said Sandra Steingraber of Concerned Health Professionals of New York. "Communities where people live and work should not be proving grounds for industrial experiments. For the governor to move forward to allow even limited fracking without a true health study open to public participation would be a violation of his duty to protect New Yorkers."
The religious, health and environmental organizations at the event demanded that the Cuomo Administration open the secret health review being conducted by the Department of Health for public comment and participation. Rather than undertake a comprehensive health impact assessment of fracking that would involve transparency and public participation, the Administration instead hired outside experts to review its own controlled internal health review that was written by the administration.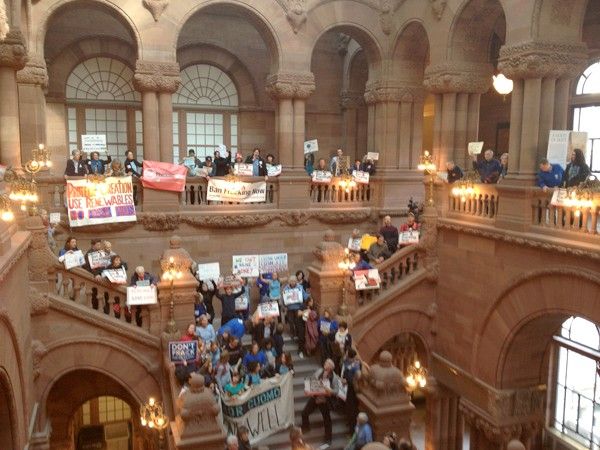 "Today there are thousands of families throughout the United States whose water has been contaminated one way or another from hydrofracking," said Mark Ruffalo, an advisory committee member of New Yorkers Against Fracking. "There is too much at stake; water and air quality, the health of our people and the specter of climate change make hydrofracking in New York State a complete non starter. I have great faith Governor Cuomo will act from his moral center and move away from this disastrous decision and move forward with leading the nation in pulling into NYS some of the $2 trillion being spent throughout the world on the burgeoning renewable energy economy."
Southern Tier groups–represented by Save the Southern Tier–said any decision to frack even one well in the Southern Tier will be met with unprecedented resistance from the unified anti-fracking movement at large. By releasing the SGEIS and saying it is safe, even for one well, it would open up the entire state for drilling, they argued.
"Residents of the Southern Tier do not want to be the lab rats in a fracking experiment within our state," said Logan Adsit, a resident of Pharsalia in Chenango County, on behalf of the Save the Southern Tier network. "If fracking is unacceptable for New York City's watershed and other people's water, then it should be the same for us. We don't want to be poisoned and the gas industry's bogus economic claims will never convince us to jeopardize our health."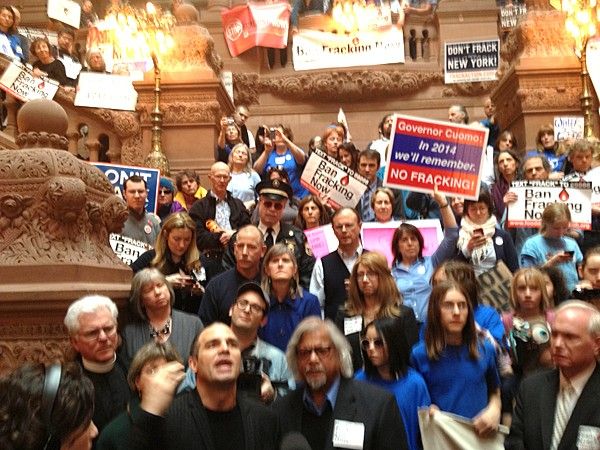 Earlier in the day, Siena released a poll showing public opinion evenly divided on fracking, with opponents significantly more determined and passionate about the issue than supporters. 
"New Yorkers don't want the gas industry to poison them and ruin New York. We know that once the gas industry ruins our water, food and environment, we will be left with an enormous mess after the fracking industry is gone," said Alex Beauchamp of Food & Water Watch. "We hope Governor Cuomo will listen to the loud opposition voices and protect us and the generations to come from such a true health and human rights disaster."
Following the press conference and rally in the Million Dollar Staircase, Arun Gandhi and Mark Ruffalo lead advocates to The War Room, where Gandhi, the grandson of Mahatma Gandhi, signed the pledge of resistance to hydrofracking in New York. Gandhi discussed transforming the anti-fracking movement into one of non-violent civil disobedience should Governor Cuomo permit fracking in the state after residents and experts have pursued every avenue to present the facts and the science within the state's broken process, yet have been shut out. Gandhi's pledge and water from across the state was then delivered to the governor's office. 
"We are calling on the Governor Andrew Cuomo to lead this state to become the renewable energy capitol of the nation," said Arun Gandhi. "He has a decision before him that will either mark his place in history as a leader who pioneered a new path forward of clean, renewable energy or continued down the old path of destruction from dirty fossil fuel extraction."
Groups represented at the press conference include New Yorkers Against Fracking, a coalition of groups opposed to fracking; state legislators; Concerned Health Professionals of New York; Sierra Club; Riverkeeper; Environmental Advocates; New York State Council of Churches; and Save the Southern Tier.
Visit EcoWatch's FRACKING page for more related news on this topic.
——–
Sign the petition today, telling President Obama to enact an immediate fracking moratorium:

EcoWatch Daily Newsletter
Artist's conception of solar islands in the open ocean. PNAS
Millions of solar panels clustered together to form an island could convert carbon dioxide in seawater into methanol, which can fuel airplanes and trucks, according to new research from Norway and Switzerland and published in the Proceedings of the National Academy of Sciences journal, PNAS, as NBC News reported. The floating islands could drastically reduce greenhouse gas emissions and dependence on fossil fuels.
Marcos Alves / Moment Open / Getty Images
More than 40 percent of insects could go extinct globally in the next few decades. So why did the U.S. Environmental Protection Agency (EPA) last week ok the 'emergency' use of the bee-killing pesticide sulfoxaflor on 13.9 million acres?
EcoWatch teamed up with Center for Biological Diversity via EcoWatch Live on Facebook to find out why. Environmental Health Director and Senior Attorney Lori Ann Burd explained how there is a loophole in the The Federal Insecticide, Fungicide, and Rodenticide Act under section 18, "that allows for entities and states to request emergency exemptions to spraying pesticides where they otherwise wouldn't be allowed to spray."
Simple swaps that cut down on kitchen trash.
Sponsored
By Kayla Robbins
Along with the bathroom, the kitchen is one of the most daunting areas to try and make zero waste.
View of downtown Miami, Florida from Hobie Island on Feb. 2, 2019.
Michael Muraz / Flickr
The Democratic candidates for president descended upon Miami for a two-night debate on Wednesday and Thursday. Any candidate hoping to carry the state will have to make the climate crisis central to their campaign, as The New York Times reported.
By Sharon Kelly
On Monday, the Wall Street Journal featured a profile of Scott Sheffield, CEO of Pioneer Natural Resources, whose company is known among investors for its emphasis on drawing oil and gas from the Permian basin in Texas using horizontal drilling and hydraulic fracturing, or fracking.
Pexels
By Craig K. Chandler
The federal government has available to it, should it choose to use them, a wide range of potential climate change management tools, going well beyond the traditional pollution control regulatory options. And, in some cases (not all), without new legislative authorization.
Denis Poroy / Getty Images
By Dan Gray
Processed foods, in their many delicious forms, are an American favorite.
But new research shows that despite increasing evidence on just how unhealthy processed foods are, Americans have continued to eat the products at the same rate.
By Sarah Steffen
With a profound understanding of their environmental surroundings, indigenous communities around the world are often cited as being pivotal to tackling climate change.