This website uses cookies to ensure you get the best experience while browsing it. By clicking 'Got It' you're accepting these terms.
How to Limit Added Sugar in Your Diet
Apr. 02, 2014 11:53AM EST
If you want to decrease your risk for heart disease, it may be important for you to reduce the added sugar in your diet. As you know about sugar and heart disease, while sugars are not harmful to the body, our bodies don't need sugars to function properly. Added sugars—sugars that are not found naturally in foods—contribute additional calories with zero nutrients to food.
Depending on the foods you choose and the amount of physical activity you do each day, you may have calories left over for "extras" that can be used on treats like solid fats, added sugars and alcohol. These are discretionary calories, or calories to be spent at your discretion after you have met your daily calorie need.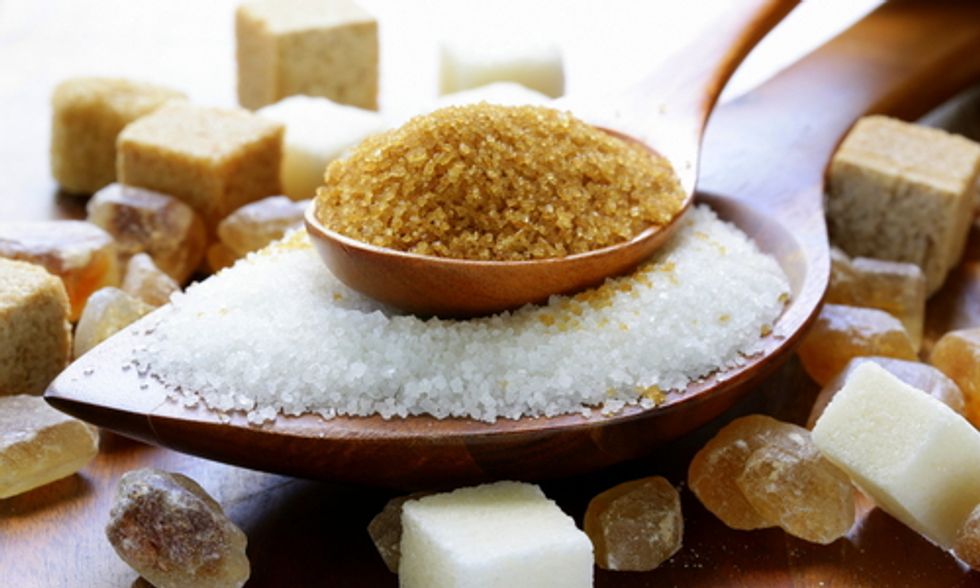 Photo courtesy of Shutterstock
The American Heart Association recommends limiting the amount of added sugars you consume to no more than half of your daily discretionary calorie allowance.
Finding added sugars in food
The first step to reducing added sugars in your diet is finding them. Unfortunately, you can't tell easily by looking at the nutrition facts panel of a food if it contains added sugars. The line for "sugars" includes both added and natural sugars. Naturally occurring sugars are found in milk (lactose) and fruit (fructose). Any product that contains milk (such as yogurt, milk or cream) or fruit (fresh, dried) contains some natural sugars.
Reading the ingredient list on a processed food's label can tell you if the product contains added sugars, just not the exact amount if the product also contains natural sugars.
Names for added sugars on labels include:
Brown sugar
Corn sweetener
Corn syrup
Fruit juice concentrates
High-fructose corn syrup
Honey
Invert sugar
Malt sugar
Molasses
Raw sugar
Sugar
Sugar molecules ending in "ose" (dextrose, fructose, glucose, lactose, maltose, sucrose)
Syrup
Furthermore, some products include terms related to sugars. Here are some common terms and their meanings:
Sugar-Free: Less than 0.5 g of sugar per serving.
Reduced Sugar or Less Sugar: At least 25 percent less sugars per serving compared to a standard serving size of the traditional variety.
No Added Sugars or Without Added Sugars: No sugars or sugar-containing ingredient such as juice or dry fruit is added during processing.
Low Sugar: Not defined or allowed as a claim on food labels.
Although you can't isolate the calories per serving from added sugars with the information on a nutrition label, it may be helpful to calculate the calories per serving from total sugars (added sugars and naturally occurring sugars). To do this, multiply the grams of sugar by 4 (there are 4 calories per 1 gram of sugar). For example, a product containing 15 g of sugar has 60 calories from sugar per serving.
Keep in mind that if the product has no fruit or milk products in the ingredients, all of the sugars in the food are from added sugars. If the product contains fruit or milk products, the total sugar per serving listed on the label will include added and naturally occurring sugars.
Tips for getting less added sugar
Use these simple tips to reduce sugar in your diet:
Remove sugar (white and brown), syrup, honey and molasses from the table—out of sight, out of mind!
Cut back on the amount of sugar added to things you eat or drink regularly like cereal, pancakes, coffee or tea. Try cutting the usual amount of sugar you add by half and wean down from there, or consider using an artificial sweetener.
Buy sugar-free or low-calorie beverages.
Buy fresh fruits or fruits canned in water or natural juice. Avoid fruit canned in syrup, especially heavy syrup.
Instead of adding sugar to cereal or oatmeal, add fresh fruit (try bananas, cherries or strawberries) or dried fruit (raisins, cranberries or apricots).
When baking cookies, brownies or cakes, cut the sugar called for in your recipe by one-third to one-half. Often you won't notice the difference.
Instead of adding sugar in recipes, use extracts such as almond, vanilla, orange or lemon.
Enhance foods with spices instead of sugar; try ginger, allspice, cinnamon or nutmeg.
Substitute unsweetened applesauce for sugar in recipes (use equal amounts).
——–
YOU MIGHT ALSO LIKE
How Much Sugar Intake Is Actually Safe?
5 Eco-Friendly Alternatives to Highly Processed Sugar
Healthy Chocolate Superfood Recipe
——–
EcoWatch Daily Newsletter
By Sabrina Kessler
Far-reaching allegations about how a climate-sinning American multinational could shamelessly lie to the public about its wrongdoing mobilized a small group of New York students on a cold November morning. They stood in front of New York's Supreme Court last week to follow the unprecedented lawsuit against ExxonMobil.
By Alex Robinson
Leah Garcés used to hate poultry farmers.
The animal rights activist, who opposes factory farming, had an adversarial relationship with chicken farmers until around five years ago, when she sat down to listen to one. She met a poultry farmer called Craig Watts in rural North Carolina and learned that the problems stemming from factory farming extended beyond animal cruelty.
People navigate snow-covered sidewalks in the Humboldt Park neighborhood on Nov. 11 in Chicago. Scott Olson / Getty Images
Temperatures plunged rapidly across the U.S. this week and around 70 percent of the population is expected to experience temperatures around freezing Wednesday.
A general view of the flooded St. Mark's Square after an exceptional overnight "Alta Acqua" high tide water level, on Nov. 13 in Venice. MARCO BERTORELLO / AFP / Getty Images
President Donald Trump doesn't like wind turbines.
In April, he claimed they caused cancer, and he sued to stop an offshore wind farm that was scheduled to go up near land he had purchased for a golf course in Aberdeenshire in Scotland. He lost that fight, and now the Trump Organization has agreed to pay the Scottish government $290,000 to cover its legal fees, The Washington Post reported Tuesday.
A verdant and productive urban garden in Havana. Susanne Bollinger / Wikimedia Commons
By Paul Brown
When countries run short of food, they need to find solutions fast, and one answer can be urban farming.
Trevor Noah appears on set during a taping of "The Daily Show with Trevor Noah" in New York on Nov. 26, 2018.
The Daily Show With Trevor Noah / YouTube screenshot