This website uses cookies to ensure you get the best experience while browsing it. By clicking 'Got It' you're accepting these terms.
How Fracking's False Promise of Plenty Imperils Our Future
Aug. 23, 2013 03:41PM EST
Energy
By Tom Whipple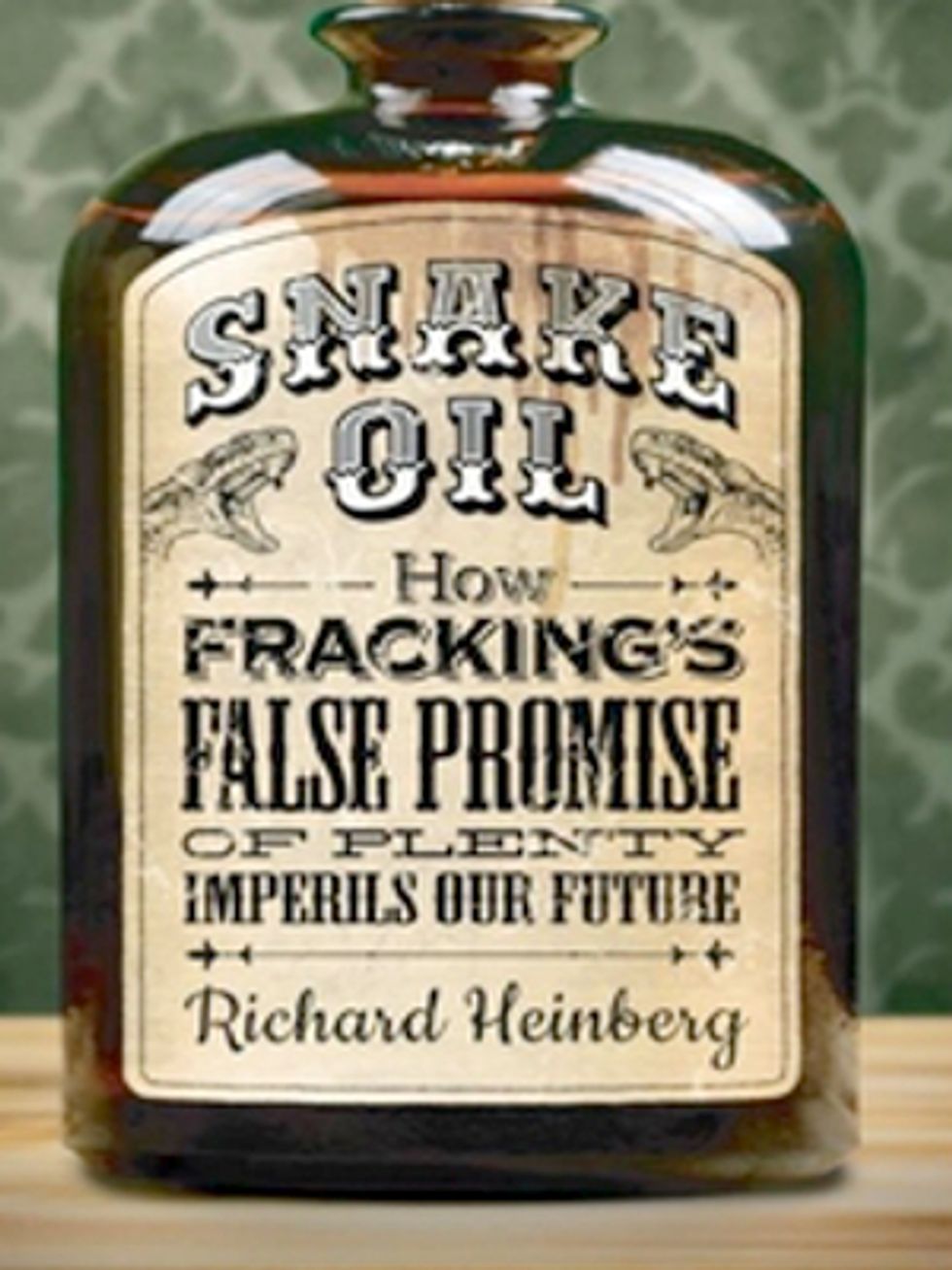 Richard Heinberg has been following and writing about peak oil for a long time. In the last decade, he has published 10 books on peak oil and related resource depletion topics as well as given some 500 lectures warning about the hard times ahead. The subtitle of his recent book, "How Fracking's False Promise of Plenty Imperils Our Future" captures the theme of Snake Oil in a lucid phrase. This is an angry book, for it is intended as a rejoinder to the avalanche of half-truths and optimistic estimates concerning the future of our energy resources which have filled our media in the last few years.
As the evidence accumulates that man is destroying the atmosphere by ever-increasing carbon emissions and bankrupting his economic systems by continued reliance on increasingly expensive oil, realistic appraisals of our true energy situation are being lost. In recent years, numerous institutions that should know better, major universities and widely respected publications have joined the chorus talking about "energy independence for America" and a century of oil and gas just waiting to be tapped.
Snake Oil starts with a review of the fundamentals that most "peakists" have come to understand and accept. Peak oil is about the rate of supply, not estimated size of underground resources. There is a lot of oil and gas still in the ground, but only a small percentage will ever be extracted at prices people can afford to pay. Production from existing oil fields is declining by 4-5 percent annually and demand is increasing by about a million barrels per day (b/d) each year. To keep the lid on costs, the world will have to come up with 5 million b/d of new oil production each year for the foreseeable future.
It takes energy to produce energy, so when you spend more than you get back it is time to quit extracting. As the Middle East gets hotter, both physically and politically, oil exporters are consuming an increasing share of their own production to keep their people cool and off the streets. These and other underlying realities are largely ignored by those enamored with recent (admittedly impressive) gains in U.S. oil production and optimistic talk of billions and sometimes trillions of barrels of oil waiting to be produced.
Heinberg acknowledges that the fracking boom has produced some spectacular numbers, with U.S. oil production increasing by 766,000 barrels b/d in 2012 and likely to do about the same this year if current trends continue. The problem, of course, comes from projecting this spectacular growth into the more distant future. There are simply too many factors, especially rapid decline rates and lower initial production rates, as the best drilling locations are used up.
The heart of Snake Oil is directed at countering the optimistic projections for production of oil and gas by hydraulic fracturing (fracking). Fracked oil and gas production is simply another, albeit expensive, resource that will climb to a peak and then deplete away just like all the others.
Using the work done by two independent geologists—Arthur Berman of Texas and David Hughes of Canada, who have extensively analyzed the production of fracked oil wells across the U.S.—Heinberg and his associates conclude that "shale gas and oil wells have proven to deplete quickly, the best fields have already been tapped, and no major new field discoveries are expected; thus with average per-well productivity declining and ever-more wells (and fields) required simply to maintain production, an 'exploration treadmill' limits the long-term potential of shale resources."
With per-well production decline rates of between 81 and 90 percent in the first 24 months, wells must be constantly replaced by new ones just to keep production flat. The higher production gets, the more new replacement wells have to be drilled. Before the end of the decade, this bubble will collapse on its own accord and fracked oil and gas production will begin dropping. As usual there are disputes as to just when this downturn will begin, but the best available analysis suggest that four or five years from now will be the time period when fracked oil peaks in the U.S. and a few years later for gas.
The analysis shows that decades of abundant fracked oil and gas production is simply not in the cards that we see today.
An interesting chapter in the book deals with just who has benefitted from the shale boom. Although thousands of jobs have been created and some landowners have profited handsomely from lending their property for drilling, local governments have yet to fully comprehend the damage that boom towns have done to their communities and that heavy trucks have done to their roads. Service companies that sell equipment performing the actual fracking have done well. The drillers, including large ones such as ExxonMobil, who assume the ultimate risk, have been losing money on natural gas and only some are making money on oil due to the high prices.
Heinberg concludes that the real winners, however, are the investment banks that have earned huge fees for raising the money that has fueled the boom.
The book is clearly a contribution to the literature of peak oil, for it updates recent developments and does an effective job in separating reality from the hype of the financial media.
Heinberg leave us with two somewhat contradictory thoughts:
Hydrocarbons are so abundant that, if we burn a substantial portion of them, we risk a climate catastrophe beyond imagining.
There aren't enough economically accessible, high-quality hydrocarbons to maintain world economic growth for much longer.
Snake Oil: How Fracking's False Promise of Plenty Imperils Our Future is published by Post Carbon Institute.
Originally posted at Falls Church News-Press.
Visit EcoWatch's FRACKING page for more related news on this topic.
——–
EcoWatch Daily Newsletter
Coral restoration in Guam. U.S. Pacific Fleet / CC BY-NC 2.0
By Erica Cirino
Visit a coral reef off the coast of Miami or the Maldives and you may see fields of bleached white instead of a burst of colors.
Cracker Lake, Glacier National Park, Montana. Jacob W. Frank / NPS / Flickr
By Jason Bittel
High up in the mountains of Montana's Glacier National Park, there are two species of insect that only a fly fishermen or entomologist would probably recognize. Known as stoneflies, these aquatic bugs are similar to dragonflies and mayflies in that they spend part of their lives underwater before emerging onto the land, where they transform into winged adults less than a half inch long. However, unlike those other species, stoneflies do their thing only where cold, clean waters flow.
Augusta National / Getty Images
By Bob Curley
The new chicken sandwiches at McDonald's, Popeyes, and Chick-fil-A all contain the MSG flavor enhancement chemical.
Experts say MSG can enhance the so-called umami flavor of a food.
The ingredient is found in everything from Chinese food and pizza to prepackaged sandwiches and table sauces.
McDonald's wants to get in on the chicken sandwich war currently being waged between Popeyes and Chick-fil-A.
Protesters march during a "Friday for future" youth demonstration in a street of Davos on Jan. 24 on the sideline of the World Economic Forum annual meeting. FABRICE COFFRINI / AFP / Getty Images
By Andrea Germanos
Youth climate activists marched through the streets of Davos, Switzerland Friday as the World Economic Forum wrapped up in a Fridays for Future demonstration underscoring their demand that the global elite act swiftly to tackle the climate emergency.
chuchart duangdaw / Moment / Getty Images
By Tim Radford
The year is less than four weeks old, but scientists already know that carbon dioxide emissions will continue to head upwards — as they have every year since measurements began — leading to a continuation of the Earth's rising heat.