This website uses cookies to ensure you get the best experience while browsing it. By clicking 'Got It' you're accepting these terms.
How Fracking's False Promise of Plenty Imperils Our Future
Aug. 23, 2013 03:41PM EST
Energy
By Tom Whipple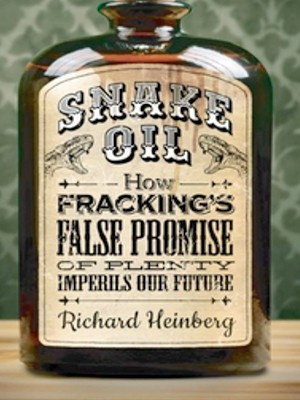 Richard Heinberg has been following and writing about peak oil for a long time. In the last decade, he has published 10 books on peak oil and related resource depletion topics as well as given some 500 lectures warning about the hard times ahead. The subtitle of his recent book, "How Fracking's False Promise of Plenty Imperils Our Future" captures the theme of Snake Oil in a lucid phrase. This is an angry book, for it is intended as a rejoinder to the avalanche of half-truths and optimistic estimates concerning the future of our energy resources which have filled our media in the last few years.
As the evidence accumulates that man is destroying the atmosphere by ever-increasing carbon emissions and bankrupting his economic systems by continued reliance on increasingly expensive oil, realistic appraisals of our true energy situation are being lost. In recent years, numerous institutions that should know better, major universities and widely respected publications have joined the chorus talking about "energy independence for America" and a century of oil and gas just waiting to be tapped.
Snake Oil starts with a review of the fundamentals that most "peakists" have come to understand and accept. Peak oil is about the rate of supply, not estimated size of underground resources. There is a lot of oil and gas still in the ground, but only a small percentage will ever be extracted at prices people can afford to pay. Production from existing oil fields is declining by 4-5 percent annually and demand is increasing by about a million barrels per day (b/d) each year. To keep the lid on costs, the world will have to come up with 5 million b/d of new oil production each year for the foreseeable future.
It takes energy to produce energy, so when you spend more than you get back it is time to quit extracting. As the Middle East gets hotter, both physically and politically, oil exporters are consuming an increasing share of their own production to keep their people cool and off the streets. These and other underlying realities are largely ignored by those enamored with recent (admittedly impressive) gains in U.S. oil production and optimistic talk of billions and sometimes trillions of barrels of oil waiting to be produced.
Heinberg acknowledges that the fracking boom has produced some spectacular numbers, with U.S. oil production increasing by 766,000 barrels b/d in 2012 and likely to do about the same this year if current trends continue. The problem, of course, comes from projecting this spectacular growth into the more distant future. There are simply too many factors, especially rapid decline rates and lower initial production rates, as the best drilling locations are used up.
The heart of Snake Oil is directed at countering the optimistic projections for production of oil and gas by hydraulic fracturing (fracking). Fracked oil and gas production is simply another, albeit expensive, resource that will climb to a peak and then deplete away just like all the others.
Using the work done by two independent geologists—Arthur Berman of Texas and David Hughes of Canada, who have extensively analyzed the production of fracked oil wells across the U.S.—Heinberg and his associates conclude that "shale gas and oil wells have proven to deplete quickly, the best fields have already been tapped, and no major new field discoveries are expected; thus with average per-well productivity declining and ever-more wells (and fields) required simply to maintain production, an 'exploration treadmill' limits the long-term potential of shale resources."
With per-well production decline rates of between 81 and 90 percent in the first 24 months, wells must be constantly replaced by new ones just to keep production flat. The higher production gets, the more new replacement wells have to be drilled. Before the end of the decade, this bubble will collapse on its own accord and fracked oil and gas production will begin dropping. As usual there are disputes as to just when this downturn will begin, but the best available analysis suggest that four or five years from now will be the time period when fracked oil peaks in the U.S. and a few years later for gas.
The analysis shows that decades of abundant fracked oil and gas production is simply not in the cards that we see today.
An interesting chapter in the book deals with just who has benefitted from the shale boom. Although thousands of jobs have been created and some landowners have profited handsomely from lending their property for drilling, local governments have yet to fully comprehend the damage that boom towns have done to their communities and that heavy trucks have done to their roads. Service companies that sell equipment performing the actual fracking have done well. The drillers, including large ones such as ExxonMobil, who assume the ultimate risk, have been losing money on natural gas and only some are making money on oil due to the high prices.
Heinberg concludes that the real winners, however, are the investment banks that have earned huge fees for raising the money that has fueled the boom.
The book is clearly a contribution to the literature of peak oil, for it updates recent developments and does an effective job in separating reality from the hype of the financial media.
Heinberg leave us with two somewhat contradictory thoughts:
Hydrocarbons are so abundant that, if we burn a substantial portion of them, we risk a climate catastrophe beyond imagining.
There aren't enough economically accessible, high-quality hydrocarbons to maintain world economic growth for much longer.
Snake Oil: How Fracking's False Promise of Plenty Imperils Our Future is published by Post Carbon Institute.
Originally posted at Falls Church News-Press.
Visit EcoWatch's FRACKING page for more related news on this topic.
——–
EcoWatch Daily Newsletter
Two Sherpa descending from Everest Base Camp, Himalayas, Khumbu, Nepal. Joel Addams / Aurora Photos / Getty Images
Climate change is having a grizzly effect on Mount Everest as melting snow and glaciers reveal some of the bodies of climbers who died trying to scale the world's highest peak.
Navajo Generating Station, Arizona. Wolfgang Moroder / Wikimedia / CC BY-SA 3.0
The Navajo Nation have decided to stop pursuing the acquisition of a beleaguered coal-fired power plant in Arizona, locking in the plant to be taken offline and its associated coal mine to close later this year.
A Navajo Nation Council committee voted 11-9 last week to stop pursuing the purchase of the 2,250-megawatt Navajo Generating Station, which with the Kayenta coal mine provides more than 800 jobs to primarily Navajo and Hopi workers as well as tribal royalties.
A coalition of utilities that own the plant said in 2017 it would cease operations due to increased economic pressure, and the plant's future has proved a flash point for national and regional energy policy and raised larger questions on how Native communities will handle ties to fossil fuel industries as the economy changes.
For a deeper dive:
Arizona Republic, Indian Country Today, AP, WOKV, Farmington Daily Times
For more climate change and clean energy news, you can follow Climate Nexus on Twitter and Facebook, and sign up for daily Hot News.
Related Articles Around the Web
Sir David Attenborough opens Woodberry Wetlands on April 30, 2016 in London, United Kingdom. Danny Martindale / WireImage
An extended version of the Fuxing bullet train at the China National Railway Test Center on Oct. 15, 2018 in Beijing, China. VCG / VCG via Getty Images
By Jeff Turrentine
Is it just us?
Other countries don't seem to have a problem getting their high-speed rail systems on track. This superfast, fuel-efficient form of mass transit is wildly popular throughout Asia and the European Union. Japan's sleek Shinkansen line, the busiest high-speed rail system in the world, carries an estimated 420,000 riders every weekday. In China, the new Fuxing Hao bullet train now hurries more than 100 million passengers a year between Beijing and Shanghai at a top speed of 218 miles an hour, allowing its riders to make the trip of 775 miles — roughly the distance from New York City to Chicago — in about four and a half hours. Spain, Germany and France together have more than 4,500 miles of track dedicated to high-speed rail, over which more than 150 million passengers travel annually.
Ocean Heroes Bootcamp
By Coda Christopherson (11) and Lea Eiders (15)
Growing up in a plastic-free home, I was sheltered from the plastic waste crisis. I (Coda) went to a very progressive school that had vegan lunch items, farm animals and ran on solar power. My mom produces zero-waste events and my dad is a sailor, so we're very passionate about the ocean. When I was nine years old, we moved back to Manhattan Beach, California and I started 3rd grade in a public school. This was the first time I really understood that plastic-free living is not the norm; single-use plastics were everywhere, especially in the cafeteria. Once I recognized this problem, I knew I had to make a difference.
A major California avocado producer issued a voluntary recall of the popular fruit over concerns they could be contaminated with Listeria monocytogenes, USA Today reported.
Henry Avocado issued the recall Saturday after a routine government inspection at its California packing facility turned up positive test results for the bacteria on "environmental samples," the company said in a statement. No illnesses have been reported.
Acting Secretary David Bernhardt visited Watson Hopper Inc., a manufacturer of rigs and oil drilling equipment in Hobbs, New Mexico on Feb. 6, 2019.
Tami A. Heilemann / DOI
Oil executives gathered for a conference laughed about their "unprecedented" access to Trump administration officials, according to a recording obtained by Reveal from the Center for Investigative Reporting.
In the recording, taken at a June 2017 meeting of the Independent Petroleum Association of America (IPAA) at a Ritz-Carlton in Southern California, members expressed excitement about one official in particular: David Bernhardt, who had been nominated that April to be deputy secretary at the Department of Interior (DOI). Bernhardt would be confirmed the following month.
"We know him very well, and we have direct access to him, have conversations with him about issues ranging from federal land access to endangered species, to a lot of issues," IPAA political director Dan Naatz said in the recording.