This website uses cookies to ensure you get the best experience while browsing it. By clicking 'Got It' you're accepting these terms.
How COP21 Will Unleash Massive Global Renewable Energy Growth
Nov. 12, 2015 12:35PM EST
Insights + Opinion

The latest report from the influential World Resources Institute (WRI), Assessing the Post-2020 Clean Energy Landscape, indicates that we are poised for an exponential growth in renewable energy production after the Paris COP21 climate conference.
According to the report, which analyzes the clean energy plans of eight of the top 10 carbon emitters in the world, the Paris 2015 conference could help double the current market in the next 15 years.
"These new renewable energy targets send strong signals to energy markets and investment circles," said Jennifer Morgan, global director of the Climate Program, at World Resources Institute.
Assuming these proposed clean energy plans are achieved, total annual renewable electricity generation will increase by nearly four times between now and 2030. This increase is equivalent to all of India's current energy demand.
Here are some key highlights:
China will increase the share of non-fossil fuel in primary energy consumption to around 20 percent by 2030;
European Union will achieve at least a 27 percent share of renewable energy consumption by 2030;
U.S. will increase the U.S. share of renewables—beyond hydropower—in the electricity generation mix to 20 percent by 2030.
The report also analyzed the current climate plans submitted by all the countries to the UNFCCC, the so-called INDCs. INDCs (intended nationally determined contributions) have been submitted by more than 150 countries and are expected to provide the fundamental plans for a global deal on climate change next month.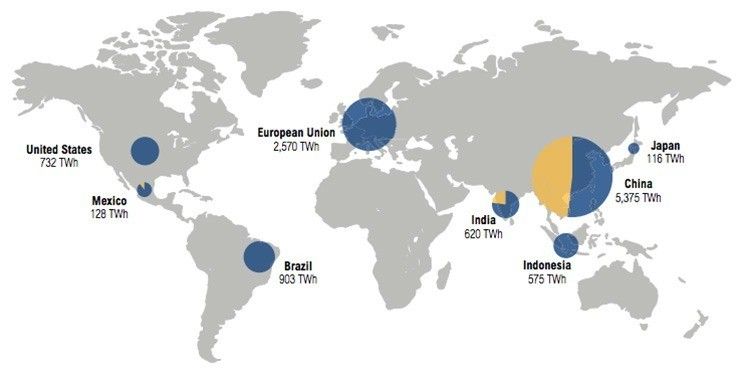 Out of the 127 INDCs submitted, 80 percent of them mentioned clean energy: 67 INDCs (53 percent) indicated clean energy targets and 35 INDCs (27 percent) committed to put forward clean energy actions.
This WRI report preceded the release of IEA's "World Energy Outlook 2015," which gives approximately similar projections but with longer targets: Renewables-based generation reaches 50 percent in the EU by 2040, around 30 percent in China and Japan and above 25 percent in the U.S. and India.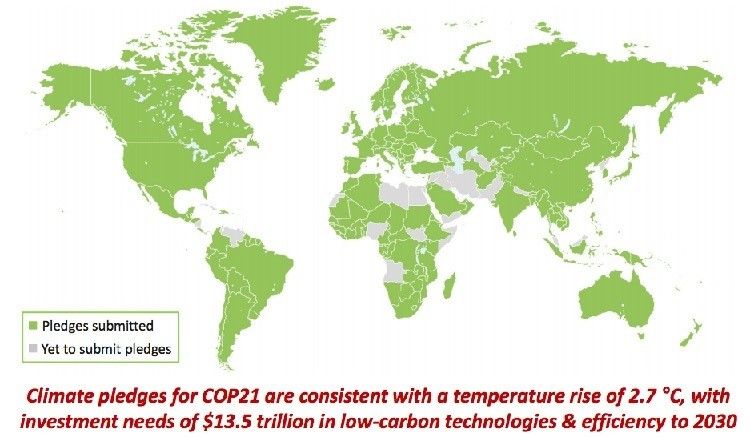 "World leaders meeting in Paris must set a clear direction for the accelerated transformation of the global energy sector." Fatih Birol, executive director, IEA.
Unfortunately, according to the IEA these INDCs and current renewables projections for emissions trajectory implies a long-term temperature increase of 2.7C by 2100. Therefore, more must be done to help all the countries accelerate, grow and implement this massive clean energy transition.
YOU MIGHT ALSO LIKE
Corporate and Financial World Are Finally Ready to Take Climate Action
Renewables to Overtake Coal as World's Largest Power Source, Says IEA
Climate Change Poised to Push 100 Million Into 'Extreme Poverty' by 2030
UN Report Measures Significant Progress Ahead of Paris Climate Talks
EcoWatch Daily Newsletter
People carry children on a flooded street in Almoradi, Spain on Sept. 13. JOSE JORDAN / AFP / Getty Images
Large food companies are following in the footsteps of fast-food restaurants such as Burger King and KFC by offering meat alternatives. Getty Images
By Elizabeth Pratt
Hormel, Kellogg's, and Kroger are among the large companies now planning to offer "fake meat" products at grocery stores.
Experts say the trend toward plant-based meats coincides with consumers' desires to eat less meat.
However, experts urge consumers to closely check package labels as a product isn't necessarily healthy just because it's described as plant-based.
In grocery stores and fast-food outlets around the U.S., a revolution is taking place.
Colombia rainforest. Marcel Oosterwijk / CC BY-SA 2.0
Many of us think of the Amazon as an untouched wilderness, but people have been thriving in these diverse environments for millennia. Due to this long history, the knowledge that Indigenous and forest communities pass between generations about plants, animals and forest ecology is incredibly rich and detailed and easily dwarfs that of any expert.
picture-alliance / Newscom / R. Ben Ari
By Wesley Rahn
Plastic byproducts were found in 97 percent of blood and urine samples from 2,500 children tested between 2014 and 2017, according to a study by the German Environment Ministry and the Robert Koch Institute.

Pexels
Medically reviewed by Daniel Bubnis, MS, NASM-CPT, NASE Level II-CSS
Hot yoga has become a popular exercise in recent years. It offers many of the same benefits as traditional yoga, such as stress reduction, improved strength, and flexibility.
Lara Hata / iStock / Getty Images
By SaVanna Shoemaker, MS, RDN, LD
Rice is a staple in many people's diets. It's filling, inexpensive, and a great mild-tasting addition to flavorful dishes.
An image of the trans-alaskan oil pipeline that carries oil from the northern part of Alaska all the way to valdez. This shot is right near the arctic national wildlife refuge. kyletperry / iStock / Getty Images Plus
The Trump administration has initialized the final steps to open up nearly 1.6 million acres of the protected Alaskan National Wildlife Refuge to allow oil and gas drilling.