This website uses cookies to ensure you get the best experience while browsing it. By clicking 'Got It' you're accepting these terms.
House Passes Keystone XL, Bill Heads to Obama's Desk
Feb. 11, 2015 05:14PM EST
Energy
This afternoon, after some debate that broke no new ground, the House of Representatives passed the Senate's version of the Keystone XL pipeline bill by a vote of 270-152, the Senate passed the bill on Jan. 29 by a vote of 62-36. The House had quickly approved it—for the tenth time— just days after the current session of Congress convened in early January, sending the bill to the Senate. There it passed for the first time, thanks to Republicans taking control of the Senate following last November's mid-term elections.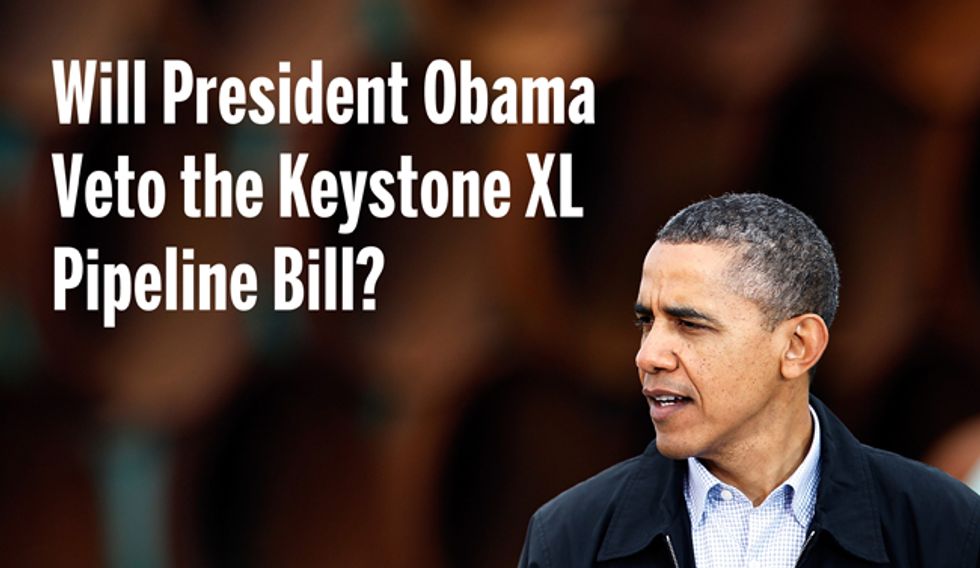 Today's vote was necessary to reconcile the two versions of the bill, the final step before sending it to President Obama's desk. President Obama has consistently indicated that he will veto the bill. To override his veto it would have required 67 votes in the Senate, which they did not achieve.
"The only thing Congressional Republicans accomplished with this vote is a show of unflinching loyalty to their Big Oil campaign donors who put this tar sands pipeline at the top of their wish list," said Michael Brune, executive director of the Sierra Club.
"President Obama has made it clear he will veto this toxic legislation, clearing the way for his administration to finish its assessment of the damage this dangerous project will do to our air, water, land and climate. We are confident that assessment will find that Keystone XL fails the President's climate test and is therefore not in our national interest, meaning it must be rejected once and for all."
Earlier today in a Republican House leadership press briefing, Speaker of the House John Boehner (R-OH) did some cheerleading for the pipeline, which he referred to as a "people's priority." He repeated exaggerated jobs creation claims and publicly pressured Obama by tying him to environmental activists whom he smeared.
"Instead of listening to the people, the President is standing with a bunch of left-fringe extremists and anarchists," said Boehner. "The president needs to listen to the American people and say yes! Let's build the Keystone pipeline!"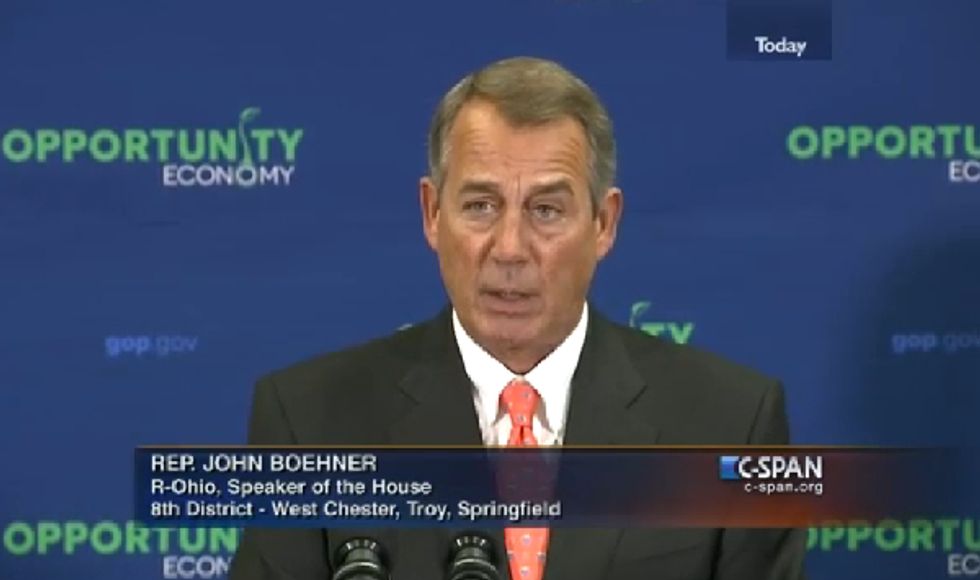 House Majority Whip Steve Scalise followed Boehner, pouring on the pipeline praise. He said:
"The House has been focused on creating jobs and we started right out of the box, passing the Keystone pipeline bill. The Senate made some changes, sent it back and today we're going to take that bill up and send it to the President's desk to create over 40,000 American jobs. I urge the President to sign this bill. In his veto threats, the only thing he cited were issues in the state of Nebraska. Those issues have now been resolved. There are no issues that the President has stated with that bill that shouldn't be able to be overcome and the president shouldn't stand in the way of creating those good American jobs and that important energy security.
Scalise wasn't being accurate. As noted in a post by actor and activist Robert Redford earlier this year, the Keystone XL pipeline project will provide just 35 permanent jobs. "Pipeline backers mislead the public with inflated job numbers. The truth is, according to the State Department, the pipeline will create 35 permanents jobs and 1,950 construction jobs for two years. We can create more—and less dangerous—jobs by investing in clean energy," said Redford.
President Obama agrees. He told The Colbert Report host Stephen Colbert in December:
"We've got to make sure that it's not adding to the problem of carbon and climate change. We have to examine that, and we have to weigh that against the amount of jobs that it's actually going to create, which aren't a lot. Essentially, this is Canadian oil passing through the United States to be sold on the world market. It's not going to push down gas prices here in the United States. It's good for Canada. It could create a couple of thousand jobs in the initial construction of the pipeline but we've got to measure it against whether or not it's going to contribute to an overall warming of the planet—which could be disastrous."
Now, as the bill heads to President Obama's desk, we'll find out if he stands by the U.S. Environmental Protection Agency's findings that the pipeline fails his climate test and vetos the Keystone XL pipeline bill.
"The Republican-led Congress supports eminent domain for private gain with their vote for the risky Keystone XL pipeline," said Jane Kleeb, director of Bold Nebraska. "To pretend this massive, foreign tar sands pipeline somehow does not impact climate change or risk our water discounts science and common sense. Farmers and ranchers can only breathe a sigh of relief because President Obama will veto this reckless bill."
May Boeve, executive director of 350.org agrees. "We're looking forward to the President vetoing this love letter to Big Oil," she said. "The members of Congress who voted for this bill took on average seven times more money from the fossil fuel industry than those who voted against it. This whole legislative charade has served as a reminder of how dangerous Keystone XL is for our country, communities, and climate. It also seems to have stiffened the President's spine--he's never looked more willing to reject the pipeline once and for all."
YOU MIGHT ALSO LIKE
Tell President Obama: Veto Keystone XL Pipeline Bill
EPA Confirms Keystone XL Fails President's Climate Test
Robert Redford: Fossil Fuels Need to Stay in the Ground, Renewable Energy Is the Future
EcoWatch Daily Newsletter
America's national bird is threatened by hunters. Not that hunters are taking aim at the iconic bald eagle, but bald eagles are dying after eating lead bullets, as CNN reported.
Bill Bader, owner of Bader Farms, and his wife Denise pose in front of the Rush Hudson Limbaugh Sr. United States Courthouse in Cape Girardeau, Missouri on Jan. 27, 2020.
Johnathan Hettinger /
Midwest Center for Investigative Reporting
A jury in Missouri awarded a farmer $265 million in a lawsuit that claimed Bayer and BASF's weedkiller destroyed his peach orchard, as Reuters reported.
Earthjustice says Louisiana has violated the Clean Water Act and given Formosa Plastics Group the "greenlight to double toxic air pollution in St. James" (seen above).
Louisiana Bucket Brigade
A coalition of local and national groups on Friday launched a legal challenge to a Louisiana state agency's decision to approve air permits for a $9.4 billion petrochemical complex that Taiwan-based Formosa Plastics Group plans to build in the region nationally known as "Cancer Alley."
Bears Ears National Monument in Utah. Bob Wick / BLM / onEarth
Well, he told us he would do it. And now he's actually doing it — or at least trying to. Late last week, President Trump, via the U.S. Department of the Interior's Bureau of Land Management, announced that he was formalizing his plan to develop lands that once belonged within the Bears Ears and Grand Staircase-Escalante National Monuments in southern Utah. The former is a stunningly beautiful, ecologically fragile landscape that has played a crucial role in Native American culture in the Southwest for thousands of years; the latter, just as beautiful, is one of the richest and most important paleontological sites in North America.
Smoke pours from the exhaust pipes on a truck on Nov. 5, 2019 in Miami, Florida. According to a 2017 EPA study the largest source of greenhouse gas emissions in the U.S. is from the transportation sector. Joe Raedle / Getty Images