Hillary Clinton Breaks Keystone XL Silence, Announces Her Opposition to the Pipeline
Sep. 23, 2015 09:18AM EST
Energy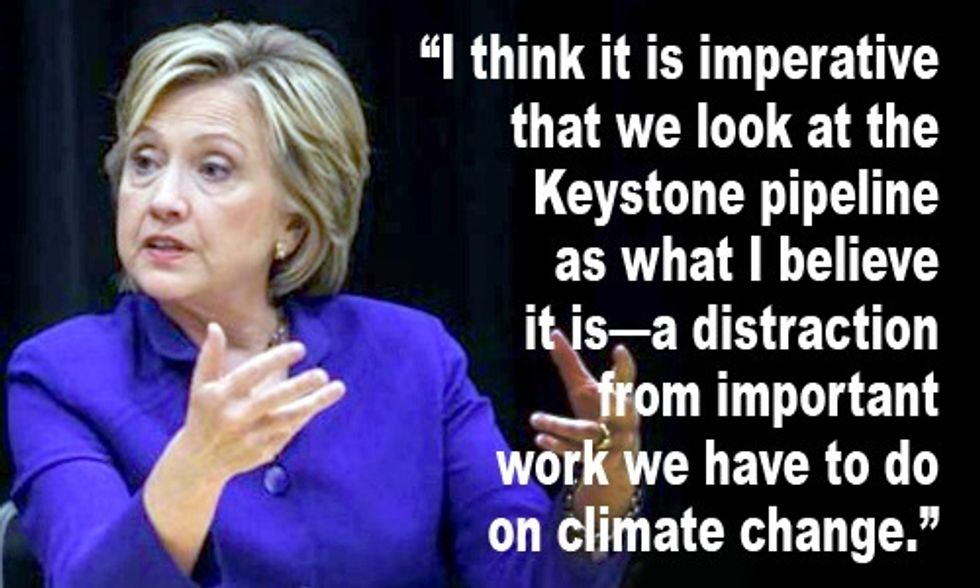 Joining political rival Bernie Sanders in his long-held opposition and distancing herself from the reluctance of the Obama administration to reject the project outright, Democratic presidential frontrunner Hillary Clinton came out publicly against the Keystone XL tar sands pipeline for the first time on Tuesday.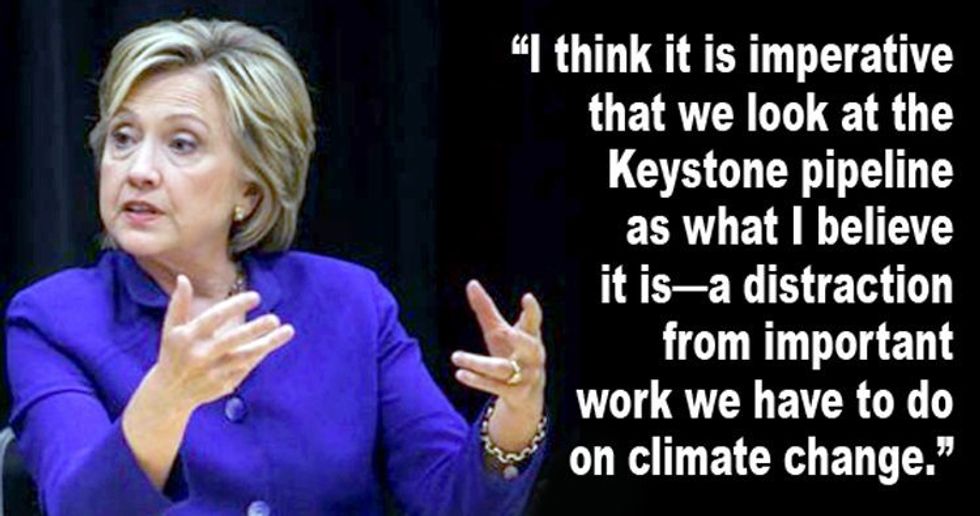 "I think it is imperative," Clinton said during a campaign stop in Iowa, "that we look at the Keystone pipeline as what I believe it is—a distraction from important work we have to do on climate change."
Citing her personal perspective, Clinton continued by saying the controversial project is "one that interferes with our ability to move forward with all the other issues. Therefore I oppose it."
Climate action groups such 350.org, which has fought fiercely against approval of the project, welcomed the comments and claimed responsibility for making such positions possible—especially for the former secretary of state who was previously supportive of the pipeline's construction and as one who played such a central role in the federal government's consideration of the project.
"Make no mistake," said 350's executive director May Boeve, Clinton's announcement "is clear proof that social movements move politics. Thanks to thousands of dedicated activists around the country who spent years putting their bodies on the line to protect our climate, we've taken a top-tier presidential candidate's 'inclination to approve' Keystone XL and turned it into yet another call for rejection. Her position on Keystone should set an important precedent for her policies going forward: we cannot afford to approve projects that make climate change worse."
Jane Kleeb, head of Bold Nebraska, championed the decision as a win for farmers, local ranchers and other landowners in her state and along the pipeline's proposed route. "All front runners in the Democratic Party," said Kleeb, "see the lies Big Oil tried to tell in order to shove this export pipeline down our throats. Now all that is left is for President Obama to reject the permit so landowners and Tribal Nations can get on to producing food with clean water."
Even as Clinton has had to contend with widespread mistrust among environmentalists and climate campaigners over her troubling ties with the fossil fuel industry, including specific questions about her members of her team who have lobbied on behalf of the company behind Keystone, Boeve echoed the idea that Clinton's public statements against the project serve to build pressure on the Obama administration to reject it once and for all.
"Today's news is a huge win for our movement," said Boeve. "As the President himself has noted, building Keystone XL would worsen climate change, unlock development of Canada's tar sands oil and threaten the safety of farmers and landowners in America's heartland—all so an oil company can profit by sending oil to the rest of the world. That's why this pipeline has drawn such intense opposition from every part of American society, ranging from landowners along the route to scientists, farmers, tribal communities and major politicians. President Obama has all the information he needs: it's time to end this and reject Keystone XL for good."
An aide to Clinton admitted to CNN on Tuesday that her campaign "had been taking on water" by refusing to take a position on Keystone XL. As the Des Moines Register noted Tuesday, Clinton's campaign events in New Hampshire and Maine last week were attended by activists who held signs that read "I'm Ready for Hillary to say no KXL," demanding she oppose the pipeline.
Last week, Clinton hinted that despite her previous refusals to say one way or another about her position, she wouldn't wait or defer to the White House or her successor, Secretary of State John Kerry, much longer before voicing her opinion.
Writing at the Guardian on Tuesday and citing the arrival of Pope Francis in Washington, DC, 350.org co-founder Bill McKibben offered this perspective on Clinton's shift on the issue and the timing of her subsequent public announcement:
Literally as the papal plane landed, Hillary Clinton completed her long-running metamorphosis on the Keystone pipeline. Before the pipeline review even began, many long years ago, she said she was "inclined to approve" this fuse to one of the planet's biggest carbon bombs. But as KXL turned into the defining environmental fight of the decade, she went mum. And now, faced with the clear understanding that climate will be a defining issue in next year's election, she came out in firm opposition to the plan.

It's not really divine intervention that moved the former Secretary of State (who had originally gamed the State Department review process to approve the project). It was hard hard organizing—thousands went to jail, hundreds of thousands marched, millions wrote public comments. And that work has gone far beyond this one pipeline: its helped turn almost every fossil fuel infrastructure project on the planet into a full-on battle.

Bernie Sanders played his part too. He's made no direct criticism of Hillary, but he has pointed out regularly how odd it is she has no position on this key issue. As he rose in the polls, her determination to dodge the issue clearly wavered.

But the pope did help too: his powerful encyclical last summer is a reminder to every politician of exactly which way the wind is now blowing. That wind is in the sails of the climate movement now and so there will be more days like this to come. Whether they come in time to slow the planet's careening new physics is an open question, but at last the political and financial climate has begun to change almost as fast as the physical one.
YOU MIGHT ALSO LIKE
Senate Democrats Unveil Energy Bill to Signal 'Full-Throated Support' of Obama's 'Aggressive' Climate Plan
Leonardo DiCaprio Pledges to Divest From Fossil Fuels as Movement Grows 50-Fold in One Year
Climate Deniers Attack 'Rock Star' Pope as 'Nature-Worshipping Pagan' Amid U.S. Visit
Stephen Colbert Explains Why Bernie Sanders Is Rocking Rallies All Over the Country
EcoWatch Daily Newsletter
Related Articles from EcoWatch
Recent Stories from EcoWatch