This website uses cookies to ensure you get the best experience while browsing it. By clicking 'Got It' you're accepting these terms.
Here We Go Again: Fracking Industry Mangles More Facts
Jul. 18, 2015 09:05AM EST
Energy
A new set of peer-reviewed scientific papers pointing to 50 percent higher than estimated regional methane emissions from oil and gas operations in Texas were published this week. And like clockwork, the oil and gas industry's public relations machine, Energy In Depth (EID), proclaimed that rising emissions are actually falling, and that the industry's meager voluntary efforts are responsible.
This is, of course, wrong on both counts. In fact, it's a willful misrepresentation of the findings.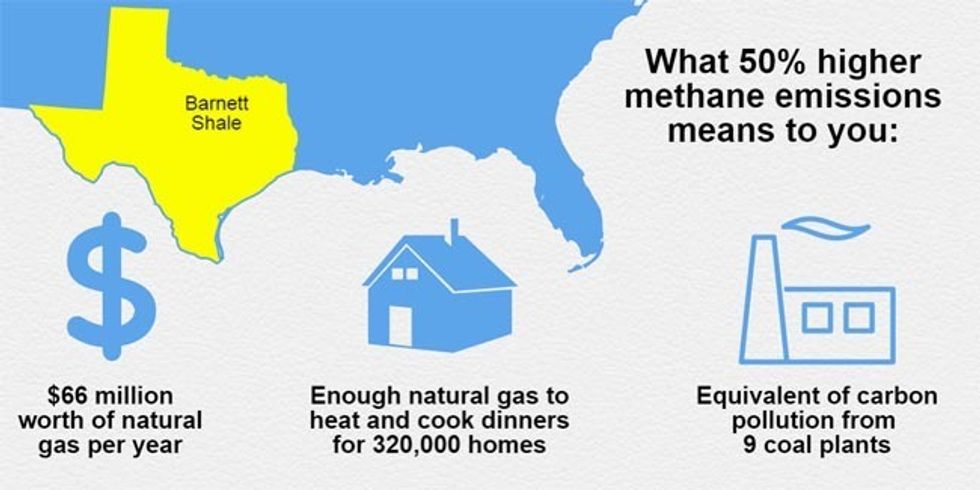 First, the assertion that emissions are going down is flat wrong. The U.S. Environmental Protection Agency's (EPA) latest inventory released in April reports that in 2013 the oil and gas industry released more than 7.3 million metric tons of methane into the atmosphere from their operations—a three percent increase over 2012—making it the largest industrial source of methane pollution. So much for those voluntary efforts.
But EID also fumbles the two main findings of the studies: First, that traditional emissions inventories underrepresent the magnitude of the methane problem by 50 percent or more; and second, that this undercount is primarily due to relatively small but widely distributed number of sources across the region's oil and gas supply chain, coming from leaks and equipment malfunctions not currently accounted for in the emission inventories everyone has been pointing to. In short, the Barnett papers tell us there's a pervasive but manageable pollution problem occurring across the entire supply chain that requires a comprehensive, systematic monitoring effort and effective repair regime to address it.
Regulators in Colorado understood this to be the case, which is why Colorado took steps to adopt state-wide leak detection and repair requirements for oil and gas operations last year, and why Wyoming and Ohio have also taken first, important steps in this direction. The Barnett papers confirm the importance of these regulatory efforts and suggest that requirements to find and fix leaks across the oil and gas industry are a national priority.
The good news is that reports indicate once you find these sources, they're fairly cheap and easy to fix. And it is important to do so. Methane is the main ingredient in natural gas and a powerful greenhouse gas and many of the leaks and malfunctions lead to emissions of other air pollutants that contribute to local air quality problems besides.
An Ounce of Prevention
Fire prevention offers a good way to think about this. Fires are relatively rare, and occur unpredictably. And just a few do real damage. But that's an argument in favor of a broad and vigilant solution: Smoke detectors in every home; regular safety inspections for large buildings; and sprinkler systems and firefighters to stop small situations from becoming big ones.
The same type of ongoing fire prevention measures keeping people safe in office buildings around the country is needed to stop this methane and associated air pollution that is harming communities near oil and gas development.
In the Barnett alone, we're talking about a volume of methane emissions equal to $66 million per year in wasted product. Also enough gas to meet the heating and cooking needs of roughly 320,000 homes and to deliver the equivalent climate benefit of cutting emissions from nine coal plants over the next 20 years. Clearly, these are not insignificant numbers, as EID suggests. Instead, it shows how meaningless percentage points are without proper context.
Industry often points out it can be trusted to reduce methane emissions, and that regulation is not needed. But the sub-one-percent participation rate in EPA's voluntary Natural Gas Star proves otherwise.
We don't have any doubt that industry could manage this problem more effectively, without undue hardship or cost. But as with fire safety, there's no evidence it will happen without proper regulations requiring every oil and gas facility to do what needs to be done, and that no one among the thousands of oil and gas producers, gatherers, or pipeline operators can derive a competitive advantage from cutting corners. Only consistent national rules can ensure that companies have a level playing field and people have the vital protections they deserve.
YOU MIGHT ALSO LIKE
Citizens Can Sue Fracking Companies for Earthquake Damage, Says Oklahoma Supreme Court
Shocking Documents Reveal Fracking Health Complaints Swept Under the Rug in Pennsylvania
Cancer-Causing Chemicals Found in Drinking Water Near Texas Fracking Sites
EcoWatch Daily Newsletter
A pangolin at a rescue center in Cambodia. Rhett A. Butler / Mongabay
A man carries plastic shopping bags in Times Square on May 5, 2018 in New York City. Kena Betancur / VIEWpress / Corbis / Getty Images
White gold man-made diamond solitaire engagement ring. Clean Origin
While keeping track of the new trends in the diamond industry can be hard, it is still an essential task of any savvy consumer or industry observer. Whether you are looking to catch a deal on your next diamond purchase or researching the pros and cons of an investment within the diamond industry, keeping up with the trends is imperative.
Rep. Alexandria Ocasio-Cortez (D-NY) (C) chants with housing and environmental advocates before a news conference to introduce legislation to transform public housing as part of her Green New Deal outside the U.S. Capitol Nov. 14, 2019 in Washington, DC. Chip Somodevilla / Getty Images
Rep. Alexandria Ocasio-Cortez (D-N.Y.) took to the floor of the House of Representatives yesterday to chide Republicans for not reading the Green New Deal, which she introduced over one year ago, as The Hill reported. She then read the entire 14-page document into the congressional record.
Anti Ivan Duque's demonstrator is seen holding a placard with the photos of social leader Alirio Sánchez Sánchez and the indigenous Hector Janer Latín, both killed in Cauca, Colombia during a protest against Ivan Duque visit in London which included a meeting about fracking, environmental issues, the peace process implementation, and questioning the risk that social leaders in Colombia face. Andres Pantoja / SOPA Images / LightRocket / Getty Images
Colombia was the most dangerous nation in 2019 to be an environmental activist and experts suspect that conditions will only get worse.