This website uses cookies to ensure you get the best experience while browsing it. By clicking 'Got It' you're accepting these terms.


The best of EcoWatch, right in your inbox. Sign up for our email newsletter!
Groundwater Disappearing Much Faster Than Lake Mead in Colorado River Basin
Jul. 24, 2014 04:50PM EST
Climate
The mineral-stained canyon walls and the plunging water levels at Lake Mead, the nation's largest reservoir, are the most visible signs of the driest 14-year period in the Colorado River Basin's historical record.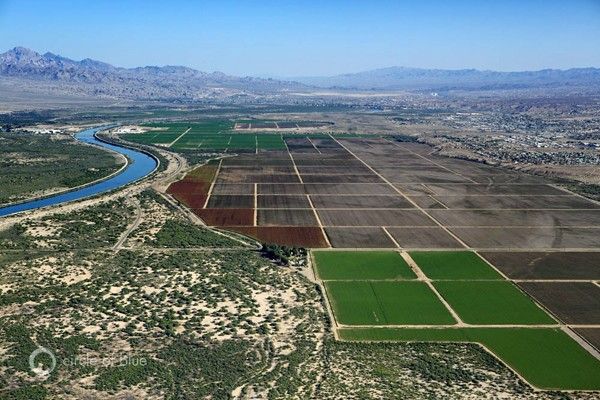 But the receding shorelines at the Basin's major reservoirs—including Lake Mead, which fell to a record-low level this month, and Lake Powell, the second largest reservoir on the Colorado, 290 kilometers (180 miles) upstream from Mead—are an insignificant hydrological change compared to the monumental disruption taking place underground.
Satellite data show that in the last nine years, as a powerful drought held fast and river flows plummeted, the majority of the freshwater losses in the Basin—nearly 80 percent—came from water pumped out of aquifers.
The decrease in groundwater reserves is a volume of water equivalent to one and a half times the amount held in a full Lake Mead, according to a study published today in the journal Geophysical Research Letters.
"We didn't think it would be this bad," said Stephanie Castle, a researcher at the University of California, Irvine, and the study's lead author. "Basin-wide groundwater losses are not well documented. The number was shocking."
Scales in the Sky
The research team used data from the GRACE satellite mission to calculate the water balance for a Basin that spreads across seven states and reaches into Mexico.
Launched in 2002, GRACE is a pair of satellites that translate fluctuations in the Earth's gravitational pull into changes in total water storage. Separate data sets are used to pull apart the contributions from snowpack, soil moisture, surface water and groundwater. GRACE data has been used to assess groundwater depletion in California and the Middle East, as well as flood potential in the Missouri River Basin.
Jay Famiglietti, an Earth systems professor at the University of California, Irvine, and a study co-author, calls the instruments "scales in the sky."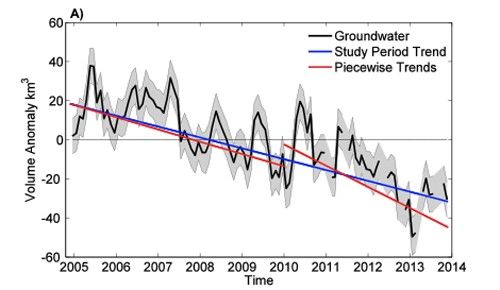 For the study, the researchers looked at the period from December 2004 to November 2013. This time frame allowed them to isolate the effects of the drought on groundwater. By 2004, the Basin's reservoirs were nearing record lows. Today, they are slightly, but not significantly lower, at 51 percent full.
The steepest rates of water loss occurred in 2013, which followed one of the driest years on record.
The total decline in the Basin's water reserves was 64.8 cubic kilometers (52.5 million acre-feet), with 50.1 cubic kilometers (40.6 million acre-feet) from groundwater. The capacity of Lake Mead, for comparison, is 32 cubic kilometers (26 million acre-feet). At least 70 percent of the Basin's water use is for irrigated agriculture.
Chuck Collum, Colorado River manager at the Central Arizona Project, which delivers more than half of Arizona's Colorado River allocation, said the study was helpful.
"The study is useful in using GRACE to verify at a coarse scale what water managers in the Basin know," Cullom told Circle of Blue.
To check their conclusions, the researchers compared the satellite data against measurements taken from individual wells. Measurements from nine U.S. Geological Survey wells and 65 Arizona Department of Water Resources wells showed similar trends at the smaller scale.
"That gives us confidence in what GRACE is seeing," Castle said.
Still, GRACE data has limits. For one, the satellites cannot tell what share of the groundwater decline comes from an increase in pumping versus a decrease in the recharge rate, the amount that flows into an aquifer. In a drought, pumping would be expected to go up and recharge down, Famiglietti said.
GRACE also has spatial constraints. The satellites work best for land areas larger than 200,000 square kilometers (77,220 square miles), roughly the size of Nebraska. The satellites cannot pick out hotspots of groundwater depletion within the states.
"It's difficult to break GRACE data down farther than we have," Famiglietti told Circle of Blue. "We need additional data on the ground to tell what is happening."
You Might Also Like
America's Largest Reservoir Drains to Record Low As Western Drought Deepens
Drought Drains Lake Mead to Lowest Level as Nevada Senator Calls for Government Audit
Extreme Drought in CA Triggers Halting of Fracking Waste Injection to Avoid Aquifer Contamination
EcoWatch Daily Newsletter
Did you know that more than a third of food is wasted or thrown away every year? And that only 25 percent of it would be enough to feed the 795 million undernourished people in the world? That's why today is Stop Food Waste Day, a chance to reflect on what you can do to waste less of the food you buy.
Stop Food Waste Day is an initiative of food service company Compass Group. It was launched first in the U.S, in 2017 and went global the year after, making today it's second worldwide celebration.
Flames and smoke are seen billowing from the roof at Notre-Dame Cathedral on April 15 in Paris, France. Veronique de Viguerie / Getty Images
When Paris's Notre Dame caught fire on April 15, the flames threatened more than eight centuries of culture and history. The fire evoked shock, horror and grief worldwide. While the cathedral burned, French President Emmanuel Macron expressed determination to rebuild what the French regard as a sacred site.
An artist's impression of NASA's InSight lander on Mars. NASA / JPL-CALTECH
Scientists have likely detected a so-called marsquake — an earthquake on Mars — for the first time, The National Aeronautics and Space Administration (NASA) announced on Tuesday.
Hero Images / Getty Images
Across the political aisle, a majority of American parents support teaching climate change in schools even though most teachers currently do not.
By Andrea Germanos
Lawyer and visionary thinker Polly Higgins, who campaigned for ecocide to be internationally recognized as a crime on par with genocide and war crimes, died Sunday at the age of 50.
She had been diagnosed with an aggressive cancer last month and given just weeks to live.
The Anopheles stephensi mosquito, which carries malaria. CDC / Jim Gathany
The world's first malaria vaccine was launched in Malawi on Tuesday, NPR reported. It's an important day in health history. Not only is it the first malaria vaccine, it's the first vaccine to target any human parasite.