The General Sherman Tree in Sequoia National Park, California. rabbit75_ist / iStock / Getty Images Plus
Firefighters in California are using blankets to protect iconic sequoias — including the world's largest tree — from approaching wildfires.
The Colony Fire was within a mile of Sequoia National Park's iconic Giant Forest Thursday afternoon, which hosts around 2,000 sequoias including the General Sherman Tree, considered the largest on Earth in terms of volume, the Los Angeles Times reported. Officials raced to protect the grove from flames that could reach it within a day.
"It's a very significant area for many, many people, so a lot of special effort is going into protecting this grove," Sequoia and Kings Canyon National Parks spokesperson Rebecca Paterson told the Los Angeles Times.
The General Sherman Tree has a volume of 52,508 cubic feet, The AP reported. It also extends 275 feet into the air and has a circumference at its base of 103 feet. It is between 2,300 to 2,7000 years old, BBC News reported. Firefighters are protecting it along with other trees in the grove, the Giant Forest museum and other buildings by wrapping it in aluminum, according to The AP.
The wrap used is "like tinfoil basically," Mark Garrett, a spokesperson for the firefighting efforts, told the Los Angeles Times. It is the same material used to wrap homes and works by shielding the trees from embers and reflecting heat. Vegetation around the trees was also cleared to help protect them.
The grove is being menaced by the KNP Complex Fire, a joining of the Colony and Paradise fires that stands at 9,365 acres, according to the most recent information from InciWeb. The two fires were started by lightning strikes around a week ago and 482 firefighters are currently working to contain them.

In addition to immediate protections, the grove is also protected by the park's history of conducting prescribed burns to clear out other vegetation that might otherwise fuel fires in sequoia groves, The AP noted.
A "robust fire history of prescribed fire in that area is reason for optimism," Paterson told The AP. "Hopefully, the Giant Forest will emerge from this unscathed."
Sequoias have evolved to withstand wildfires and even to spread their seeds with help from the heat. However, the more intense fires fueled by the climate crisis can be too much even for these trees. Last year's Castle Fire killed between 7,500 to 10,600 large sequoias.
California is in the midst of yet another in a series of extreme wildfire seasons fueled by
drought
and climate change. Last year, a record 4.1 million acres burned, according to the
National Interagency Fire Center
. This year, more than 7,400 blazes have scorched more than 2.2 million acres so far, BBC News reported.
A tourist in Sequoia National Park in front of the largest tree in the world. haveseen / iStock / Getty Images Plus
EcoWatch Daily Newsletter
Catherine Falls Commercial / Moment / Getty Images
As we've seen in the American West and Southwest this summer, climate change continues to threaten our national (and global) water supply. Extreme drought conditions are the most widespread they've been in at least 20 years, reservoir levels are at all-time lows, and the resulting dryness of the landscape has led to more wildfires. Water usage also contributes significantly to global greenhouse gas emissions through the pumping, treating, and heating necessary to bring water into our homes.
As we face these effects of climate change, conserving water becomes increasingly important. Saving water also means saving money; the average American family spends more than $1,000 on water a year, which can be diminished significantly by addressing the way we use water in our daily lives.
Consider making a few water-conscious changes in the kitchen, bathroom, yard, and elsewhere around the home.
1. Check for Leaks
First and foremost, make sure all water used in your home is actually being used. The average household wastes a whopping 10,000 gallons of water a year due to leakage, which translates to a much higher water bill.
Monitor a water meter during a two-hour period when no water is being used to determine if leaks are occurring in faucets, pipes, toilet flappers, etc.; an easy way to pinpoint a toilet leak is to squeeze a drop of food coloring into the toilet tank. If the color appears in the bowl within 10 minutes, you've got a leak.
Most fixes are very simple and require minimal tools, but if the problem persists, it might be time to call in a plumber.
2. Save Water From Rinsing Vegetables to Water Plants
When washing fruits and vegetables in the sink, catch the water in a basin instead of letting it flow down the drain. Use this to water indoor or outdoor plants.
3. Use Rainwater Barrels
To capture even more water for watering plants (or washing the car), use rain barrels to collect rainwater. The enclosed barrels often connect to downspouts that direct water flowing off of roofs, and have a spigot to fill up watering cans or other vessels. By collecting the water, you also prevent some flooding and erosion on your property, as well as the formation of harmful runoff as water picks up pollutants from fertilizers, pesticides, animal waste, and trash while heading towards waterways.
Rain barrels can be purchased from local hardware and garden stores, or, you can make a simple one yourself. Find a sturdy plastic barrel (around 55 gallons), and place on a cinderblock platform near a downspout. Drill two small holes on the side: one near the top to connect the overflow adapter, and one near the bottom for the spigot. Insert the spigot, then the overflow adapter, and connect it to a length of hose; position this correctly so any excess water will be diverted downhill away from your home. Cut your downspout so it ends above the bucket, then attach a flexible downspout extender, snaking the other end into a hole on the top of the barrel (do not just allow water to pour into an open barrel, or mosquitoes and algae will take over). Cover the barrel-end of the extender with a mesh bag to collect any leaves or debris, and make sure to empty it after each rain event.
While investing in large water barrels might be useful for larger properties, collecting water doesn't have to be high-tech; place plastic storage bins, buckets, and other large vessels outdoors to gather rainwater, especially if your outdoor-watering needs are small and you'll be able to use the water quickly.
It's important to note that collected rainwater should not be used for drinking, and when using to water vegetables, try to pour the water at the base of the plant (as opposed to soaking the crops themselves), and thoroughly wash anything you plan to eat with tap water.
4. Ditch the Lawn
Among the other environmental impacts of lawn care – including synthetic fertilizers, loss of biodiversity, and emissions from gas-powered mowers – it's estimated that 30% (and as much as 70% during the summer months) of residential drinking water is used outdoors.
Instead of maintaining a water-intensive, monocropped grass lawn, plant native species that are adapted to the local environmental conditions, and therefore require much less water. These plants will also support insect, bird, and mammal populations, contributing to a healthy backyard ecosystem. If you live in a drier climate, try drought-resistant plants, grasses, tress, and shrubs that don't need frequent watering.
5. Set Up a Stale Water Bin
Instead of pouring unfinished glasses of water down the drain, pour them into a large pitcher or beverage dispenser (like the kind you use for lemonade and water at parties). Use this instead of fresh tap water to water houseplants; as a bonus, the chlorine and fluoride found in municipal water will have evaporated, which some plants are sensitive to.
6. Replace Old Appliances
Clothes washers, toilets, and dishwashers are all culprits of high water usage. The average American uses about 82 gallons of water each day at home, but installing water-efficient appliances and fixtures can cut that use by 20%.
If you are able, consider replacing older appliances with more efficient, newer models. Search for products with the WaterSense label – a program sponsored by the EPA – which indicates that they've been designed to use at least 20% less water than traditional appliances. Some WaterSense-labeled toilets can save 16,000 gallons of water a year for a family of four. Dual-flow models also have different settings for liquids and solids, limiting excess water use. Old clothes washers are also a huge drain on water in the home; if your machine was manufactured before 1999, consider replacing it with a model that has a lower water factor (and be sure to only run full loads).
Of course, replacing appliances can be very expensive – however, the savings on water might be significant enough to pay of a machine within a few years.
7. Use Low-Flow Shower Heads and Faucet Aerators
Along with replacing those larger appliances, using some water-saving fixtures like low-flow showerheads and aerators also makes an important difference (and usually at a lower cost); the average family can save 3,500 gallons of water a year by switching to their WaterSense-labeled counterparts.
Low-flow showerheads do exactly what it sounds like: diminish the flow of water in the shower without compromising effectiveness. Standard showerheads use up to 2.5 gallons of water a minute, and with showering accounting for 17% of residential water use indoors, cutting these gallons-per-minute can make a big difference. Faucet aerators have a similar function; these small metal screens are usually screwed right onto the spout of a faucet, and create a wider stream of water so it can be used more efficiently. The aerated water also activates bubbles in soap faster so less water is needed.
Along with WaterSense-labeled fixtures, Energy Star-certified appliances also result in energy- and water-related savings; all in all, according to the EPA, families can save more than $380 a year in water costs by transitioning to these water-sensible products.
8. Time Showers
With or without a low-flow showerhead, make sure you aren't lingering under the water for too long. Try to keep showers under five minutes; when soaping up or shaving, turn off the water, and try washing your hair less frequently to cut down on time, if possible.
Setting a timer to alert you when it's time to get out is helpful, or create a playlist that's roughly five minutes; when the last song finishes, it's time to get out!
9. Implement Sensible Kitchen Practices
Not all water-saving measures are complicated. Implement a few changes in your kitchen to make sure that water isn't wasted: instead of running the water while sending scraps into the garbage disposal, compost them instead; keep a pitcher of cold water in the fridge rather than letting the water run until it gets cool; and, plug the sink when washing dishes by hand to allow them to soak.
10. Use the Dishwasher
Perhaps surprisingly, using the dishwasher instead of handwashing dishes can save a great deal of water; a 2020 study found that dishwashers used more than 50% less water than that which is required for hand-washing over a 10-year period. Dishwashers are also much more energy efficient, resulting in fewer greenhouse gas emissions from pumping, heating, etc.
Along with washing only full loads, avoid using the extra features like pre-rinse and heat-dry; instead, make sure excess food is scraped into the compost before loading dishes, and prop the door open after the cycle completes to allow dishes to air dry.
If you don't have a dishwasher, use one half of a two-basin sink for soaking and soaping (or a plastic basin in a single sink), and the other for rinsing.
Linnea graduated from Skidmore College in 2019 with a Bachelor's degree in English and Environmental Studies, and now lives in Brooklyn, New York. Most recently, Linnea worked at Hunger Free America, and has interned with WHYY in Philadelphia, Saratoga Living Magazine, and the Sierra Club in Washington, DC.
Linnea enjoys hiking and spending time outdoors, reading, practicing her German, and volunteering on farms and gardens and for environmental justice efforts in her community. Along with journalism, she is also an essayist and writer of creative nonfiction.
Switching to period panties doesn't have to be messy.
Reviews
When your time of the month comes unexpectedly and you have to rush to the store, tampons, pads and panty liners are the majority of what you traditionally find when looking in the menstrual hygiene aisle. Recently, period underwear has risen in popularity to prevent the unnecessary waste that comes from using these products.
Period panties are a newer form of menstrual care that can both replace the need for disposable hygiene products and be a solution for preventing messy leaks. They're an ecologically smart alternative to single-use period products and a great long-term investment for those who want a more comfortable and easier menstrual solution.
Every person and menstrual cycle is unique. In this article, we'll explain the benefits of period underwear and help you find what type of underwear is perfect for you.

Best Period Panties: Our Recommendations

Each product featured here has been independently selected by the writer. Learn more about our review methodology here. If you make a purchase using the links included, we may earn a commission.
Why Switch to Period Underwear?
Designed to feel and look like regular underwear, period panties are a reusable menstrual product made to be worn longer than single-use period products. These undies can hold the equivalent of anything from one to five full-sized regular tampons.
Traditional tampons and pads are recommended by the FDA to only be worn for four to eight hours because of the risk of toxic shock syndrome or a yeast infection. When used correctly, period panties can be worn for up to 24 hours without leaks, odors or discomfort.
Not only do they have to be changed less often, but they also come in handy when you're expecting your cycle to start and you want to be prepared. Instead of a late-night run to the drugstore, you can count on having your washable, re-wearable panties ready to go when you need them most.
Besides the physical comfort and ease of period panties, this underwear is a great solution to the high number of menstrual products ending up in landfills. The average person who menstruates uses around 11,000 disposable period products in their lifetime. And it's not just the products themselves — there's usually an extra layer or two of plastic wrapped around the items for sanitation that gets discarded.
Although menstrual hygiene products are all but necessary, the waste that comes with them doesn't have to be. Period panties can be reused for up to 2 years, making them a viable solution compared to traditional hygiene products.
Full Reviews of Our Top Picks
When choosing our top recommended period underwear, we looked at factors including:
Materials: Safe and quality fabrics ensure breathability and effectiveness for your panties. Each product below contains nontoxic materials and uses fabrics to make customers as comfortable as possible.
Absorbency: Ranging from very light days to a heavier flow, we have you covered for every type of absorbency level. You can rest assured you'll be able to change your menstruation products less often and without hassle.
Leak protection: Say goodbye to misaligned pads and accidental tampon leaks. Period panties move with you and provide leak protection with multiple absorbent layers and inner-thigh seals.
Inclusive marketing: We want to celebrate companies that celebrate you. Each brand below promotes an inclusive and diverse market to ensure a comfortable menstruation cycle for everyone.
Customer reviews: With each menstrual product recommendation, we take into consideration what previous customers have to say to ensure your future satisfaction.
Caring for Your Period Panties

Once you're done with your period underwear for the day, rinse them with cold water. If the period underwear is machine-washable (some are not, so be sure to check your pair), place them in a washable mesh bag and throw them on a delicate or gentle cycle with cold water. Try to use a mild laundry detergent and never use softener or bleach, since these can deteriorate the absorbency layers.
If you want to help your period underwear last even longer, try to hand-wash them to help the fabric's integrity. Once your underwear is washed, make sure to always hang them to dry (putting them in the dryer can shrink and distort the materials).
Period panties are usually designed to be stain-resistant and odor-free, but if you're looking for extra care, you can always use natural remedies such as applying white vinegar or lemon juice directly to the desired area before washing.
Frequently Asked Questions: Period Underwear
Does period underwear really work?
Yes, period underwear really works. These products are made with multiple protective layers to replace traditional single-use menstrual products like tampons, liners and pads and to make you more comfortable during your menstrual cycle. They can be worn during the day, overnight or as backup protection.
Can you wear period underwear all day?
Much like tampons and pads, how long you can wear menstrual underwear depends on the product's absorbency level and your flow. For lighter days, you can typically wear a single pair for a full day. When it comes to heavier days, make sure to use high-absorbency panties to get the most out of each pair and prevent the need to change mid-day.
Can you leak with period underwear?
Like all menstrual products, period panties have a max absorbency amount but usually can withstand much more than the average tampon or pad. Most period panties hold at least two times more than tampons. Some period underwear, such as Proof's Leakproof Hipster Underwear, contains barriers to prevent leaking even if the absorbent layer is completely full.
Can you wear period underwear without a pad?
Period underwear can easily be worn alone. Just ensure you purchase the correct absorbency level according to your flow. Made with moisture-wicking barriers, absorbency layers and leak-proof seals, you can count on period panties to keep you comfortable and protected without the bulky feeling of a pad. However, you can also use them alongside your usual menstrual products if desired.
An aerial image shows homes in Boulder City, right, and Lake Mead on the Colorado River, left, during low water levels due to the western drought on July 20, 2021 from Boulder City, Nevada. PATRICK T. FALLON / AFP via Getty Images
News reports about the Colorado River over the last few months have been intense and depressing. The
first ever "cuts" in water deliveries
out of the river to Arizona and Nevada took hold last week, with more cuts likely coming to more states.
The ongoing 20-year drought, with the likelihood that climate change is the cause, have diminished the flow of water in the Colorado River by over 20% with even less water predicted in the future.

At the very same time, human population growth in the Southwest U.S. that relies on the Colorado River is booming. California, Arizona, Nevada, Utah, Colorado, and New Mexico have all grown fast, and even Wyoming is inching forward with new people. As just three examples, Colorado gained about 725,000 people between 2010 and 2020, Arizona gained about 760,000, and California gained 2.3 million.
People come from everywhere to move to the Southwest U.S. In Arizona alone, a recent comprehensive study about growth and sprawl showed that 56% of population growth in Arizona over the last decade was due to people moving into Arizona from other parts of the U.S., whereas 44% of the growth was due to people from outside of the U.S. migrating into Arizona.
And all of these people need water, much of which comes from an already tapped-out Colorado River.
In fact, for the last few decades, the Colorado River has been drained dry – all 4.5 trillion gallons per year are drained and diverted out of the river before it reaches the Sea of Cortez. Ninety percent of that water goes to the Southwest U.S. states, and the final 10% goes to northern Mexico just across the U.S. border. Right now, you can watch the reservoirs of the Colorado River shrink over the last few years on the website "Lakepedia."
You don't have to be a rocket scientist to ask, "If the river is already drained dry, from where will growing cities get more water for more people?" The convoluted answer is threefold.
First, almost all cities and states in the Southwest U.S. have been spending a lot more money on water conservation, water reuse, and water recycling. As just two examples, both the metropolitan areas of Los Angeles and Las Vegas have invested hundreds of millions of dollars in water conservation mostly by paying homeowners to install drought-tolerant landscaping (xeriscaping) in their yards. Thus, by spreading the water thinner and reusing/recycling it, you can spread what water is available to even more people.
Second, many cities in the Southwest U.S. continue to propose new water projects that try to 1) get more water out of the Colorado River, or 2) transport water into their city and state from far-away places, or 3) desalinate ocean water. All of these proposals are very expensive and complicated. For example, Pima County, AZ, (Tucson) is proposing a $4.1 billion desalination plant at the Sea of Cortez in Mexico, and then proposes to pipe the water north to Tucson. As another example, Washington County, Utah, is proposing a multi-billion dollar pipeline out of the Colorado River at Lake Powell. This list of these plans and proposals goes on and on. Thus, with all of these proposals, more water can theoretically be supplied to a growing human population but the cost of water for ratepayers in cities gets a lot more expensive.
Finally, about 70% of all of the water that is currently drained out of the Colorado River is sent to farms in the region. Every state in the Southwest U.S., and even in northern Mexico, have vast acreages of farms that receive Colorado River water. Millions of acres of crops are grown – some of that is vegetables for people to eat, much of that is hay for cows to eat, and even rice and cotton – all with water from the Colorado River. That water can, and often is, sold by the farmers to cities because the cities can pay a high price for the water making it a lucrative business for farmers to stop farming. Thus, by farmers selling water to cities, the human population can grow as the number and acreage of farms decreases.
So yes, even though there is less and less water in the Colorado River, more and more people can theoretically be supported in the Southwest U.S. with what water is available. The tradeoff is that urban landscapes get dryer and more xeriscaped, water gets more expensive in cities, and a lot fewer farms will be growing food in the region.
All of these issues and tradeoffs bring up a lot of questions, for example:
Does it make any sense to be promoting population growth – from both inside the U.S., and internationally – into our already parched Southwest U.S. desert?
Should the U.S. even be growing crops in the desert which already causes the complete destruction of the Colorado River?
Will the Southwest ever reach a point where no more water can be bought, piped, or pumped, and growth will actually be stopped due to a lack of water?
Population growth is often thought of as a "third rail" in American politics – an issue so controversial that no one wants to talk about it or try to solve it. It didn't used to be that way. In fact, in the 1990s, President Clinton appointed the "President's Council on Sustainable Development" that included a "Population and Consumption Task Force" that recommended "stabilizing the U.S. population." Even here in Colorado where I live there's a history of confronting population growth. Former Governor Dick Lamm made controlling growth the centerpiece of his races, and victories, for governor in the 1970s and 80s.
Right now in Colorado, we are experiencing all three of the tradeoffs of population growth and water in the Denver area:
1. Most cities have enacted water conservation programs that spread water even thinner, allowing more growth.
2. Many cities are raising water rates to pay for new expensive water projects.
3. The agricultural landscape is being devoured by growth and disappearing as thousands of acres of subdivisions replace farms around the metastasizing Denver megalopolis along the mountains.
If we do nothing in the Colorado River basin, we will get more people, fewer farms, higher prices for water, as well as fewer green and lush landscapes. Further, and solely from my river-conservation perspective, with more people and the need to stretch that water even thinner, the Colorado River – and all the rivers in Colorado – will likely continue to have every single drop of water drained out of them with little hope for a river's ecological health or potential restoration.
Is that the really Southwest U.S. – and the America – we want to live in?
Gary Wockner is a river-protection activist in the Southwest U.S. Contact: GaryWockner.com
From Your Site Articles
Related Articles Around the Web
Shasta Lake, California's largest water reservoir, at 30% capacity and under smoky conditions due to the Dixie and other fires burning in the area on Aug. 4, 2021, near Redding, California. George Rose / Getty Images
NOAA found that the average temperature of meteorological summer - June, July, and August - was 2.6°F (1.45°C) above the 20th century average, a troubling sign as global temperatures continue to increase faster than previously thought.
All seven of the warmest years on record have been the last seven years, and 19 of the 20 warmest years have occurred since 2000. More than 18% of the contiguous U.S. experienced record heat this summer, and several states, including California, Nevada, Utah and Oregon had their hottest temperatures on record.
No state reported temperatures that fell below average. The record heat coincided with extreme weather across the country, including extreme heat, wildfires, drought and flooding.

As reported by The Washington Post:
Over 2 million acres have burned so far this year in California, and about 15,000 firefighters are currently battling active blazes. According to the National Interagency Fire Center, the country remains at "Preparedness Level 5" — the highest level of wildfire activity. Such activity includes "large, complex wildland fire incidents, which have the potential to exhaust national wildland firefighting resources."

Research has established a clear link between climate change and a sharp rise in the areas burned in California in the past several decades, as increasing temperatures dry out vegetation.
---
The high temperatures have also intensified severe drought conditions. Drought currently covers 94 percent of the West, according to the Federal Drought Monitor. Nearly 60 percent of the region is in extreme to exceptional drought.
For a deeper dive:
CNN, Gizmodo, Los Angeles Times, The Hill, The New York Times, The Washington Post; Climate Signals background: Extreme heat and heatwaves, 2021 Western wildfire season, Drought, Extreme precipitation increase, 2021 Atlantic hurricane season
For more climate change and clean energy news, you can follow Climate Nexus on Twitter and Facebook, sign up for daily Hot News, and visit their news site, Nexus Media News.
The protected natural area of the Xochimilco Ecological Park on April 17, 2021 in Xochimilco, Mexico. Hector Vivas / Getty Images
Lakes and reservoirs are drying up as 85% of Mexico is in a drought, with Mexico City in its worst drought in 30 years.
Major reservoirs that supply the capital's 9 million residents are more than half empty, a result of three consecutive extremely dry years, and about 75% of the country's second-largest lake is dry. Climate change makes droughts worse by changing precipitation patterns and increasing evaporation caused by higher temperatures.
"Because we live on the hill, there is no drinking water," Mexico City resident Karina Ortega told Reuters. "The water that we get on the donkeys, that's used for food because it is cleaner. But we do struggle a lot with this."
As reported by Reuters:
Addressing reporters the day before Earth Day, Mexico City Mayor Claudia Sheinbaum said she expected the drought to continue to affect water supplies and warned there could also be an increased danger of wildfires.
Climate change could make the situation worse. Researchers have estimated natural water availability for the city could fall by 10-17% by 2050 as temperatures rise.
Millions already suffer from intermittent supply.
For a deeper dive:
Reuters, AP; Climate Signals background: Drought
For more climate change and clean energy news, you can follow Climate Nexus on Twitter and Facebook, sign up for daily Hot News, and visit their news site, Nexus Media News.
From Your Site Articles
Related Articles Around the Web
Extinction Rebellion protesters join the March for Nature on Sept. 4, 2021 in London, England. Rob Pinney / Getty Images
By Lorena Gonzalez and Nate Shelter
World leaders are gathering in New York this week and next for the UN General Assembly meeting (UNGA76) and Climate Week. The two major events come at a critical moment for climate action.
The world is facing an emergency. Nearly every person on the planet felt the impacts of climate change this summer — from devastating flooding in China, Uganda, Nigeria, the United States and Western Europe; to extreme heatwaves and droughts across Africa and the Americas; to record wildfires in the United States, Canada, Russia and the Arctic; and heavy monsoon rains in India and the Philippines. The toll on people's lives and livelihoods keeps growing.
Meanwhile, the newest report from the Intergovernmental Panel on Climate Change (IPCC), the world's most authoritative scientific body on climate change, shows that these impacts are just the beginning. They will seem mild compared to what we will face if we do not act. The report finds that the world still has a narrow path to limit average global warming to 1.5 degrees C (2.7 degrees F) — the limit scientists say is necessary for avoiding the worst effects of climate change — but it will require rapid, transformational change this decade.
Governments and businesses — especially world's major emitters — must urgently step up their commitments to meet this challenge, and then rapidly move from commitments to action. Coming just six weeks before UN climate negotiations in Glasgow (COP26), where countries need to make major progress on climate action, UNGA and Climate Week are important opportunities for leaders to show their ambition on climate change.
Here are five critical areas we are watching for signs of progress:
1. Stronger National Climate Plans (NDCs)
UNGA presents a prime opportunity for major emitters to step up with more ambitious plans to reduce their emissions by 2030. This year, all countries are expected to submit updated national climate plans, known as Nationally Determined Contributions (NDCs), under the Paris Agreement. So far, 116 countries representing roughly half of global emissions have submitted updated plans. Yet only about half of these (67 countries), reflect higher ambition than their original plans submitted in 2015, and altogether these efforts are not nearly enough to limit global temperature increase to 1.5 degrees C.
Major emitters that have not yet announced new and more ambitious targets need to come forward by COP26 with serious offers to curb their emissions by 2030. At the G20 ministerial meeting in July, the G20 countries committed to submit new or updated NDCs by COP26. UNGA is a prime opportunity to come forward with those targets. A new paper by WRI and Climate Analytics finds that if all G20 countries set ambitious 2030 emissions-reduction targets and commit to reach net-zero emissions by mid-century, global temperature rise could be limited to 1.7 degrees C, keeping the 1.5 degrees C goal within reach.
The spotlight shines especially bright on China, the world's largest emitter, which has not yet announced a stronger emissions-reduction target for 2030. In order to get on track for its carbon neutrality pledge by 2060, it's imperative that China announces a more stringent NDC and stops international finance for coal, as South Korea and Japan (the other two major financiers of international coal) recently committed to do.
Other major emitters that need to step up include India, Turkey and Saudi Arabia, which have yet to submit their updated NDCs, and Australia, Brazil, Mexico, Russia and Indonesia, which made no headway or backslid with the updated 2030 targets they submitted.
Vulnerable nations — many of which have submitted strong climate plans — are urging major emitters to take concrete, near-term action on climate change. Ensuring that major emitters raise their ambition by COP26 is one of the top priorities of the Allied for Climate Transformations 2025 (ACT2025) consortium, a group of organizations from vulnerable nations that are informing and influencing the COP26 negotiations. ACT2025 will soon release an Alliance Statement further crystalizing what must be delivered for COP26 to be both ambitious and just.
2. More Climate Finance From Wealthy Nations
A major issue to watch at UNGA is whether rich countries step up with new climate finance and other types of development assistance for developing countries. By COP26, developed countries need to show how they will meet and build upon their over-due commitment to jointly mobilize $100 billion a year in climate finance for developing nations. Addressing the climate finance gap is vital to COP26's success and to restoring trust with developing nations.
Indeed, the $100 billion annually is only a fraction of what vulnerable countries really need to decarbonize and build resilience to climate impacts, so it should be seen as a floor for climate finance. Developed countries should commit to deliver a minimum of $500 billion total over the 2020-2024 period, and should establish a more ambitious target to be agreed prior to 2025, to support developing countries.
The United States, especially, has not been contributing its fair share toward the global climate finance goal. Other rich countries lagging on contributions will also need to step up, including Italy, Canada, Australia, Spain and others. Will they do so during Climate Week?
Developed countries should also announce new pledges on finance for climate adaptation, especially for the Adaptation Fund, to ensure a balance of funding between mitigation and adaptation. Adaptation accounts for just 21% of overall climate finance. And developed countries need to improve access to climate finance and ensure it reaches the local level, which is a top priority for developing countries.
We will also watch for announcements on moratoriums for international financing for fossil fuels, including coal financing. At the G7 summit in Carbis Bay, its members reaffirmed their commitment to end unabated international coal finance by the end of 2021 and confirmed earlier pledges to phase out fossil fuel subsidies by 2025.
3. Creating More Equitable Food Systems
Alongside this year's General Assembly, the UN will host the world's first-ever Food Systems Summit to address inequities and inefficiencies in the food system and identify food-related solutions to fight climate change and achieve other development goals.
Countries and others should come forward with investments to produce food more sustainably; protect remaining ecosystems from agricultural expansion; reduce demand for land-intensive agriculture, such as by cutting food loss and waste; and restore degraded landscapes into productivity. By meeting these goals simultaneously, we can feed a growing world population while mitigating climate change, ensuring farmers and herders can adapt to the impacts of climate change, and lifting millions out of poverty.
4. Action From Non-State Actors
In addition to action from national governments, we'll need increased ambition from non-state actors, too, such as cities, businesses and more.
At Climate Week, a group of mayors will issue a call to action urging national and subregional governments, companies and financial institutions to urgently ramp up policies and investments to support forest conservation, restoration and sustainable forest management. They are issuing their declaration through the Cities4Forests initiative, a coalition of 73 major cities committed to greater forest action. Evidence shows that city residents depend deeply on forests — even those that are far away — for clean air and water, reducing heat islands and flooding, and sequestering carbon.
WRI will join partners in launching a major new cities program named UrbanShift, aimed at transforming cities through inclusive, low-carbon development. The program will engage with more than 23 cities across nine countries, advancing local solutions to challenges like climate risks, gender inequity, urban sprawl and more.
Businesses should also be stepping up in this moment between UNGA and COP. There is big momentum: Nearly 2,000 businesses have committed or set science-based targets to reduce their emissions. And over 250 asset owners, asset managers and banks — together responsible for assets over $80 trillion — have committed to transition their portfolios to net zero emissions by 2050 at the latest, under the Glasgow Financial Alliance for Net Zero. They have agreed to use science-based guidelines to reach net zero emissions, cover all emission scopes, include 2030 interim targets and commit to transparent reporting and accounting.
Businesses should also use their influence to push national governments to take more ambitious climate action. Most immediately, U.S. businesses should publicly support the reconciliation package being considered by the U.S. Congress, which presents one of the best opportunities to meet U.S. climate goals — the CEOs of 12 environment and sustainability groups recently called on businesses to do just that.
5. Reducing Non-CO2 Gases
We are also expecting the United States and Europe to announce a major new global pledge to reduce methane emissions by nearly a third by 2030. Other countries will be invited to sign onto the pledge. Methane is a potent greenhouse gas, with a warming potential 87 times that of carbon dioxide over 20 years. Reducing methane emissions is vital to addressing climate change.
The Urgency of Action During Climate Week and UNGA76
We stand at a pivotal moment. The climate impacts we are seeing today will seem mild compared to future years if we do not act. We need to make rapid, radical shifts in the ways we use and make energy, produce food, manage land, and move people and goods around. The good news is that doing so will create a healthier, safer, more prosperous world. It will create much-needed jobs and economic benefits — and prevent a calamitous future.
As COP26 quickly approaches, now is the time for governments, businesses and other stakeholders to act with the ambition this moment calls for. World leaders should use the global stage at UNGA76 and Climate Week to show their citizens and peers that they recognize the urgency of the crisis. Their actions will determine our collective fate.
Reposted with permission from World Resources Institute.
Researchers with the International Potato Center study blight-resistant potatoes bred from wild relatives. Michael Major for Crop Trust / CC BY-ND 2.0
New research presented Tuesday at the IUCN World Conservation Congress in Marseille sounded the alarm that wild relatives of some of the world's most important crops, including potatoes, avocados and vanilla, are at risk of extinction, said The Food & Environment Reporting Network (FERN). The study was published in the journal Plants, People, Planet.
It emphasized that relatives of the 224 wild crops native to Mexico, Guatemala, El Salvador and Honduras have become staples in diets and clothing production across the globe, and that more than one-third of the wild species analyzed were at risk of extinction, mostly due to agriculture and pesticide use, The Guardian reported.
The Global Crop Diversity Trust collects crop wild relatives in Guatemala and Costa Rica. Global Crop Diversity Trust
Vanilla has the highest risk of extinction, the study found. All eight wild species of vanilla found in Mexico and Central America are listed as endangered or critically endangered on the International Union for the Conservation of Nature's (IUCN) red list of threatened plants and animals. Wild cotton is a close second, with 92 percent of species in the region at risk of extinction. More than half of avocado species and almost one-quarter of wild potato species are also at risk of disappearing.

These wild plants are ancestors of some of the oldest cultivated crops in the world, which were first domesticated by the Aztecs, Mayans and other civilizations between 5,000 and 10,000 years ago, according to The Guardian.
The wild relatives are "veritable treasure troves of genetic information," said Jane Smart, director of the IUCN Biodiversity Group, according to FERN. Plant breeders use wild plants to develop varieties of popular crops that are more resilient to heat, drought and pests, which are all accelerated by climate change, said FERN. They're also used to produce higher-yielding crops, which will be crucial as the world's human population inches towards 10 billion.
At least 16 of the wild species studied are currently used to develop cultivated crops that are more resilient to the impacts of climate change, said The Guardian. Madagascar is a stark example of what could happen if not enough action on climate change is taken. The country is facing its worst drought in four decades and is on the verge of the world's first climate-fueled famine.
"The salinity of the soil is changing, and these plants don't have the capacity to adapt. Temperatures are rising. Because of climate change, pests and diseases will also alter and this can have a massive impact on cultivated plants. We could have shortages of these foods," Dr. Bárbara Goettsch, lead author of the research, told The Guardian.
Wild relatives of banana, apple, prunes and ginger are listed as threatened on IUCN's red list, said The Guardian.
Residents evacuate from the Blue Ridge Fire in Chino, California on Oct. 27, 2020. ROBYN BECK / AFP via Getty Images
At the opening of the 2020 wildfire season, 3% of California was in extreme or exceptional drought and more than 4% burned. This year, more than 73% of the state faces similar drought conditions.
In other parts of the Southwest, juniper trees are dying off at increased rates because of the intensification of a climate change-fueled megadrought and turning forests, with trees covered in dead needles, into 30-foot-tall tinder boxes.
"It's like having gasoline out there," Brian Steinhardt, a national forest fire zone manager in Arizona, told the AP. Soil in the western U.S. is drier than at any time since 1895 (the year Frederick Douglass died and Babe Ruth was born), which means "the dice are loaded toward a lot of forest fire this year," UCLA climate and fire scientist Park Williams told the AP. New research also shows wildfires are burning at higher elevations as climate change dries out forests previously too wet to support large burns.
All this adds up, Steinhardt, a veteran of 32 fire seasons, told the AP, to "probably one of the driest and potentially most challenging situations I've been in." California, on the verge of its first ever official water shortage declaration, is increasing its wildfire prevention spending 16-fold, but states across the West, from Oregon to New Mexico, are staring down the barrel of a brutally dry and dangerous fire season.
Water shortages that "just couldn't be any worse," according to Klamath Irrigation District president Ty Kliewer, threaten massive die-offs of the salmon central to the diet and culture of the Yurok Tribe. One silver lining for the 2021 fire season is that 2020's record-shattering burns were fueled by a highly unusual concurrence of record-breaking heatwaves and intense, widespread lightning strikes, UCLA meteorologist Daniel Swain told the AP. But, he added, "I'm really grasping at straws here. All we have going for us is dumb luck."
Fire season: AP; Higher elevations: The Conversation; California spending: Grist; New Mexico: New Mexico Political Report; Oregon: Utility Dive; Klamath water shortages: AP; Climate Signals background: Drought, Wildfires, 2020 Western wildfire season, Cal. Aug. 2020 heatwave, Cal. Sept. 2020 heatwave

For more climate change and clean energy news, you can follow Climate Nexus on Twitter and Facebook, sign up for daily Hot News, and visit their news site, Nexus Media News.
An Afghan boy uses a water pump to collect water in Sakhi village on the outskirts of Mazar-i-Sharif on July 19, 2018, during Afghanistan's worst drought in at least a decade. FARSHAD USYAN / AFP via Getty Images
By Jennifer Collins
Forty years of conflict have left many Afghans on the edge of survival — and highly susceptible to the impacts of climate change. Not only is the landlocked country already becoming drier and drier, but it's also just been thrown into more political uncertainty by the Taliban takeover. Experts say it's a recipe for disaster.
"You have a country that is one of the most vulnerable to climate change and any implications as a result of that and without the needed capacities, you're looking at a human catastrophe," said Basir Feda, head of the Afghanistan unit at the Berlin-based Berghof Foundation, an NGO that promotes peacebuilding.
The arid state has seen a mean rise in temperature of 1.8 degrees Celsius (3.24 Fahrenheit) since the middle of the 20th century, compared to a global average of 0.82°C. Droughts, already more frequent, are likely to become an annual occurrence by 2030.
According to the United Nations, a severe drought caused more internal displacement between 2017 and 2018 than conflict. And now the country is in the midst of another prolonged dry period, which the UN's World Food Programme has warned could leave millions of Afghans at risk of starvation.

The agency said it needs $200 million (€170 million) a year to continue working in Afghanistan — its staff members are allowed to continue humanitarian operations in the wake of the Taliban's takeover.
Oli Brown, an associate fellow at London-based policy think tank Chatham House, told DW that food must get to Afghanistan's mountainous areas before winter weather makes some places unreachable.
"The big challenge in the short term is feeding people in Afghanistan," said Brown. Nearly half of the country's 30 million people live below the poverty line and a third is dealing with severe food insecurity.
"Obviously, the ability of the international community to do that now is reliant on decisions that the Taliban government takes — are they going to create the conditions in which people can eat?"
Climate Change, Poverty and Conflict Intertwined
Creating those conditions will require the Taliban to address climate change in the long term, according to Brown.
"If you look at some of the predictions for Afghanistan in the future, this (climate change) is going to be something that will be a constraint ... A Taliban government is going to have to deal with it if they want to see a more peaceful and a more secure Afghanistan, which can feed its people," he said.
Even under one of the UN's more optimistic scenarios for reducing greenhouse gas emissions, Afghanistan will likely continue to warm by at least a further 1.5 degrees Celsius by 2050. That level of warming would still further decrease the amount of snow available to feeds rivers, making water even scarcer.
While drought will be even likelier, so too will extreme rainfall over short periods, increasing the chances of deadly landslides in the mountainous country. And years of war have robbed Afghanistan of the ability to build capacity to adapt and protect its population.
"War is development in reverse," said Brown. That means that 40 years of conflict have, for instance, also meant a chronic underinvestment in water infrastructure like dams and irrigation.
Farmers used to rely on ancient irrigation systems known as "karez," which avoided evaporation by transporting water underground from the mountains. Maintained by villages, some are still functional, but the vast majority were destroyed or fell into disrepair during the decades of war.
More than 80% of the population is involved in agriculture and because so many are reliant on rain-fed farming and livestock raising, they are particularly vulnerable to climate shocks, added Brown. That, in turn, makes people more likely to fall into severe poverty, which increases the likelihood of displacement, according to Action Aid, an international NGO working on poverty.
Afghanistan already has nearly 4 million internally displaced people. And a recent Action Aid analysis on climate change and gender found a further 5 million could be forced to migrate due to climate disasters by 2050 even if governments around the world act to significantly cut emissions.

Climate change sets the stage for increased conflict over ever-decreasing resources like land and water. Evidence suggests it's pushing more farmers to ditch food crops like wheat in favor of drought-resistant poppies used in the opium trade. Afghanistan is the world's biggest producer in the opium industry, worth between $4.1 billion and $6.6 billion in 2017. Revenues from the trade are used to finance the Taliban and other armed groups.
"The whole question is how do you deal with poverty which comes as a result of climate change?" said Basir Feda of the Berghof Foundation. "There's a direct link that exists between conflict and poverty. And climate change can really function as a catalyst there — and a pretty significant one at that."
Working With the Taliban?
Abdul Qahar Balkhi, a member of the Taliban's Cultural Commission, told U.S. magazine Newsweek it was seeking global recognition of what it is calling an Islamic Emirate, and said climate change is a challenge that can only be overcome with the collective efforts of all.
Thus far only a few countries are willing to engage with the Taliban. The question for the international community is how much they should engage with the group.
"They will not be able to run the country without assistance, they must know this," said Jost Pachaly, who heads the Asia division at the Heinrich Böll Foundation, a policy reform think tank based in Germany. "It's a very critical question for the international community: how to deal with the situation — not to support the Taliban but also not let the Afghan people suffer... This is a humanitarian disaster."
Women, whose rights are already being curbed under Taliban rule, will likely face an even more uncertain future in the context of climate change. Internationally women are hardest hit by the impacts of global heating, as they are often responsible for collecting water and providing meals.
In Afghanistan, particularly in rural parts of the country, women are further constrained, because they are expected to confine their social and economic lives to the home, or as close to it as possible and are totally financially dependent on men to work and support their families, said Basir Feda.
"This puts women in a far more vulnerable situation, because not only do they play an important role in putting food on the table, they also do it in an environment where their capabilities are severely limited."
While organizations like the World Bank have suspended aid to the country as they wait to see what the Taliban does, international aid and humanitarian organizations want to continue working in the country.
Feda said it is on the "Taliban's shoulders" to keeps its promises and create an inclusive government acceptable to all Afghans so the country can work towards peace and create climate resiliency. "I will never believe that all is lost in Afghanistan."
Reposted with permission from DW.
Climate change will present a barrage of challenges no matter where you live. C.J. Burton / The Image Bank / Getty Images
By Tara Lohan
Talent. King Mountain. Hugo. The town names — each the site of new wildfire ignitions following a lightning storm the day before — are all new to me. After I read each incident report, I head to Google maps to ask the same question that's been on my mind for weeks: How close?
This is my first wildfire season — also known as summer — in my new home state of Oregon. I'm learning the geography by way of (potential) catastrophe.
After nearly two decades in San Francisco, my wife and I moved to central Oregon in May. We had been plotting our escape to a more rural location for years. While climate change wasn't our reason for leaving the Bay Area, it was a consideration in where to go next.
We first looked at towns along the east and west flanks of California's Sierra Nevada. But our searches mostly ended in frustration... and a bit of fear. We'd hear from locals about getting dropped from their fire insurance or the skyrocketing costs of keeping their policies. And then there were the actual wildfires — like the ones that reduced large swathes of Paradise, and now Greenville, to ash.
When we eventually settled on central Oregon as our next home, we were under no illusion that it would be free from wildfires: I'm an environmental journalist who covers fires and climate change as part of my beat. Wildfire risk, we knew, would come with our new territory.
And it has. As I write this, ash from multiple fires burning in the region dusts my patio furniture. Cascade peaks, usually visible on the horizon, have been smudged by smoke. The air quality has once again reached unhealthy levels.
Still, there are numerous reasons we're glad to be here, even if we do have occasional pangs of doubt and wonder why we didn't move out of the West entirely — out of the path of increasingly longer fire seasons.
Around the country, other families find themselves in similar situations, or may soon. As this summer so cruelly illuminates, climate change will present a barrage of challenges — including droughts, floods and hurricanes — no matter where you live.
Louisiana National Guard members in high-water vehicles work with St. John the Baptist Parish officials to rescue citizens stranded in their homes in the wake of Hurricane Ida. Louisiana National Guard / CC BY 2.0
Understanding the risks of different places isn't easy. As we contemplated our move, I dug through state climate assessments and read scientific reports. But it was hard to match general findings with specific places, even for someone like me who gets paid to do that kind of stuff. Most people don't have hours to read journal articles and try to decipher scientific lingo.

That got me thinking: Whether moving or staying put, how do we assess risk in a climate change world?
Where to?
Last summer the San Francisco Bay Area had a day when the sun never seemed to rise. The sky remained a darkened, calamitous gray-orange from morning till night as the August Complex fire burned, eventually scorching a record-breaking 1 million acres. I received more than a few texts from friends asking if it was time to move somewhere less "apocalyptic." Was there a safer place to live in the coming years and decades as the planet continues to heat up?
It's a question on a lot of people's minds. The real estate website Redfin reports that the increasing frequency and intensity of natural disasters and extreme heat are factors in plans for about half of people considering moves in the next year.
Where to go may be a popular question, but it's also a hard one to answer for a number of reasons, says Daniel Swain, a climate scientist at UCLA who gets asked that question multiple times a day.
"I don't know what people's motivations are, what their priorities are and what their lives are like," he says. "It's so personalized and individualized."
The scientific factors, he says, are equally complex. For example, the difference between living somewhere with an extreme fire risk and a place with very little could be just a few miles in places like Los Angeles, he says.
And this summer has already shown that climate change is going to bring surprises.
"Most folks would have thought that Seattle or Portland would have been great places to escape extreme heat waves," he says. "Well, clearly, that's not always going to be the case. Seeing Death Valley-like temperatures in British Columbia in June, I think, really gave people pause. Climate projections suggest that all of these things and more are possible in the future, but I think it's a particularly visceral recent example of how things are changing pretty fast."
Climate change is likely to throw us other curveballs, too.
While most people are concerned with drought and fire in California, Swain says he's more worried about how the state will handle the extreme flood risks that will also come with a warming climate.
"A lot of the risks, the physical hazards that are relevant in a changing climate, are not going to be obvious, and they're not often going to be the ones that people are really hyper-focused on in a particular region," he says. "What comes out of the woodwork in 10 or 20 years won't necessarily be the same problems in the same places that we're facing right now."
Understanding the Science
So given what we know — and don't — how do we go about figuring out where might be safe?
Historically, there haven't been a lot of great resources to tap. Most climate models aren't accessible to the general public. Or their raw data is taken out of context by others when trying to convey more localized impacts, which can be misleading, says Swain.
"I think a good example of this is California, where most of the state, according to climate models, is expected to see neither more nor less mean precipitation in the future with a few degrees of mean warming," he explains. "And if you look at all of these downscaled products, it'll say 'great news, your water availability isn't going to change,' which of course is completely wrong for a variety of reasons."
One reason is that rising temperatures will ensure that even if total precipitation doesn't change, there will still be less available water supply because there'll be more evaporation and thirstier soil, diminishing runoff.
But even a small change in annual average precipitation doesn't catch the variability that California's likely to experience with more extreme storm events and more droughts.
"So you get more really wet periods, but also more really dry periods," says Swain. "In practical terms, it's a really dramatic change. And so you might get a very inaccurate picture of what the future holds if you look at the wrong variables in the wrong context, even if the information is technically correct."
Emerging Tools
So how do we find the right information in the right context? There are some new efforts attempting just that.
Redfin, for example, recently partnered with ClimateCheck to add a feature to their listings that provides the future climate risk of a particular property. It assesses the change in the risk of heat, fire, drought and storms over the next 30 years.
First Street Foundation has been doing something similar focused on floods.

Getting down to the address level makes sense because risk itself can be hyper-local. Whether your house survives a disaster may depend not on what state or town you live in, but on what side of the street.
But can these tools really be precise at such a fine scale?
Swain, who has done some consulting for ClimateCheck, says it's possible to take regional climate data and combine that with very high-resolution spatial data at the parcel level. But he cautions, "I think it's more important to get it right than to be first to put something out there." After having seen it implemented poorly in the past, he says he now sees people today "who are trying to do a more thorough job of vetting and contextualizing everything."
Do Everything
Having better resources to find places that may have less risk is great... for the people who can afford to move there. Or move anywhere.
I'm among those lucky enough to get to pick a place on the map and point the moving truck in that direction. But that's not going to be a reality for a lot of other folks, as we saw last month before Hurricane Ida, when many people didn't even have enough cash on hand to temporarily flee the impending disaster, let alone permanently uproot their lives.
"It's a pretty extreme privilege in a global and even a national context to be able to choose where you want to live on the basis of your perceived comfort or safety from a climate perspective," says Swain. "That's not a choice the vast majority of people on Earth even get to make, even if there is good information to use for making that decision."
And while some places may seem like the proverbial higher ground, climate change is not a problem we can move away from — even for those with more resources. If it's not directly threatening our homes, it may endanger our food supply, water, jobs, health, neighbors, or the wildlife and wild places we hold dear.
That means making every place safer is a better bet — especially considering that the ground we're starting from isn't level. Many communities of color and low-income communities already face greater climate risks and climate-related health threats.
As far as I can tell, our best bet is to do everything — big and small. First and foremost, reduce greenhouse gas emissions and speed up the energy transition — equitably. At the same time, we'll need to protect and restore critical habitats, green urban areas and increase resilience wherever we are — including curbing new developments in areas we know will flood and burn.
When I started this article, I wanted to ask what resources people could use to pick new places to live. I also wanted to ask: Who has access to them? But maybe, instead of focusing on where we should go, it would be better to ask, "What more can we do to stay in the homes and communities we already love?"
Reposted with permission from The Revelator.
Dry conditions across the West follow a hot, dry year of record-setting wildfires in 2020. Communities were left with scenes like this, from California's Creek Fire. Amir AghaKouchak / University of California Irvine
By Mojtaba Sadegh, Amir AghaKouchak and John Abatzoglou
Just about every indicator of drought is flashing red across the western U.S. after a dry winter and warm early spring. The snowpack is at less than half of normal in much of the region. Reservoirs are being drawn down, river levels are dropping and soils are drying out.
It's only May, and states are already considering water use restrictions to make the supply last longer. California's governor declared a drought emergency in 41 of 58 counties. In Utah, irrigation water providers are increasing fines for overuse. Some Idaho ranchers are talking about selling off livestock because rivers and reservoirs they rely on are dangerously low and irrigation demand for farms is only just beginning.
Scientists are also closely watching the impact that the rapid warming and drying is having on trees, worried that water stress could lead to widespread tree deaths. Dead and drying vegetation means more fuel for what is already expected to be another dangerous fire season.
U.S. Interior Secretary Deb Haaland and Agriculture Secretary Tom Vilsack told reporters on May 13, 2021, that federal fire officials had warned them to prepare for an extremely active fire year. "We used to call it fire season, but wildland fires now extend throughout the entire year, burning hotter and growing more catastrophic in drier conditions due to climate change," Vilsack said.
As climate scientists, we track these changes. Right now, about 84% of the western U.S. is under some level of drought, and there is no sign of relief.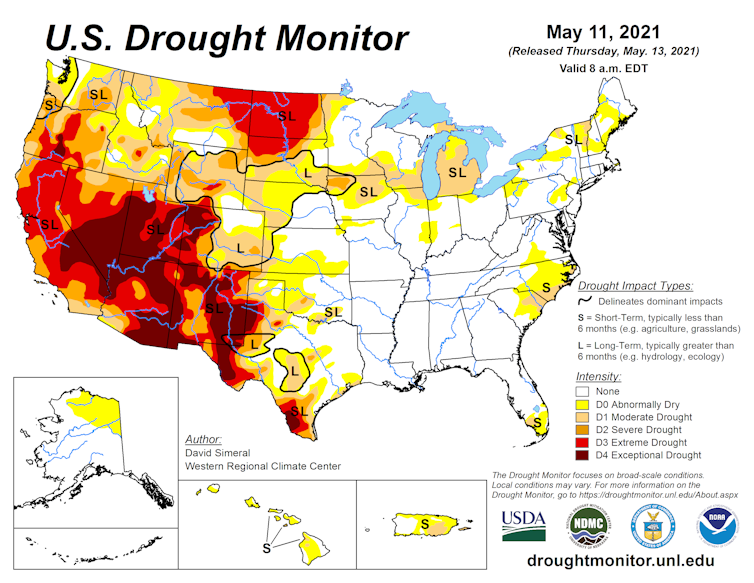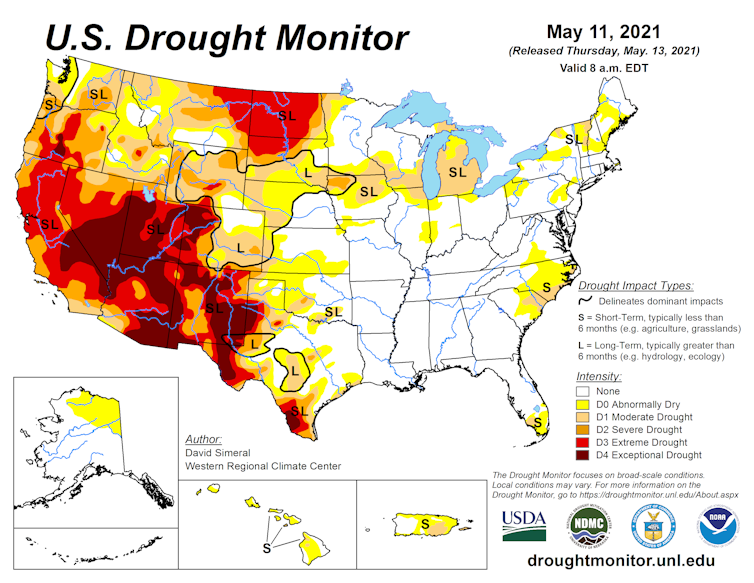 The U.S. Drought Monitor for mid-May shows nearly half of the West in severe or extreme drought. National Drought Mitigation Center/USDA/NOAA
The Many Faces of Drought
Several types of drought are converging in the West this year, and all are at or near record levels.
When too little rain and snow falls, it's known as meteorological drought. In April, precipitation across large parts of the West was less than 10% of normal, and the lack of rain continued into May.
Rivers, lakes, streams and groundwater can get into what's known as hydrological drought when their water levels fall. Many states are now warning about low streamflow after a winter with less-than-normal snowfall and warm spring temperatures in early 2021 speeding up melting. The U.S. Bureau of Reclamation said Lake Mead, a giant Colorado River reservoir that provides water for millions of people, is on pace to fall to levels in June that could trigger the first federal water shortage declaration, with water use restrictions across the region.
Dwindling soil moisture leads to another problem, known as agricultural drought. The average soil moisture levels in the western U.S. in April were at or near their lowest levels in over 120 years of observations.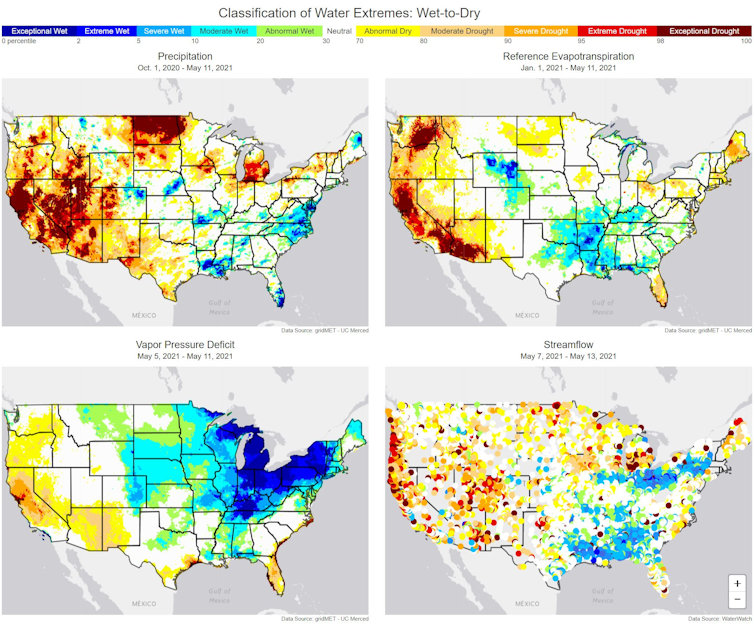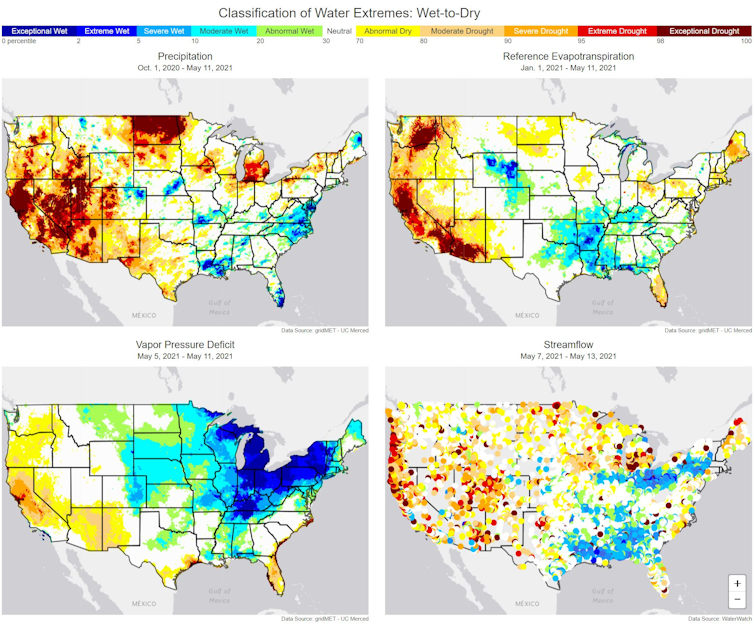 Four signs of drought. Climate Toolbox
These factors can all drive ecosystems beyond their thresholds – into a condition called ecological drought – and the results can be dangerous and costly. Fish hatcheries in Northern California have started trucking their salmon to the Pacific Ocean, rather than releasing them into rivers, because the river water is expected to be at historic low levels and too warm for young salmon to tolerate.
Snow Drought
One of the West's biggest water problems this year is the low snowpack.
The western U.S. is critically dependent on winter snow slowly melting in the mountains and providing a steady supply of water during the dry summer months. But the amount of water in snowpack is on the decline here and across much of the world as global temperatures rise.
Several states are already seeing how that can play out. Federal scientists in Utah warned in early May that more water from the snowpack is sinking into the dry ground where it fell this year, rather than running off to supply streams and rivers. With the state's snowpack at 52% of normal, streamflows are expected to be well below normal through the summer, with some places at less than 20%.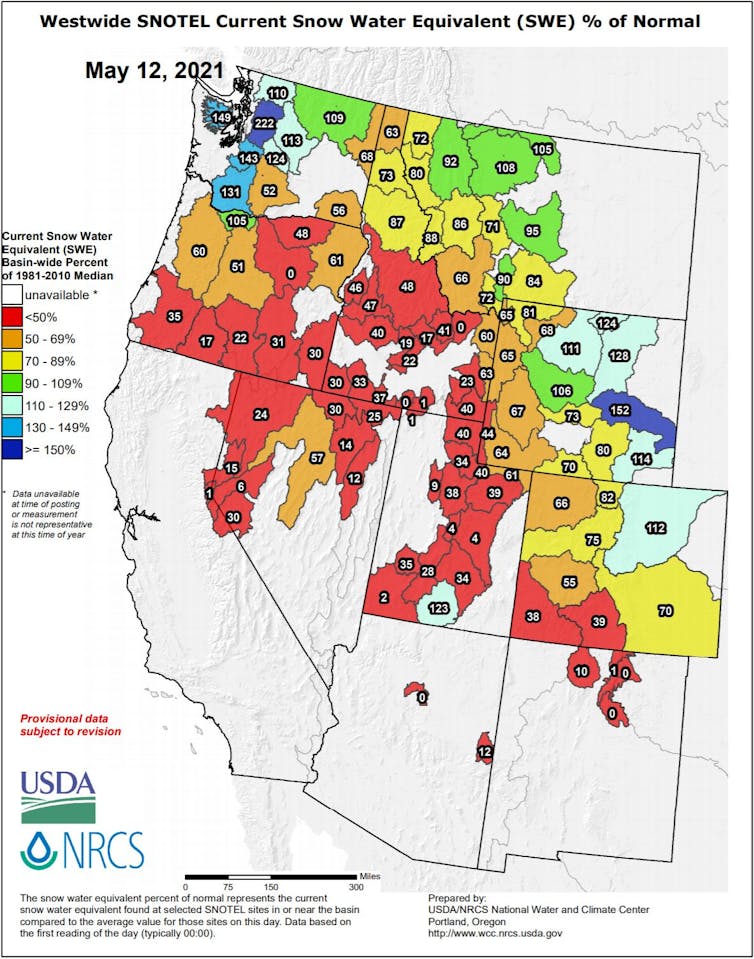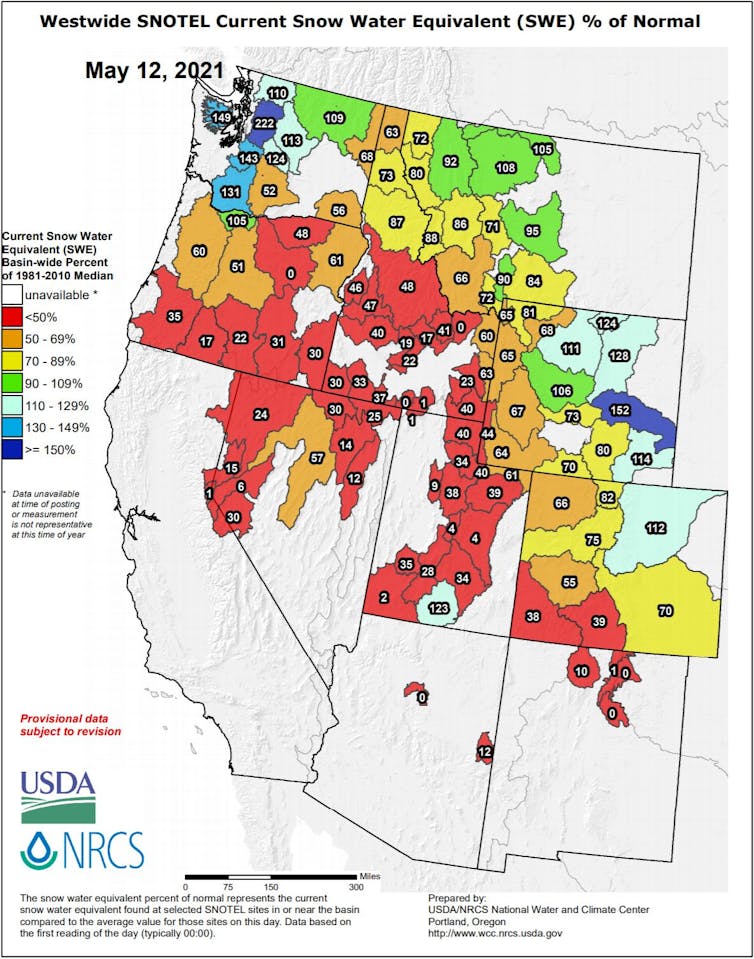 Snowpack is typically measured by the amount of water it holds, known as snow water equivalent. National Resource Conservation Service
Anthropogenic Drought
It's important to understand that drought today isn't only about nature.
More people are moving into the U.S. West, increasing demand for water and irrigated farmland. And global warming – driven by human activities like the burning of fossil fuels – is now fueling more widespread and intense droughts in the region. These two factors act as additional straws pulling water from an already scarce resource.
As demand for water has increased, the West is pumping out more groundwater for irrigation and other needs. Centuries-old groundwater reserves in aquifers can provide resilience against droughts if they are used sustainably. But groundwater reserves recharge slowly, and the West is seeing a decline in those resources, mostly because water use for agriculture outpaces their recharge. Water levels in some wells have dropped at a rate of 6.5 feet (2 meters) per year.
The result is that these regions are less able to manage droughts when nature does bring hot, dry conditions.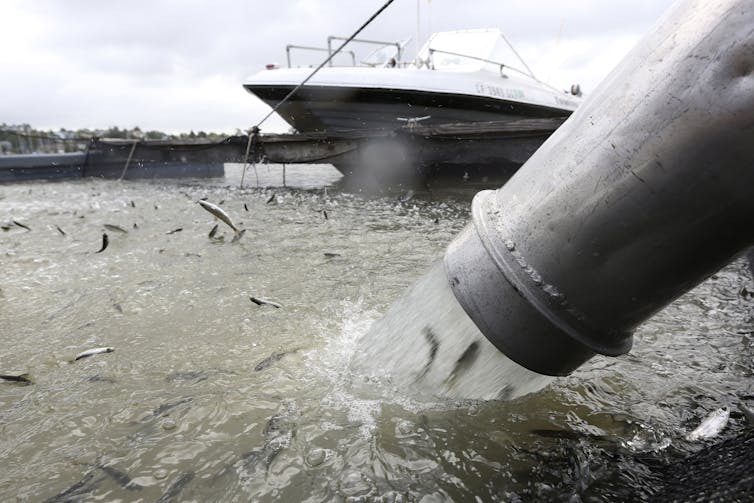 California fish hatcheries have started trucking their salmon to the Pacific Ocean because the rivers they are usually released into are too low and warm. AP Photo / Rich Podroncelli
Rising global temperatures also play several roles in drought. They influence whether precipitation falls as snow or rain, how quickly snow melts and, importantly, how quickly the land, trees and vegetation dry out.
Extreme heat and droughts can intensify one another. Solar radiation causes water to evaporate, drying the soil and air. With less moisture, the soil and air then heat up, which dries the soil even more. The result is extremely dry trees and grasses that can quickly burn when fires break out, and also thirstier soils that demand more irrigation.
Alarmingly, the trigger for the drying and warming cycle has been changing. In the 1930s, lack of precipitation used to trigger this cycle, but excess heat has initiated the process in recent decades. As global warming increases temperatures, soil moisture evaporates earlier and at larger rates, drying out soils and triggering the warming and drying cycle.
Fire Warnings Ahead
Hot, dry conditions in the West last year fueled a record-breaking wildfire season that burned over 15,900 square miles (41,270 square kilometers), including the largest fires on record in Colorado and California.
As drought persists, the chance of large, disastrous fires increases. The seasonal outlook of warmer and drier-than-normal conditions for summer and fire season outlooks by federal agencies suggest another tough, long fire year is ahead.
Mojtaba Sadegh is an assistant professor of civil engineering at Boise State University.
Amir AghaKouchak is an associate professor of civil & environmental engineering at the University of California, Irvine.
John Abatzoglou is an associate professor of engineering at the University of California, Merced.
Disclosure statement: Mojtaba Sadegh receives funding from the National Science Foundation. Amir AghaKouchak receives funding from National Science Foundation, National Oceanic and Atmospheric Administration and National Aeronautics and Space Administration. John Abatzoglou receives funding from the National Oceanic and Atmospheric Administration and the National Science Foundation.
Reposted with permission from The Conversation.
This photo from Sept. 1, 2017, shows Spain on its way to its worst drought in 20 years. The marshes held less than half of the water they can store, with 47.93% of reserves. In Leon, in the north of the country, its main reservoir barely reached 10% at the time. Alvaro Fuente / NurPhoto / Getty Images
By Andrea Germanos
A recent series of summer droughts in Europe, which brought devastating ecological, agricultural, and economic impacts, were more severe than any over the past 2,100 years, new research out Monday finds.
"Our results show that what we have experienced over the past five summers is extraordinary for central Europe, in terms of how dry it has been consecutively," dendrochronology specialist and lead author Professor Ulf Büntgen of Cambridge's Department of Geography said in a statement.
Büntgen and the team of international researchers linked the recent droughts to the climate crisis, including its impacts on the jet stream.
The chemical fingerprints in European oak trees show that in 2015, #drought conditions in Europe suddenly intensifi… https://t.co/hdOGC6CZD2

— Cambridge University (@Cambridge University) 1615828862.0
The findings were published Monday in the journal Nature Geoscience.
Analyzing more than 27,000 measurements of carbon and oxygen isotopic ratios from European oak trees — 21 living and 126 dead — the scientists got a picture of past climates, including summer droughts, spanning the years 75 BC to 2018.
Co-author Paolo Cherubini of the Federal Research Institute WSL in Birmensdorf, Switzerland, explained that "carbon values depend on the photosynthetic activity" and "oxygen values are affected by the source water."
And the "insights before medieval times," said Büntgen, "are particularly vital, because they enable us to get a more complete picture of past drought variations, which were essential for the functioning and productivity of ecosystems and societies."
The reconstruction showed an overall drying trend. But the samples showed that the droughts from 2015-2018 were "unprecedented" over the massive time span.
But the runaway climate crisis portends more worrisome parched periods to come.
"Climate change does not mean that it will get drier everywhere: some places may get wetter or colder, but extreme conditions will become more frequent, which could be devastating for agriculture, ecosystems, and societies as a whole," said Büntgen.
The U.K. Green Party shared The Guardian's reporting on the new study with a tweet declaring, "Climate change is here."
"If we don't cut carbon emissions, it will get worse," they said. "Let's fight this while it's still fixable."
Reposted with permission from Common Dreams.
From Your Site Articles
Related Articles Around the Web