Energy
Sep. 08, 2014 10:07AM EST
Groundbreaking Study Finds Six Chemicals in Fracking Wastewater at Levels Unsafe to Drink
A pair of researchers at Rice University have produced a study that comprehensively analyzes the content of fracking wastewater for the first time. Other studies have analyzed some of the chemicals found in the chemical-laden "produced water" that is one of the byproducts of fracking, but the Rice study goes much further.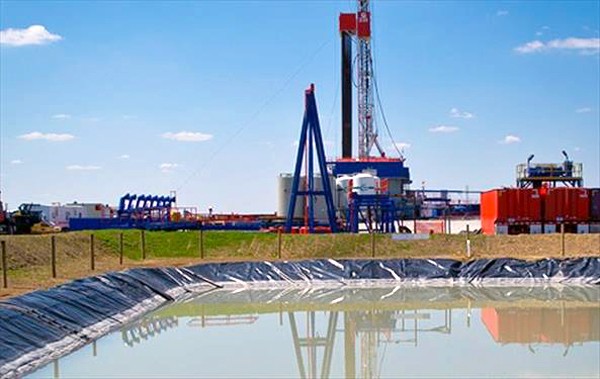 Environmental Science: Processes and Impacts published the peer-reviewed study which analyzed water samples from three major shale plays in Texas, Pennsylvania and New Mexico. They found that although this byproduct of the fracking process is less toxic than produced water from coalbed methane mining, it shouldn't be allowed anywhere near the drinking water supply. The study also revealed how the contents of this wastewater differs dramatically in the three states. These results could fuel the controversy about fracking near rivers, lakes, aquifers and wells, as well as the disposal of the wastewater.
"The quality of shale gas produced waters is a current environmental concern and disposal problem for producers," the study said. "Re-use of produced water for hydraulic fracturing is being encouraged; however, knowledge of the organic impurities is important in determining the method of treatment."
While the details of the study are comprehensible mostly by chemists, Inside Climate News simplified the take-away:
Previous studies have examined the salinity of this waste and even some of the inorganic chemicals. Building from that, the Rice researchers identified 25 inorganic chemicals in the waste. Of those, at least six were found at levels that would make the water unsafe to drink—barium, chromium, copper, mercury, arsenic and antimony. Depending on the chemical, consuming it at high levels can cause high blood pressure, skin damage, liver or kidney damage, stomach issues or cancer.
YOU MIGHT ALSO LIKE
GAO Report: Drinking Water at Risk from Underground Fracking Waste Injection
New Jersey Senate Passes Fracking Waste Ban
Jail Time for Boss Who Ordered Employees to Dump Fracking Waste in Ohio River