This website uses cookies to ensure you get the best experience while browsing it. By clicking 'Got It' you're accepting these terms.


The best of EcoWatch, right in your inbox. Sign up for our email newsletter!
Game-Changing Lamp Powered by Gravity Could Provide Light to Billions
Jun. 02, 2015 08:15AM EST
Business
A bright future. GravityLight provides a clean, safe and affordable alternative to kerosene lamps, the designers said. GravityLight
Solar-powered electricity systems have often been touted as a solution for those living without reliable access to electricity, but another Earthly force is also readily available (and doesn't surrender to inclement weather or nightfall): Gravity.
That's the idea behind the GravityLight—a lamp that only requires the weight of a bag of sand or rocks to provide light. And for the 1.3 billion people in the world who live in "energy poverty," this simple yet genius idea could be a game changer.
---
For the majority of people without reliable access to electricity, dangerous and polluting kerosene is the primary source for light. But as designers Martin Riddiford and Jim Reeves said in their Indiegogo campaign, the GravityLight is "a low-cost [less than $10], safe and reliable alternative to the kerosene lamp, one that costs nothing to run, doesn't need batteries and pays for itself within weeks switching from kerosene."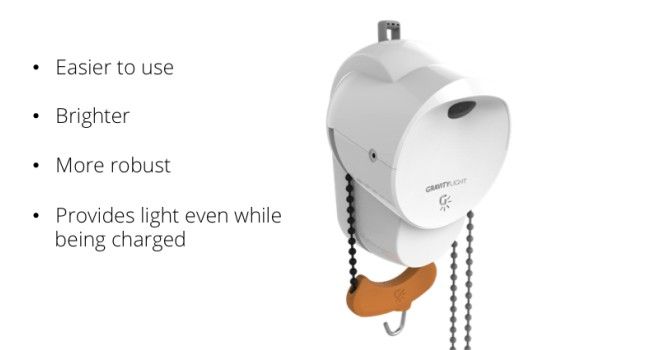 It basically works like a hand-cranked lantern. To activate the GravityLight's bright LED, the user attaches a weighted bag that's at least a 12 kg (about 26 lbs) to a beaded chain. The user then lifts the bag up by pulling on the chain.
When user releases the bag, the bag's slow descent to the floor (at about 1mm a second) helps power an internal DC generator that runs at thousands of rotations per minute. With these easy steps, the lamp can provide enough light for up to 30 minutes and can be repeated over and over as needed.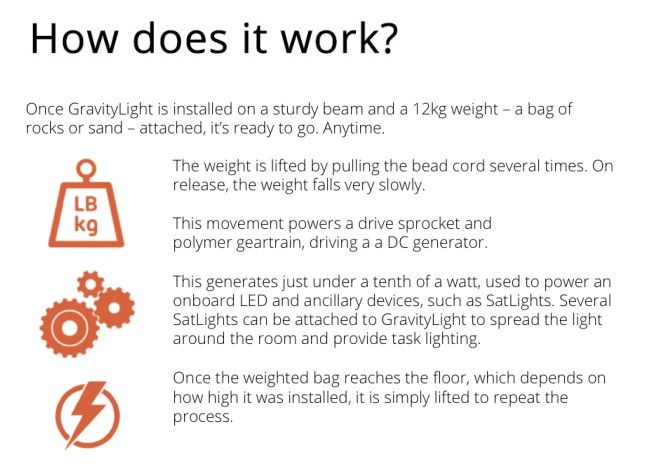 The project, which reached half of its $199,000 crowdsourcing goal in only 10 days and is nearing complete funding, is actually version 2.0 of the lamp. After the first version of the lamp, called GL01, was fully funded by a 2014 Indiegogo campaign, the makers tested it on more than 1,300 off-grid families around the globe. According to the designers, more than 90 percent of those who tried the lamp preferred it over a kerosene lamp.
This current version allegedly hammered out GL01's kinks and is also brighter, simpler, lasts longer and stays lit even while it's being charged, Gizmodo Australia reported.
Makers of the lamp are hoping to "empower those without electricity" and enable people to "break free from the economic, health and environmental hazards of kerosene lamps."
Did you know 28% of Africa's rural pop have electricity @UNDPAfrica @WorldResources #SE4ALL http://t.co/SQPR9Rdhdv pic.twitter.com/RIu3aO4p6b
— GravityLight (@GravityLight) May 22, 2015
The goal of the crowdsourcing campaign is to set up an assembly line in Kenya as well as provide local jobs and skills.
Now that's a bright idea.
Check out the video below to learn more about the project:
EcoWatch Daily Newsletter
A common green darners (Anax junius). Judy Gallagher / Flickr
By Jason Bittel
It's that time of year again: Right now, monarch butterflies are taking wing in the mountains of northwestern Mexico and starting to flap their way across the United States.
fstop123 / iStock / Getty Images Plus
At EcoWatch, our team knows that changing personal habits and taking actions that contribute to a better planet is an ongoing journey. Earth Day, happening on April 22, is a great reminder for all of us to learn more about the environmental costs of our behaviors like food waste or fast fashion.
To offer readers some inspiration this Earth Day, our team rounded up their top picks for films to watch. So, sit back and take in one of these documentary films this Earth Day. Maybe it will spark a small change you can make in your own life.
Denali national park. Domen Jakus / Flickr / CC BY-NC 2.0
By Stephanie Gagnon
Happy National Parks Week! This year, between April 20 and 28, escape to the beautiful national parks — either in person or in your imagination — and celebrate the amazing wildlife that calls these spaces home.
Sesame, three months old, at Seal Rescue Irleand.
Screenshot / Seal Rescue Ireland Instagram
On Friday, Seal Rescue Ireland released Sesame the seal into the ocean after five months of rehabilitation at the Seal Rescue Ireland facility. Watch the release on EcoWatch's Facebook.

Beer packs of Guinness will now come in a cardboard box. Diageo

By Jordan Davidson
Guinness is joining the fight against single use plastic. The brewer has seen enough hapless turtles and marine life suffering from the scourge of plastic.
Maskot / Getty Images
People of all ages are spending more of their day looking at their phones, computers and television screens, but parents now have another reason for limiting how much screen time their children get — it could lead to behavioral problems.
Rapper and comedian Lil Dicky released a 7-minute climate change awareness song and video today, ahead of Earth Day on Monday, with proceeds going to the Leonardo DiCaprio Foundation.