This website uses cookies to ensure you get the best experience while browsing it. By clicking 'Got It' you're accepting these terms.
Game-Changing Lamp Powered by Gravity Could Provide Light to Billions
Jun. 02, 2015 08:15AM EST
Business
A bright future. GravityLight provides a clean, safe and affordable alternative to kerosene lamps, the designers said. GravityLight
Solar-powered electricity systems have often been touted as a solution for those living without reliable access to electricity, but another Earthly force is also readily available (and doesn't surrender to inclement weather or nightfall): Gravity.
That's the idea behind the GravityLight—a lamp that only requires the weight of a bag of sand or rocks to provide light. And for the 1.3 billion people in the world who live in "energy poverty," this simple yet genius idea could be a game changer.
---
For the majority of people without reliable access to electricity, dangerous and polluting kerosene is the primary source for light. But as designers Martin Riddiford and Jim Reeves said in their Indiegogo campaign, the GravityLight is "a low-cost [less than $10], safe and reliable alternative to the kerosene lamp, one that costs nothing to run, doesn't need batteries and pays for itself within weeks switching from kerosene."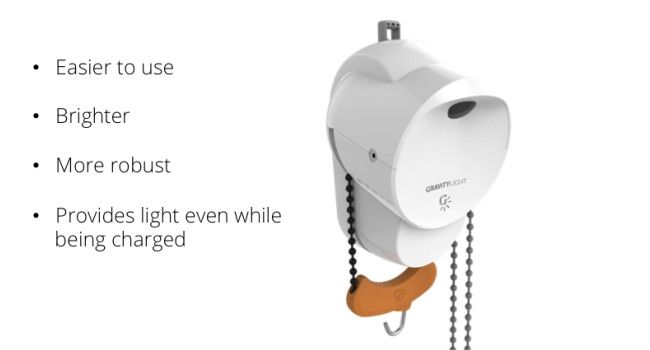 It basically works like a hand-cranked lantern. To activate the GravityLight's bright LED, the user attaches a weighted bag that's at least a 12 kg (about 26 lbs) to a beaded chain. The user then lifts the bag up by pulling on the chain.
When user releases the bag, the bag's slow descent to the floor (at about 1mm a second) helps power an internal DC generator that runs at thousands of rotations per minute. With these easy steps, the lamp can provide enough light for up to 30 minutes and can be repeated over and over as needed.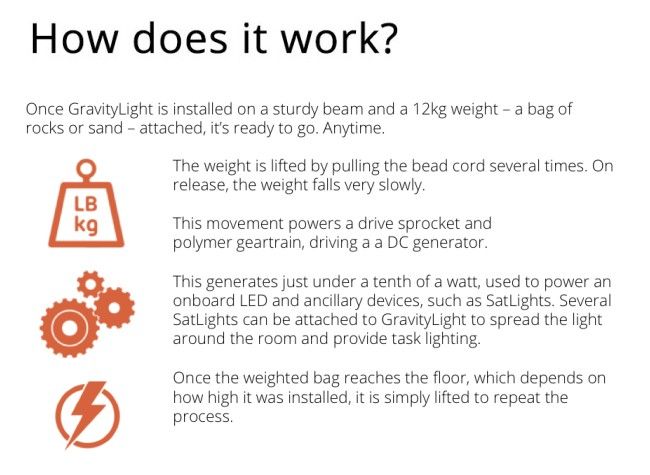 The project, which reached half of its $199,000 crowdsourcing goal in only 10 days and is nearing complete funding, is actually version 2.0 of the lamp. After the first version of the lamp, called GL01, was fully funded by a 2014 Indiegogo campaign, the makers tested it on more than 1,300 off-grid families around the globe. According to the designers, more than 90 percent of those who tried the lamp preferred it over a kerosene lamp.
This current version allegedly hammered out GL01's kinks and is also brighter, simpler, lasts longer and stays lit even while it's being charged, Gizmodo Australia reported.
Makers of the lamp are hoping to "empower those without electricity" and enable people to "break free from the economic, health and environmental hazards of kerosene lamps."
Did you know 28% of Africa's rural pop have electricity @UNDPAfrica @WorldResources #SE4ALL http://t.co/SQPR9Rdhdv pic.twitter.com/RIu3aO4p6b
— GravityLight (@GravityLight) May 22, 2015
The goal of the crowdsourcing campaign is to set up an assembly line in Kenya as well as provide local jobs and skills.
Now that's a bright idea.
Check out the video below to learn more about the project:
EcoWatch Daily Newsletter
Lara Hata / iStock / Getty Images
By SaVanna Shoemaker, MS, RDN, LD
Rice is a staple in many people's diets. It's filling, inexpensive, and a great mild-tasting addition to flavorful dishes.
An image of the trans-alaskan oil pipeline that carries oil from the northern part of Alaska all the way to valdez. This shot is right near the arctic national wildlife refuge. kyletperry / iStock / Getty Images Plus
The Trump administration has initialized the final steps to open up nearly 1.6 million acres of the protected Alaskan National Wildlife Refuge to allow oil and gas drilling.
Kaboompics / Pexels
Tensions between lawmakers and several large manufacturing companies came to a head on Capitol Hill this week during a hearing on toxic fluorochemicals in U.S. drinking water.
A male african lion plays with his 4 month old cub at Big Marsh in Serengeti National Park, Tanzania. Nick Garbutt / Barcroft Media / Getty Images
A Florida man has been allowed to import a Tanzanian lion's skin, skull, claws and teeth, a first since the animal was listed as threatened under the Endangered Species Act, according to US Fish and Wildlife Service records uncovered by the Center for Biological Diversity through the Freedom of Information Act.
A fracked natural gas well in northwest Louisiana has been burning for two weeks after suffering a blowout. A state official said the fire will likely burn for the next month before the flames can be brought under control by drilling a relief well.
The universe is expanding much quicker than previously thought, according to researchers in Germany, leading scientists to suggest it may be more than 2 billion years younger than past estimates.