Frackquakes: Public Opposition Builds As Property Rights Are Endangered in Texas
By Sharon Wilson and Alan Septoff
The earthquakes you may have heard about—the 30 tremblers that have struck north central Texas since Nov. 1 and have damaged many homes. The quakes are most likely being caused by underground disposal wells used to get rid of wastewater generated during fracking operations. "Frackquakes," some are calling them.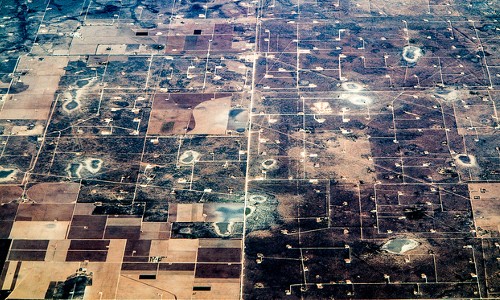 The quakes you probably haven't heard about are political. They're caused in part by the frackquakes, and in part by other environmental, social and public health impacts of fracking-enabled oil and gas development. And they seem to be changing Texans' opinions about fracking.
The oil and gas boom sweeping through the U.S. is occurring because horizontal hydraulic fracturing makes it possible to extract previously inaccessible oil and gas locked up inside the pores of shale rock thousands of feet underground.
How?
Well, by drilling a well down to the shale deposit; taking a right turn to horizontally extend the well for thousands more feet through the shale layer, and then injecting millions of gallons—two to eight millions gallons, depending upon the area—of water laced with tens of thousands of gallons of toxics at such high pressure that the shale rock breaks (fractures). The water and toxics (called flowback fluid) are then withdrawn back up the well, and the released oil or gas follows.
The oil and gas is cleaned and piped and sold. But what of the toxics-laced flowback fluid and other (briny, and sometimes radioactive) water produced by the well? 
Although some of it is reused, the vast majority of it must be disposed of. The disposal of fracking wastewater (flowback plus produced water) is what causes fracking earthquakes.
Because of the chemicals in fracking wastewater, it cannot be treated at an ordinary sewage wastewater treatment plant. Instead, it is injected in another well deep underground. It has long been known that this type of wastewater injection deep underground can lead to earthquakes when it occurs near a fault .
So it is no surprise that as fracking has become near universal—more than 90 percent of all new oil and gas wells are fracked—that the number of fracking wastewater injection wells and associated earthquakes has soared as well.
Especially damning is that places that are historically seismically inactive, like Oklahoma, Texas and Arkansas, have seen earthquake swarms after fracking wastewater injection wells began in earnest.
The U.S. Environmental Protection Agency (EPA) has delegated oversight of these fracking wastewater injection wells to the states. Unfortunately, despite the increasingly apparent threat posed by fracking-related earthquakes, many states are actively ignoring the issue. Nine months after a National Academy of Sciences panel said oil and gas regulators should take steps to prevent man-made earthquakes, officials in key states are ignoring quake potential as they rewrite their drilling rules.
Unfortunately, the damages from frackquakes can be considerable. Originally thought to be minor, new research is showing they can be large. A 5.7 magnitude frackquake near Prague, OK, in 2011 damaged 14 homes and other structures in the area. Particularly in parts of the country where earthquakes were previously uncommon and infrastructure was not built to withstand seismic activity, even smaller earthquakes can cause significant, expensive and dangerous damage.
This is turning the frackquake issue into a property rights issue. Because homeowners (and municipalities) must pay for the damages to homes and public infrastructure caused by these quakes. When asked what should be done about the quakes, Oklahoma government recommended homeowners buy earthquake insurance policies.
Communities Have Had Enough, Even in Texas
In oil crazy Texas, in years past, any evidence supporting the need for caution while drilling would have been ignored by affected communities. But no longer.
Earlier this month, almost 1,000 concerned citizens packed a public meeting about frackquakes near Azle/Reno, TX. When the state regulator holding the meeting announced a "study" of the issue but refused to answer questions, there was an uproar. In response, on the spur of the moment, outraged community members rented a bus to make the four-hour trip to the state capital to demand action from the full Texas Railroad Commission (which oversees oil and gas drilling in the state). Here's a sampling of comments to the commission:
"In other states where fracking wastewater injection wells have been shut down, earthquakes disappear. This isn't rocket science. Common sense tells you that fracking waste disposal is playing a big role in this. Don't make us guinea pigs while you study." — Reno Mayor Lynda Stokes

"This is a property rights issue, pure and simple. The most profitable industry in the country is damaging our homes. And the Railroad Commission is not only allowing it, they're forcing homeowners to pay the damages." — Reno homeowner Barbara Brown
Coupled with a de facto moratorium on fracking that the city of Dallas passed late last year, we are seeing a public opinion sea change regarding fracking in the Lone Star state.
These are not isolated incidents. Across the country, opposition to irresponsible oil and gas development is building to a crescendo:
But in some ways, Texas is more important because the state has always been the heart of the U.S. oil industry, embracing oil and gas development from its earliest years, and pioneering fracking in the Barnett Shale. In political terms, Texas is the oil and gas industry's base.
So when Texans are willing to stand up in open democratic processes—first in Dallas and now in Azle—and say "no" to oil and gas development, it's a sign that times are a-changin'. If Texans aren't willing to live with fracking, then it may be impossible for anyone to live in harmony with fracking.
Visit EcoWatch's FRACKING page for more related news on this topic.

Disturbing footage of a snake in Goa, India vomiting an empty soft drink bottle highlights the world's mounting plastic pollution crisis.
Keep reading...
Show less
By Melissa Hellmann
When her eldest son was in elementary school in the Oakland Unified School District, Ruth Woodruff became alarmed by the meals he was being served at school. A lot of it was frozen, processed foods, packed with preservatives. At home, she was feeding her children locally sourced, organic foods.
Keep reading...
Show less
May. 28, 2017 01:33PM EST
Laurie Woolever
By James O'Hare
There are 20 million people in the world facing famine in South Sudan, Somalia, Nigeria and Yemen. In developed nations, too, people go hungry. Venezuela, for instance, is enduring food insecurity on a national level as a result of economic crisis and political corruption. In the U.S., the land of supposed excess, 12.7 percent of households were food insecure in 2015, meaning they didn't know where their next meal would come from.
Keep reading...
Show less
May. 28, 2017 01:22PM EST
Melwater, Greenland ice sheet. Diane Tuft
Artists are taking the climate crisis into frame and the results are emotional, beautiful and stirring.
So you've seen the best climate change cartoons and shared them with your friends. You've showed your family the infographics on climate change and health, infographics on how the grid works and infographics about clean, renewable energy. You've even forwarded these official National Oceanic and Atmospheric Administration graphs that explain the 10 clear indicators of climate change to your colleagues at the office.
Keep reading...
Show less
May. 27, 2017 01:11PM EST
As the Trump administration moves full speed ahead on boosting the oil and fossil fuel industry, opposition to increased pipeline construction is cropping up in different communities around the country.
Keep reading...
Show less
May. 27, 2017 01:02PM EST
Minke whale stranding near Havergate Island in Suffolk. MCGA.
By Simon Evans
Last Saturday, two dead whales washed up on the coast of Suffolk, in eastern England, and a third was spotted floating at sea.
What happened next illustrates how news can spread and evolve into misinformation, when reported by journalists rushing to publish before confirming basic facts or sourcing their own quotes.
Keep reading...
Show less
May. 27, 2017 01:22PM EST
By Monica Amarelo and Paul Pestano
Sun safety is a crucial part of any outdoor activity for kids, and sunscreen can help protect children's skin from harmful ultraviolet rays. Kids often get sunburned when they're outside unprotected for longer than expected. Parents need to plan ahead and keep sun protection handy in their cars or bags.
Keep reading...
Show less
May. 27, 2017 01:02PM EST
By Joe McCarthy
A lot of people take part in community clean-up efforts—spending a Saturday morning picking up litter in a park, mowing an overgrown field or painting a fence.
Keep reading...
Show less