This website uses cookies to ensure you get the best experience while browsing it. By clicking 'Got It' you're accepting these terms.
Frackquakes: Public Opposition Builds As Property Rights Are Endangered in Texas
Jan. 27, 2014 01:47PM EST
Energy
By Sharon Wilson and Alan Septoff
The earthquakes you may have heard about—the 30 tremblers that have struck north central Texas since Nov. 1 and have damaged many homes. The quakes are most likely being caused by underground disposal wells used to get rid of wastewater generated during fracking operations. "Frackquakes," some are calling them.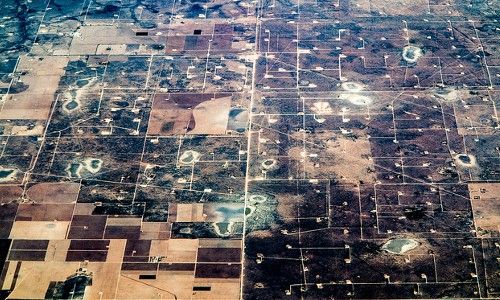 The quakes you probably haven't heard about are political. They're caused in part by the frackquakes, and in part by other environmental, social and public health impacts of fracking-enabled oil and gas development. And they seem to be changing Texans' opinions about fracking.
The oil and gas boom sweeping through the U.S. is occurring because horizontal hydraulic fracturing makes it possible to extract previously inaccessible oil and gas locked up inside the pores of shale rock thousands of feet underground.
How?
Well, by drilling a well down to the shale deposit; taking a right turn to horizontally extend the well for thousands more feet through the shale layer, and then injecting millions of gallons—two to eight millions gallons, depending upon the area—of water laced with tens of thousands of gallons of toxics at such high pressure that the shale rock breaks (fractures). The water and toxics (called flowback fluid) are then withdrawn back up the well, and the released oil or gas follows.
The oil and gas is cleaned and piped and sold. But what of the toxics-laced flowback fluid and other (briny, and sometimes radioactive) water produced by the well? 
Although some of it is reused, the vast majority of it must be disposed of. The disposal of fracking wastewater (flowback plus produced water) is what causes fracking earthquakes.
Because of the chemicals in fracking wastewater, it cannot be treated at an ordinary sewage wastewater treatment plant. Instead, it is injected in another well deep underground. It has long been known that this type of wastewater injection deep underground can lead to earthquakes when it occurs near a fault .
So it is no surprise that as fracking has become near universal—more than 90 percent of all new oil and gas wells are fracked—that the number of fracking wastewater injection wells and associated earthquakes has soared as well.
Especially damning is that places that are historically seismically inactive, like Oklahoma, Texas and Arkansas, have seen earthquake swarms after fracking wastewater injection wells began in earnest.
The U.S. Environmental Protection Agency (EPA) has delegated oversight of these fracking wastewater injection wells to the states. Unfortunately, despite the increasingly apparent threat posed by fracking-related earthquakes, many states are actively ignoring the issue. Nine months after a National Academy of Sciences panel said oil and gas regulators should take steps to prevent man-made earthquakes, officials in key states are ignoring quake potential as they rewrite their drilling rules.
Unfortunately, the damages from frackquakes can be considerable. Originally thought to be minor, new research is showing they can be large. A 5.7 magnitude frackquake near Prague, OK, in 2011 damaged 14 homes and other structures in the area. Particularly in parts of the country where earthquakes were previously uncommon and infrastructure was not built to withstand seismic activity, even smaller earthquakes can cause significant, expensive and dangerous damage.
This is turning the frackquake issue into a property rights issue. Because homeowners (and municipalities) must pay for the damages to homes and public infrastructure caused by these quakes. When asked what should be done about the quakes, Oklahoma government recommended homeowners buy earthquake insurance policies.
Communities Have Had Enough, Even in Texas
In oil crazy Texas, in years past, any evidence supporting the need for caution while drilling would have been ignored by affected communities. But no longer.
Earlier this month, almost 1,000 concerned citizens packed a public meeting about frackquakes near Azle/Reno, TX. When the state regulator holding the meeting announced a "study" of the issue but refused to answer questions, there was an uproar. In response, on the spur of the moment, outraged community members rented a bus to make the four-hour trip to the state capital to demand action from the full Texas Railroad Commission (which oversees oil and gas drilling in the state). Here's a sampling of comments to the commission:
"In other states where fracking wastewater injection wells have been shut down, earthquakes disappear. This isn't rocket science. Common sense tells you that fracking waste disposal is playing a big role in this. Don't make us guinea pigs while you study." — Reno Mayor Lynda Stokes

"This is a property rights issue, pure and simple. The most profitable industry in the country is damaging our homes. And the Railroad Commission is not only allowing it, they're forcing homeowners to pay the damages." — Reno homeowner Barbara Brown
Coupled with a de facto moratorium on fracking that the city of Dallas passed late last year, we are seeing a public opinion sea change regarding fracking in the Lone Star state.
These are not isolated incidents. Across the country, opposition to irresponsible oil and gas development is building to a crescendo:
But in some ways, Texas is more important because the state has always been the heart of the U.S. oil industry, embracing oil and gas development from its earliest years, and pioneering fracking in the Barnett Shale. In political terms, Texas is the oil and gas industry's base.
So when Texans are willing to stand up in open democratic processes—first in Dallas and now in Azle—and say "no" to oil and gas development, it's a sign that times are a-changin'. If Texans aren't willing to live with fracking, then it may be impossible for anyone to live in harmony with fracking.
Visit EcoWatch's FRACKING page for more related news on this topic.

EcoWatch Daily Newsletter
The Democratic primary candidates take the stage during Tuesday's debate. SAUL LOEB / AFP via Getty Images
On Tuesday night, the Democratic presidential candidates gathered for what The Guardian said was the largest primary debate in U.S. history, and they weren't asked a single question about the climate crisis.
A. Battenburg / Technical University of Munich
By Sarah Kennedy
Algae in a pond may look flimsy. But scientists are using algae to develop industrial-strength material that's as hard as steel but only a fraction of the weight.
Variety of fermented food korean traditional kimchi cabbage and radish salad. white and red sauerkraut in ceramic plates over grey spotted background. Natasha Breen / REDA&CO / Universal Images Group / Getty Image
Even if you've never taken probiotics, you've probably heard of them.
These supplements provide numerous benefits because they contain live microorganisms, such as bacteria or yeast, which support the healthy bacteria in your gut (1, 2, 3, 4).
Pexels
Singapore will become the first country in the world to place a ban on advertisements for carbonated drinks and juices with high sugar contents, its health ministry announced last week. The law is intended to curb sugar consumption since the country has some of the world's highest diabetes rates per capita, as Reuters reported.
A typical adult takes around 20,000 breaths per day. If you live in a megacity like Beijing, with many of those lungfuls you're likely to inhale a noxious mixture of chemicals and pollutants.
Fred Stone holds his brown swiss cow Lida Rose at his Arundel dairy farm on March 18 after a press conference where he spoke about PFAS chemical contamination in his fields. Gregory Rec / Portland Portland Press Herald via Getty Images
By Susan Cosier
First there was Fred Stone, the third-generation dairy farmer in Maine who discovered that the milk from his cows contained harmful chemicals. Then came Art Schaap, a second-generation dairy farmer in New Mexico, who had to dump 15,000 gallons of contaminated milk a day.
Protesters attend the 32nd annual Fur-Free Friday demonstration on Nov. 23, 2018 in Beverly Hills, California. Ella DeGea / Getty Images
California Governor Gavin Newsom signed into law a bill that that bans the sale and manufacture of fur products in the state. The fur ban, which he signed into law on Saturday, prohibits Californians from selling or making clothing, shoes or handbags with fur starting in 2023, according to the AP.
By Simon Evans
During the three months of July, August and September, renewables generated an estimated total of 29.5 terawatt hours (TWh), compared with just 29.1TWh from fossil fuels, the analysis shows.