This website uses cookies to ensure you get the best experience while browsing it. By clicking 'Got It' you're accepting these terms.
Fracking Infrastructure vs. American Values
May. 10, 2013 03:03PM EST
Energy
By Pramilla Malick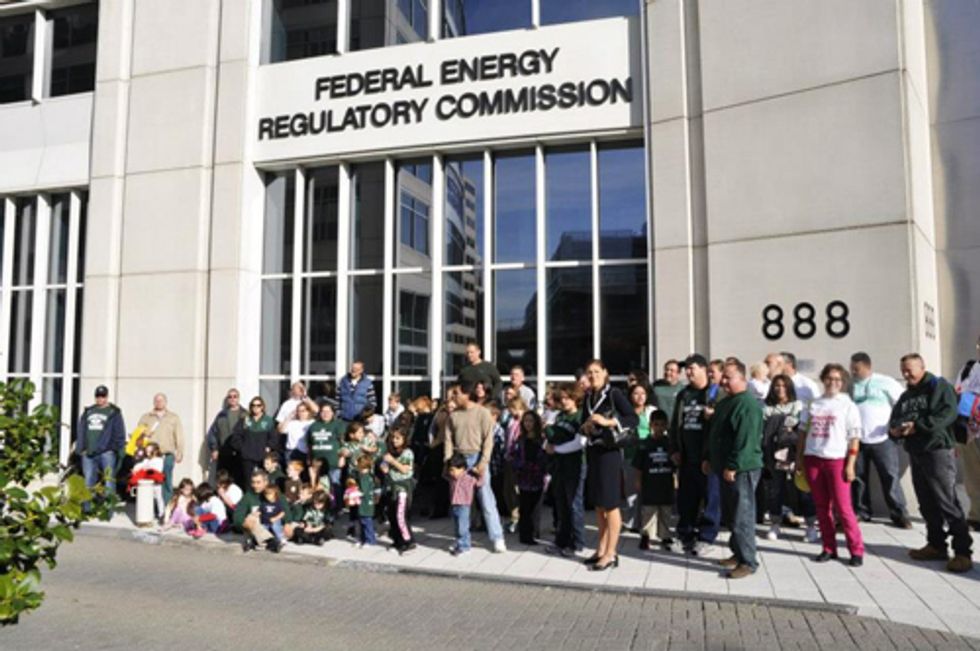 As advances in technology open vast territories of the U.S. to new forms of extreme fossil fuel extraction, more and more American communities find themselves battling not only private oil and gas companies but also their own government to protect their homes, health and way of life.
The oil and gas rush requires a massive infrastructure network to get those fuels to markets, domestic as well as foreign, including millions of miles of pipelines, compressor stations, storage facilities and liquefied natural gas (LNG) terminals. Like the extraction process itself, this infrastructure carries enormous risks such as air pollution, water contamination and risk of explosion.
However, unlike drilling sites, which are confined to areas on top of shale formations, the related infrastructure spans throughout the U.S. Indeed it can and will be built anywhere a gas or oil company so desires, striking indiscriminately at rural, suburban and even urban communities. Why? Because the sole federal permitting agency, the Federal Energy Regulatory Commission (FERC) is also euphemistically known as the agency that "never met a pipeline it didn't like."
Few Americans may have heard of this elusive and powerful agency, but FERC is a mecca for the oil and gas industry—a virtual wishing well. If you are an oil and gas lobbyist, just toss in a coin, close your eyes and a permit lands in your hands. This may sound hyperbolic, but it's not. How else can one explain a more than 98 percent approval of oil and gas projects? However, if you happen to be a member of an impacted community, you're out of luck. With a FERC stamp on a piece of paper, in an instant your dream becomes a nightmare and everything you've worked for you entire life is gone.
FERC is not accustomed to public scrutiny. However, impacted communities are beginning to join forces and fight back. Furthermore, FERC decisions are beginning to be challenged in court. A small middle-class residential community in Minisink, NY, is one such community which recently engaged in one of the most intense oppositions in the agency's history. The FERC rubber-stamped project, near completion in Minisink by Columbia Pipeline Group will place a 12,260 horse power gas compressor station on a greenfield site within a half-mile of more than 200 families—literally a few hundred feet from many homes. This was approved by FERC despite the fact that a viable alternative was available to the company which could site a much smaller facility on a brownfield site, with no homes within three fourths of a mile. The cognitive as well as moral failures of FERC decisions are glaringly obvious in the Minisink case, portraying an agency that caters to the whims and wishes of a private company over the welfare of hundreds of American citizens.
Moreover, while project owners routinely meet with members of FERC staff and even write the environmental reviews, members of impacted communities have no voice or representation in the decision making process. This one-sided and fundamentally un-American process not only leads to wrong decisions for impacted communities but wrong decisions for the nation. In the Minisink case, the community-proposed alternative would have not only prevented 200 families from complete financial and environmental devastation, but also resulted in 44 percent less fuel usage and 44 percent less air emissions.  When a federal agency of the United States shows such disregard for the mandate to curb greenhouse gas emissions, it raises serious questions about our country's commitment to combat climate change. 
FERC's powers derive from the Natural Gas Act which gives it the authority to preempt any local or state law that may stand in its way. This archaic 45-year-old law has no regard for fundamental property rights or for the concept of "life, liberty and the pursuit of happiness." It allows FERC to operate autonomously with very little oversight, answering to no one. But FERC has been running rogue for far too long. It's time to bring the agency in line with our core values as a nation; fairness, equality and transparency. Communities must be part of the decision making process and FERC must be held accountable by the American people and the U.S. constitution. It's also time to revise the Natural Gas Act to create more regulations and oversight as to how these projects are sited and monitored.
Minisink is a largely conservative town but its experiences with its new company neighbor have left most residents with a sense of betrayal by our government and an aversion to the national narrative about America's new energy. If reforms aren't implemented before further expansion is allowed, as more and more American communities like Minisink get swept away into the ever expanding sacrifice zone, the wrath against the entire industry and its main enabler FERC will soon reach a critical mass.
Visit EcoWatch's FRACKING and LIQUEFIED NATURAL GAS pages for more related news on this topic.
——–
Sign this petition today, telling President Obama to enact an immediate fracking moratorium:

EcoWatch Daily Newsletter
Animal rights activists try to save dogs at a free market ahead of the Yulin Dog Eating Festival in Yulin city, south China's Guangxi Zhuang Autonomous Region on June 21, 2014. Jie Zhao / Corbis via Getty Images
The Great Barrier Reef, where record-high sea temperatures in February caused its most widespread coral bleaching event. JAYNE JENKINS / CORAL REEF IMAGE BANK
Tropical coral reefs are at a critical tipping point, and we've pushed them there, scientists say. Climate change may now cause previously rare, devastating coral bleaching events to occur in tropical coral reefs around the globe on a 'near-annual' basis, reported The Guardian.
The first peer-reviewed research into a promising coronavirus vaccine was published Thursday. Javier Zayas Photography / Moment / Getty Images
Deserted view of NH24 near Akshardham Temple on day nine of the 21-day nationwide lockdown to curb the spread of coronavirus on April 2, 2020 in New Delhi, India. Raj K Raj / Hindustan Times via Getty Images
A Unicef social mobilizer uses a speaker as she carries out public health awareness to prevent the spread and detect the symptoms of the COVID-19 coronavirus by UNICEF at Mangateen IDP camp in Juba, South Sudan on April 2. ALEX MCBRIDE / AFP / Getty Images
By Eddie Ndopu
South Africa is ground zero for the coronavirus pandemic in Africa.
Its townships are typical of high-density neighbourhoods across the continent where self-isolation will be extremely challenging.
The failure to eradicate extreme poverty is a threat beyond the countries in question.