Fracking Industry Follows Tobacco Industry's Deceptive Playbook
Jul. 23, 2012 07:07PM EST
Energy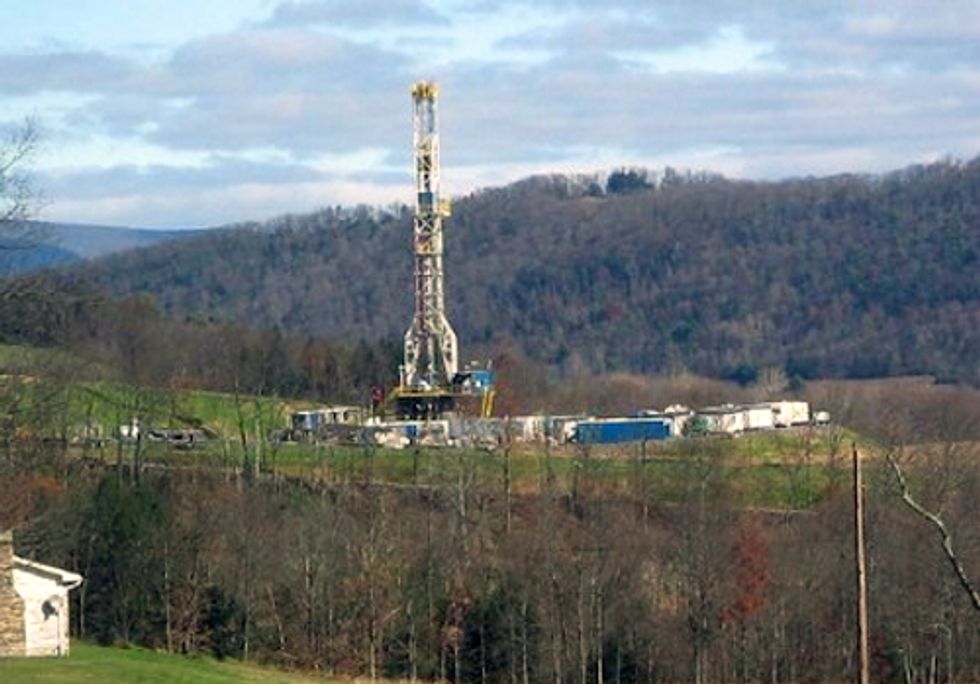 A thorough and well reported Bloomberg News story today revealed that several recent academic studies on fracking were ultimately funded by the gas drilling industry itself. These studies had the imprimaturs of respected public universities including Penn State, University of Texas and SUNY-Buffalo and were cited by politicians arguing for policies that are advantageous to the fracking industry. It turns out that the studies were either sponsored by the fracking industry or were prepared by researchers with a long history of producing industry-friendly reports, or both.
As Bloomberg reporter Jim Efstathiou Jr. writes, "As the U.S. enjoys a natural-gas boom from a process called hydraulic fracturing, or fracking, producers are taking a page from the tobacco industry playbook: funding research at established universities that arrives at conclusions that counter concerns raised by critics." The most prominent example is a 2009 Penn State report that was cited by lawmakers in rejecting a proposal for a 5 percent tax on gas drillers. Pennsylvania remains the biggest gas drilling state that doesn't impose such a tax.
It turns out that the study was made possible by a $100,000 grant from a gas industry group called the Marcellus Shale Coalition. This conflict of interest was not revealed. In addition the lead author of the study was Tom Considine, an economist with a long history of producing such industry-friendly reports.
In another example in Texas, a University of Texas report on fracking regulation issues was led by Charles Groat, who is on the board of Plains Exploration and Production Company, a major Texas gas drilling concern. The report generated several headlines in the media saying that there was no link between fracking and groundwater contamination. Groat's fracking industry ties were not disclosed. The Bloomberg report examined company filings which showed that Groat received $400,000 from Plains Exploration and Production, which does have fracking operations in Texas.
Considine, now at the University of Wyoming, continues to produce pro-fracking research, both under the aegis of public universities and for obvious industry front groups such as the American Petroleum Institute and the Wyoming Mining Association. This April, the newly formed Shale Resources and Society Institute at the State University of New York at Buffalo published a report minimizing the environmental problems of fracking. Considine was the lead author. 
The Bloomberg report includes a quote from Cary Nelson, president of the American Association of University Professors, who said that with these reports the fracking industry is in effect "buying the prestige" of the public universities, who in turn are not transparent about where their funding comes from or about the conflicts of interests of the researchers.
Visit EcoWatch's FRACKING page for more related news on this topic.
EcoWatch Daily Newsletter
Related Articles from EcoWatch