Fracking Democracy
Jul. 14, 2015 02:35PM EST
Energy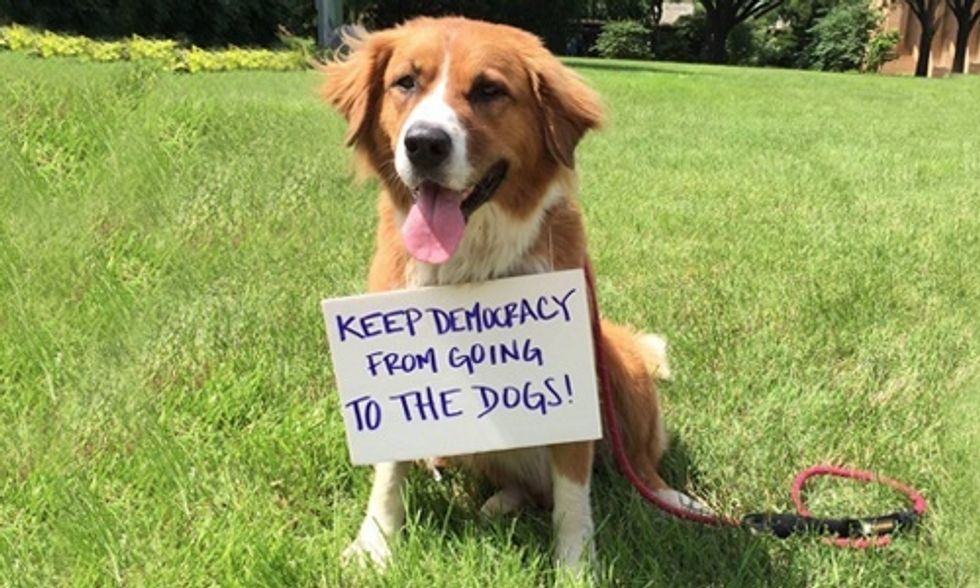 [Editor's update: According to the Community Environmental Legal Defense Fund, an attempt to quash a citizens' county charter initiative failed in the Common Pleas Court this week. Seeking to expand their right to local self-government, and to ban the injection of fracking waste and related activities as a violation of rights, Athens County residents recently submitted well over the required number of signatures to place their initiative on the November ballot.]
As more and more evidence emerges on the potential harm to air, water and land from fracking and as oil and gas companies get more aggressive in growing their operations, communities are saying "enough" and fighting to retain or restore their democracy.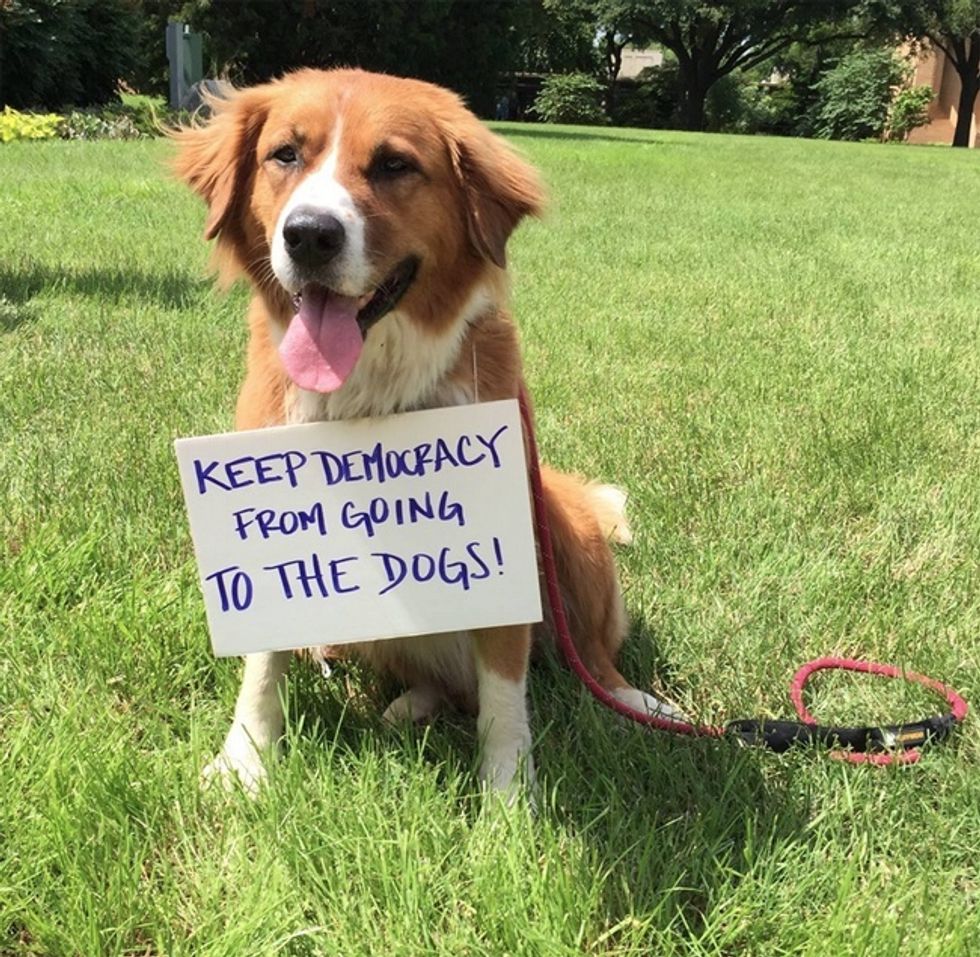 The most recent battleground is Ohio where communities are trying various tactics, including charter reform, to ban fracking operations within their borders. It's pitted local officials against the Ohio Department of Natural Resources (ODNR) and the courts.
This week Akron City Council passed a resolution opposing a bill currently in the legislature that would allow the forced inclusion of public lands in a fracking operation without permission of the public entity. Summit Metro Parks already passed such a resolution and asked the Akron City Council to do so as well (Akron is located in Summit County).
"We're very concerned that it takes local control away," said Summit Metro Parks interim director Mike Johnson.
This is merely the latest in a series of skirmishes around the state whose eastern half, sitting atop the Utica and Marcellus shale formations, has become a mecca for fracking operations. The liberal college community of Athens, in southeastern Ohio, is a hotbed for fracking wastewater injection wells (they currently have eight active fracking waste injection wells and are likely to become Ohio's number one fracking waste dump this year) and anti-fracking activism. The city successfully passed a fracking ban last November with 78 percent of the vote, while bans failed in three other Ohio communities.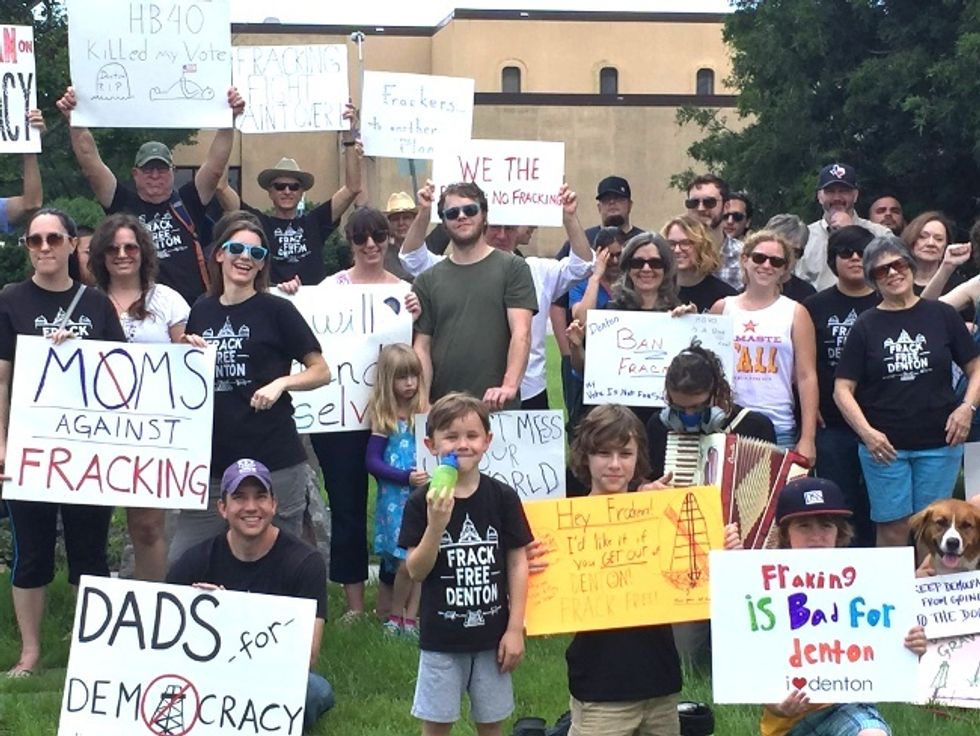 Anti-fracking activists there will be in court this week trying to get a charter issue on the ballot for this coming November that would make it illegal to use Athens County water for fracking or to dispose of fracking waste products in the county. The county board of elections has rejected the initiative, saying it's not a valid charter so charter supporters are appealing.
But Ohio courts have not been friendly to community pleas. The Ohio Supreme Court ruled in February in a 4-3 decision that fracking falls under state, not local, jurisdiction. Last week, a court dismissed a lawsuit brought by citizens of Broadview Heights in Northeast Ohio, saying that the right of companies to frack trumps the rights of community citizens. And more than 100 local elected officials signed a letter from Environment Ohio appealing to Gov. John Kasich to support local control, which was delivered to him last week.
"Fracking brings local harm, contaminating our drinking water, polluting our air and causing earthquakes," said Sarah Frost, outreach director of Environment Ohio. "So it should be subject to local control."
The response from Kasich's office was unsurprisingly cool.
"As you know, the governor cannot unilaterally repeal laws," said Kasich spokesman Rob Nichols. "They may wish to consider directing their attention to the Ohio General Assembly or the Ohio Supreme Court."
"Even if we're stuck with the court's decision, and the governor is going to side with the oil and gas industry, there are several steps we can take that are still valid," said letter signer James O'Reilly, a councilman in the suburban Cincinnati town of Wyoming. "It's important to look at all of the alternatives because it's unlikely any one solution will work. We need to get back our authority to protect the public."
According to the Cleveland Plain Dealer, "He [O'Reily] recommended using local ordinances to enforce road weight limits on fracking trucks in an effort to prevent the degradation of bridges, culverts and roads; enforcing local noise ordinances and curfews to limit drilling operations to daylight hours, and prevent drilling 24 hours a day, seven days a week; and to enforce air quality ordinances that restrict air emissions that could aggravate childhood asthma."
In the fracking boom state of Texas, which has traditionally been friendly to drilling interests, citizens in the city of Denton voted last November to ban new fracking operations within its borders, after attempts to enlist cooperation from drilling companies had failed. This spring the Texas legislature passed a bill stripping local communities of the right to regulate drilling, ultimately taking away their democracy. In Denton, that's led to an escalation of protests with demonstrators arrested last month blocking the entrance to a fracking site.
"It just became obvious that we had exhausted all legal means to block fracking and that this unjust law is being forced on a community that voted it out," said Tara Linn Hunter, one of those arrested. "We saw that it was about to happen so we decided it was more important to do what was right than go along."
The city ultimately repealed its ban to protect itself against ongoing lawsuits from oil and gas interests, despite the protests of citizens who felt it should be kept in place in case of a successful challenge to the new state law to avoid another expensive campaign in which fracking interests outspent citizen groups 10-1.
"Fracking is happening right now in our community, again, and it's pretty clear that in our community, people do not want fracking to happen," said Denton resident Ron Seifert at a recent city council meeting. "So my question is: What is the city prepared to do to follow through with the will of the people here?"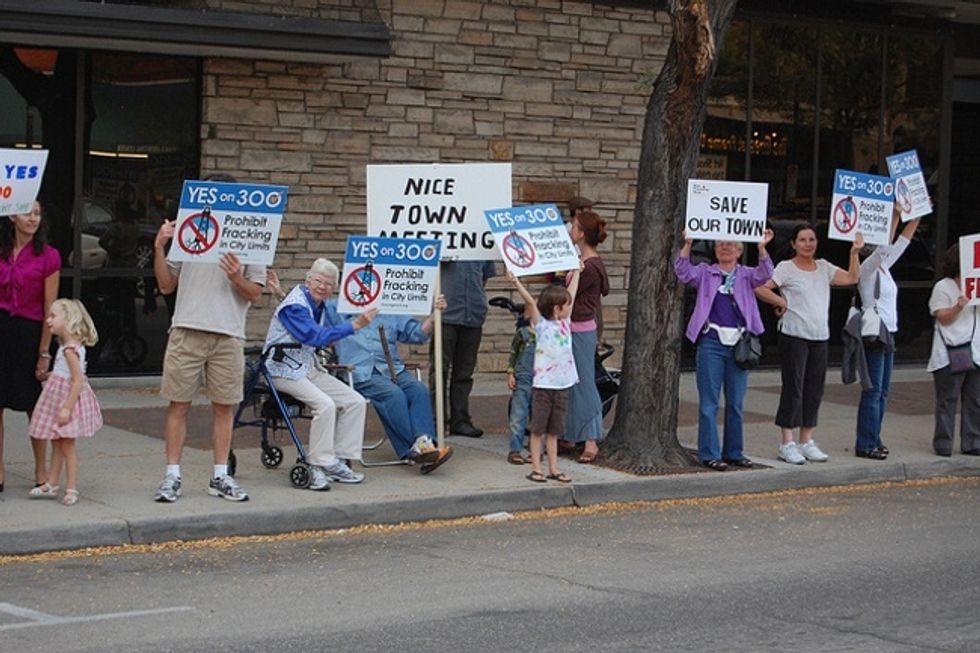 Free Range Longmont
Several Colorado cities have also passed local fracking bans in the last several years, including Boulder, Longmont, Fort Collins and Lafayette. They've been fought by oil and gas interests which have successfully appealed to the courts to block the bans. To ward off a threatened statewide ballot initiative to ban fracking, Gov. John Hickenlooper convened a task force last fall to try to hammer out a compromise. But community members felt the proposals that emerged from the panel's deliberations were overly influenced by the oil and gas companies and didn't sufficiently protect citizens.
The panel's proposals would give local governments a consulting role but not the power to set their own regulations over oil and gas drilling operations. The panel also rejected proposals to require disclosure of all chemicals used during the drilling process.
"I stand by the pessimistic view most of us had of the Blue Ribbon Panel," said Karen Pike of Coloradans Against Fracking. "It was loaded with oil and gas industry executives and other fossil fuel advocates. Only a few (less than a third) were known to be skeptical of the industry's claims regarding the safety of fracking."
She pointed out that the meeting schedule for stakeholder input on the panels proposals was posted July 7, with the first meeting scheduled that day—hosted by the Colorado Oil and Gas Association, American Petroleum Institute and Colorado Petroleum Association.
They are now looking at bringing the issue to the 2016 ballot.
On the east coast, activist efforts against fracking have been more successful, as New York has banned fracking, Maryland has enacted a two-and-a-half-year moratorium and Pennsylvania courts have upheld local community bans, while new Pennsylvania Gov. Tom Wolf is less friendly to uncontrolled fracking than its previous Gov. Tom Corbett. One of his first acts in office in January was to restore a moratorium, eliminated by Corbett, on fracking in state parks and forests.
YOU MIGHT ALSO LIKE
No Fracking in State Parks, Ohio House Democrats and Republicans Surprisingly Agree
3 Arrested in Denton As Oklahoma Joins Texas in Banning Fracking Bans
EcoWatch Daily Newsletter
Related Articles from EcoWatch
Recent Stories from EcoWatch