This website uses cookies to ensure you get the best experience while browsing it. By clicking 'Got It' you're accepting these terms.
Former Chesapeake Energy CEO Aubrey McClendon Is Back to Frack Ohio With Investment of $1.7B
Dec. 13, 2013 12:31PM EST
Energy
By Steve Horn
Former Chesapeake Energy CEO and Founder Aubrey McClendon is back in the fracking game in Ohio's Utica Shale in a big way, receiving a permit to frack five wells from the Ohio Department of Natural Resources on Nov. 26.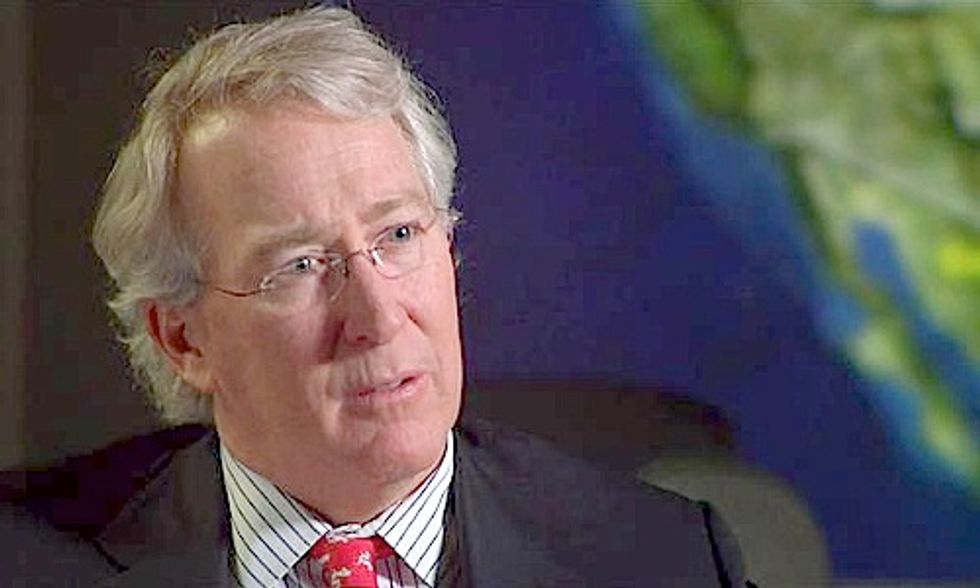 "The Ohio Department of Natural Resources awarded McClendon's new company, American Energy Utica LLC, five horizontal well permits Nov. 26 that allows oil and gas exploration on the Jones property in Nottingham Township, Harrison County," a Dec. 6 article appearing in The Business Journal explained. "In October, American Energy Utica announced it has raised $1.7 billion in capital to secure new leases in the Utica shale play."
McClendon is the former CEO of fracking giant Chesapeake Energy and now the owner of American Energy Partners, whose office is located less than a mile away from Chesapeake's corporate headquarters.
The $1.7 billion McClendon has received in capital investments for the purchase of 110,000 acres worth of Utica Shale land came from the Energy & Minerals Group, First Reserve Corporation, BlackRock Inc. and Magnetar Capital.
McClendon—a central figure in Gregory Zuckerman's recent book The Frackers—is currently under investigation by the U.S. Securities and Exchange Commission. He left Chesapeake in Jan. 2013 following shareholder upset over controversial business practices.
He was given a $35 million severance package, access to the company's private jets through 2016 and a 2.5 percent stake in every well Chesapeake fracks through June 2014 as part of the Founder's Well Participation Program.
Little discussed beyond the business press, McClendon has teamed up with a prominent business partner for his new start-up: former ExxonMobil CEO Lee Raymond.
Power Mapping McClendon's New Venture
"[Lee] Raymond has emerged as a director alongside Mr. McClendon in American Energy Ohio Holdings LLC... according to [an SEC] regulatory filing," The Wall Street Journal reported in October. 
The former Exxon CEO's son John Raymond is the Managing Partner, Chief Financial Officer and Chief Executive Officer of Minerals & Energy Group, currently the largest capital investor in McClendon's start-up venture and is also a partner in McClendon's new venture. Ryan Turner, Chesapeake's Stock Plan Manager has also joined the team as a partner.
"Jefferies Group LLC gave financial advice to American Energy" for the deal, according to Bloomberg—and is listed as such on American Energy Ohio Holdings LLC's SEC Form D.
Ralph Eads III—McClendon's fraternity brother at Duke University—serves as Global Head of Energy Investment Banking at Jefferies Group, Inc.
"Mr. Eads...is a prince of this world," the New York Times reported in Oct. 2012. "His financial innovations helped feed the gas drilling boom, and he has participated in $159 billion worth of oil and gas deals since 2007."
Eads maintained tight financial ties with McClendon when he was at the helm of Chesapeake Energy. The flow chart below depicts the financial and career ties binding Eads and McClendon.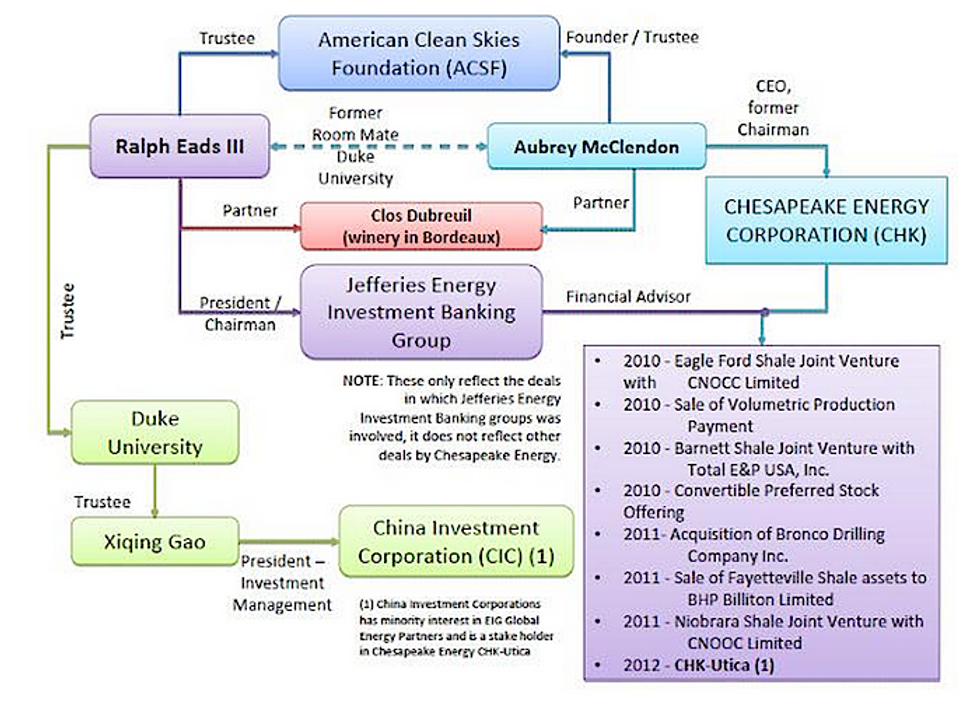 High Stakes Game
In teaming up with Lee Raymond, the former CEO of ExxonMobil—notorious for its role in funding climate change denial—and his brother John, McClendon has shown he is back in Ohio ready to play ball.
But a recent Environmental Integrity Project report indicates the life-cycle climate change impacts of fracking are more severe than previously thought.
With the U.S. Navy predicting an ice-free summer by 2016 due to climate change, it's a ball game with undeniably high stakes.
Visit EcoWatch's FRACKING and CLIMATE CHANGE pages for more related news on this topic.

EcoWatch Daily Newsletter
No longer will the options when we die be a choice between just burial or cremation. Soon it will be possible to compost your remains and leave your loved ones with rich soil, thanks to a new funeral service opening in Seattle in 2021 that will convert humans into soil in just 30 days, as The Independent reported.
You can reduce the footprint of a medium-sized live tree by donating it to elephants at a local zoo, like this African elephant pictured above. eans / iStock / Getty Images
The holiday season is supposed to be about giving and sharing, but often it is actually about throwing away. The U.S. generates 25 percent more garbage between Thanksgiving and New Year's than it does during the rest of the year. That's around one million extra tons per week, according to National Environmental Education Foundation (NEEF) figures reported by The Associated Press.
The Opera House is seen with smoke haze which enveloped Sydney Harbor on Dec. 10 in Sydney, Australia. Smoke haze hangs over the city as the New South Wales fire danger risk is raised from 'very high' to 'severe'. James D. Morgan / Getty Images
The brushfires raging through New South Wales have shrouded Australia's largest city in a blanket of smoke that pushed the air quality index 12 times worse than the hazardous threshold, according to the Australia Broadcast Corporation (ABC).
People walk across the bridge near Little Raven Court in downtown Denver. Younger Americans increasingly prefer to live in walkable neighborhoods. Helen H. Richardson / The Denver Post via Getty Images
By David B. Goldstein
Energy efficiency is the cornerstone of any country's plan to fight the climate crisis. It is the cheapest option available, and one that as often as not comes along with other benefits, such as job creation, comfort and compatibility with other key solutions such as renewable energy. This has been recognized by the International Energy Agency (IEA) for at least a decade.
Activists from Extinction Rebellion New York City engaged in nonviolent direct action to confront climate change outside City Hall on April 17, 2019. Erik McGregor / Pacific Press / LightRocket via Getty Images
By Andrea Germanos

Over 500 groups on Monday rolled out an an action plan for the next president's first days of office to address the climate emergency and set the nation on a transformative path towards zero emissions and a just transition in their first days in office.