This website uses cookies to ensure you get the best experience while browsing it. By clicking 'Got It' you're accepting these terms.
Europe Installs Raw Milk Vending Machines While U.S. Rules Unpasteurized Dairy Illegal
Mar. 11, 2014 01:40PM EST
Food
As the U.S. government continues to issue warnings regarding raw dairy products, several European countries have done just the opposite by expanding access through unpasteurized milk vending machines, according to Wake Up World.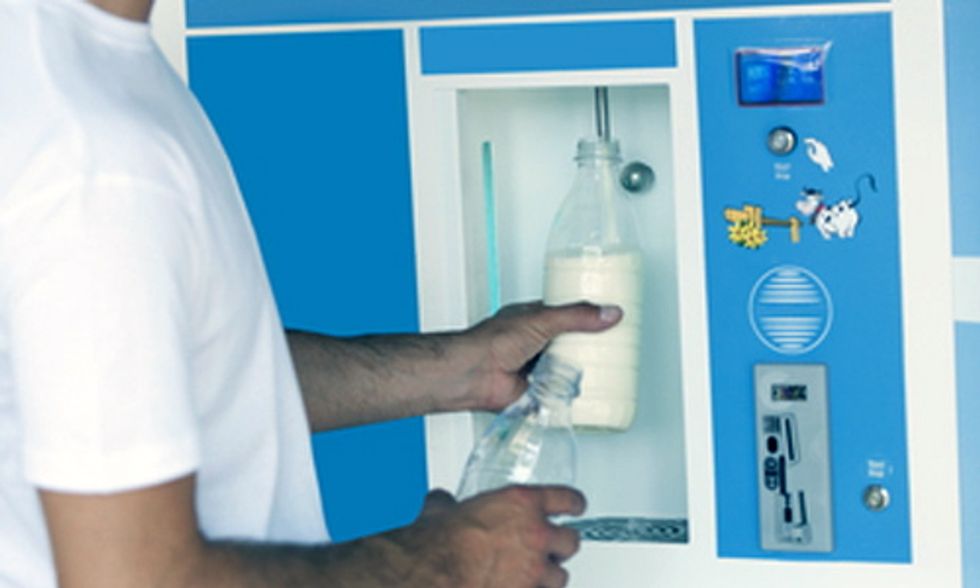 Photo courtesy of Shutterstock
Compared with pasteurized and homogenized dairy, the news source argues that raw milk offers a wealth of nutrition—all without the drawbacks of oxidized fats, denatured proteins, antibiotics or growth hormones typically found in pasteurized and processed milk products. 
Given the purported benefits of raw milk, multiple European nations have installed self-service vending machines that provide 24-hour access. Michel Cantaloube, who helped introduce the machines in France, the UK and Spain, hopes to expand the venture into a similar vending machine for raw yogurt.
Other countries like Italy, Slovenia, Austria, Switzerland and the Netherlands have begun to install their own raw milk vending machines as well.
However, the U.S. Food and Drug Administration (FDA), tells a different story.
The FDA has listed raw milk's potential mild to severe effects and issued the following warning:
Vomiting, diarrhea and abdominal pain
Flulike symptoms, such as fever, headache and body ache
While most healthy people will recover from an illness caused by harmful bacteria in raw milk—or in foods made with raw milk—within a short period of time, some can develop symptoms that are chronic, severe or even life-threatening.
If you or someone you know becomes ill after consuming raw milk or products made from raw milk–or, if you are pregnant and think you could have consumed contaminated raw milk or cheese—see a doctor or healthcare provider immediately.
In response, Wake Up World questioned the FDA's stance and pointed to a recent study that indicated children who drank raw milk were 40 percent less likely to come down with asthma or allergies. 
A Campaign for Real Milk, an advocacy group associated with the Weston A. Price Foundation and Farm to Consumer Legal Defense Fund, agrees, stating raw milk:
Protects against infections, diarrhea, rickets, scurvy, tooth decay and tuberculosis
Demonstrates better child growth profiles with longer and denser bones
Improves vitamin A, B6 and D absorption
Enhances mineral assimilation through the presence of lactobacilli
Individuals diagnosed with lactose intolerance are often able to consume raw milk products without issue
Moreover, hundreds of testimonials support the value of raw milk in helping childhood behavioral problems, digestive disorders, failure to thrive in infants, arthritis, osteoporosis and cancer.
Despite Europe's emerging stance on raw milk, U.S. health professionals say organic milk and non-dairy options are the best option for Americans, especially since raw milk is illegal in most states.
Here are some basic guidelines for Americans:
Buy USDA certified organic milk, but read the label.
The best organic milk available nationwide in stores is from grassfed cows or goats. It doesn't contain artificial vitamins, nutrients created through mutagenesis or synthetic ingredients. Organic Consumers Association recommends Organic Valley's Whole Milk Grassmilk.
The organic milk with the highest level of animal welfare comes from Animal Welfare Approved farms. Unfortunately, few farms are certified to this standard.
The best non-dairy milk is organic hemp milk. Organic Consumers Association recommends Manitoba Harvest's Hemp Bliss. 
Visit EcoWatch's FOOD page for more related news on this topic.

EcoWatch Daily Newsletter
U.S. President Donald Trump listens as Anthony Fauci, Director of the National Institute of Allergy and Infectious Diseases speaks in the Rose Garden for the daily coronavirus briefing at the White House on March 29 in Washington, DC. Tasos Katopodis / Getty Images
By Jake Johnson
Just over a month after proclaiming that the number of coronavirus cases in the U.S. would soon "be down to close to zero," President Donald Trump said during a press briefing on the White House lawn Sunday that limiting U.S. deaths from the pandemic to between 100,000 and 200,000 people would mean his administration and the country as a whole did "a very good job."
Dicamba is having a devastating impact in Arkansas and neighboring states. A farmer in Mississippi County, Arkansas looks at rows of soybean plants affected by dicamba. The Washington Post / Getty Images
Documents unearthed in a lawsuit brought by a Missouri farmer who claimed that Monsanto and German chemical maker BASF's dicamba herbicide ruined his peach orchard revealed that the two companies knew their new agricultural seed and chemical system would likely damage many U.S. farms, according to documents seen by The Guardian.
Washington State Governor Jay Inslee and other leaders speak to the press on March 28, 2020 in Seattle. Karen Ducey / Getty Images
A bushfire burns outside the Perth Cricket Stadium in Perth, Australia on Dec. 13, 2019. PETER PARKS / AFP via Getty Images

By Albert Van Dijk, Luigi Renzullo, Marta Yebra and Shoshana Rapley
2019 was the year Australians confronted the fact that a healthy environment is more than just a pretty waterfall in a national park; a nice extra we can do without. We do not survive without air to breathe, water to drink, soil to grow food and weather we can cope with.
By Fino Menezes
Everyone adores dolphins. Intelligent, inquisitive and playful, these special creatures have captivated humans since the dawn of time. But dolphins didn't get to where they are by accident — they needed to develop some pretty amazing superpowers to cope with their environment.