EU Commission Backs Down on Long-Term Glyphosate Approval, Seeks Last Minute Extension
Jun. 01, 2016 11:23AM EST
Food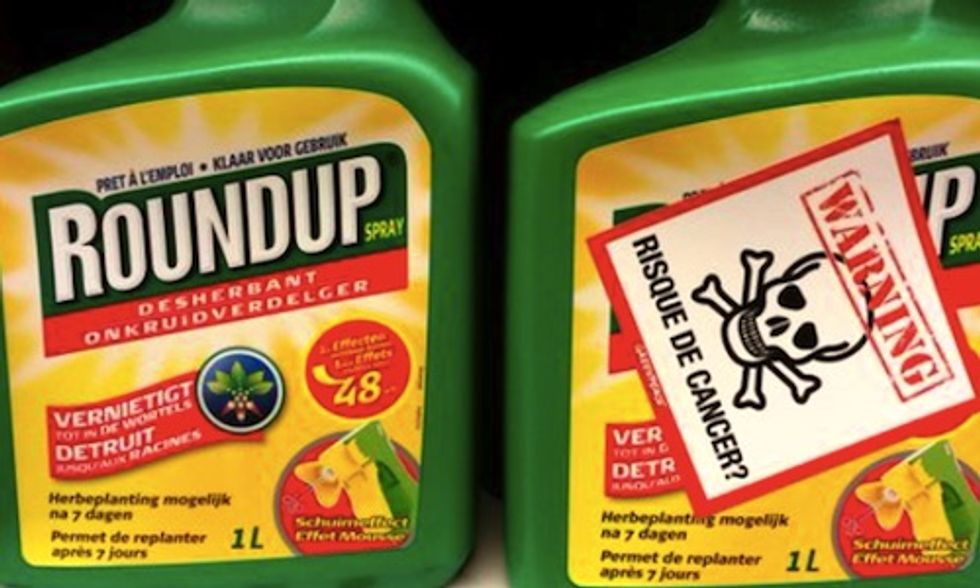 Following a number of unsuccessful meetings on the long-term reauthorization of glyphosate in the European Union, the European Commission—the EU's executive arm—is now seeking an eleventh-hour extension of the controversial weedkiller's current approval.
Commission continues push for unrestricted #glyphosate use by labelling measure as temporary https://t.co/2tsxuEAvWq https://t.co/5w35YKuytv

— Greenpeace EU (@Greenpeace EU)1464771191.0
Licensing of glyphosate, the active ingredient in Monsanto Co.'s blockbuster herbicide Roundup, is set to expire on June 30. The commission initially sought to extend glyphosate's authorization in the EU's 28 member states for another 15 years, however, due to "a mutiny" from several EU states such as Italy, France, Sweden, the Netherlands and Germany, the EU's head office decided to slash their proposed extension of glyphosate to 9 years.
The aforementioned nations—not to mention the roughly 1.5 million people who signed a petition calling on the commission to ban glyphosate—have mainly based their objection on the World Health Organization's International Agency for Research on Cancer's (IARC) March 2015 assessment that the compound "probably" causes cancer in humans.
We could be on the verge of taking down #Monsanto's poisonous chemical empire. Sign & RT to ban #glyphosate now: https://t.co/QpmWKF1FEe

— Mark Ruffalo (@Mark Ruffalo)1464716115.0
Last month, the commission's revised proposal of 9 years failed to secure the required majority among EU governments in a vote, so it postponed glyphosate re-approval for a later vote.
Now, in its latest attempt to find middle ground, the commission is proposing a temporary extension of EU authorization on glyphosate for up to 18 months to buy time for yet another study that will assess whether or not glyphosate causes cancer. European Health Commissioner Vytenis Andriukaitis said in a statement from Brussels today that the last word on glyphosate's EU-wide reauthorization belongs to the EU's Agency for Chemical Products (ECHA).
"This is why the commission proposes to ask ECHA for its scientific assessment on the carcinogenicity of the glyphosate and to extend the current approval of glyphosate until it receives ECHA's opinion," he said.
Andriukaitis stressed that the commission's proposals and decisions on glyphosate were based on the assessments from the European Food Safety Authority (EFSA) and the German Federal institute for Risk Assessment which both concluded that glyphosate is unlikely to be carcinogenic, and contradicting the decision from the IARC.
Experts from the 28 EU nations will now meet on June 6 to vote on the commission's latest proposal.
"In conclusion, I want to reiterate that the ball is now in the member states' court," Andriukaitis said.
However, EU sources explained to Reuters that the compromise could push member states to change their position on glyphosate's license renewal.
"If the new proposal fails to win support from the 28 EU nations, it will go to an appeal committee vote, although the compromise says the commission can take a decision regardless of what emerges from the committee," Reuters reported.
#Glyphosate | Commission proposes the way forward - Statement by @V_Andriukaitis Commissioner for Health&Food Safety https://t.co/BxIt1xt96w

— European Commission 🇪🇺 (@European Commission 🇪🇺)1464774401.0
Andriukaitis pointed out that EU-wide glyphosate authorization doesn't mean that all member governments must oblige to its use.
"The member states who wish not to use glyphosate-based products have the possibility to restrict their use," he said. "They do not need to hide behind the commission's decision."
Beyond a temporary extension, Andriukaitis also proposed three other recommendations on how member states can use glyphosate in their territory:
Ban a co-formulant called POE-tallowamine from glyphosate based products;

Minimize the use in public parks, public playgrounds and gardens;

Minimize the pre-harvest use of glyphosate.
"However," Andriukaitis said, "if there is no EU approval, member states have no choice anymore: the authorization expires on the July 1."
Should there be no extension, the commissioner warned that member states would have to withdraw the authorizations for plant protection products containing glyphosate from their market.
Meanwhile, the European Parliament's Green party has deemed the commissions' latest proposal as a sign that it is "backing down" on re-approval of glyphosate.
EU Commission backing down on #glyphosate today. Must be the beginning of the end https://t.co/IHAcpnKlh4 https://t.co/GYcISMjOtQ

— Greens in the EP (@Greens in the EP)1464774994.0
"While it means an eleventh hour reprieve for glyphosate, this is hopefully only temporary and this should be the beginning of the end for this toxic product," Green party's environment and food safety spokesperson Bart Staes said in a statement.
"The EU will now have to finalize its assessment of the health risks with glyphosate, both as regards it being a carcinogen and an endocrine disruptor. However, glyphosate's devastating impact on biodiversity should have already led to its ban," he said. "The significant public mobilization and political opposition to reapproving glyphosate has been taken seriously by key EU governments and the commission has been sent back with its tail between its legs."
Greenpeace EU food policy director Franziska Achterberg also said in a statement it was "good to see that the commission is no longer pushing for a final decision based on questionable safety assurances by the EU food safety agency."
"But whether the license is for 15, nine or two years doesn't change anything in the real world," she continued. "The same amount of glyphosate will be sprayed in parks, playgrounds and private gardens, and in our fields, vineyards and apple groves. Glyphosate levels in our bodies won't change either. The commission must take on board the concerns raised by independent scientists, the European Parliament and citizens by—at the very least—applying strict restrictions to limit human exposure."
YOU MIGHT ALSO LIKE
Taiwan Recalls Quaker Oats Products Imported From U.S. After Detecting Glyphosate
Bayer 'Confident' It Can Still Strike Deal with Monsanto, Merger Could Spell Disaster for Farmers and Global Food Supply
More Big Retailers Say 'No' to GMO Salmon
Vandana Shiva: Small Farmers Are Foundation to Food Security, Not Corporations Like Monsanto
EcoWatch Daily Newsletter
Recent Stories from EcoWatch