Dubai to Build World's Largest Concentrated Solar Power Plant
Jun. 06, 2016 10:11AM EST
Energy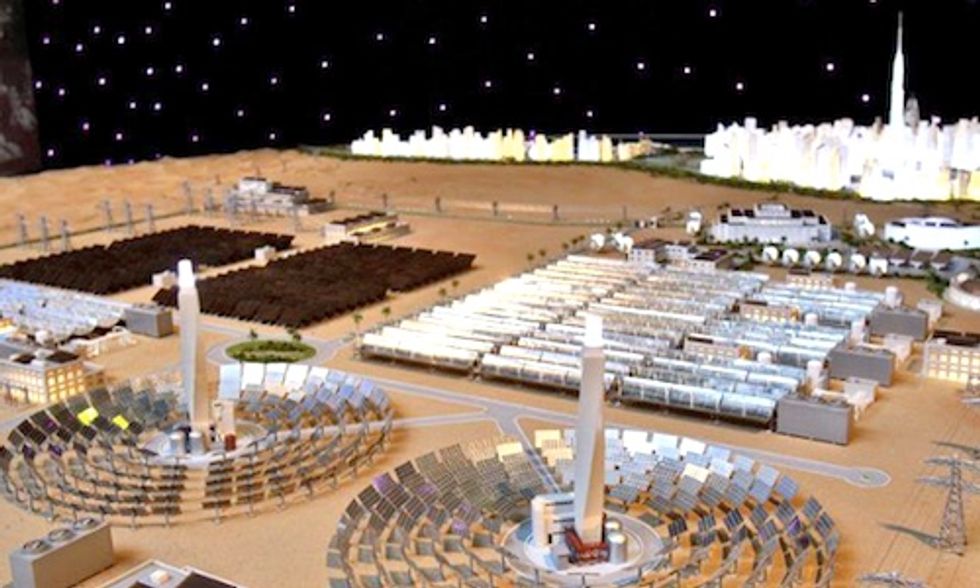 Dubai will soon be home to the world's largest concentrated solar power plant.
Dubai's #DEWA to build world's largest Concentrated Solar Power project at #MBRSolarPark: https://t.co/y9L42ykKCB https://t.co/nxdBoH7Vmg

— Diana Radoane (@Diana Radoane) 1464882701.0
The Dubai Water and Electricity Authority (DEWA) has announced the second phase of a massive solar project located in the Mohammed bin Rashid Al Maktoum Solar Park. According to a press release, the park is the largest single-site project to generate electricity from solar energy in the world, based on an independent power producer model.
The 13-megawatt first phase of the project has been operational since October 2013 and the 200-megawatt second phase will be operational by April 2017. The facility will ultimately produce 1,000 megawatts by 2020 and 5,000 megawatts by 2030, which will provide power for 800,000 homes. The solar park will help reduce 6.5 million tonnes of carbon emissions annually, the release said.
The project easily trounces the capacity of the world's current record-holder, the Noor-Ouarzazate plant in Morocco which will have a 580-megawatt capacity by 2018.
DEWA has already received five bids from international companies for the Mohammed bin Rashid Al Maktoum Solar Park's 800-megawatt third phase, with the lowest bid at USD 2.99 cents per kilowatt, a record-low price for solar power.
The ambitious project is part of the Dubai Clean Energy Strategy 2050, which aims to provide 7 percent of the emirate's total power output from clean energy sources by 2020, 25 percent by 2030 and 75 percent by 2050, Saeed Mohammed Al Tayer, DEWA CEO and managing director, said in a statement.
In this June 2 post from DEWA's Twitter account, Al Tayer announced the project:
الطاير: يسعدني الإعلان عن أكبر مشروع للطاقة الشمسية المركزة في العالم بتوجيهات من صاحب سمو الشيخ محمد بن راشد https://t.co/74RQ0p2olR

— DEWA | Official Page (@DEWA | Official Page) 1464851982.0
The project is called a "concentrated solar plant" because it consists of a large number of movable mirrors, or heliostats, that can follow the sun's path and harness sunlight to melt salt. The molten salt stores energy and can be used to power a steam turbine, allowing for energy production even when the sun isn't shining.
"An important advantage of [concentrated solar power] is that thermal heat, which is used to produce electricity, can be stored easily, which makes it possible to produce electricity after sunset," Al Tayer said. "The plant will have several thousand heliostats located around a tower that receives the radiation reflected by the heliostats which follow the sun's movement. The heat-transfer fluid is then used to power the steam turbine to generate electricity.
"The project will use thermal storage for 8-12 hours daily, taking into account technical and economic factors. This will contribute to improving the effectiveness and efficiency of production and meet the requirements of the electricity grid. This in turn, will provide sustainable world-class energy supply for everyone in terms of availability and reliability, and support the sustainable development of the emirate. It will contribute to making Dubai the city with the lowest carbon footprint in the world by 2050."
DEWA CSP solar projects to generate 1,000 MW in #MBRSolarPark https://t.co/k5MUd2mWej

— DEWA | Official Page (@DEWA | Official Page) 1464925213.0
In addition to generating power, the facility features a solar-powered water pumping and desalination station that has a production capacity of 50 cubic meters of potable water a day, the press release stated.
Al Tayer said that DEWA is working to diversify Dubai's energy mix to include 61 percent from natural gas, 25 percent from solar energy, 7 percent from coal and 7 percent from nuclear power by 2030. The reliance on clean energy sources will be increased incrementally to touch 75 percent by 2050, he added.
"Our wise leadership is pursuing the transformation towards clean and renewable energy to achieve a vision that recognizes their significance in achieving a balance between development and sustainability. This will help protect the rights of future generations to live in a clean, healthy and safe environment," Al Tayer said.
YOU MIGHT ALSO LIKE
7 Charts Show How Renewables Broke Records Globally in 2015
Chile Producing So Much Solar Energy It's Giving Electricity Away for Free
Sanders Touts Fracking Ban as Clinton Pushes Renewables Plan Just Days Before California Primary
New York State Assembly Passes Nation's Most Ambitious Climate Bill
EcoWatch Daily Newsletter
Related Articles from EcoWatch