This website uses cookies to ensure you get the best experience while browsing it. By clicking 'Got It' you're accepting these terms.
Don't Believe Thomas Pyle's Hype That Misleads the Public on Fracking
Jun. 25, 2013 04:18PM EST
Energy
[Editor's note: This op-ed by Josh Fox is in response to an op-ed by Thomas Pyle—president of the Institute for Energy Research, a pro-industry nonprofit organization—on Real Clear Energy.]

Industry's denial of the dark side of natural gas fracking shouldn't fool anyone. Thomas Pyle's claim on Real Clear Energy that there is not one "confirmed case of groundwater contamination" from fracking is the big lie, repeated often. It's like saying cigarettes don't cause cancer. And industry's intentional disinformation campaign comes from the same tobacco playbook (it even uses the same PR firm).
After spending the past four years traveling the country and meeting people whose lives were wrecked by fracking operations at their doorstep, I've learned the oil and gas industry is willfully misleading the public. Let's look at each of Pyle's misrepresentations one by one:
"Hydraulic fracturing has been in use for more than 60 years without any confirmed cases of groundwater contamination."
Fracking—when taken to mean the entire process of developing an oil or gas well—has conclusively been linked to water contamination by federal and state environmental authorities many times. In Dimock, Pennsylvania, for example, the PA Department of Environmental Protection's (DEP) determined that methane contamination of the local water supply was due to gas drilling, specifically finding that 18 drinking-water wells in the area were affected by the operations of Cabot Oil & Gas.1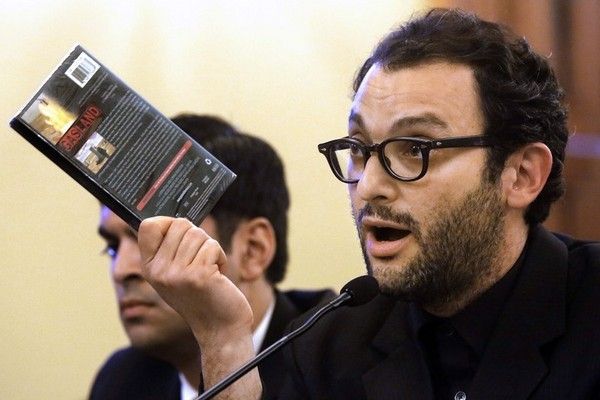 The U.S. Environmental Protection Agency (EPA) tests of Dimock water also clearly showed contaminants that could be traced to the fracking activities of Cabot Oil & Gas. Independent expert Dr. Rob Jackson from Duke University also analyzed EPA's data and concluded that the water was contaminated by Marcellus shale gas fracked by Cabot.2
When oil industry spokespeople say "not one well" has been contaminated by fracking, it's deeply and dangerously misleading. The claim itself requires the parsing of language so that "fracking" only refers to one step in the process, namely the point when a toxic slurry of water and chemicals is pumped at enormous pressure into the ground to fracture the shale rock and free the gas within.
Industry knows it's the drilling and well construction stages where it all breaks down—literally. As the drill penetrates deep into the earth, it punctures different gas pockets that can mix together. The well around the hole is generally sealed with cement. But this thin layer of cement—the supposed barrier to gas and chemical migration into drinking water supplies—is notorious for cracking and leaking.
Industry's own documents show that 5 percent of oil and gas wells leak immediately and up to 60 percent of them fail over a 30-year time period. Industry estimates that about 35 percent of all oil and gas wells are leaking now. These conclusions aren't my own: They come from drilling giant Schlumberger, Archer Oil & Gas, Southwestern Energy, Society of Petroleum Engineers, and Colorado Oil and Gas Conservation Commission, to name just a few.3
Why do so many wells leak? Pressures under the earth, temperature changes, ground movement from nearby wells and shrinkage all crack and damage the thin layer of brittle cement that seals the wells. And getting the cement right as drilling goes horizontal is extremely challenging. Meanwhile, once the cement leaks, no one can go thousands of feet under the earth to repair it.
And it is not a question of stronger cement or better technology. Industry's own documents say that "strength is not the major issue in oil well cementing under any circumstances … cement clearly cannot resist the shear stress that is the most common reason for oil well distortion and rupture during active production."4 In other words, the great pressure underground will cause a significant proportion of wells to fail no matter what.
Fracking has got to be seen as the sum of all parts of the operation. While the gas industry is busy playing semantics, people's health, lives and property is being compromised.
 "[W]hen water from a kitchen faucet is set ablaze … the stunt is completely unrelated to drilling; rather it's the result of naturally occurring methane."
The flaming faucets documented in Gasland I and II are the product of natural gas migration into water supplies due to fracking right next door. Numerous investigations have confirmed this fact, including studies by the U.S. Environmental Protection Agency, the Pennsylvania Department of Environmental Protection, and many others.5 When industry says no, that's not true, it's telling you to believe in some giant conspiracy theory—that families all across the country are lying in reporting that their wells never flamed before fracking.
Piling on the evidence, Duke University recently conducted a peer-reviewed study that links water contamination with nearby drilling and fracking, concluding that water wells near drilling and fracking operations were 17 times more likely to contain elevated levels of methane.6 Seventeen times!
"[S]hale gas drilling stands accused of methane contamination. But in April, Pennsylvania's Department of Environmental Protection concluded that naturally occurring shallow gas was responsible for contaminating well water of the three private homes in question."
The Pennsylvania Department of Energy issued a consent order specifically concluding that 18 drinking-water wells in the area were affected by the drilling and fracking operations of Cabot Oil & Gas.7
"Even the Environmental Protection Agency's groundwater studies cited by Fox were so deeply flawed that then-EPA administrator Lisa Jackson publicly disputed them."
Here's what Lisa Jackson really said, as captured in an on-camera interview with her for Gasland II: "We do have cases where we believe we see many cases of groundwater contamination and drinking water contamination that are, if not brought on entirely by natural gas production, were exacerbated by it. Not just methane, which is natural gas, but other contaminants as well."
"Domestic energy production is leading to a more secure energy future and economic prosperity here at home."
First, we don't use gas to power cars—save a few niche city bus fleets—nor oil to generate electricity, so the "energy independence" hype is truly misleading. Much of the gas fracked in the U.S. will end up overseas. Currently gas in Europe costs about 3 times more per unit than it does in the U.S. Prices in Asia are even higher. These realities are leading to an explosion of permitting requests for the construction of Liquefied Natural Gas terminals on our coasts for the purpose of transporting gas overseas.
What's more American prosperity will be gutted anyway if we continue to flood the atmosphere with heat-trapping gases like carbon dioxide and methane. Some say gas is a bridge to get us over the climate hump because it's cleaner than coal. But this ignores the leakage of methane—a heat-trapping gas up to 105 times as potent as carbon dioxide over 20 years. Experts have said anything more than a 2 percent leakage rate of methane means any climate benefits of gas over coal are voided.8 Results now coming in from the field show leakage rates between 7 and 17 percent9—making natural gas from fracking way worse than coal as far as climate is concerned.
The explosion of fracking across the American landscape is being painted by industry as a blessing to us all. But for the families I've met with, it's the worst kind of curse. Lives upended, forced to move, health hanging in the balance—these are the "blessings" families I now know well are experiencing. Don't believe the hype. See the film and judge for yourself.
This op-ed originally appeared in Real Clear Energy.
Visit EcoWatch's FRACKING page for more related news on this topic.
--------
EcoWatch Daily Newsletter
MStudioImages / E+ / Getty Images
Backpacking is an exciting way to explore the wilderness or travel to foreign countries on a budget.
Tim P. Whitby / 21st Century Fox / Getty Images
The beauty products we put on our skin can have important consequences for our health. Just this March, the U.S. Food and Drug Administration (FDA) warned that some Claire's cosmetics had tested positive for asbestos. But the FDA could only issue a warning, not a recall, because current law does not empower the agency to do so.
Michelle Pfeiffer wants to change that.
The actress and Environmental Working Group (EWG) board member was spotted on Capitol Hill Thursday lobbying lawmakers on behalf of a bill that would increase oversight of the cosmetics industry, The Washington Post reported.
By Collin Rees
We know that people power can stop dangerous fossil fuel projects like the proposed Line 3 tar sands oil pipeline in Minnesota, because we've proved it over and over again — and recently we've had two more big wins.

Scientists released a study showing that a million species are at risk for extinction, but it was largely ignored by the corporate news media. Danny Perez Photography / Flickr / CC
By Julia Conley
Scientists at the United Nations' intergovernmental body focusing on biodiversity sounded alarms earlier this month with its report on the looming potential extinction of one million species — but few heard their calls, according to a German newspaper report.
DoneGood
By Cullen Schwarz
Ethical shopping is a somewhat new phenomenon. We're far more familiar with the "tried and tested" methods of doing good, like donating our money or time.
Pixabay
Summer is fast approaching, which means it's time to stock up on sunscreen to ward off the harmful effects of sun exposure. Not all sunscreens are created equally, however.
Mark Wallheiser / Getty Images
The climate crisis is a major concern for American voters with nearly 40 percent reporting the issue will help determine how they cast their ballots in the upcoming 2020 presidential election, according to a report compiled by the Yale Program on Climate Change Communication.
Of more than 1,000 registered voters surveyed on global warming, climate and energy policies, as well as personal and collective action, 38 percent said that a candidate's position on climate change is "very important" when it comes to determining who will win their vote. Overall, democratic candidates are under more pressure to provide green solutions as part of their campaign promises with 64 percent of Democrat voters saying they prioritize the issue compared with just 34 percent of Independents and 12 percent of Republicans.
Flooding in Winfield, Missouri this month. Jonathan Rehg / Getty Images
President Donald Trump has agreed to sign a $19.1 billion disaster relief bill that will help Americans still recovering from the flooding, hurricanes and wildfires that have devastated parts of the country in the past two years. Senate Republicans said they struck a deal with the president to approve the measure, despite the fact that it did not include the funding he wanted for the U.S.-Mexican border, CNN reported.
"The U.S. Senate has just approved a 19 Billion Dollar Disaster Relief Bill, with my total approval. Great!" the president tweeted Thursday.