This website uses cookies to ensure you get the best experience while browsing it. By clicking 'Got It' you're accepting these terms.
Direct Threats from Big Oil to Approve Keystone XL
Jan. 05, 2012 02:40PM EST
Energy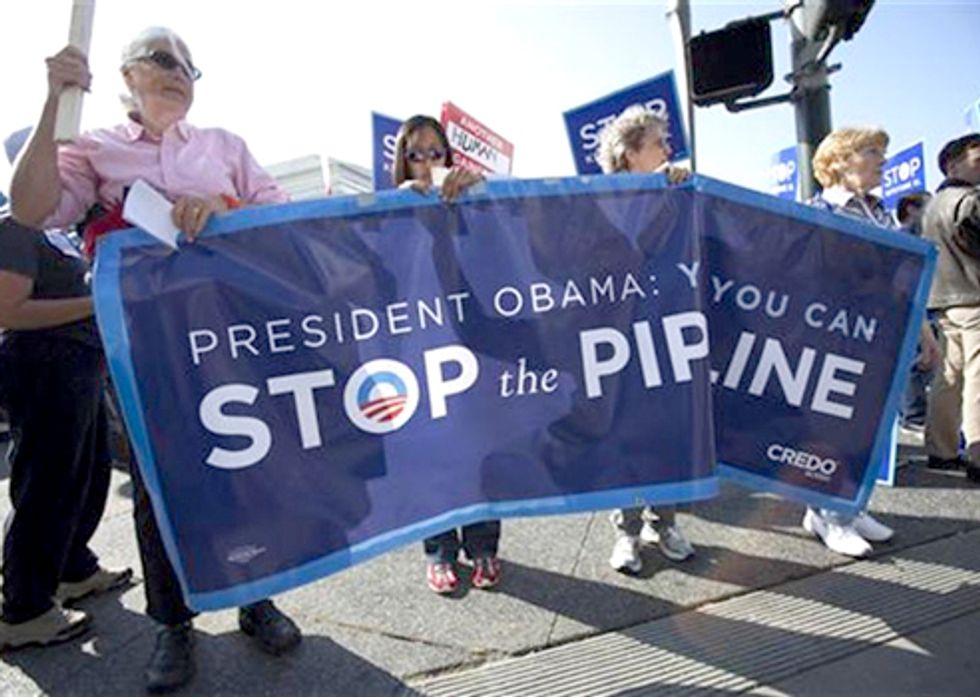 Just in case you thought there was anything subtle about the Keystone battle, you need to hear what Jack Gerard, president of the American Petroleum Institute—the oil industry's #1 front group—said Jan. 5. If the president doesn't approve the project there will be "huge political consequences."
That's as direct a threat as you're ever going to hear in Washington D.C., and it shows just how mad you made the oil industry last year by exposing Keystone for the climate-killing danger it is. And the oil industry can obviously make good on their threats—they've got all the money on Earth, and thanks to Citizens United they can use it without restriction in our elections. They're not used to ever losing.
So far the Obama administration is standing firm in the face of Big Oil's bullying—the White House made it completely clear last month that if the oil industry and its harem in Congress forced a speeded-up review, it would lead to an outright rejection of the permit for the pipeline. We expect they'll keep their word.
Here's what I think we need to do.
1. Let the president know you've got his back when he rejects the pipeline. Tell him that addressing climate change is the key to our future, and that you're glad he's not bending.
2. Take the offensive against the oil industry. If they're going to try and ram Keystone down our throats, we're going to try and take away something they hold dear, the handouts that Congress gives them each and every year. They're the richest industry on earth, they're doing great damage to the planet—and they expect us to pay for it with our tax dollars.
Can you send a quick note to President Obama covering those two key points?
To send a message to President Obama, click here.
Here's the note I'm sending:
President Obama,
Thank you for opposing the rushed Keystone XL pipeline permit. Responding to climate change is critical to preserving our collective future, and I hope this is a first step towards the dramatic changes we need to avoid catastrophe. P.S.—Please take handouts for the fossil fuel industry out of next year's budget. There are people in America who need that money more.
There's lots more to be done, of course. In the slightly longer run, we've got to take on the greatest subsidy of all—the special privilege that Congress gives the fossil fuel industry to use the atmosphere as an open sewer into which to dump its carbon for free.
But today—right now, in the face of this kind of straight-up bullying—it's time to punch back. We're nonviolent, but we're not wimps.
For more information, click here.
EcoWatch Daily Newsletter
The CDC has emphasized that washing hands with soap and water is one of the most effective ways to prevent the spread of COVID-19. Guido Mieth / Moment / Getty Images
The Centers for Disease Control has emphasized that washing hands with soap and water is one of the most effective measures we can take in preventing the spread of COVID-19. However, millions of Americans in some of the most vulnerable communities face the prospect of having their water shut off during the lockdowns, according to The Guardian.
A California newt (Taricha torosa) from Napa County, California, USA. Connor Long /
CC BY-SA 3.0
Aerial photos of the Sierra Nevada — the long mountain range stretching down the spine of California — showed rust-colored swathes following the state's record-breaking five-year drought that ended in 2016. The 100 million dead trees were one of the most visible examples of the ecological toll the drought had wrought.
Now, a few years later, we're starting to learn about how smaller, less noticeable species were affected.
Disinfectants and cleaners claiming to sanitize against the novel coronavirus have started to flood the market.
Natthawat / Moment / Getty Images
Disinfectants and cleaners claiming to sanitize against the novel coronavirus have started to flood the market, raising concerns for the U.S. Environmental Protection Agency (EPA), which threatened legal recourse against retailers selling unregistered products, according to The New York Times.
A customer packs groceries in reusable bags at a NYC supermarket on March 1, 2020. Eduardo Munoz Alvarez/Getty Images
The global coronavirus pandemic has thrown our daily routine into disarray. Billions are housebound, social contact is off-limits and an invisible virus makes up look at the outside world with suspicion. No surprise, then, that sustainability and the climate movement aren't exactly a priority for many these days.
Ingredients are displayed for the Old School Pinto Beans from the Decolonize Your Diet cookbook by Luz Calvo and Catriona Rueda Esquibel. Melissa Renwick / Toronto Star via Getty Images
By Molly Matthews Multedo
Livestock farming contributes to global warming, so eating less meat can be better for the climate.