This website uses cookies to ensure you get the best experience while browsing it. By clicking 'Got It' you're accepting these terms.
Did Your State Make the Top 10 List for Its Commitment to Local Food?
May. 19, 2016 11:06AM EST
Food
By Strolling of the Heifers
Vermont once again tops all the other states in terms of their commitment to local food, according to the 2016 Locavore Index.
---
The index ranks the 50 states, plus Puerto Rico and the District of Columbia, using a variety of indicators related to local food production and consumption. It has been produced annually for five years by Strolling of the Heifers, a non-profit food advocacy organization based in Vermont.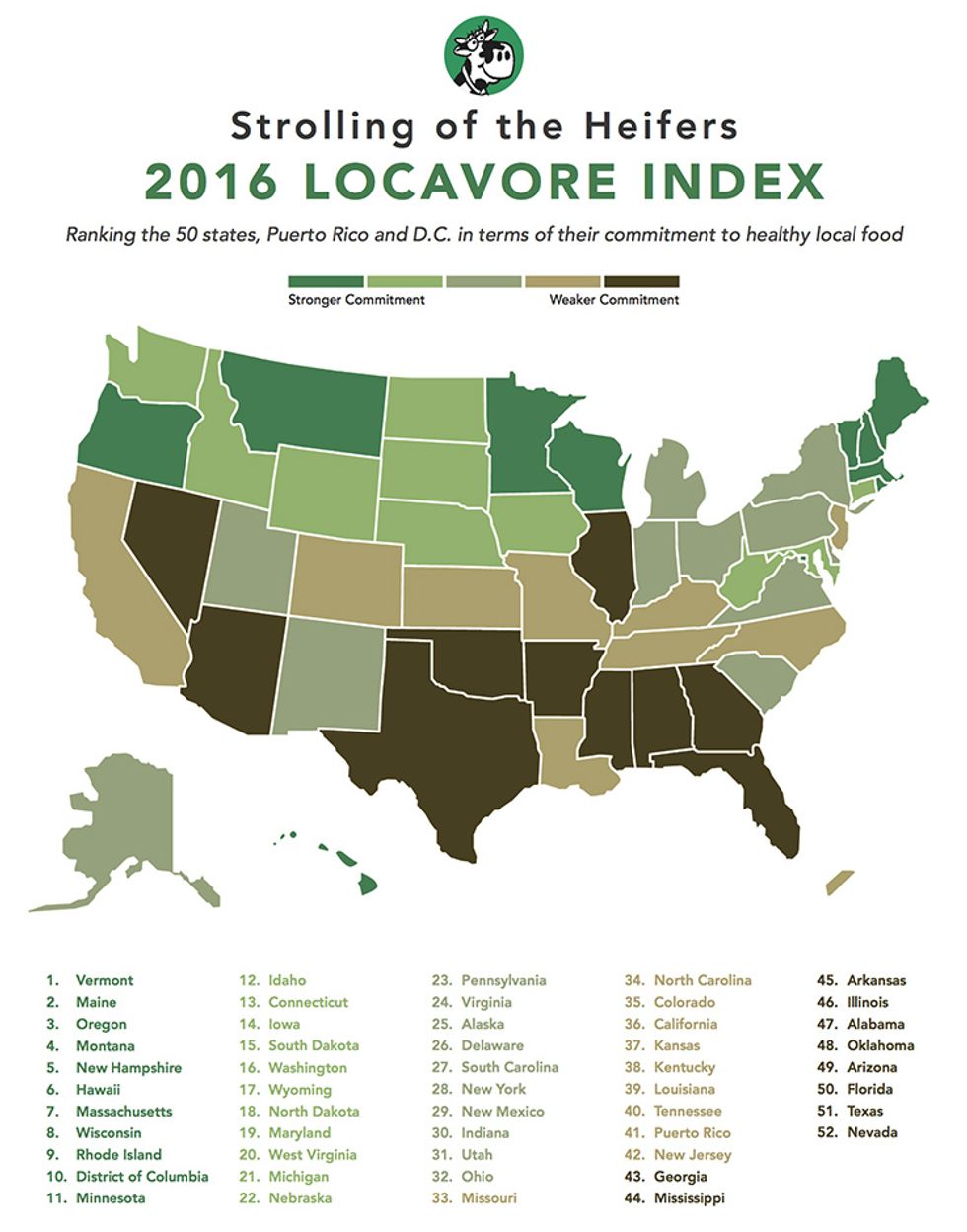 "The index has stimulated a lot of discussion and a lot of action in many states to improve their ranking," said Orly Munzing, founder and executive director of Strolling of the Heifers.
"We're proud that Vermont is still number one, but it is great to see so many other states following Vermont's lead in building strong local food systems. The purpose of the index is to stimulate efforts across the country to use more local food in homes, restaurants, schools and institutions."
After Vermont, the next four spots in the index are occupied by Maine, Oregon, Montana and New Hampshire, in that order. Montana is a newcomer to the top five, moving up from seventh place on the strength of strong investment of U.S. Department of Agriculture (UDSA) Know-Your-Farmer grant funding.
Rounding out the top 10 are Hawaii, Massachusetts, Wisconsin, Rhode Island and DC.
"While it's exciting that Vermont remains number one in the nation for local food production and consumption, it is also exciting to witness the great strides other states are realizing in reaching these goals," said Chuck Ross, secretary of the Vermont Agency of Agriculture, Food and Markets.
"As we all know, farmers are very effective educators and often best positioned to promote agricultural literacy in our communities. The future of a successful agricultural economy in which farmers and producers can prosper and consumers have access to safe, affordable, healthy food depends upon an agriculturally literate and engaged public. The Locavore Index helps us track our progress and work towards that success."
This year's index incorporates new data from the USDA on its Know Your Farmer—Know your Food grants. These were calculated on a per-capita basis for each state. Vermont, the top-ranked state, received $21.43 per person in such grants, more than twice the amount for North Dakota ($10.10), which came in second in this category.
The index also incorporates updated information on the number of farmers markets, the number of community-supported agriculture (CSA) operations, the number of food hubs—all compared on a per-capita basis—along with the percentage of each state's school districts with active Farm-to-School programs and the percentage of the budgets of those programs spent on local food.
The index continues to include data from the USDA's Census of Agriculture, including data on the dollar volume of direct-to-the-public food sales by farmers, including sales at farmers markets, CSAs, farm stands and online sales. But since this census data has not been updated since 2012, its weight within the index has been reduced.
Puerto Rico is included in the index for the first time this year. Even though its local-food movement is still fledgling (it has only one CSA), it came in 41st, ahead of New Jersey and Georgia, on the strength of a strong farm-to-school program in its schools.
Martin Langeveld, who researches and compiles the index for Strolling of the Heifers, commenting on the evolution of the index, said, "It's interesting to see that each year, there is a greater variety of metrics available around local food and developing more of them is important. Many states and the federal government have programs to build the consumption of local foods, but to assess the effect of those efforts, we need more and better metrics."
Strolling of the Heifers lists 10 reasons for people to increase their use of local foods, stressing that local foods are more sustainable, healthier, better for the environment and economically positive than foods sourced from large-scale, globalized food systems.
1. Supports local farms: Buying local food keeps local farms healthy and creates local jobs at farms and in local food processing and distribution systems.
2. Boosts local economy: Food dollars spent at local farms and food producers stay in the local economy, creating more jobs at other local businesses.
3. Less travel: Local food travels much less distance to market than typical fresh or processed grocery store foods, therefore using less fuel and generating less greenhouse gases.
4. Less waste: Because of the shorter distribution chains for local foods, less food is wasted in distribution, warehousing and merchandising.
5. More freshness: Local food is fresher, healthier and tastes better, because it spends less time in transit from farm to plate and therefore loses fewer nutrients and incurs less spoilage.
6. New and better flavors in each season: When you commit to buy more local food, you'll discover interesting new foods, tasty new ways to prepare food and a new appreciation of the pleasure of each season's foods.
7. Good for the gene pool and the soil: Local food encourages diversification of local agriculture which preserves genetic diversity and reduces the reliance on monoculture—single crops grown over a wide area to the detriment of soils.
8. Attracts tourists: Local foods promote agritourism—farmers markets and opportunities to visit farms and local food producers help draw tourists to a region.
9. Preserves open space: Buying local food helps local farms survive and thrive, keeping land from being redeveloped into suburban sprawl.
10. Builds more connected communities: Local foods create more vibrant communities by connecting people with the farmers and food producers who bring them healthy local foods. As customers of CSAs and farmers markets have discovered, they are great places to meet and connect with friends as well as farmers.
YOU MIGHT ALSO LIKE
EU Delays Approval of Glyphosate, Again
Milk Alternatives That Will Make You Want to Ditch Dairy
EcoWatch Daily Newsletter
A new study shows that half of all Arctic warming and corresponding sea-loss during the late 20th century was caused by ozone-depleting substances. Here, icebergs discharged from Greenland's Jakobshavn Glacier. Kevin Krajick / Earth Institute /
EurekAlert!
The world awakened to the hole in the ozone layer in 1985, which scientists attributed it to ozone depleting substances. Two years later, in Montreal, the world agreed to ban the halogen compounds causing the massive hole over Antarctica. Research now shows that those chemicals didn't just cut a hole in the ozone layer, they also warmed up the Arctic.
Diane Wilson holds up a bag full of nurdles she collected from one of Formosa's outfall areas on Jan. 15. Julie Dermansky / DeSmogBlog
On the afternoon of Jan. 15, activist Diane Wilson kicked off a San Antonio Estuary Waterkeeper meeting on the side of the road across from a Formosa plastics manufacturing plant in Point Comfort, Texas.
After Wilson and the waterkeeper successfully sued Formosa, the company agreed to no longer release even one of the tiny plastic pellets known as nurdles into the region's waterways. The group of volunteers had assembled that day to check whether the plant was still discharging these raw materials of plastics manufacturing.
Malaysian Environment Minister Yeo Bee Yin (front 2nd L) and officials inspect a container containing plastic waste shipment on Jan. 20, 2020 before sending back to the countries of origin. AFP via Getty Images
The Southeast Asian country Malaysia has sent 150 shipping containers packed with plastic waste back to 13 wealthy countries, putting the world on notice that it will not be the world's garbage dump, as CNN reported. The countries receiving their trash back include the United States, the United Kingdom, France and Canada.
Trump leaves after delivering a speech at the Congress Centre during the World Economic Forum annual meeting in Davos on Jan. 21, 2020. JIM WATSON / AFP via Getty Images