Couple Builds Greenhouse Around Home to Grow Food and Keep Warm
With average January temperatures hovering around 27 degrees Fahrenheit, Stockholm, Sweden isn't very pleasant to live in when you don't have heating.
But for Marie Granmar, Charles Sacilotto and their young son, their environmentally friendly house-within-a-greenhouse is a true winter escape.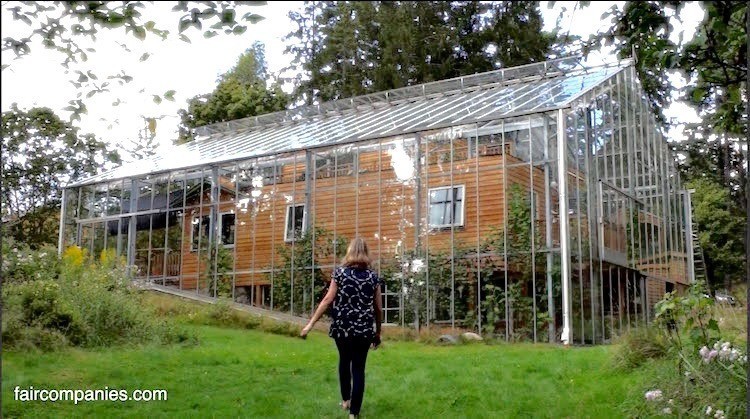 The couple recently gave Fair Companies a tour of their "Naturhus" (or Nature House) that's surrounded by a 4-millimeter pane of glass that cost roughly $84,000 to install.
The Naturhus was built on the site of an old summer house on a Stockholm archipelago and was inspired by Swedish eco-architect Bengt Warne, who was also Sacilotto's mentor.
There are many advantages of living in a greenhouse for this family. Sunlight helps warm the home during the day and residual heat is stored in the bedrock below the house. The roof deck can be used for year-round activities such as sunbathing, reading or playing with their son.
The environmentally conscious family is incredibly self-sufficient. They collect rainwater for household needs as well as for watering their plants. Kitchen and garden waste is composted.
Sacilotto, who is an engineer, even built the house's sewage system. According to Fair Companies, "the sewage system begins with a urine-separating toilet and uses centrifuges, cisterns, grow beds and garden ponds to filter the water and compost the remains."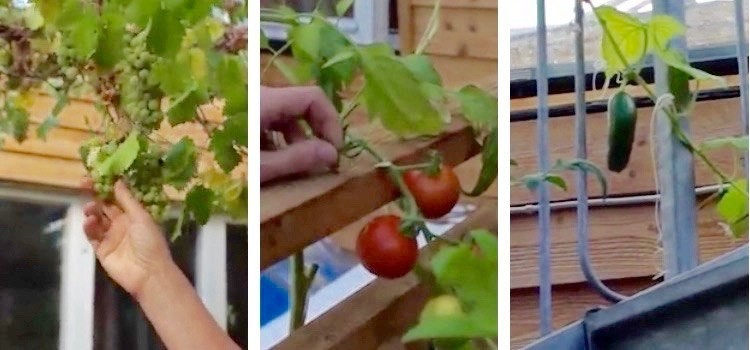 And yes, because it's a greenhouse, they also grow their own food such as tomatoes, cucumbers, figs, grapes and herbs that wouldn't normally survive during the Scandinavian winter.
You might be wondering: Is it safe to live inside a glass greenhouse?
"It's security glass," Sacilotto told Fair Companies. "So in principal this can't break. If it ever does, it will break in tiny pieces to not harm anyone."
Take a tour of the Naturhus in the video below.
YOU MIGHT ALSO LIKE
Brad Pitt's Nonprofit Delivers LEED Platinum Homes to Fort Peck Reservation
6 Super Cool Tiny Houses Made From Shipping Containers
World's First Robotic Farm to Produce 30,000 Heads of Lettuce Per Day
Tesla's Massive Gigafactory Will Be Net Zero Energy, Powered by 100% Renewables
www.youtube.com
Volkswagen is bringing back its hippie-approved minivan but with a 21st century upgrade—the new I.D. Buzz is all-electric.
The concept car was first revealed at the Detroit Auto Show in January and now the German automaker is officially putting its reinvigorated Microbus into production.
Keep reading...
Show less
I have asked repeatedly to have my short interview clip removed from this film. The director refuses. He believes his film is fair and balanced. I do not.

I am often interviewed (see media) and hardly ever quoted incorrectly or out of context. This film is one of those rare exceptions.
Keep reading...
Show less
Top of JPMorgan Chase Tower, Dallas, Texas. Joe Mabel / Wikimedia
Keep reading...
Show less
Cupping symptoms associated with dicamba damage on a cucumber plant. University of Arkansas.
Arkansas farmers filed a class-action lawsuit last week against Monsanto and German chemical company BASF, alleging that the companies' dicamba-based herbicides caused damage to their properties.
The plaintiffs claim that Monsanto and BASF implemented and controlled the dicamba crop system, releasing seed technology without a corresponding, safe and approved herbicide.
Keep reading...
Show less
Cup and bubblegum corals found in Northeast U.S. Canyons, the Atlantic's first marine monument. NOAA
Interior Sec. Ryan Zinke, who recently recommended a reduction in the size of the 1.35 million acre Bears Ears National Monument to President Trump, is advocating for more drilling and mining on public lands and waters.
The former Montana Rep. told Reuters that the development of America's protected federal lands could help the country become a "dominant" global energy force.
Keep reading...
Show less
Gage Skidmore / Flickr (CC BY-SA 2.0)
Dozens of scientists on the U.S. Environmental Protection Agency's (EPA) Board of Scientific Counselors and board subcommittees have been informed that they will not be renewed for their roles advising the agency, the Washington Post reported.
Keep reading...
Show less
www.youtube.com
Worried about the future of the Great Barrier Reef? If so, you're not alone.
Many publications have already written obituaries for the reef, despite the fact that it is not completely dead. Thanks to this video via Vox for sounding the alarm on this critical issue, before it's too late.
Keep reading...
Show less
Mike Mozart
By Olga V. Naidenko, Ph.D.
In a landmark rule with global repercussions, California state scientists are preparing to issue the world's first health guideline for Monsanto's glyphosate herbicide based on its cancer risk. The state's proposed safe level is more than 100 times lower than the U.S. Environmental Protection Agency's (EPA) legal allowance for the average-sized American.
Keep reading...
Show less
www.youtube.com
By Bob Henson
A high risk of life-threatening flooding continues on Wednesday over parts of the central Gulf Coast as Tropical Storm Cindy lumbers toward shore. The greatest flood threat will be across low-lying areas of far southern Mississippi and Alabama, according to the NWS/NOAA Weather Prediction Center. A second area with a moderate flood risk lies across far southeast Texas and southwest Louisiana.
Keep reading...
Show less