This website uses cookies to ensure you get the best experience while browsing it. By clicking 'Got It' you're accepting these terms.
Congressional Leaders Urge State Department to Correct Mistakes in Keystone XL Climate Impact Analysis
Jul. 10, 2013 03:02PM EST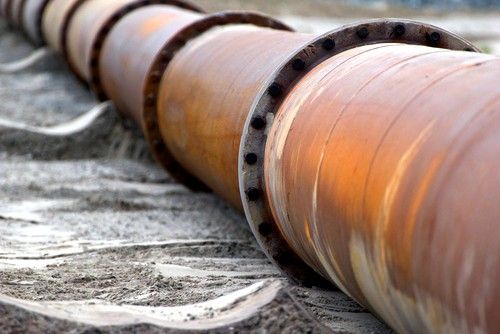 Photo courtesy of Shutterstock
Today Rep. Waxman (D-CA) and Sen. Whitehouse (D-RI) submitted a detailed letter to the State Department urging it to correct significant mistakes in the analysis of the climate impacts of the Keystone XL tar sands pipeline. In their letter, they noted that the agency's draft Supplemental Environmental Impact Statement (SEIS) underestimated the cost of transporting tar sands by rail and ignores the views of numerous market experts.
The Congressional leaders observed that the administration's own estimates of the social costs of carbon show that the additional carbon pollution from Keystone XL will impose $71 billion in costs. Waxman and Whitehouse concluded that a 'thorough, unbiased and comprehensive" analysis of the tar sands pipeline "would show that the Keystone XL pipeline fails the test the President set forth and must be denied."
Their letter compiles an enormous body of evidence demonstrating the fatal flaws in the analysis that led the State Department to ignore Keystone XL's significant climate impacts. The Congressmen note the recent rejection of the proposed Northern Gateway pipeline by British Columbia and the growing public opposition to tar sands pipelines throughout Canada demonstrates that tar sands expansion isn't inevitable.
Waxman and Whitehouse pointed out the significant obstacles to moving tar sands by rail, noting that there are significant economic and logistical obstacles which make moving large volumes of heavy tar sands by rail an unworkable option. The department ignored many of these differences and assumed that tar sands producers could replicated the light crude by rail boom seen in North Dakota's Bakken producers. The Congressmen observed this was an apples to oranges comparison, citing analysis by the International Energy Administration (IEA):
"After discussing the boom in moving Bakken oil by rail, IEA discussed the prospects for using rail to transport tar sands product. We do not, however, expect rail boom on a similar scale than in [the] case of U.S. [light tight oil] as most Alberta crude production is in the form of bitumen."
They also showed that the State Department's misinterpretation of industry data led it to paint an inaccurate picture of how much heavy crude is actually moving by rail:
"The State Department cited two analyses that projected 200,000 or 250,000 barrels of tar sands would be moved by rail to the Gulf by the end of this year. But according to the Reuters analysis, the State Department misinterpreted one of those analyses, and the other one is being reevaluated in light of the fact that the numbers are nowhere near that high now, halfway through the year. Goldman Sachs estimates that no more than 30,000 to 60,000 barrels of tar sands and other Canadian heavy crude, combined, will move by rail to the U.S. this year."
Waxman and Whitehouse also observed that the energetic actions of Canadian officials, the Alberta government and oil industry representatives give lie to the argument that Keystone XL isn't necessary for tar sands expansion. 
The Congressmen go on to show that once the additional emissions from co-products of tar sands besides gasoline and diesel where considered, the increased emissions from replacing conventional crude in the Gulf with tar sands from Keystone XL would amount to 24.3 million metric tons of carbon dioxide equivalent (MMTCO2e) each year. Over the project's minimum lifetime, that amounts to 1.2 billion MMTCO2e. The legislators noted:
"Finally, if the climate change effects of the Keystone XL pipeline are not considered to be significant, it is unclear whether there is any individual project in the U.S. that would ever be considered significant."
Rep. Waxman and Sen. Whitehouse concluded:
"We request the State Department to acknowledge that the Keystone XL tar sands pipeline would have significant consequences for climate change. The harm from climate change is mounting, and the need to act becomes ever more urgent. Given the multiplicity of sources of greenhouse gases and the size of reductions needed from current levels, stopping a single project alone could never be sufficient to avoid a dangerous degree of climate change. Yet in the absence of comprehensive economy-wide action, there is no choice but to combat climate change on a project-by-project basis. The alternative is business-as-usual rising carbon pollution that would doom us to devastating climate disruption."
Visit EcoWatch's KEYSTONE XL and CLIMATE CHANGE pages for more related news on this topic.
——–

EcoWatch Daily Newsletter
By Simon Evans
During the three months of July, August and September, renewables generated an estimated total of 29.5 terawatt hours (TWh), compared with just 29.1TWh from fossil fuels, the analysis shows.
A demonstrator waves an Ecuadorian flag during protests against the end of subsidies to gasoline and diesel on Oct. 9 in Quito, Ecuador. Jorge Ivan Castaneira Jaramillo / Getty Images
Protesters block the road outside Mansion House in London during an XR climate change protest. Gareth Fuller / PA Images via Getty Images
Protestors marched outside the Prudential Center in Newark, New Jersey on Monday, August 26, during the MTV Video and Music Awards to bring attention to the water crisis currently gripping the city. Karla Ann Cote / NurPhoto / Getty Images
By Will Sarni
It is far too easy to view scarcity and poor quality of water as issues solely affecting emerging economies. While the images of women and children fetching water in Africa and a lack of access to water in India are deeply disturbing, this is not the complete picture.
Pexels
Mice exposed to nicotine-containing e-cigarette vapor developed lung cancer within a year.
More research is needed to know what this means for people who vape.
Other research has shown that vaping can cause damage to lung tissue.
A new study found that long-term exposure to nicotine-containing e-cigarette vapor increases the risk of cancer in mice.
Demonstrators with The Animal Welfare Institute hold a rally to save the vaquita, the world's smallest and most endangered porpoise, outside the Mexican Embassy in DC on July 5, 2018. SAUL LOEB / AFP / Getty Images
Six months: That's how much time Mexico now has to report on its progress to save the critically endangered vaquita porpoise (Phocoena sinus) from extinction.
Pexels
It may seem innocuous to flush a Q-tip down the toilet, but those bits of plastic have been washing up on beaches and pose a threat to the birds, turtles and marine life that call those beaches home. The scourge of plastic "nurdles," as they are called, has pushed Scotland to implement a complete ban on the sale and manufacture of plastic-stemmed cotton swabs, as the BBC reported.
Air conditioners, like these in a residential and restaurant area of Singapore city, could put a massive strain on electricity grids during more intense heatwaves. Taro Hama @ e-kamakura / Moment / Getty Images
By Tim Radford
Scientists in the U.S. have added a new dimension to the growing hazard of extreme heat. As global average temperatures rise, so do the frequency, duration and intensity of heatwaves.