Concerned Citizens Unite to Oppose Fracking in NY
Sep. 05, 2012 11:58AM EST
Energy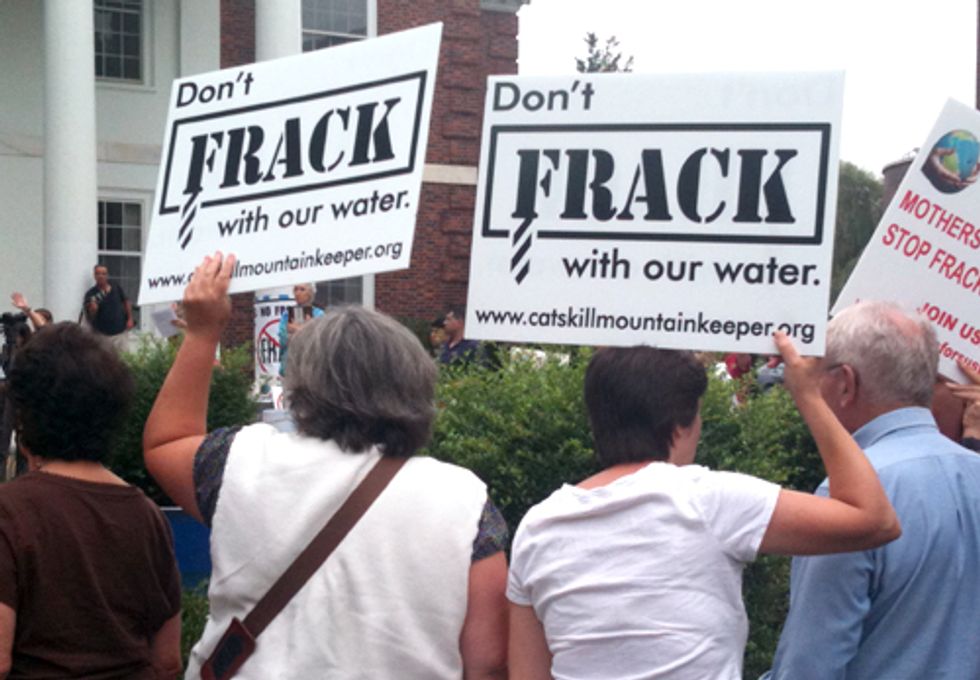 Concerned Citizens of Westchester County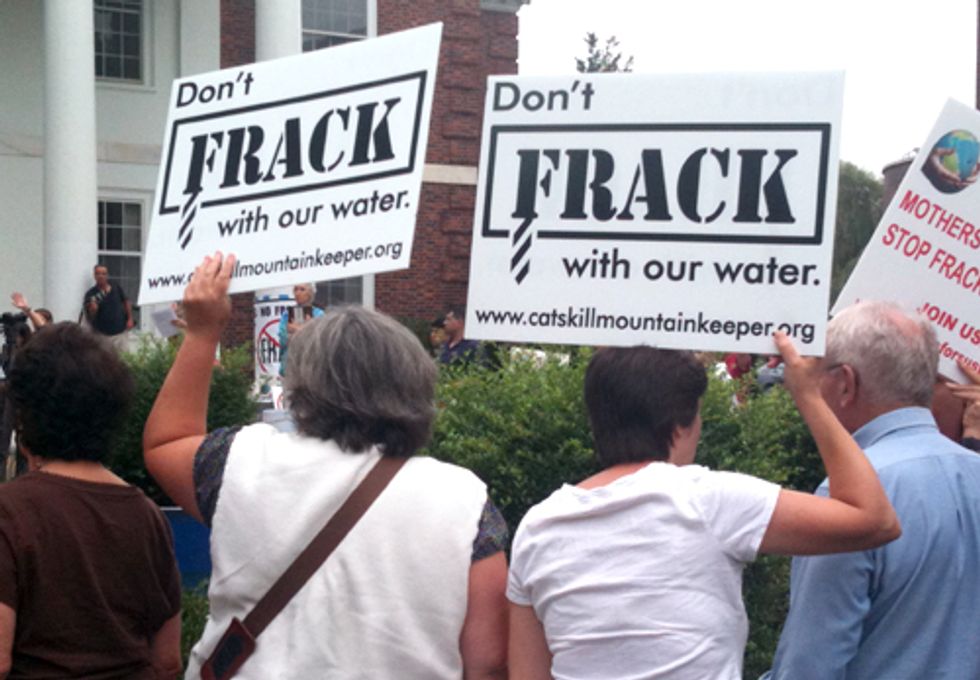 Concerned citizens of New York joined by clergy, health professionals and farmers will unite to oppose fracking of shale gas in New York State and all activity related to it. A solemn vigil will be held on Wednesday, Sept. 5 in front of St. Mark's Episcopal Church, 85 East Main St., Kisco, NY from 6 to 7:30 p.m. If it rains, the vigil will be held inside the Parish Hall. 
This is the second vigil in five weeks as New Yorkers bring their message to Governor Cuomo's home community amidst growing concern that the Governor is failing his constituents in his mandated duty to keep them safe and healthy. A decision about permitting fracking is reported to be imminent. Governor Cuomo's constituents expect him to manage and protect in a responsible and sustainable manner our natural resources of water, air and the land that grows our food and supports other species and ecosystems. Fracking would endanger all of this.
The vigil will heighten awareness of the Governor's destructive plan to frack New York State. The theme of the vigil, "Hear our Voices," will be echoed as speakers address concerns regarding the gas industry's widespread invasion into New York State with destructive drilling and the extensive infrastructure necessary to carry out natural gas activities. This includes vast miles of fragmenting pipelines, compressor and metering stations that vent methane, storage facilities, unresolved waste disposal and massive water withdrawals for each well from New York lakes and streams. Water will become permanently poisoned by the frack chemicals and removed from our precious, finite supply of fresh water at a time of increasing water scarcity. 
"We are one state," says co-organizer Jennifer Lahey. "New York cannot be divided between upstate and downstate, rural, urban and suburban, or safe and 'sacrificed.' We are interconnected by geography, policy and most importantly by our humanity. Other countries are doing unprecedented things with renewable energy to get off fossil fuels, to address global warming effectively. Why aren't we? We could be leaders. Instead our policies are killing my three-year old daughter. Enough is enough of gas and oil campaign contributions influencing our politicians and the policies they set. Ban hydrofracking in New York State, Governor Cuomo and set the example for the world to follow suit."
Brother David Andrews in an article in National Catholic Reporter says, "Fracking is a method of extracting gas which has incredible dangers for which the moral remedy is that it be banned in the name of human dignity, environmental protection and animal welfare." Among clergy speaking will be Rev. Dr. Chip Andrus of South Salem Presbyterian Church who does not want to have happen in New York what has happened in other fracked states. Renowned Buddhist teacher and author Bhikkhu Bodhi of Chuang Yen Monastery in Carmel, Rev. Melissa Boyer of Katonah United Methodist Church and Rabbi Douglas Krantz of Congregation B'nai Yisrael in Armonk, will share prayers and petitions to the Governor to steward the land with care and prohibit fracking in New York. Dr. Larysa Dyrszka, a retired pediatrician, will address adverse health effects and citizens will appeal for a ban. Music will intersperse speakers' pleas.
Although the Governor has yet to decide whether or not to open our state to fracking's ravages, sickness from natural gas has already impacted communities such as Minisink Valley, New York where Millennium Pipeline Company has a 30-inch gas pipeline that transports fracked gas from other states. "The pipeline is known to have faulty welds and numerous safety violations. We also have a metering station in our town that is a smaller version of a compressor station," said Malick from StopMCS, a group fighting a proposed Minisink Compressor Station. "Millennium pipeline had water in its line this past April and flared methane gas from its valves for two weeks. Many children suffered unusual rashes, nosebleeds, and nausea."
EPA scientist Wilma Subra who conducted extensive air studies in Dish Texas, a town with similar infrastructure, informed Malick that these symptoms are a result of methane poisoning toxins routinely released by leaking welds and venting of gas infrastructure. Now because of Cuomo's energy policies, Millennium has received approval to build a massive gas compressor station in Minisink. Subra stated that if the proposed compressor station to process large amounts of fracked gas is built in Minisink, people will experience these symptoms all the time.
"Minisink is next door in Orange County and is on the front lines in the battle for New York State," said Malick.  "We are home to many police officers and firefighters who protect New York City.  We are the home of many dairy farms and organic farms that nourish New York City and its surrounding areas. Our struggle today is what towns throughout the state will face tomorrow. The idea that the impact from this policy will be confined to remote parts of the state is an unconscionable public deception by the Cuomo administration."
"The gas running through the proposed pipelines will contain radioactive materials which come up from the Earth with the frack waste when drilling. Westchester County and New York City residents should be concerned about radon coming through their kitchen stoves," said Lahey. Radon is the second leading cause of lung cancer according to the National Cancer Institute.
Will Governor Cuomo hear the voices of sick children? Elizabeth Meyer-Gross of South Salem says, "I abhor Governor Cuomo's lack of concern for the young children. As a pediatric occupational therapist and part of the medical community, I ask the Governor to listen to the findings of peer-reviewed science which demonstrate that fracking is dangerous causing serious health effects and death. Failure to heed these warnings and institute a state-wide ban on fracking in New York will most certainly pose a serious health risk to young children and the unborn."
Governor Cuomo, hear our voices! No more gas. No more oil. No more fossil fuels. We will not sacrifice any American for energy. 
Visit EcoWatch's FRACKING page for more related news on this topic.
EcoWatch Daily Newsletter