This website uses cookies to ensure you get the best experience while browsing it. By clicking 'Got It' you're accepting these terms.
Climate Activists Call Foul at Rep. Boehner's Office over Keystone Pipeline and Campaign Cash from Big Oil
Jan. 26, 2012 05:55PM EST
Energy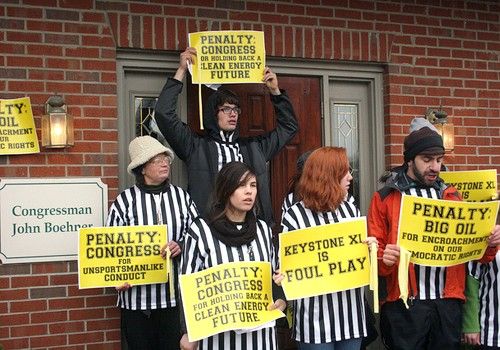 Climate activists fed up with the influence of corporate money on Congress stormed Speaker of the House John Boehner's office in West Chester today wearing striped ref uniforms to "blow the whistle" on congressional corruption. Activists in uniform blew literal whistles and threw penalty flags to draw attention to the corruption of Congress by corporations and Big Oil, as evidenced by the ongoing campaign to force through the pipeline.
"I'm a writer, and I would never accept money from someone to bias any of my articles. That's why I'm sick of Congress saying the millions they get from Big Oil hasn't affected their votes on Keystone XL. Shame on John Boehner for vowing to continue his campaign to force this pipeline," said Andrew Culp, writer and teacher.
Rep. Boehner accepted $1.1 million from the fossil fuel industry before voting to expedite the Keystone XL "Tar Sands" Pipeline in December, according to OpenSecrets.org.
"I travelled to Washington, DC to stop this pipeline. Meanwhile, Speaker Boehner has sold us out for $1.1 million. I don't trust his agenda to force through this pipeline any more than I trust the corporations backing the project." Said Amanda Morgan, student at University of Cincinnati.
The 234 members of Congress who voted for the pipeline have collectively taken $42 million from the fossil fuel industry, according to OpenSecrets.org. On average, each of them received 500 percent more cash from Big Oil than members who voted against the pipeline.
Bill McKibben, founder of 350.org comments: "Look, I'm a Patriots fan, but if Bill Belichick was caught paying off the refs for the Super Bowl I'd be outraged and so would everyone else. So why, really, is it okay that members of Congress take huge sums from companies and then vote on their interests?"
Today's event was held in solidarity with a rally outside the U.S. Capitol Tuesday, where 500 people answered Bill McKibben's call for Americans to step up as citizen referees in response to the growing influence of corporations on Congress. Congressional leaders meanwhile have vowed a continued fight against the pipeline prompting ongoing grassroots protests.
--------
This action was made possible by the 350.org action fund: a part of 350.org. 350.org is an international grassroots climate campaign. "350" stands for 350 parts per million, the safe upper limit of carbon dioxide in the atmosphere.
EcoWatch Daily Newsletter
Colombia rainforest. Marcel Oosterwijk / CC BY-SA 2.0
Many of us think of the Amazon as an untouched wilderness, but people have been thriving in these diverse environments for millennia. Due to this long history, the knowledge that Indigenous and forest communities pass between generations about plants, animals and forest ecology is incredibly rich and detailed and easily dwarfs that of any expert.
picture-alliance / Newscom / R. Ben Ari
By Wesley Rahn
Plastic byproducts were found in 97 percent of blood and urine samples from 2,500 children tested between 2014 and 2017, according to a study by the German Environment Ministry and the Robert Koch Institute.

Pexels
Medically reviewed by Daniel Bubnis, MS, NASM-CPT, NASE Level II-CSS
Hot yoga has become a popular exercise in recent years. It offers many of the same benefits as traditional yoga, such as stress reduction, improved strength, and flexibility.
Lara Hata / iStock / Getty Images
By SaVanna Shoemaker, MS, RDN, LD
Rice is a staple in many people's diets. It's filling, inexpensive, and a great mild-tasting addition to flavorful dishes.
An image of the trans-alaskan oil pipeline that carries oil from the northern part of Alaska all the way to valdez. This shot is right near the arctic national wildlife refuge. kyletperry / iStock / Getty Images Plus
The Trump administration has initialized the final steps to open up nearly 1.6 million acres of the protected Alaskan National Wildlife Refuge to allow oil and gas drilling.
Kaboompics / Pexels
Tensions between lawmakers and several large manufacturing companies came to a head on Capitol Hill this week during a hearing on toxic fluorochemicals in U.S. drinking water.