This website uses cookies to ensure you get the best experience while browsing it. By clicking 'Got It' you're accepting these terms.
Clergy Against Fracking to Bless New York Waters
Aug. 31, 2012 06:21AM EST
Energy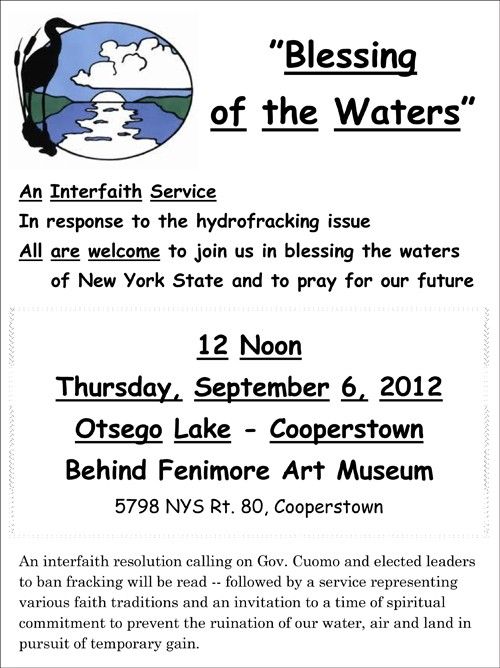 On Sept. 6 at Noon at the Fenimore Art Museum in New York City clergy from various faiths will gather on the shores of Otsego Lake to bless the waters of New York and pray for the future. The blessing follows the release of an interfaith resolution signed by more than 60 religious leaders of different faiths urging Governor Cuomo, legislators and elected leaders to ban the controversial practice of hydrofracking.
Motivated by news that the New York Department of Environmental Conservation may soon issue fracking permits, the group has planned an interfaith Blessing of the Waters as an invitation for all to join in worship and a time of spiritual commitment to prevent the ruination of our water, air and land in pursuit of temporary gain.
Horizontal high-volume hydraulic fracturing involves the extraction of methane gas from shale rock by injecting large quantities of water and toxic chemicals into the ground under explosive pressure to create fractures in gas-bearing shale. The practice has been linked to contaminated drinking water, air pollution, seismic activity, habitat fragmentation and human illness.
Convening at the headwaters of the Susquehanna, the interfaith group will highlight the common calling of their faiths to safeguard the earth and its people. "We are entrusted by God to be good stewards of creation and have a moral obligation to prevent harm to others, including future generations who shall inherit the world," says Reverend Elsie Rhodes, pastor of the First Presbyterian Church in Cooperstown. "Contaminating the aquifer, scarring the earth, and endangering the health of people are not consistent with God's word."
In addition to addressing the inherent dangers of hydrofracking, the interfaith resolution speaks to government ethics, noting that the current political, legal, and regulatory framework in which the fossil fuel industry operates has led to the exploitation of communities, awarding energy corporations with huge financial returns at the expense of people who ultimately suffer long-term health, environmental and economic impacts.
"The Halliburton loophole, compulsory integration, and lax regulations are all results of a political system in which rules are written by industry and corporate profits are put before people," says Reverend Craig Schwalenberg, minister of the Unitarian Universalist Society of Oneonta. "It is time for our elected leaders to find and follow their moral compass."
While focusing on the imminent threat of fracking, signers of the interfaith resolution remain mindful of the need to develop renewable sources of energy, such and wind and solar, as well as the importance of promoting sustainable economies.
"As human beings, we are blessed with creative minds," adds Reverend Judith Thistle, pastor of the Second Baptist Church in Worcester. "Rather than pursuing dangerous new ways of extracting fossil fuels, we should be using our collective wisdom to address human needs while building a sustainable future. We are truly blessed by the earth's abundant beauty and life-sustaining resources. Regardless of our faith tradition, all of us are called to be responsible stewards of those gifts."
 Visit EcoWatch's FRACKING page for more related news on this topic.
EcoWatch Daily Newsletter
Colombia rainforest. Marcel Oosterwijk / CC BY-SA 2.0
Many of us think of the Amazon as an untouched wilderness, but people have been thriving in these diverse environments for millennia. Due to this long history, the knowledge that Indigenous and forest communities pass between generations about plants, animals and forest ecology is incredibly rich and detailed and easily dwarfs that of any expert.
picture-alliance / Newscom / R. Ben Ari
By Wesley Rahn
Plastic byproducts were found in 97 percent of blood and urine samples from 2,500 children tested between 2014 and 2017, according to a study by the German Environment Ministry and the Robert Koch Institute.

Pexels
Medically reviewed by Daniel Bubnis, MS, NASM-CPT, NASE Level II-CSS
Hot yoga has become a popular exercise in recent years. It offers many of the same benefits as traditional yoga, such as stress reduction, improved strength, and flexibility.
Lara Hata / iStock / Getty Images
By SaVanna Shoemaker, MS, RDN, LD
Rice is a staple in many people's diets. It's filling, inexpensive, and a great mild-tasting addition to flavorful dishes.
An image of the trans-alaskan oil pipeline that carries oil from the northern part of Alaska all the way to valdez. This shot is right near the arctic national wildlife refuge. kyletperry / iStock / Getty Images Plus
The Trump administration has initialized the final steps to open up nearly 1.6 million acres of the protected Alaskan National Wildlife Refuge to allow oil and gas drilling.
Kaboompics / Pexels
Tensions between lawmakers and several large manufacturing companies came to a head on Capitol Hill this week during a hearing on toxic fluorochemicals in U.S. drinking water.