Citizens Win in Fracking Wastewater Dumping Case
May. 01, 2012 03:00PM EST
Energy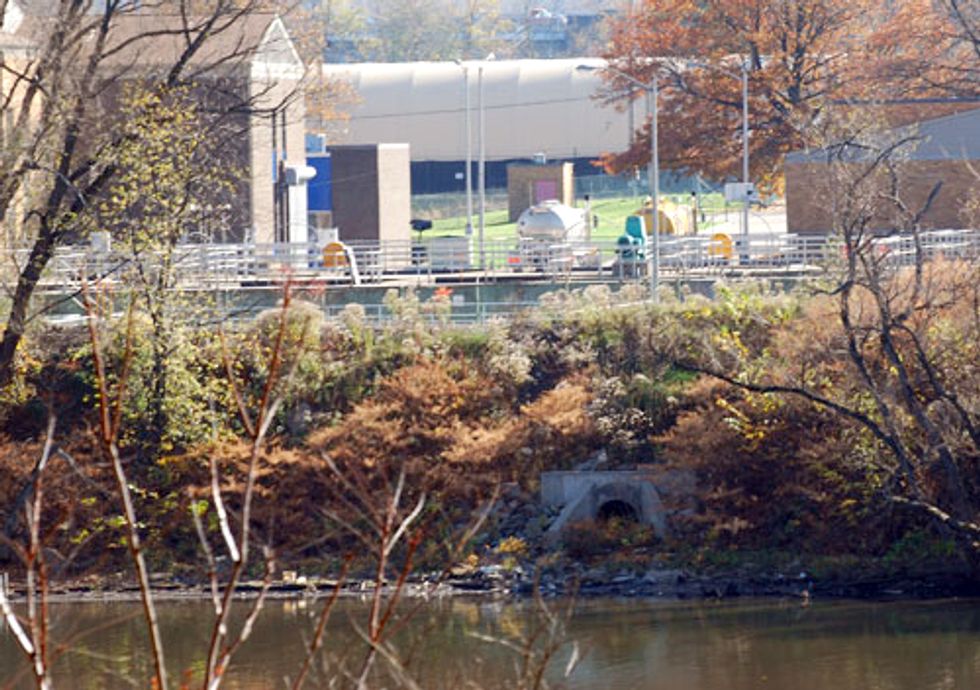 Clean Water Action and Three Rivers Waterkeeper filed in federal district court today a settlement of their case against the Municipal Authority of the City of McKeesport, Pa. The two groups had filed a lawsuit in July 2011 under the Clean Water Act seeking an end to McKeesport's acceptance and discharge of wastewater from Marcellus Shale gas drilling operations.
Under the settlement, McKeesport has agreed to stop accepting any deliveries of Marcellus Shale wastewater at their plant. Additionally, if McKeesport decides in the future that they want to accept oil and gas wastewater, they will have to apply for a permit under the federal Clean Water Act through the state Department of Environmental Protection (DEP), subject to U.S. Environmental Protection Agency (EPA) approval. Any proposed permit would also undergo public review and comment. The settlement covers both shale gas wastewater and coal bed methane wastewater discharges.
"We are pleased to be able to reach this agreement with McKeesport. Putting an end to the practice of dumping Marcellus Shale wastewater in our rivers is crucial to protecting our drinking water supplies and to ensuring our rivers continue their recovery from years of neglect," said Myron Arnowitt, Pennsylvania State director for Clean Water Action.
"The result of this case shows that citizens do have the power to take ownership over the conditions in our rivers. This case was a great example of people coming together to stop even more destructive pollution of our waters," said Kim Teplitzky, director of Three Rivers Waterkeeper.
The legal settlement reached between Clean Water Action, Three Rivers Waterkeeper and the Municipal Authority of the City of McKeesport can be downloaded by clicking here.
While the state DEP has asked gas drilling companies to voluntarily stop sending their wastewater to plants such as McKeesport that discharge to Pennsylvania rivers, no mandatory restrictions have been placed on drilling companies. In addition, DEP never asked for even voluntary action by sewage treatment plants to end their acceptance and discharge of Marcellus wastewater.
"While a number of treatment plants have stated that they will not accept any more Marcellus wastewater, we are aware of a few plants that continue to do so.  Without agreements like the one we have reached with McKeesport, there is nothing to stop treatment plants from continuing this practice which contaminates our rivers and drinking water supplies," Arnowitt said.
In September 2011, EPA issued Administrative Orders and Information Requests to 13 wastewater treatment facilities in Pennsylvania. EPA's Order and Request required these facilities to certify that they are no longer accepting any oil and gas wastewater. Facilities that do not sign the certification are required to submit to EPA sampling data from their wastewater discharge covering common drilling wastewater contaminants.
To date, only three plants signed EPA's certification stating that they no longer accept oil and gas wastewater: Allegheny Valley Joint Sewage Authority, Clairton Municipal Authority and the Johnstown Redevelopment Authority. Seven plants have sent sampling data from their discharge indicating that they are not willing to certify that they no longer accept oil and gas wastewater: Brockway Area Sewage Authority, Dominion Transmission Corp., Minard Run Oil Co., Borough of Ridgway, Hart Resource Technologies (Creekside), PA Brine (Franklin) and PA Brine (Josephine). Three plants have not responded to EPA: Gas and Oil Management Assoc., Great Lakes Energy Partners, New Castle Oil Co.
This is the first time a federal court case has been filed to stop the current discharge of Marcellus drilling wastewater in Pennsylvania. The suit claimed that the Pennsylvania Department of Environmental Protection (DEP) bypassed Clean Water Act permitting rules by allowing McKeesport to discharge without proper treatment up to 100,000 gallons per day of Marcellus drilling wastewater into the Monongahela River, which supplies drinking water for nearly half a million people, including a portion of the City of Pittsburgh.
Pennsylvania enacted new rules in 2010 that set strict treatment standards for the discharging of oil and gas wastewater. However, the regulations grandfathered in all existing plants in Pennsylvania that discharged to rivers and streams. To date, only one treatment plant operating in the state can meet the new standard.
For more information, click here.
—————
Stay up-to-date on the latest fracking news by clicking here.
EcoWatch Daily Newsletter