This website uses cookies to ensure you get the best experience while browsing it. By clicking 'Got It' you're accepting these terms.
Circus Ban Legislation Key in Ending Animal Abuse
Sep. 11, 2014 08:05AM EST
Despite decades of protests by animal rights groups and advocates, traveling circuses continue to use domestic and exotic animals in their acts throughout the U.S. But thanks to the undercover investigative work by animal rights organizations such as Animal Defenders International, a federal ban on the use of animals in circuses in the U.S. may be coming soon.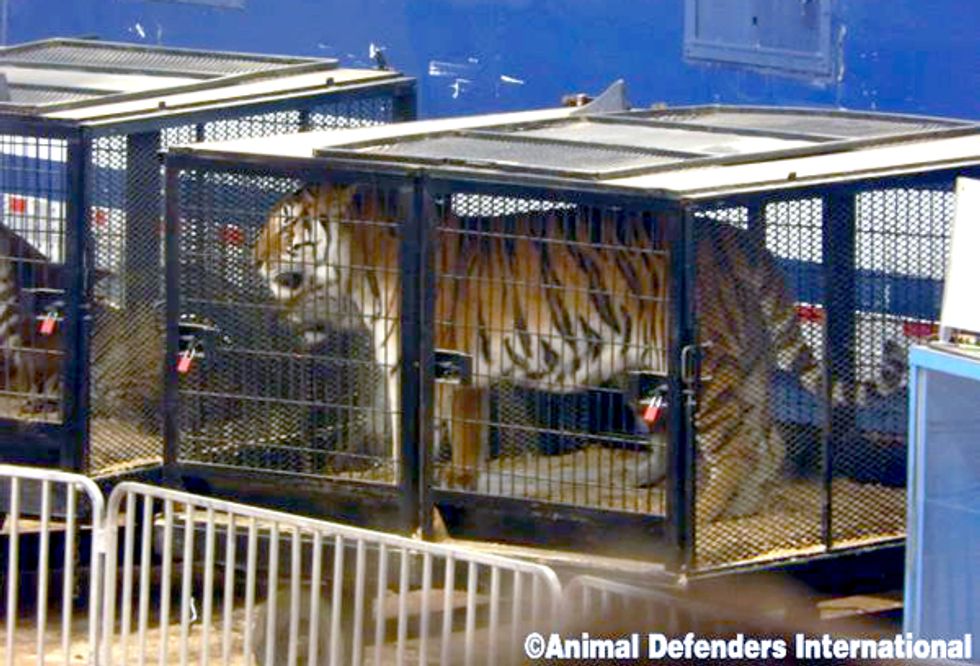 This past April, Democratic Rep. Jim Moran of Virginia, introduced legislation drafted by Animal Defenders International, known as the Traveling Exotic Animal Protection Act (TEAPA), which would essentially restrict the use of exotic, non-domestic animals such as lions, tigers, bears and elephants from touring with circuses.
Americans may not be as familiar with the Animal Defenders International (ADI) brand as they are with other animal rights groups, even though the public is largely aware of ADI's work, including securing a ban on circuses employing the use of exotic or all animals in 45 American cities and counties in 21 different states, as well as the passage of legislation banning the use of animal testing for cosmetics in Europe.
Jan Creamer is the president of Animal Defenders International, which she co-founded in 1990 with her husband Tim Phillips, who currently serves as vice president of ADI. Creamer says that after nearly 30 years of studying circuses all over the world, including in the U.S., researchers have found that the animals are suffering at a level no one would support—especially children.
"Some of our biggest supporters are children," Creamer said. Children are instinctively compassionate." Though they may get excited by all of the glitz, glamour and lights that is the circus, Creamer says when children learn of the pain and suffering the animals endure, children often ask their parents to not take them to the circus again.
Worldwide trend
Currently ADI has secured a ban on either the use of all animals or at least wild animals in circuses in 27 different countries, including Austria, Colombia, Denmark, Greece, Hungary, Israel, Poland, Portugal and Sweden. Throughout the summer ADI worked with the Peruvian government to enforce its recently-passed circus ban, by collecting the animals from the circuses and finding them new homes at local sanctuaries as well as those in the U.S.
In addition to the proposed ban in the U.S., legislation restricting exotic animals from being used in traveling circuses are currently being discussed in a handful of other countries as well in the United Kingdom, Brazil, Mexico and The Netherlands.
"The more people know about what happens behind the scenes in traveling circuses," the more they support banning circuses that employ animals, Creamer says. And thanks to hidden cameras and covert surveillance techniques, ADI has photographic evidence of the animal abuse that occurs in the circus and has taken the images to the public and legislature to support their cause.
Though the proposed legislation in the U.S. does not prohibit the use of domestic animals such as horses and dogs from being used by traveling circuses, Creamer says ideally she would like to see a ban on the use of all animals in traveling circuses because domestic animals such as dogs and horses have been found to display evidence of fear and intimidation of their trainers too.
"The circus industry continues to survive because they create an illusion of love and respect between the animal and the trainer," Creamer said. In reality, the animals don't love their trainers, as they are forced to obey them and perform tricks they don't want to do, for fear they will be hit or stabbed with bullhooks, whips and metal bars, shocked with a stun gun or other electric prod, and in some cases, deprived of food and water.
Cage-induced insanity
Much to the dismay of some animal rights advocates, the legislation would not affect zoos, aquariums, rodeos or other permanent facilities that house animals. Creamer says the reason the legislation doesn't target facilities like zoos, is because these places are often able to provide animals a healthy living environment, complete with social interactions.
Traveling circuses on the other hand cram animals into small areas for hours, sometimes days at a time, which often results in the animals going out of their minds as evidenced by abnormal behavior such as rocking, swaying and pacing.
Creamer says the cramped living conditions for animals in the circus is the equivalent of a human being told to stay in their bathroom for a week. Just like humans, when animals are not stimulated, and are isolated, they become mentally damaged, Creamer said, and behave in a way that indicates the animal is not coping with their environment.
"The evidence is now irrefutable," she said. Animals kept in small living quarters suffer from psychological and physical damage, Creamer said, which is something humans were not aware of when the circus first began in the 1700s.
Moran agrees, and said in a press release earlier this year that "From video and photographic evidence, it's clear that traveling circuses aren't providing the proper living conditions for exotic animals. This legislation is intended to target the most egregious situations involving exotic and wild animals in traveling circuses."
Jobs vs. animal rights
Given that going to the circus is a cherished childhood memory for many, and an employer for others, not every American is supportive of the ban on the use of animals in the circus, especially the Virginia-based Ringling Brothers and Barnum & Bailey Circus.
As Stephen Payne, a spokesman for the Ringling Bros. and Barnum & Bailey Circus told a local Virginia news outlet earlier this year, the circus has never violated the federal animal welfare act, which he says makes the proposed TEAPA legislation, "a slap in the face to the hundreds of men and women who care for the animals."
Payne added that the legislation also threatens "hundreds of jobs" and would "deny millions of Americans the enjoyment of seeing these animals."
Creamer responded to Payne's concerns saying that human-only circuses such as Cirque du Soleil would still be allowed, and added that a majority of the American public doesn't enjoy watching animals suffer, especially for entertainment purposes, which is just one more reason she says the animal circus has become a dying industry.
Moran also noted that recently the Ringling Brothers and Barnum & Bailey Circus agreed to pay a record $270,000 fine to the U.S. Department of Agriculture for violating the Animal Welfare Act multiple times between June 2007 and August 2011.
Thanks to research done on animals living on the wild and television programs chronicling how animals live, Creamer says the public has a greater understanding of the intelligence and emotional needs of other species, which is why people are supportive of the bans.
"The mounting evidence of inhumane treatment and the growing public concern for these animals demands that we reconsider what are appropriate living conditions for these intelligent, social creatures," Moran said.
"They're seeing the truth," Creamer said, adding we must ask ourselves "What kind of society do we want to be, and how do we want to relate to animals?"
You Might Also Like
The Blackfish Effect: 40 Members of Congress Call on USDA to Revise Rules for Captive Marine Mammals
Southwest Airlines Ends Partnership With SeaWorld After 'Blackfish' Backlash
Sea World Responds to Blackfish Documentary, Sea Shepherd Sets the Record Straight
EcoWatch Daily Newsletter
The U.S. Centers for Disease Control and Prevention recommends getting regular cholesterol tests shortly after you turn 20. Ca-ssis / iStock / Getty Images Plus
Many people don't begin worrying about their cholesterol levels until later in life, but that may be increasing their odds of heart problems in the long term.
Ocean pollution concept with plastic and garbage pictured in Sri Lanka. Nestle is among the top corporate plastic polluters, according to a report called BRANDED Volume II: Identifying the World's Top Corporate Plastic Polluters.
Anton Petrus
/ Moment / Getty Images
Nestlé cannot claim that its Ice Mountain bottled water brand is an essential public service, according to Michigan's second highest court, which delivered a legal blow to the food and beverage giant in a unanimous decision.
A number of supermarkets across the country have voluntarily issued a recall on sushi, salads and spring rolls distributed by Fuji Food Products due to a possible listeria contamination, as CBS News reported.