This website uses cookies to ensure you get the best experience while browsing it. By clicking 'Got It' you're accepting these terms.
Breaking: Senate Rejects Keystone XL Pipeline
Nov. 18, 2014 06:40PM EST
The Senate voted this evening to reject the Keystone XL pipeline that would have carried Alberta tar sands oil from Canada to the Gulf of Mexico. The measure failed by a vote of 41-59. Sixty votes are required to pass a bill out of the Senate. The project has been stalled for six years due to widespread public opposition.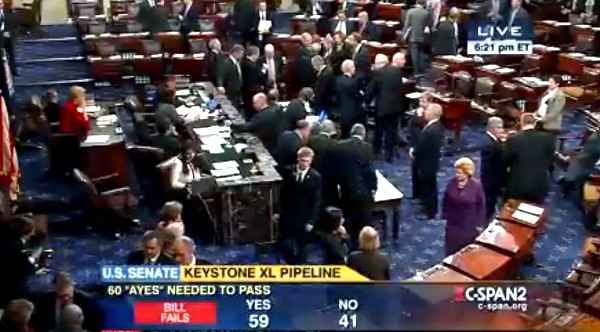 The bill easily passed the House of Representatives last week, where it was on the floor for the ninth time since Republicans took control of that chamber. The Senate, controlled by Democrats, has not brought it to the Senate floor until now. The Senate bill was introduced by Democratic Louisiana Senator Mary Landrieu, hoping to score points with voters in her oil-dependent state going into a closely contested runoff with her Republican opponent, Congressman Bill Cassidy. Cassidy was the sponsor of the latest bill in the House.
After introducing the bill last week, Landrieu worked feverishly to round up the 60 votes required to pass any legislation in the Senate, as anti-pipeline activists expressed outrage and charges of political grandstanding on Landrieu's part. Landrieu responded indignantly to Kansas Senator Pat Roberts' suggestion that she called for the vote for political reasons, saying on the floor of the Senate, "I was very disappointed in the senator from Kansas. I think he said he was 'bemused' that we would be debating this, because he thinks it's some kind of political issue. "For him to come to the floor and make those remarks ... is beneath the dignity of the state he represents and the Marine Corps." (Roberts is a former Marine).
Senate minority leader Mitch McConnell did some showboating of his own, referring to the bill during debate as "Congressman Bill Cassidy's Keystone jobs bill." He continued that it was "common sense, a shovel-ready jobs project that will help thousands of Americans find work." But this weekend, on ABC's This Week, Russ Girling, CEO of TransCanada, the company building the pipeline, admitted that it would create at most 50 permanent jobs along with several thousand temporary ones, referring vaguely to 42,000 "direct and indirect ongoing and enduring jobs." The Tampa Bay-Times PolitiFact feature rated that statement "false," saying he based that figure on temporary multiplier jobs that would be created only during construction to service the workers, such as hotel workers, waitresses and entertainers.
Landrieu's desperation led to even more hyperbole on the Senate floor during the debate:
.@SenLandrieu just said Keystone XL would create 'millions of jobs' on the Senate floor. Millions. No. Just no. #noKXL

— 350 dot org (@350) November 18, 2014
Meanwhile, prior to the vote, protestors amassed outside Landrieu's Washington, DC home where they installed a large inflatable pipeline. Four protesters were arrested outside Delaware Senator Tom Carper's office. Carper has generally been pro-environment but indicated he would vote to approve Keystone XL. Another seven were arrested at Colorado Senator Michael Bennet's office.
.@350 protesters singing "you can't eat money, you can't drink oil" in lobby Sen. Carper's office. (Corrected tweet) pic.twitter.com/lYitpafkKT — Kate Sheppard (@kate_sheppard) November 18, 2014
Two representatives of the campaign opposing Keystone XL in Nebraska where a lawsuit is currently blocking construction, Bold Nebraska director Jane Kleeb and rancher Randy Thompson, delivered a letter to Senator Mitch McConnell Monday night.
It said, "We are really sick and tired of being told how safe this project will be by people who live fifteen hundred miles away and are fully insulated from the inherent risks associated with it. Would you be so anxious to vote "yes" if this pipeline were going to run through your property where your family lives, works and plays? Our families will not watch our land and water get polluted so Canada can get their risky tar sands to the export market. You oil-soaked Senators should be ashamed of yourselves and if you have the nerve to talk about the constitution or property rights again, we will be there to set the record straight."
Environmental groups prepared for the worst, as the vote locked close up until roll call, with approval seeming to hinge on perhaps a single vote. The Natural Resources Defense Council put out "8 discredited talking points pushed by Keystone XL proponents in Senate debate."
And California Senator Barbara Boxer, a Keystone XL opponent said, "What does XL stand for? To me it stands for extra lethal. This is a serious environmental hazard."
.@SenatorBoxer on #KeystoneXL, and what the Koch Brothers won't tell you about it. #NoKXL cc @NextGenClimate @350 pic.twitter.com/NTdBDpR49m

— The Other 98% (@other98) November 18, 2014
Senate majority leader Harry Reid of Nevada is opposed to the pipeline but he allowed it to come to a vote for the first time. Reid has joined with a multitude of environmental justice groups in calling on President Obama to veto it, which the President in the last week has strongly suggested he would if it passed. Soon-to-be Senate Majority leader Mitch McConnell said it would be the first item of business when he assumes leadership of the Senate in January.
"We applaud the Senators who stood up for the health of our families and our climate by fighting back against this big polluter-funded sideshow," said Michael Brune, executive director of the Sierra Club. "There's no good reason the Senate should have wasted all this time on yet another meaningless push for Keystone XL. Since day one, the decision on the pipeline has belonged to President Obama, and he has repeatedly said he will reject this pipeline if it contributes to the climate crisis. As there is no doubt that it does, we remain confident that is precisely what he'll do."
Kleeb agrees with Brune, "Today's defeat of Keystone XL should send a strong signal to the incoming GOP-led Congress that farmers and ranchers will never back down to their oil soaked intentions. We call on President Obama to stand up and reject Keystone XL now."
YOU MIGHT ALSO LIKE
Take Action: Help End Dirty Energy
Naomi Klein: Debating Whether Keystone XL Has Climate Impact Is Absurd
Plus, learn if there's one that's best for your health.
Catherine Falls Commercial / Moment / Getty Images
An invasive Amynthas worm, also known as a crazy snake worm, Asian jumping worm and Alabama jumper Tom Potterfield / Flickr
By Jason Bittel
My wife and I built a house two years ago on a few acres of woodland outside of Pittsburgh. The backyard is full of maples, poplars, briars and common spicebush. Two-lined salamanders and grumpy-looking crayfish wade among the rocks in the small stream that runs down the edge of the property. Deer, raccoon and opossum tracks appear regularly in the snow and mud. Sometimes, my trail-cam even catches a pair of gray foxes as they slink through the night.
AleksandarNakic / Getty Images
By Kate Murphy
No matter the time of year, there's always a point in each season when my skin decides to cause me issues. While these skin issues can vary, I find the most common issues to be dryness, acne and redness.

David Woodfall / The Image Bank / Getty Images
By Sam Nickerson
The U.S. Environmental Protection Agency (EPA) in April 2018 proposed relaxing standards related to how it assesses the effects of exposure to low levels of toxic chemicals on public health.
Now, correspondence obtained by the LA Times revealed just how deeply involved industry lobbyists and a controversial, industry-funded toxicologist were in drafting the federal agency's proposal to scrap its current, protective approach to regulating toxin exposure.
Steve Irwin poses with a three foot long alligator at the San Francisco Zoo on June 26, 2002. Justin Sullivan / Getty Images
February 22 is the birthday of conservationist and beloved TV personality "Crocodile Hunter" Steve Irwin, who would have been 57 years old today.
Irwin's life was tragically cut short when the barb from a stingray went through his chest while he was filming in 2006, but his legacy of loving and protecting wildlife lives on, most recently in a Google Doodle today honoring his birthday.