Breaking: Interior Department Bows to Pressure from Oil and Gas Industry, Weakens Fracking Rules
May. 16, 2013 03:50PM EST
Energy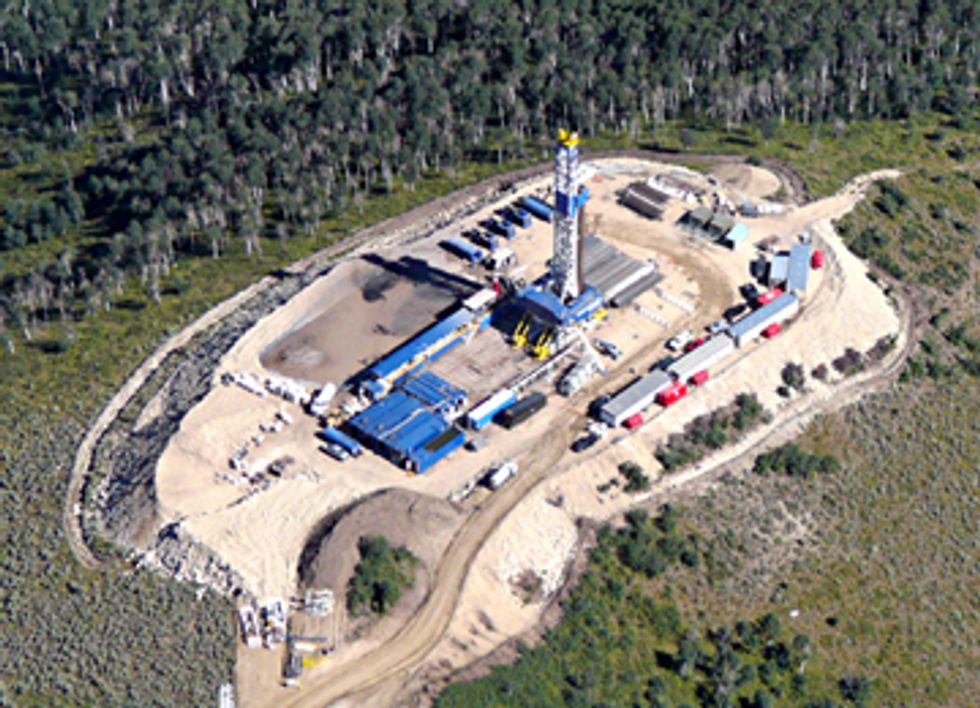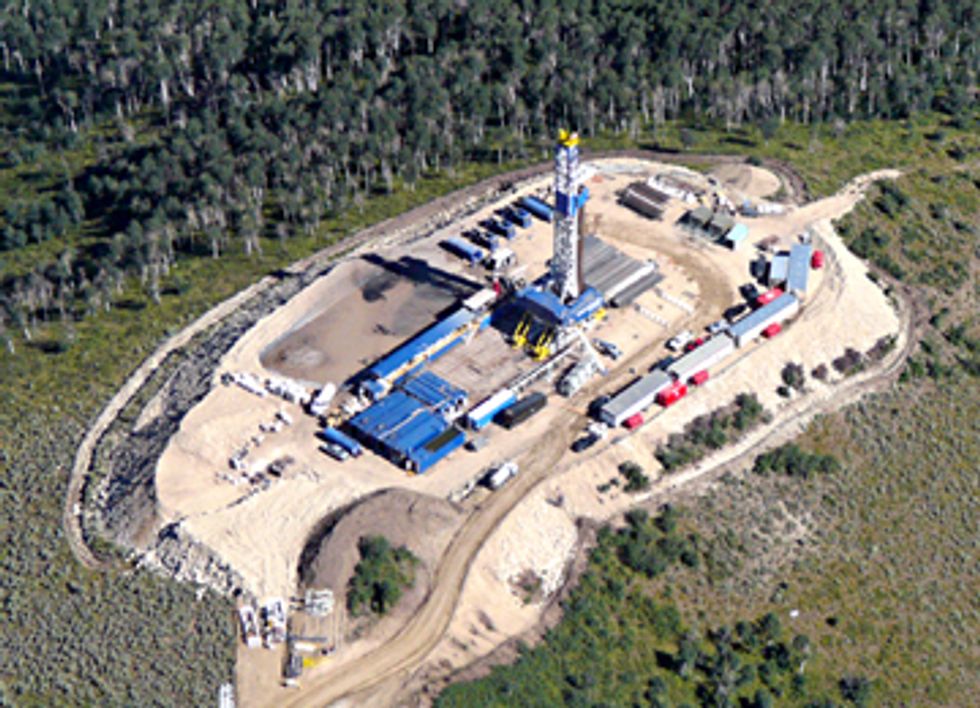 The U.S. Department of the Interior's Bureau of Land Management (BLM) proposed an updated set of rules governing hydraulic fracturing, on public lands today. The controversial oil and gas development technique—in which drillers blast millions of gallons of chemically treated water into the earth to force oil and gas from underground deposits—has been linked to air and water pollution and public health problems.
"Comparing today's rule governing fracking on public lands with the one proposed a year earlier, it is clear what happened: the Bureau of Land Management caved to the wealthy and powerful oil and gas industry and left the public to fend for itself," said Jessica Ennis, legislative representative at Earthjustice.
 
"Our public lands—and the people who live near them—deserve the highest level of protection. Today's rule could have set the gold standard. Instead the BLM is settling for shoddy protections peddled by the oil and gas industry."
 
The updated proposal eliminates protections included in the version proposed last year and fails to include safeguards demanded by environmental and public health advocates.
 
Among the problems identified in the updated regulations:
• The proposed rules do not require an evaluation of the integrity of cement barriers in individual wells—the critical barrier between toxic fracking chemicals and groundwater—instead allowing oil and gas companies to test one well and allow those results to guide the development of other similar wells.
• The updated proposal does not require fracking companies to disclose chemicals before they are pumped into the ground—a critical measure that would give nearby communities time to test and monitor water supplies for any fracking-related water pollution.  
"The Sierra Club is alarmed and disappointed by the fundamental inadequacy of the Bureau of Land Management's new proposed fracking regulations," said Michael Brune, executive director of the Sierra Club. "After reviewing the draft rules, we believe the administration is putting the American public's health and well-being at risk, while continuing to give polluters a free ride. The draft BLM rules ignore the recommendations of the president's own shale gas advisory committee, which called for transparency, full public chemical disclosure, environmental safeguards, and pollution monitoring."
"Although no amount of regulation will make fracking acceptable, the proposed BLM rules fail even to take obvious steps to make it safer. This proposal does not require drillers to disclose all chemicals being used for fracking and continues to allow trade-secret exemptions for the oil and gas industry," said Brune.
Across the country, fracking has wrought widespread environmental damage—contaminating drinking water sources and turning treasured landscapes into industrial zones. And now, the oil and gas industry has designs on key areas of America's natural heritage, including sources of drinking water for millions of Americans:
• White River National Forest–Located in Colorado, White River is the most visited national forest in the nation. Its pristine streams also provide drinking water to nearby communities, and feeds the Colorado River.
• Delaware River basin–The basin spans New Jersey, New York, Pennsylvania and Delaware, is home to three national park areas, and provides drinking water to 15 million people.
• Wayne National Forest–Part of the beautiful Hocking Hills region in Ohio, most of the acres in the forest are to be leased for drilling near the sole drinking water source for 70,000 people.
• George Washington National Forest–this area hosts streams in Virginia and West Virginia that feed the James and Potomac Rivers, which provide the drinking water for millions of people in the metro D.C. area.
• Otero Mesa–A vital part of New Mexico's natural heritage, Otero Mesa is home to wildlife and what is perhaps the largest untapped freshwater aquifer in this parched Southwestern state.
"Today we were counting on Secretary Jewell to protect our natural heritage and environment from dirty drilling. She didn't do it," said John Rumpler, senior attorney for Environment America.
"Fracking is posing a staggering array of threats to our health and environment—especially to our drinking water," Rumpler concluded. "If Secretary Jewell is not willing to confront these threats, then we urge President Obama to step in and protect our natural heritage—and our drinking water—from dirty drilling."
Last year, tens of thousands of Americans submitted comments urging the administration to adopt a much stronger rule to curb damage from dirty drilling in or around our forest, parks and other treasured lands. Yet, the fracking rule proposed today is very limited and its provisions are exceedingly weak:
• Toxic chemicals: Instead of barring the use of toxic chemicals (including diesel), the BLM's rule merely proposes disclosure of such chemicals, in a scheme even weaker than originally proposed last year.
• Well construction: The proposed rule falls short of even the American Petroleum Institute's own standards for fracked wells.
• Wastewater: The rule has drillers submit management plans, but fails to ban waste pits.
"There is no requirement for baseline water testing and no setback requirements to govern how close to homes and schools drilling can happen. The new rules also continue to allow the use of toxic diesel fuel for fracking, as well as open pits for storing wastewater—two practices that we know to be environmentally hazardous," said Ennis.
"The oil and gas industry has gotten used to doing business in a dangerously irresponsible fashion for far too long. Even industry supporters say that oil and gas companies need to stop operating this way. Rather than supporting those calling for reforms, the BLM chose to bow to industry pressure and enable industry's bad practices," said Ennis.
"If President Obama honestly wants to tackle climate change, then he must look for every opportunity to keep dirty fossil fuels in the ground and to double down on clean energy solutions like wind, solar and energy efficiency. The last thing we should be doing is opening up still more public land to drilling and fracking," said Brune.
Visit EcoWatch's FRACKING page for more related news on this topic.
——–
Sign the petition today, telling President Obama to enact an immediate fracking moratorium:

Recycling and general waste plastic wheelie bins awaiting collection for disposal in Newport, Rhode Island. Tim Graham / Getty Images
Reduce. Reuse. Recycle. According to The National Museum of American History, this popular slogan, with its iconic three arrows forming a triangle, embodied a national call to action to save the environment in the 1970s. In that same decade, the first Earth Day happened, the EPA was formed and Congress passed the Resource Conservation and Recovery Act, encouraging recycling and conservation of resources, Enviro Inc. reported.
According to Forbes, the Three R's sustainability catch-phrase, and the recycling cause it bolstered, remain synonymous with the U.S. environmental movement itself. There's only one problem: despite being touted as one of the most important personal actions that individuals can take to help the planet, "recycling" – as currently carried out in the U.S. – doesn't work and doesn't help.
Turns out, there is a vast divide between the misleading, popular notion of recycling as a "solution" to the American overconsumption problem and the darker reality of recycling as a failing business model.
Tiffany Duong is an avid ocean advocate. She holds degrees from UCLA and the University of Pennsylvania Carey Law School and is an Al Gore Climate Reality Leader and student member of The Explorer's Club.
She spent years as a renewable energy lawyer in L.A. before moving to the Amazon to conduct conservation fieldwork (and revamp her life). She eventually landed in the Florida Keys as a scientific scuba diver and field reporter and writes about the oceans, climate, and the environment from her slice of paradise. Follow her on Twitter/Instagram @lilicedt.
EcoWatch Daily Newsletter
The coal-fired Huaneng Power Plant in Huai 'an City, Jiangsu Province, China on Sept. 13, 2020. Costfoto / Barcroft Media via Getty Images
Overall energy demand is expected to rise 4.6 percent this year compared to 2020 and 0.5 percent compared to 2019, according to the IEA's Global Energy Review 2021. Demand for fossil fuels is expected to jump to such an extent that emissions will rise by nearly five percent in 2021. This will reverse 80 percent of the emissions decline reported in 2020, to end emissions just 1.2 percent below 2019 emissions levels. Because the lockdown saw the biggest drop in energy demand since World War II, the projected increase in carbon dioxide emissions will still be the second-highest on record, BBC News pointed out.
"This is a dire warning that the economic recovery from the COVID crisis is currently anything but sustainable for our climate," IEA Executive Director Fatih Birol said in a statement reported by AFP.
Birol said much of that increase was being driven by the resurgence of coal use. In fact, coal demand is expected to increase by 60 percent more than all forms of renewable energy, according to the report. Overall coal demand is expected to increase by 4.5 percent in 2021. More than 80 percent of that growth is in Asia, and more than 50 percent is in China. While coal use is expected to increase in the U.S. and Europe as well, it will remain far below pre-pandemic levels. Still, global coal use is expected to rise to nearly its 2014 peak, BBC News reported.
Natural gas demand is also expected to rise by 3.2 percent in 2021, to put it more than one percent above 2019 levels, according to the report.
There are, however, two bright spots in the report from a climate perspective. The first is that oil demand, while up 6.2 percent from 2020, is still expected to remain around 3 percent below 2019 levels. This is because oil use for ground transportation is not expected to recover until the end of 2021, and oil use for air travel is expected to remain at 20 percent below 2019 levels by December of 2021.
"A full return to pre-crisis oil demand levels would have pushed up CO2 emissions a further 1.5%, putting them well above 2019 levels," the report authors wrote.
The second bright spot is that renewable energy demand is set to rise in all sectors in 2021. In power, where its rise is the greatest, it is set to increase by more than eight percent. This is "the largest year-on-year growth on record in absolute terms," the report authors wrote.
Renewable energy will provide 30 percent of electricity overall, BBC News reported, which is the highest percentage since the industrial revolution. The problem is that the increase in renewables is running parallel to an increase in fossil fuels in some places. China, for example, is also expected to account for almost half of the rise in renewable electricity.
"As we have seen at the country-level in the past 15 years, the countries that succeed to cut their emissions are those where renewable energy replaces fossil energy," energy expert and University of East Anglia professor Corinne Le Quéré told BBC News. "What seems to be happening now is that we have a massive deployment of renewable energy, which is good for tackling climate change, but this is occurring alongside massive investments in coal and gas. Stimulus spending post-Covid-19 worldwide is still largely funding activities that lock us into high CO2 emissions for decades."
To address this issue, Birol called on the world leaders gathering for U.S. President Joe Biden's climate summit Thursday and Friday to pledge additional action before November's UN Climate Change Conference, according to AFP.
"Unless governments around the world move rapidly to start cutting emissions, we are likely to face an even worse situation in 2022," said Birol.
From Your Site Articles
Related Articles Around the Web
A grizzly bear killed an outdoor guide in a rare attack near Yellowstone Park. William Campbell / Corbis / Getty Images
Representative Alexandria Ocasio-Cortez (D-NY) re-introduces the Green New Deal in Washington, D.C. on April 20, 2021. Mandel Ngan / AFP / Getty Images
By Brett Wilkins
In the latest of a flurry of proposed Green New Deal legislation, Reps. Cori Bush and Alexandria Ocasio-Cortez on Monday introduced the Green New Deal for Cities Act of 2021, a $1 trillion plan to "tackle the environmental injustices that are making us and our children sick, costing us our homes, and destroying our planet."
Offshore oil and gas drillers have left more than 18,000 miles of pipelines at the bottom of the Gulf of Mexico. Drew Angerer / Getty Images
Offshore oil and gas drillers have discarded and abandoned more than 18,000 miles of pipelines on the floor of the Gulf of Mexico since the 1960s, a report from the Government Accountability Office says.
The industry has essentially recovered none of the pipelines laid in the Gulf in the last six decades; the abandoned infrastructure accounts for more than 97% of all of the decommissioned pipelines in the Gulf.
The pipelines pose a threat to the habitat around them, as maritime commerce and hurricanes and erosion can move sections of pipeline.
The Bureau of Safety and Environmental Enforcement does not conduct undersea inspections even though surface monitoring is "not always reliable for detecting ruptures," according to the GAO.
For a deeper dive:
For more climate change and clean energy news, you can follow Climate Nexus on Twitter and Facebook, sign up for daily Hot News, and visit their news site, Nexus Media News.