Bernie Slams Trump on The Tonight Show With Jimmy Fallon
Dec. 09, 2015 10:48AM EST
Climate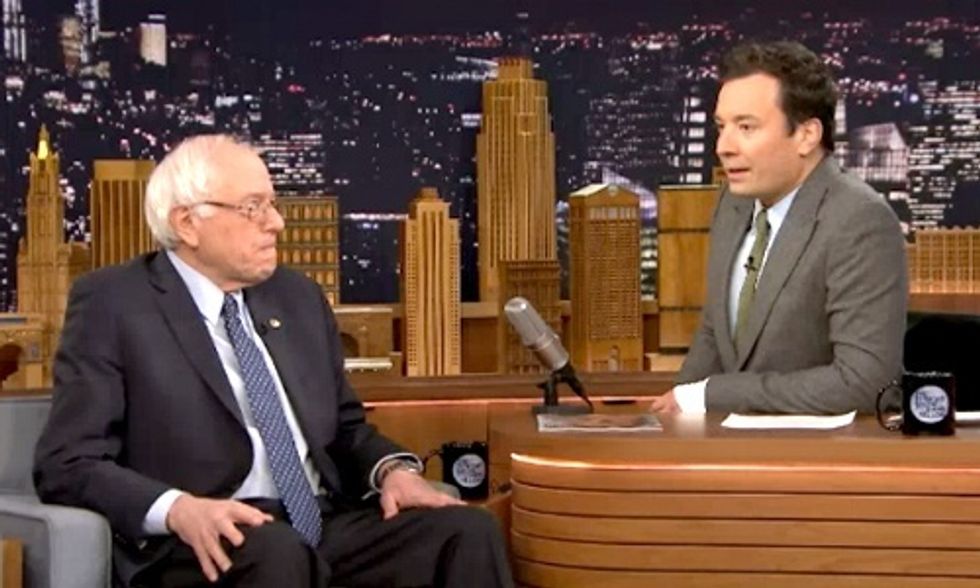 Bernie Sanders made an appearance on The Tonight Show featuring Jimmy Fallon to talk about his presidential run and, of course, Donald Trump. Fallon pointed out that if elected, Sanders would be the first president since Franklin Roosevelt to hail from New York, and if he and Donald Trump both win their parties' nominations, it would be the "battle of the New York boys."
"I look forward to that one," Sanders laughed. Fallon asked the Vermont senator to respond to Trump's recent comments on Muslims, in which he called for a "total and complete shutdown of Muslims entering the United States."
"Throughout history, you've had demagogues trying to divert attention away from the real issues," said Sanders. "And what someone like Trump is trying to do is divide us up. A few months ago, we were supposed to hate Mexicans that he thinks are all criminals and rapists. Now, we are supposed to hate Muslims. And that kind of crap is not going to work in the United States of America."
The crowd erupted in applause. Sanders then dove into the core themes of his campaign: a disappearing middle class, a corrupt campaign finance system, a massive wealth gap and climate change.
"He outlined for several minutes the need to take more seriously the effects of climate change, like rising sea levels, heat waves and increasingly severe droughts, and to push back against the oil and gas industry's financial influence," said the New York Times.
"We owe it to future generations to move aggressively to save this planet," Sanders said to rapturous applause from the crowd.
Sanders unveiled his 16-page climate plan on Monday, in which he calls for a revenue-neutral carbon tax and a 40 percent cut in emissions over 1990 levels by 2030 and 80 percent by 2050. He also wants to repeal fossil fuel subsidies, ban fossil fuel lobbying, make massive investments in energy efficiency and renewables, and create a "clean-energy workforce" that would provide 10 million Americans with clean energy jobs.
Also on Monday, Sanders was voted TIME's "Person of the Year" in a readers' poll, garnering 10.2 percent of the vote. He placed far ahead of 2014 Nobel Peace Prize recipient Malala Yousafzai, who received 5.2 percent.
YOU MIGHT ALSO LIKE
Arnold Schwarzenegger Doesn't 'Give a ****' Whether You Agree With Him on Climate Change
Monsanto to Be Put on Trial for 'Crimes Against Nature and Humanity'
21 Teens Tell Exxon and Koch Brothers: Get Out of Our Lawsuit
Bernie Wins Readers' Poll for TIME Person of the Year But Gets Snubbed as Trump Makes Shortlist
EcoWatch Daily Newsletter
Recent Stories from EcoWatch