This website uses cookies to ensure you get the best experience while browsing it. By clicking 'Got It' you're accepting these terms.


The best of EcoWatch, right in your inbox. Sign up for our email newsletter!
Cyclone Idai hit the Mozambican coast earlier this month, devastating the port city of Beira and killing at least 700 people in Mozambique, Zimbabwe and Malawi. GUILLEM SARTORIO / AFP / Getty Images
By Michael Novick
Environmental catastrophes in southern Africa and in the U.S. Midwest underscore the fact that life-threatening damage from capitalist-induced climate change is happening already.
Tom Hilton / CC BY 2.0
By Tiffany Higgins
It's a frigid December morning when I meet Chairman Joseph Holley at the Te-Moak tribal headquarters in Elko, Nevada, seven hours north of Las Vegas. Holley, tall and round-faced, offers me a cup of coffee. He has the burly build of a man who worked 37 years in the area's gold mines, drilling aboveground and digging below the surface.
EcoWatch Daily Newsletter
"Given the right circumstances of inclusion and support, people can't resist expressing their love and concern for this greatest of all relatives, our Earth." YES! Illustration / Fran Murphy
By Mary Annette Pember
Resistance to the North Dakota Access Pipeline at Standing Rock brought greater media and public attention to Native peoples and our struggles with environmental injustice. It also provided a means for the public to express fears over the environmental threats posed to the Earth by unchecked corporate and governmental exploitation of fossil fuels.
EPA headquarters in Washington, D.C., where six racist messages have been found on a shared whiteboard since August. krblokhin / Getty Images
The U.S. Environmental Protection Agency (EPA)'s chief of staff assured employees on Monday that the agency would investigate after a series of racist messages were written on a whiteboard in EPA headquarters, ABC News reported.
"EPA has no tolerance for racism and will investigate and hold the individuals who are spreading these messages responsible. Concerning the most recent instance, EPA is taking every measure to both find who did this and protect our employees," chief of staff Ryan Jackson said in the email.
Left: Valerie Hegarty. Photo from the Brooklyn Museum, Right: Collection Lannan Foundation © Subhankar Banerjee
By Patrick Rogers
The fact that nature and nation share a common root—the Latin verb nasci, "to be born"—might rate as trivia to most people. But in the context of early American art, at least, the connection has profound cultural meaning. Paintings of natural vistas, from New York's Hudson Valley to the purple mountains and red deserts of the West, became early symbols of a young nation and its so-called manifest destiny. In the minds of many early Americans and pioneers, the land was out there for "us" (as in, men of European decent) to celebrate—but also to conquer. The very idea of American civilization meant destroying some of those beautiful, natural vistas to build the cities, farms, and factories of the future.
Deforestation in the Amazon. Getty Images
A first-of-its-kind study published Monday shows that tax havens don't just shelter the wealth of celebrities and large corporations—they also obscure the financial transactions behind environmental destruction.
By Jake Johnson
Declaring that climate change is "an issue of survival" that must be confronted with urgency, young activists across the globe on Saturday kicked off three days of marches and demonstrations to pressure elected officials to "reject the corrupting monetary influence of fossil fuel executives," ban all new dirty energy developments, and safeguard the planet for both its current inhabitants and future generations.
By Bartees Cox and Shravya Jain
Without a touch of irony, the EPA celebrated Black History Month by publishing a report that finds black communities face dangerously high levels of pollution. African-Americans are more likely to live near landfills and industrial plants that pollute water and air and erode quality of life. Because of this, more than half of the 9 million people living near hazardous waste sites are people of color, and black Americans are three times more likely to die from exposure to air pollutants than their white counterparts.
AdamChandler86 / Flickr
The NAACP is launching a major environmental justice campaign on Jan. 13 to mark the Martin Luther King, Jr. Day of Service.
The "Solar Equity Initiative" aims to provide solar job skills training to 100 individuals, install solar panels on more than 30 homes and community centers in low-income neighborhoods and communities of color, and strengthen equity in solar access policies in at least five states.
For decades all across America, coal-fired power plants have dumped tons of toxic pollutants into public rivers, lakes, streams and coastal waters. On a toxicity-weighted scale, discharges from coal-fired power plants account for over one half of all toxic water pollution in the U.S. The pollutants dumped by coal-fired power plants are among the most toxic heavy metals listed by the U.S. Department of Health's Agency for Toxic Substances and Disease Registry, including arsenic, cadmium, chromium, lead, mercury and selenium.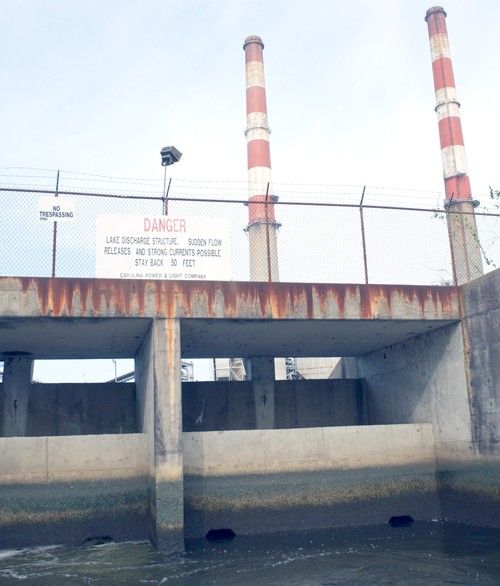 The Sutton coal-fired power plant in Wilmington, NC, is a prime example of a coal-fired power plant with a long history of groundwater pollution, surface water contamination and government failure to prevent harm to public waterways.
Underneath the sand and pine trees that surround Sutton, an unseen plume of toxic heavy metals has migrated out of the unlined ash ponds into groundwater. Monitoring well data from the site show the ash ponds have caused numerous pollutants to exceed their respective standards, including:
Arsenic at 34 times the standard
Manganese at 47 times the standard
Iron at 27 times the standard
Boron at four times the standard
Sulfate more than three times the standard
Thallium at three times the standard
Selenium at more than twice the standard
Total Dissolved Solids at twice the standard
Chloride
Antimony
Lead
Unbeknownst to most of the people living in Wilmington, NC, this hidden toxic witches brew of contamination is flowing towards public water supplies that provide drinking water to the community of Flemington. These wells are operated by the Cape Fear Public Utility Authority and are located less than a mile from the leaking Sutton coal ash ponds.