This website uses cookies to ensure you get the best experience while browsing it. By clicking 'Got It' you're accepting these terms.
As Obama Signals Surrender to TransCanada, It's Time to Focus on Keystone XL's Southern Leg
Mar. 20, 2013 01:28PM EST
Energy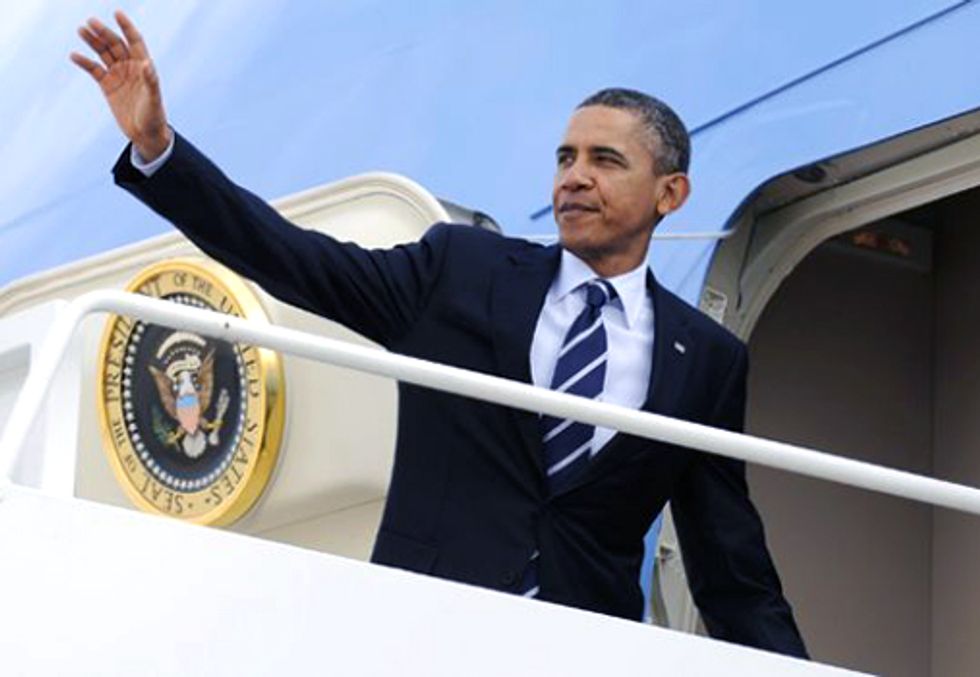 Why aren't all Keystone XL opponents loudly demanding that President Obama stop construction of the pipeline's 485-mile southern leg that is destroying the lives of our fellow Americans in Texas and Oklahoma? This is a classic case of something being hidden in plain view.
By approving construction of Keystone XL's southern leg last spring, our "I'm all for pipelines" president not only sold out the people of Texas and Oklahoma, he is currently lighting the fuse to the tar sands "carbon bomb."
I ask in the name of loving justice: why isn't blocking the actual construction of Keystone XL's southern leg being met with the same level of outrage by everyone as blocking the potential construction of the pipeline's northern leg?
Let me state clearly that I honor and respect the hard work and personal sacrifice of everyone who is engaged in the fight against Keystone XL. As a former presidential campaign operative, I understood–but vehemently disagreed with (along with many others)–the decision by Obama's political allies to shield their candidate from Keystone XL criticisms during the 2012 election, but there can be no excuse for protecting him now. The campaign is over and Obama can't run again, so he no longer needs political cover.
With the knowledge that completion of Keystone XL's southern leg would open the floodgates to Canadian tar sands exploitation comes a moral obligation—to our children, to future generations and to all the other beings with whom we share this miraculous planet—to stop its construction.
TIME's senior national correspondent, Michael Grunwald, recently wrote:
"Keystone isn't a perfect battlefield, but neither was Selma or Stonewall. In a war, you don't always get to choose where to fight. You still have to show you're willing to fight."
To extend the analogy a bit further, Texas and Oklahoma may not be where everyone wants to fight, but they are the front lines of this war right now. Obviously, we must do everything in our power to ensure that the president also rejects TransCanada's permit for the northern leg, but "stopping Keystone XL" means stopping the construction of the southern leg that is already halfway completed and on track to begin pumping tar sands slurry from Alberta's mine fields to Gulf Coast refineries by the end of this year.
We need to show this corporate bully what the American people are made of by using every creative and nonviolent means at our disposal to terminate Keystone XL. Here are a few of the opportunities to take a stand against this tar sands monstrosity in the coming weeks. Participate in the Tar Sands Blockade's March Week of Action from now through March 23. Join the Interfaith Moral Action on Climate on March 21 for a nonviolent civil disobedience at the White House. Contribute to the legal defense of Marine veteran Michael Bishop and other brave landowners who are fighting Keystone XL in court. Sign the petition demanding that Obama stop Keystone XL in its entirety. Or come up with an action of your own.
Last Friday, White House officials briefing reporters on Air Force One strongly indicated that President Obama would approve the northern leg of Keystone XL, while downplaying the pipeline's dangerous climate impacts. This should not really come as a surprise, given the president's earlier approval of the southern leg, but it is a slap in the face to everyone who has literally demonstrated our expectations of this White House.
Humanity is in a climate fight for survival. Pinning our hopes on compromised politicians to save us is futile. It is up to We the People to demand justice, for our fellow Americans in Texas and Oklahoma, and for all life on Earth. Together, we must end the tyranny of fossil fuel pushers and put America back to work leading a green industrial revolution before the clock runs out on us all.
Visit EcoWatch's KEYSTONE XL page for more related news on this topic.
——–
EcoWatch Daily Newsletter
Pro-environment demonstrators on the streets of Washington, DC during the Jan. 20, 2017 Trump inauguration.
Mobilus In Mobili
/ Flickr /
CC BY-SA 2.0
By Dr. Brian R. Shmaefsky
One year after the Flint Water Crisis I was invited to participate in a water rights session at a conference hosted by the US Human Rights Network in Austin, Texas in 2015. The reason I was at the conference was to promote efforts by the American Association for the Advancement of Science (AAAS) to encourage scientists to shine a light on how science intersects with human rights, in the U.S. as well as in the context of international development. My plan was to sit at an information booth and share my stories about water quality projects I spearheaded in communities in Bangladesh, Colombia, and the Philippines. I did not expect to be thrown into conversations that made me reexamine how scientists use their knowledge as a public good.
Mt. Rainier and Reflection Lake on Sept. 10, 2015. Crystal Geyser planned to open a bottling plant near Mt. Rainier, emails show.
louelke - on and off / Flickr
Bottled water manufacturers looking to capture cool, mountain water from Washington's Cascade Mountains may have to look elsewhere after the state senate passed a bill banning new water permits, as The Guardian reported.
Large storage tank of Ammonia at a fertilizer plant in Cubatão, Sao Paulo State, Brazil. Luis Veiga / The Image Bank / Getty Images
The shipping industry is coming to grips with its egregious carbon footprint, as it has an outsized contribution to greenhouse gas emissions and to the dumping of chemicals into open seas. Already, the global shipping industry contributes about 2 percent of global carbon emissions, about the same as Germany, as the BBC reported.
At high tide, people are forced off parts of the pathway surrounding DC's Tidal Basin. Andrew Bossi /
Wikimedia
The Jefferson Memorial in Washington, DC overlooks the Tidal Basin, a man-made body of water surrounded by cherry trees. Visitors can stroll along the water's edge, gazing up at the stately monument.
But at high tide, people are forced off parts of the path. Twice a day, the Tidal Basin floods and water spills onto the walkway.
Lioness displays teeth during light rainstorm in Kruger National Park, South Africa. johan63 / iStock / Getty Images
Ahead of government negotiations scheduled for next week on a global plan to address the biodiversity crisis, 23 former foreign ministers from various countries released a statement on Tuesday urging world leaders to act "boldly" to protect nature.