Apple to Clean Up Act in China With Huge Investments in Renewable Energy
Oct. 22, 2015 09:59AM EST
Business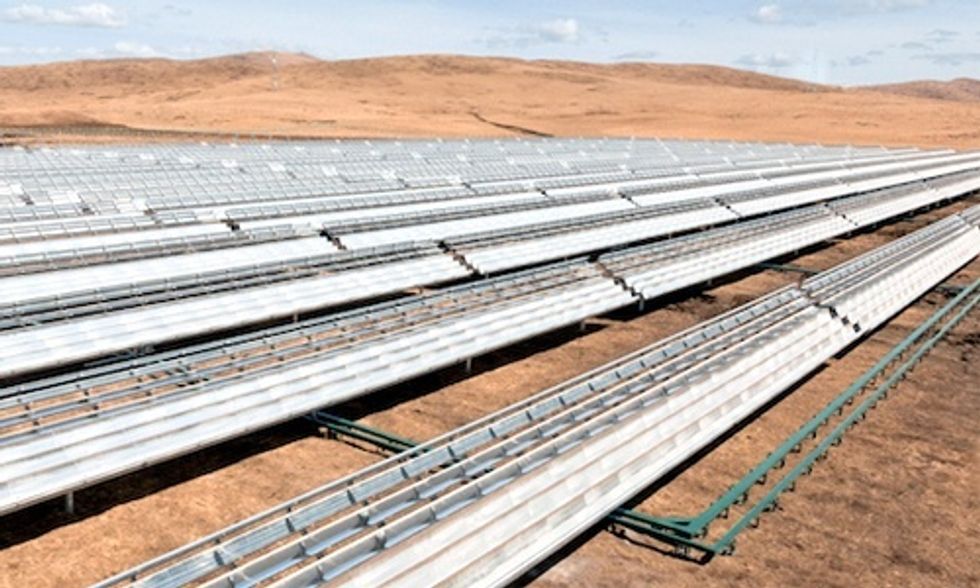 Apple, the world's most valuable company, is known for being a green leader, especially in the last four years since Tim Cook became CEO. All of their data centers, stores and offices in the U.S. run on 100 percent renewable energy, the solar farm they are currently building in Monterey, California is purported to be Apple's "biggest, boldest and most ambitious project ever," and the company's current CEO even told climate-denying shareholders last year to "get out of stock."
Now, Apple is taking on a new eco-challenge: "cleaning up its manufacturing operations in China to reduce air pollution caused by the factories" that assemble its products, according to the Associated Press.
Apple Announces New China Clean Energy Programs for Manufacturing Partners https://t.co/LisITlbj7Y https://t.co/f9rjTarLSX

— Apple News (@Apple News) 1445478138.0
The company is working with its suppliers to eventually produce 2.2 gigawatts (GW) of solar, wind and hydroelectric power. To start, Apple will finance solar panels capable of generating about 200 megawatts (MW) of power in the northern, southern and eastern regions of China.
"Climate change is one of the great challenges of our time, and the time for action is now," Cook said. "The transition to a new green economy requires innovation, ambition and purpose."
Leaving the world better than we found it: 2 gigawatts of renewable energy for manufacturing in China by 2020. https://t.co/LYuRiejUtV

— Tim Cook (@Tim Cook) 1445485816.0
According to the AP:
Apple will work with its suppliers to "build the capacity" for the remaining two GW of renewable power. "Foxconn, which runs the factory where the most iPhones are assembled, is pledging to contribute 400 megawatts of solar power as part of the two-gigabyte commitment. The solar panels to be built by 2018 in China's Henan Province are supposed to produce as much renewable energy as Foxconn's Zhengzhou factory consumes while making iPhones."
"When you look at all the air pollution in China, all the manufacturing that is done there has a lot to do with it, so this is a significant step in the right direction," said Gary Cook, a senior analyst for Greenpeace.
According to Apple:
"Construction on 40 megawatts of solar projects in the Sichuan Province" of China is now finished. The projects "produce more than the total amount of electricity used by Apple's offices and retail stores in China, making Apple's operations carbon neutral in China.
"Today the company is powering 100 percent of its operations in China and the U.S., and more than 87 percent of its worldwide operations, with renewable energy."
As the AP notes, the company "has a financial incentive" to clean up China's environment because "the greater China region is Apple's second biggest market behind the U.S." And the effort to clean up comes at a crucial time in the fight to forestall the devastating effects of climate change.
"We need governments and companies to transition us to renewable energy as rapidly as possible, and Apple's announcement today is a major step forward in building a renewably powered supply chain for its products," said Greenpeace's Cook. "We have seen Apple lead the sector in building a renewably powered internet, and hope that Samsung, Microsoft, and other IT companies will follow their lead in manufacturing their cutting-edge devices with a 21st century energy supply."
Apple estimates that "20 million metric tons of greenhouse gas pollution will be avoided as more of its suppliers rely on renewable energy between now and 2020, equivalent to taking nearly 4 million passenger vehicles off the road for one year." And Google, Facebook and other tech companies are heavily investing in renewables as well, a move that has environmental groups cheering
"Electronics manufacturing uses large amounts of energy in China and globally and is growing rapidly, estimated to be as much as two percent of total global electricity use by 2017," said Cook. "Much of the electronics manufacturing industry is based in China, which relies heavily on coal for electricity generation, underscoring the importance of shifting manufacturing toward renewable energy to reduce air pollution and carbon emissions."
YOU MIGHT ALSO LIKE
It's Time to Jump on the Train to the Future: All Aboard the Low Carbon Express
EcoWatch Daily Newsletter
Related Articles from EcoWatch
Recent Stories from EcoWatch