Another Earthquake Hits Oklahoma: Officials Worry Stronger Quake Could Threaten National Security
Officials in frack-happy Oklahoma are continuing to express concern over the state's alarming earthquake boom. If a strong one strikes the northwestern city of Cushing—one of the largest crude oil storage facilities in North America, if not the world—it could disrupt the U.S. energy market and become a national security threat, NPR reports.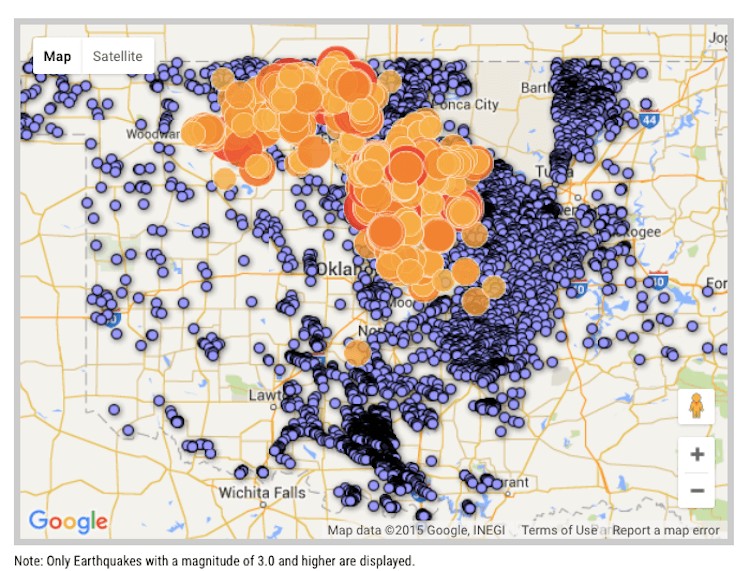 Photo credit: Earthquakes.ok.gov
Mike Moeller, senior director of mid-continent assets for Unbridle Energy, explained to NPR that, so far, the state's uptick in tremors have not affected company operations.
However, Moeller noted that the company's 18 tanks, which hold between 350,000 to 575,000 of oil, are not built to withstand serious earthquakes, especially since earthquakes used to be so rare in Oklahoma.
As EcoWatch reported in September, before 2009 Oklahoma had two earthquakes a year, but now there are two per day. Oklahoma has more earthquakes than anywhere else in the world, a spokesperson from the Oklahoma Corporation Commission said earlier this month.
The possibility of a Big One striking Cushing, which holds an estimated 54 million barrels of oil, could be a national security issue.
"I have had conversations with Homeland Security. They're concerned about the tanks mostly," Daniel McNamara, a U.S. Geological Survey Research geophysicist, told NPR. He added that the faults underneath Cushing could be prime for more shaking.
Scientists have linked the Sooner State's spike in seismic activity to the country's oil and gas boom. It's believed that the injection of wastewater byproducts into deep underground disposal wells from fracking operations are putting pressure on faults and triggering the earthquakes.
In response, the Oklahoma Corporation Commission (which oversees the state's oil and gas industry) has been prompted to make changes to hundreds of disposal wells around the state, including the shutdown of several wells near Cushing.
However, NPR noted that the seismic activity near the oil hub resumed when the wells came back online. Oklahoma has about 4,500 disposal wells with about 3,500 still in operation, suggesting that the near-daily earthquakes are far from over unless some major changes are made.
Incidentally, a 4.7 magnitude earthquake was felt in the city of Medford this morning at 3:49 a.m.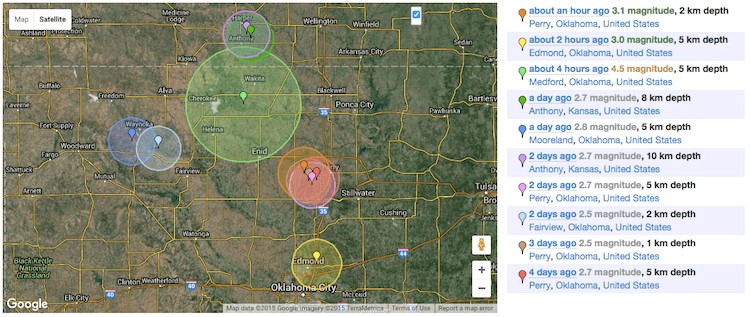 Photo credit: Earthquaketrack.com
According to Tusla World, Monday's temblor was the state's strongest since a 4.7 magnitude earthquake struck northern Oklahoma just two weeks ago. That quake was the strongest earthquake since 2011 and was felt in seven other states.
Oklahoma residents and even residents from neighboring states took to Twitter to share how this morning's Medford earthquake has rattled both their homes and their nerves.
YOU MIGHT ALSO LIKE 
Strong Earthquake Rattles Oklahoma, Felt in 7 Other States
A coalition of conservation groups and others announced Thursday that a historic number of comments and petitions of support have been submitted to the U.S. Department of the Interior in support of Bears Ears National Monument. Despite the entirely inadequate 15-day comment period ending on May 26, more than 685,000 comments in support of Bears Ears National Monument have been collected.
Keep reading...
Show less
Rink Glacier in western Greenland, with a meltwater lake visible center. NASA/OIB
Scientists have had their eyes on Greenland as its iconic glaciers have begun disappearing due to a warming climate. But, what they didn't expect to see was a whole new type of melting.
Keep reading...
Show less
Mountain View Fire
By Lena Moffitt
An oil tanker in Mead, Colorado exploded, killing one and injuring three on Thursday. Authorities are continuing to investigate the cause of the explosion.
Keep reading...
Show less
Banner created by Alliance for Climate Education
Keep reading...
Show less
Twenty-two GOP senators sent a letter Thursday urging Donald Trump to pull out of the Paris agreement. They argued remaining in the deal could "upend" the administration's ability "to fulfill its goal of rescinding the Clean Power Plan."
Keep reading...
Show less
By Cheryl Johncox
The Federal Energy Regulatory Commission (FERC) rejected on Thursday Energy Transfer Partners' request to resume horizontal directional drilling at two sites for its Rover fracked gas pipeline. This rejection comes after numerous leaks into Ohio's wetlands, and Clean Air and Clean Water act violations. FERC has halted the process at only eight locations of the 32 where drilling is taking place under Ohio's wetlands and streams.
Keep reading...
Show less
By Nadia Prupis
A majority of people in eight countries say they are ready to change their lifestyles if it would prevent climate catastrophe, a survey on global threats released Wednesday found.
Keep reading...
Show less
May. 25, 2017 01:55PM EST
Bill Maher is sick of billionaires' obsession with Mars, more like "Mars-a-Lago," he said.
In a new animation produced by ATTN:, the popular talk show host of Real Time, discusses the perils of our planet, including how "climate change is killing us."
Keep reading...
Show less