Another Earthquake Hits Oklahoma: Officials Worry Stronger Quake Could Threaten National Security
Officials in frack-happy Oklahoma are continuing to express concern over the state's alarming earthquake boom. If a strong one strikes the northwestern city of Cushing—one of the largest crude oil storage facilities in North America, if not the world—it could disrupt the U.S. energy market and become a national security threat, NPR reports.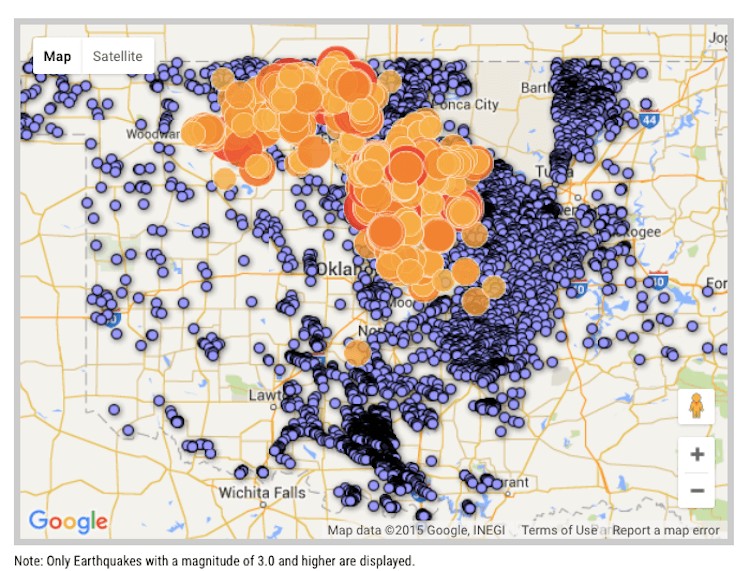 Photo credit: Earthquakes.ok.gov
Mike Moeller, senior director of mid-continent assets for Unbridle Energy, explained to NPR that, so far, the state's uptick in tremors have not affected company operations.
However, Moeller noted that the company's 18 tanks, which hold between 350,000 to 575,000 of oil, are not built to withstand serious earthquakes, especially since earthquakes used to be so rare in Oklahoma.
As EcoWatch reported in September, before 2009 Oklahoma had two earthquakes a year, but now there are two per day. Oklahoma has more earthquakes than anywhere else in the world, a spokesperson from the Oklahoma Corporation Commission said earlier this month.
The possibility of a Big One striking Cushing, which holds an estimated 54 million barrels of oil, could be a national security issue.
"I have had conversations with Homeland Security. They're concerned about the tanks mostly," Daniel McNamara, a U.S. Geological Survey Research geophysicist, told NPR. He added that the faults underneath Cushing could be prime for more shaking.
Scientists have linked the Sooner State's spike in seismic activity to the country's oil and gas boom. It's believed that the injection of wastewater byproducts into deep underground disposal wells from fracking operations are putting pressure on faults and triggering the earthquakes.
In response, the Oklahoma Corporation Commission (which oversees the state's oil and gas industry) has been prompted to make changes to hundreds of disposal wells around the state, including the shutdown of several wells near Cushing.
However, NPR noted that the seismic activity near the oil hub resumed when the wells came back online. Oklahoma has about 4,500 disposal wells with about 3,500 still in operation, suggesting that the near-daily earthquakes are far from over unless some major changes are made.
Incidentally, a 4.7 magnitude earthquake was felt in the city of Medford this morning at 3:49 a.m.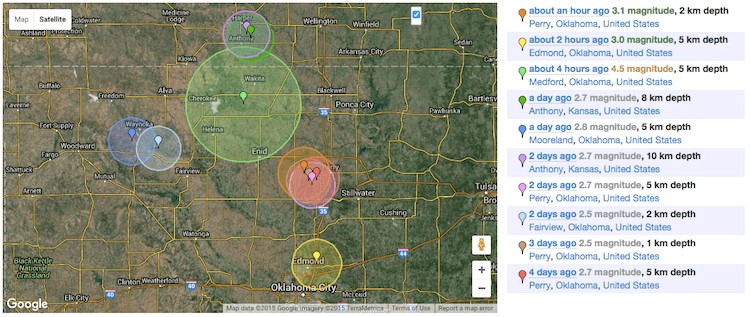 Photo credit: Earthquaketrack.com
According to Tusla World, Monday's temblor was the state's strongest since a 4.7 magnitude earthquake struck northern Oklahoma just two weeks ago. That quake was the strongest earthquake since 2011 and was felt in seven other states.
Oklahoma residents and even residents from neighboring states took to Twitter to share how this morning's Medford earthquake has rattled both their homes and their nerves.
YOU MIGHT ALSO LIKE 
Strong Earthquake Rattles Oklahoma, Felt in 7 Other States
Glyphosate, the main ingredient in Monsanto's widely used herbicide Roundup, will be added July 7 to California's list of chemicals known to the state to cause cancer, according to a Reuters report Tuesday. This news comes after the company's unsuccessful attempt to block the listing in trial court and requests for stay were denied by a state appellate court and California's Supreme Court.
California's Office of Environmental Health Hazard Assessment (OEHHA) announced the designation on Monday under the Safe Drinking Water and Toxic Enforcement Act of 1986, or Proposition 65.
Keep reading...
Show less
www.facebook.com
Keep reading...
Show less
Researchers from the Marine Animal Response Society examine one of the dead right whales. Marine Animal Response Society
Canadian government officials and marine biologists are investigating the mysterious deaths of six North American right whales. The endangered animals all turned up dead between June 6 and June 23 in the Gulf of St. Lawrence, off Canada's southeastern coast.
North Atlantic right whales are the rarest of all large whale species and among the rarest of all marine mammal species, with only about 450 right whales in the North Atlantic.
Keep reading...
Show less
Scott Pruitt testifies during his Senate confirmation hearing for EPA administrator, January 2017.
The U.S. Environmental Protection Agency's (EPA) chief of staff pressured the leader of its Board of Scientific Counselors to change her congressional testimony to downplay the impact of the agency's mass dismissal of scientists from the board, the New York Times reports.
Keep reading...
Show less
By Jason Mark
Sequoiadendron giganteum. That's the scientific name for the giant sequoia: the mammoth trees found in California's Sierra Nevada that are the largest organisms on Earth, and among the longest-lived. Biologists estimate that about half of all sequoias live in Giant Sequoia National Monument, a 328,000-acre preserve in the Southern Sierra Nevada established by President Clinton in 2000.
Now that national monument is in jeopardy.
Keep reading...
Show less
By Andy Rowell
Donald Trump this week is launching an "energy week," pushing the argument that the U.S. will become a net exporter of oil and gas.
The president and his cronies are talking about a new era of "U.S. energy dominance," which could stretch for decades to come. However, no one believes the president anymore.
Keep reading...
Show less
UN
By Colleen Curry
The United Nations has designated 23 new sites around the world to its World Network of Biosphere reserves—stunning natural landscapes that balance environmental and human concerns and strive for sustainability.
The forests, beaches and waterways were added to the list this year at the International Coordinating Council of the Man and the Biosphere Programme meeting in Paris earlier this month.
Keep reading...
Show less
Jun. 26, 2017 01:48PM EST
www.elysee.fr
By Andy Rowell
There is a growing feeling within European capitals that a quiet, but deeply positive, revolution is happening under Emmanuel Macron in France.
Macron's opinion poll rating is high, especially boosted in how the young French president has reacted to Donald Trump on the international stage.
Keep reading...
Show less
Jun. 26, 2017 12:32PM EST
www.facebook.com
Keep reading...
Show less