Amending Michigan's Constitution to Ban Fracking
Aug. 23, 2012 06:08AM EST
Energy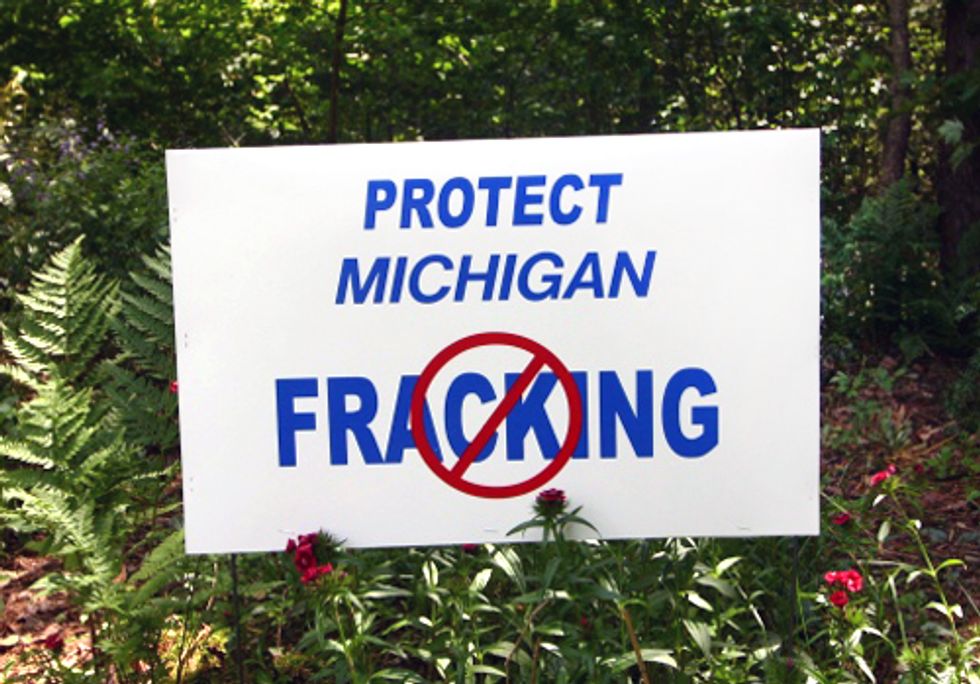 By LuAnne Kozma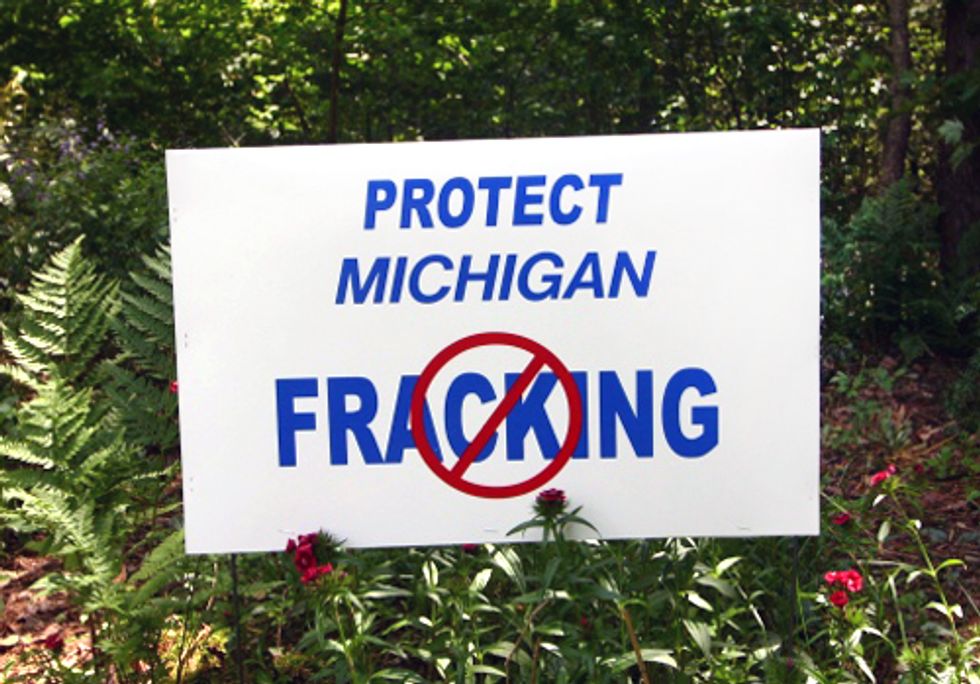 The citizen-led statewide ballot initiative to ban fracking in Michigan by amending the state constitution has continued through the summer and now enters the 2012 campaign season. While other states have banned or are trying to ban fracking legislatively, the Committee to Ban Fracking in Michigan is gathering voters' signatures to place a proposed constitutional amendment on a statewide ballot.
It's called direct democracy. It must be done face-to-face on the campaign's own petition sheets, voter-to-voter. The campaign is seeking more volunteers and donations to expand its work on college campuses.
We need this particular fix in Michigan. Our state legislators and governor will not pursue a ban. Exploratory frack wells have already started in Michigan. Michigan has the most private water wells of any state. More than 1,000 toxic injection wells are already in place.
The frack industry gives freely to elected officials and legislators. The gas industry has been buying up acres and acres of leases. The state is leasing out mineral rights to Big Gas even under state parks, recreation areas and state forests.
Little by little, Michiganders are waking up to the frightening news that a network of frack wells and pipelines will soon be coming to their part of the state. The first frack wells are being permitted in state forests and on private lands in Kalkaska, Missaukee, Cheboygan, Ogemaw, Hillsdale, Roscommon and Gladwin Counties.
The language of the proposed amendment is inspired by ban legislation in New Jersey and New York. The petition reads:
A proposal to amend the Constitution by adding a new Section 28 to Article I:
"To insure the health, safety, and general welfare of the people, no person, corporation, or other entity shall use horizontal hydraulic fracturing in the State. 'Horizontal hydraulic fracturing' is defined as the technique of expanding or creating rock fractures leading from directional wellbores, by injecting substances including but not limited to water, fluids, chemicals, and proppants, under pressure, into or under the rock, for purposes of exploration, drilling, completion, or production of oil or natural gas. No person, corporation, or other entity shall accept, dispose of, store, or process, anywhere in the State, any flowback, residual fluids, or drill cuttings used or produced in horizontal hydraulic fracturing."
To get the petition drive started, we formed the required "ballot question committee"—a type of political action committee registered with the Michigan Bureau of Elections—and received approval from the Board of State Canvassers.
Not deterred by the misinformation tactics of the gas industry's PR machine, Energy in Depth, nor by the newness of the issue to Michigan voters, we are picking up steam this fall by coordinating on college and university campuses and reaching out to many small groups and businesses. As we stand at farmer's markets and festivals, we hear the repeated question "What's fracking?" and we have the chance to explain.
More than 21,000 people signed the petition earlier in the year. A six-month window is allowed to collect the required 322,609 signatures. When we submit the signatures, the ballot proposal would then qualify for the next statewide ballot in 2014—two full years away. During the intervening years, unfortunately, the frack industry will wreak havoc. We expect explosions, accidents, water buffaloes for contaminated landowners, plummeting real estate prices and other calamities as the issues come more to light. Already people near frack well sites are moving and trying to sell their property. Thousands of people are worried.
What many people are surprised to hear is how little support the amendment effort gets from the standard "environmental" groups. For various reasons—from having other issues that are pending, to wanting easier "wins" to having alliances with the gas industry—some established groups are foregoing the heavy lifting. Instead, we are finding strength in numbers from ordinary people who readily understand the imminent threat to our water, air and landscape, and the horrific health issues that would come with widespread fracking. As people become aware that the entire Lower Peninsula will be fracked, they have that "ah-ha" moment as they realize that fracking will affect their lives if they don't act now.
Gathering signatures on the petition is what is needed. We urge Michigan voters to volunteer.
By the time 2014 rolls around, the groups that stood on the sidelines in silence or opposition might be grateful to the hardy voters who stood up for democracy, talked with others about banning fracking at parks and farmer's markets with petitions on clipboards, and urged others to take direct action now to ban fracking in the constitution.
We have the power. Let's get it on the ballot!
Visit EcoWatch's FRACKING page for more related news on this topic.
--------
LuAnne Kozma is the campaign director of Committee to Ban Fracking in Michigan and a co-founder of the non profit group Ban Michigan Fracking. She can be reached at [email protected].
EcoWatch Daily Newsletter
Related Articles from EcoWatch