This website uses cookies to ensure you get the best experience while browsing it. By clicking 'Got It' you're accepting these terms.
9 Benefits of Arugula
Jun. 30, 2014 10:36AM EST
Arugula's aromatic, peppery flavor adds a wonderful dimension to a salad, to your health and maybe even your sex life.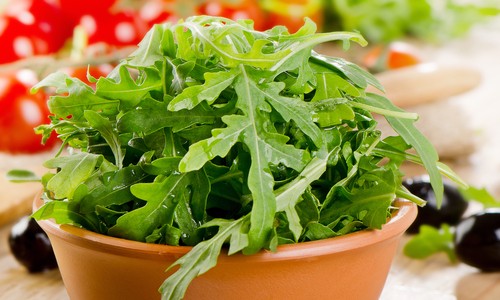 Arugula has been used as an aphrodisiac since the first century. Photo courtesy of Shutterstock
Arugula is also known by other names such as salad rocket, garden rocket, roquette, rucola, rugula or colewort. The scientific name of arugula is Eruca sativa.
"Arugula is an elixir that gives flavor to life."
—Dennis Lybeer
9 Arugula Health Benefits
1. Cancer Fighting Powerfood
Arugula is one of the brassica family vegetables along with broccoli, cauliflower and cabbage. These vegetables are high in fiber and antioxidants, and also rich in glucosinolates, which studies show may reduce the risk of developing lung, prostate, breast and pancreatic cancer.
2. Rich in Chlorophyll
Chlorophyll can help to prevent liver and DNA damage from aflatoxins. To get the most chlorophyll in arugula, it is best to eat it raw.
3. Hydrating Leafy Green
Arugula is composed of 90 percent water. That's why it's a perfect hydrating and cooling food in the summer.
4. Good for Bone Health

Vitamin K is needed for bone health; it is needed for the absorption of calcium into the bones and teeth. Half cup of arugula contains 10.9 micrograms of vitamin K. Three cups of arugula daily will supply you with 100 percent of your bodies need of vitamin K. It also contains eight times more calcium than iceberg lettuce.
5. Helps Reduce Inflammation in the Body

It contains indole-3-carbinol and isothiocyanates, which have been shown to suppress the production of inflammation in the body.
6. Cleanses and Detoxifies the Body

The fiber content helps clean out the colon promoting healthy bowel movements. The phytochemicals, antioxidants and essential minerals found in arugula help cleanse out toxins in the body.
7. Protects the Aging Brain From Cognitive Decline
Arugula is high in most B vitamins but contains especially high amounts of folate. In high-functioning older adults, low levels of folate have been shown to be a risk factor for cognitive decline.
8. Weight Loss

Arugula in your diet can benefit you with so many nutrients. The extra benefit is that two cups contain only 80 calories, making it a good choice for those on a diet.
9. Aphrodisiac
Arugula has used as an aphrodisiac since the first century. Research has shown us that the trace minerals and antioxidants in dark, leafy greens are essential for our sexual health. They help block environmental contaminants which are thought to be negative to our libido.
A study, published March 2013 in the journal of Al-Nahrain University, found that arugula leaf extracts boosted testosterone levels and sperm activity in mice. The results suggest that the phytochemicals and/or nutrients in arugula may have aphrodisiac properties.
"The rocket excites the sexual desire of drowsy people."
—From a poem by Virgil, one of Rome's greatest poets
Trivia:
Arugula was used as a potent aphrodisiac during the ancient civilization of Rome.

Love potions were made using arugula and other herbs like lavender in ancient times.

Arugula seeds are pressed to make Taramira oil, used in pickling, cooking and salad dressing in northern India.

Ancient Romans ate it for good luck.
Tips for Eating or Cooking:
This green is popular in Italian cuisine.

Eating arugula raw will likely provide your body with more of the healthy isothiocyanates than eating cooked arugula. However, by eating lightly cooked arugula, your body will absorb more of certain nutrients and carotenoids than when it is raw.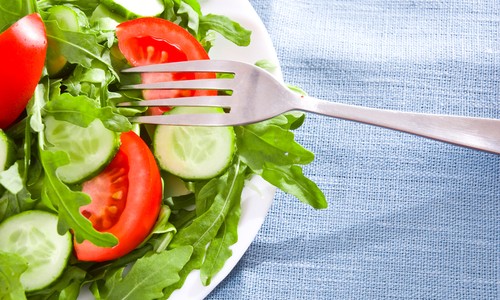 Arugula is high in most B vitamins but contains especially high amounts of folate. Photo courtesy of Shutterstock
Please Note: Arugula is relatively lower in oxalate content than spinach, purslane, mustard greens, celery, etc. The greens can be safely used during pregnancy and lactation.
Click Here for Pointers on How to Grow and Store Urugula (and Some Fascinating History)
My Favorite Arugula Recipes:
Arugula Pesto:
This tasty recipe achieves a cheesy flavor without dairy.
Quinoa Arugula Salad
: Full of protein from the quinoa and pumpkin seeds, this can be a meal all by itself.
AleksandarNakic / Getty Images
By Kate Murphy
No matter the time of year, there's always a point in each season when my skin decides to cause me issues. While these skin issues can vary, I find the most common issues to be dryness, acne and redness.

David Woodfall / The Image Bank / Getty Images
By Sam Nickerson
The U.S. Environmental Protection Agency (EPA) in April 2018 proposed relaxing standards related to how it assesses the effects of exposure to low levels of toxic chemicals on public health.
Now, correspondence obtained by the LA Times revealed just how deeply involved industry lobbyists and a controversial, industry-funded toxicologist were in drafting the federal agency's proposal to scrap its current, protective approach to regulating toxin exposure.
Steve Irwin poses with a three foot long alligator at the San Francisco Zoo on June 26, 2002. Justin Sullivan / Getty Images
February 22 is the birthday of conservationist and beloved TV personality "Crocodile Hunter" Steve Irwin, who would have been 57 years old today.
Irwin's life was tragically cut short when the barb from a stingray went through his chest while he was filming in 2006, but his legacy of loving and protecting wildlife lives on, most recently in a Google Doodle today honoring his birthday.
Left: Youtube / Screenshot, Right: alle12 / Getty Images
By Dan Nosowitz
That video showed the extrusion of a bubblegum-pink substance oozing into a coiled pile, something between Play-Doh, sausage and soft-serve strawberry ice cream. Branded "pink slime"—the name came from an email sent by a USDA microbiologist in 2002—this stuff was actually beef, destined for supermarkets and fast-food burgers.
Climate activist Greta Thunberg addresses the European Commission on Feb. 21 in Brussels, Belgium. Sylvain Lefevre / Getty Images
By Julia Conley
Sixteen-year-old climate action leader Greta Thunberg stood alongside European Commission President Jean-Claude Juncker Thursday in Brussels as he indicated—after weeks of climate strikes around the world inspired by the Swedish teenager—that the European Union has heard the demands of young people and pledged a quarter of $1 trillion budget over the next seven years to address the crisis of a rapidly heating planet.

In the financial period beginning in 2021, Juncker said, the EU will devote a quarter of its budget to solving the crisis.