This website uses cookies to ensure you get the best experience while browsing it. By clicking 'Got It' you're accepting these terms.
9 Benefits of Arugula
Jun. 30, 2014 10:36AM EST
Arugula's aromatic, peppery flavor adds a wonderful dimension to a salad, to your health and maybe even your sex life.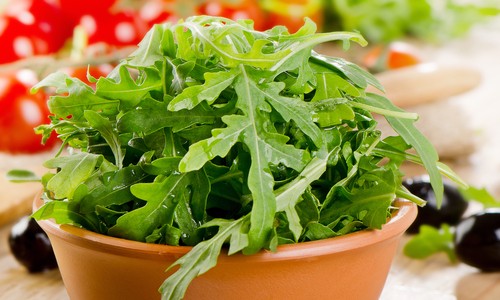 Arugula has been used as an aphrodisiac since the first century. Photo courtesy of Shutterstock
Arugula is also known by other names such as salad rocket, garden rocket, roquette, rucola, rugula or colewort. The scientific name of arugula is Eruca sativa.
"Arugula is an elixir that gives flavor to life."
—Dennis Lybeer
9 Arugula Health Benefits
1. Cancer Fighting Powerfood
Arugula is one of the brassica family vegetables along with broccoli, cauliflower and cabbage. These vegetables are high in fiber and antioxidants, and also rich in glucosinolates, which studies show may reduce the risk of developing lung, prostate, breast and pancreatic cancer.
2. Rich in Chlorophyll
Chlorophyll can help to prevent liver and DNA damage from aflatoxins. To get the most chlorophyll in arugula, it is best to eat it raw.
3. Hydrating Leafy Green
Arugula is composed of 90 percent water. That's why it's a perfect hydrating and cooling food in the summer.
4. Good for Bone Health

Vitamin K is needed for bone health; it is needed for the absorption of calcium into the bones and teeth. Half cup of arugula contains 10.9 micrograms of vitamin K. Three cups of arugula daily will supply you with 100 percent of your bodies need of vitamin K. It also contains eight times more calcium than iceberg lettuce.
5. Helps Reduce Inflammation in the Body

It contains indole-3-carbinol and isothiocyanates, which have been shown to suppress the production of inflammation in the body.
6. Cleanses and Detoxifies the Body

The fiber content helps clean out the colon promoting healthy bowel movements. The phytochemicals, antioxidants and essential minerals found in arugula help cleanse out toxins in the body.
7. Protects the Aging Brain From Cognitive Decline
Arugula is high in most B vitamins but contains especially high amounts of folate. In high-functioning older adults, low levels of folate have been shown to be a risk factor for cognitive decline.
8. Weight Loss

Arugula in your diet can benefit you with so many nutrients. The extra benefit is that two cups contain only 80 calories, making it a good choice for those on a diet.
9. Aphrodisiac
Arugula has used as an aphrodisiac since the first century. Research has shown us that the trace minerals and antioxidants in dark, leafy greens are essential for our sexual health. They help block environmental contaminants which are thought to be negative to our libido.
A study, published March 2013 in the journal of Al-Nahrain University, found that arugula leaf extracts boosted testosterone levels and sperm activity in mice. The results suggest that the phytochemicals and/or nutrients in arugula may have aphrodisiac properties.
"The rocket excites the sexual desire of drowsy people."
—From a poem by Virgil, one of Rome's greatest poets
Trivia:
Arugula was used as a potent aphrodisiac during the ancient civilization of Rome.

Love potions were made using arugula and other herbs like lavender in ancient times.

Arugula seeds are pressed to make Taramira oil, used in pickling, cooking and salad dressing in northern India.

Ancient Romans ate it for good luck.
Tips for Eating or Cooking:
This green is popular in Italian cuisine.

Eating arugula raw will likely provide your body with more of the healthy isothiocyanates than eating cooked arugula. However, by eating lightly cooked arugula, your body will absorb more of certain nutrients and carotenoids than when it is raw.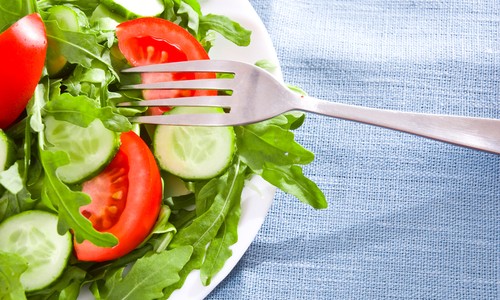 Arugula is high in most B vitamins but contains especially high amounts of folate. Photo courtesy of Shutterstock
Please Note: Arugula is relatively lower in oxalate content than spinach, purslane, mustard greens, celery, etc. The greens can be safely used during pregnancy and lactation.
Click Here for Pointers on How to Grow and Store Urugula (and Some Fascinating History)
My Favorite Arugula Recipes:
Arugula Pesto:
This tasty recipe achieves a cheesy flavor without dairy.
Quinoa Arugula Salad
: Full of protein from the quinoa and pumpkin seeds, this can be a meal all by itself.
EcoWatch Daily Newsletter
Bernie Sanders holds his first presidential campaign rally at Brooklyn College on March 02 in Brooklyn, New York. Kena Betancur / VIEWpress / Corbis. Getty Images
Bernie Sanders has become the first contender in the crowded 2020 Democratic presidential primary field to pledge to offset all of the greenhouse gas emissions released by campaign travel, The Huffington Post reported Thursday.
An aerial view of the flooding at the Camp Ashland, Nebraska on March 17. Nebraska National Guard / Staff Sgt. Herschel Talley / Flickr / CC BY 2.0
The record flooding in the Midwest that has now been blamed for four deaths could also have lasting consequences for the region's many farmers.
In tea, food, or just on your windowsill, embrace the fragrance and fantastic healing potential of herbs.
By Ana Santos Rutschman
The world of food and drug regulation was rocked earlier this month by the news of a change in leadership at the Food and Drug Administration. Commissioner Scott Gottlieb resigned and will step down in early April. His temporary replacement is Dr. Ned Sharpless, director of the National Cancer Institute.
MartinPrescott / iStock / Getty Images
On Wednesday the U.S. Environmental Protection Agency (EPA) announced the first 20 chemicals it plans to prioritize as "high priority" for assessment under the Toxic Substances Control Act. Given the EPA's record of malfeasance on chemicals policy over the past two years, it is clear that these are chemicals that EPA is prioritizing to ensure that they are not properly evaluated or regulated.
Strawberries top the Environmental Working Group's "Dirty Dozen" list of U.S. produce most contaminated with pesticides. DANIEL LEAL-OLIVAS / AFP / Getty Images
Which conventionally-grown fruits and vegetables in the U.S. are most contaminated with pesticides? That's the question that the Environmental Working Group answers every year with its "Dirty Dozen" list of produce with the highest concentration of pesticides after being washed or peeled.
A drilling rig in a Wyoming natural gas field. William Campbell / Corbis via Getty Images
A U.S. federal judge temporarily blocked oil and gas drilling on 300,000 acres of federal leases in Wyoming Tuesday, arguing that the Bureau of Land Management (BLM) "did not sufficiently consider climate change" when auctioning off the land, The Washington Post reported.
Mizina / iStock / Getty Images
Oats are widely regarded as one of the healthiest grains you can eat, as they're packed with many important vitamins, minerals, and fiber.