This website uses cookies to ensure you get the best experience while browsing it. By clicking 'Got It' you're accepting these terms.
9 Benefits of Arugula
Jun. 30, 2014 10:36AM EST
Food
Arugula's aromatic, peppery flavor adds a wonderful dimension to a salad, to your health and maybe even your sex life.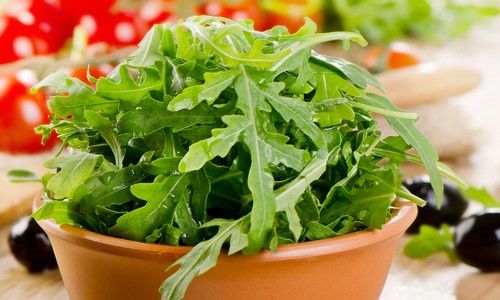 Arugula has been used as an aphrodisiac since the first century. Photo courtesy of Shutterstock
Arugula is also known by other names such as salad rocket, garden rocket, roquette, rucola, rugula or colewort. The scientific name of arugula is Eruca sativa.
"Arugula is an elixir that gives flavor to life."
—Dennis Lybeer
9 Arugula Health Benefits
1. Cancer Fighting Powerfood
Arugula is one of the brassica family vegetables along with broccoli, cauliflower and cabbage. These vegetables are high in fiber and antioxidants, and also rich in glucosinolates, which studies show may reduce the risk of developing lung, prostate, breast and pancreatic cancer.
2. Rich in Chlorophyll
Chlorophyll can help to prevent liver and DNA damage from aflatoxins. To get the most chlorophyll in arugula, it is best to eat it raw.
3. Hydrating Leafy Green
Arugula is composed of 90 percent water. That's why it's a perfect hydrating and cooling food in the summer.
4. Good for Bone Health

Vitamin K is needed for bone health; it is needed for the absorption of calcium into the bones and teeth. Half cup of arugula contains 10.9 micrograms of vitamin K. Three cups of arugula daily will supply you with 100 percent of your bodies need of vitamin K. It also contains eight times more calcium than iceberg lettuce.
5. Helps Reduce Inflammation in the Body

It contains indole-3-carbinol and isothiocyanates, which have been shown to suppress the production of inflammation in the body.
6. Cleanses and Detoxifies the Body

The fiber content helps clean out the colon promoting healthy bowel movements. The phytochemicals, antioxidants and essential minerals found in arugula help cleanse out toxins in the body.
7. Protects the Aging Brain From Cognitive Decline
Arugula is high in most B vitamins but contains especially high amounts of folate. In high-functioning older adults, low levels of folate have been shown to be a risk factor for cognitive decline.
8. Weight Loss

Arugula in your diet can benefit you with so many nutrients. The extra benefit is that two cups contain only 80 calories, making it a good choice for those on a diet.
9. Aphrodisiac
Arugula has used as an aphrodisiac since the first century. Research has shown us that the trace minerals and antioxidants in dark, leafy greens are essential for our sexual health. They help block environmental contaminants which are thought to be negative to our libido.
A study, published March 2013 in the journal of Al-Nahrain University, found that arugula leaf extracts boosted testosterone levels and sperm activity in mice. The results suggest that the phytochemicals and/or nutrients in arugula may have aphrodisiac properties.
"The rocket excites the sexual desire of drowsy people."
—From a poem by Virgil, one of Rome's greatest poets
Trivia:
Arugula was used as a potent aphrodisiac during the ancient civilization of Rome.

Love potions were made using arugula and other herbs like lavender in ancient times.

Arugula seeds are pressed to make Taramira oil, used in pickling, cooking and salad dressing in northern India.

Ancient Romans ate it for good luck.
Tips for Eating or Cooking:
This green is popular in Italian cuisine.

Eating arugula raw will likely provide your body with more of the healthy isothiocyanates than eating cooked arugula. However, by eating lightly cooked arugula, your body will absorb more of certain nutrients and carotenoids than when it is raw.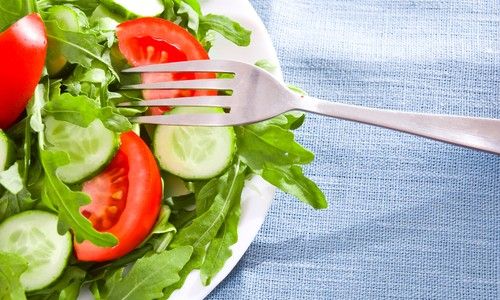 Arugula is high in most B vitamins but contains especially high amounts of folate. Photo courtesy of Shutterstock
Please Note: Arugula is relatively lower in oxalate content than spinach, purslane, mustard greens, celery, etc. The greens can be safely used during pregnancy and lactation.
Click Here for Pointers on How to Grow and Store Urugula (and Some Fascinating History)
My Favorite Arugula Recipes:
Arugula Pesto:
This tasty recipe achieves a cheesy flavor without dairy.
Quinoa Arugula Salad
: Full of protein from the quinoa and pumpkin seeds, this can be a meal all by itself.
EcoWatch Daily Newsletter
Bird watching in the U.S. may be a lot harder than it once was, since bird populations are dropping off in droves, according to a new study.
Amazon CEO Jeff Bezos announces the co-founding of The Climate Pledge at the National Press Club on Sept. 19 in Washington, DC. Paul Morigi / Getty Images for Amazon
The day before over 1,500 Amazon.com employees planned a walkout to participate in today's global climate strike, CEO Jeff Bezos unveiled a sweeping plan for the retail and media giant to be carbon neutral by 2040, 10 years ahead of the Paris agreement schedule.
For the past seven years, the Anishinaabe people have been facing the largest tar sands pipeline project in North America. We still are. In these dying moments of the fossil fuel industry, Water Protectors stand, prepared for yet another battle for the water, wild rice and future of all. We face Enbridge, the largest pipeline company in North America, and the third largest corporation in Canada. We face it unafraid and eyes wide open, for indeed we see the future.
The climate crisis often intensifies systems of oppression. Rieko Honma / Stone / Getty Images Plus
By Mara Dolan
We see the effects of the climate crisis all around us in hurricanes, droughts, wildfires, and rising sea levels, but our proximity to these things, and how deeply our lives are changed by them, are not the same for everyone. Frontline groups have been leading the fight for environmental and climate justice for centuries and understand the critical connections between the climate crisis and racial justice, economic justice, migrant justice, and gender justice. Our personal experiences with climate change are shaped by our experiences with race, gender, and class, as the climate crisis often intensifies these systems of oppression.

Lana Del Rey: "call her Doris Doomsday." Darren Gerrish / BFC / Getty Images Entertainment
By Emer McHugh
Popular music has, and always will be, informed by the political and social contexts from which it emerges.
It was early in the morning last Thursday, and Jonathan Butler was standing on the Fred Hartman Bridge, helping 11 fellow Greenpeace activists rappel down and suspend themselves over the Houston Ship Channel. The protesters dangled in the air most of the day, shutting down a part of one of the country's largest ports for oil.
By C.J. Polychroniou
Climate change is by far the most serious crisis facing the world today. At stake is the future of civilization as we know it. Yet, both public awareness and government action lag way behind what's needed to avert a climate change catastrophe. In the interview below, Noam Chomsky and Robert Pollin discuss the challenges ahead and what needs to be done.
Food manufacturer General Mills issued a voluntary recall of more than 600,000 pounds, or about 120,000 bags, of Gold Medal Unbleached All Purpose Flour this week after a sample tested positive for a bacteria strain known to cause illness.