This website uses cookies to ensure you get the best experience while browsing it. By clicking 'Got It' you're accepting these terms.
9 Benefits of Arugula
Jun. 30, 2014 11:36AM EST
Food
Arugula's aromatic, peppery flavor adds a wonderful dimension to a salad, to your health and maybe even your sex life.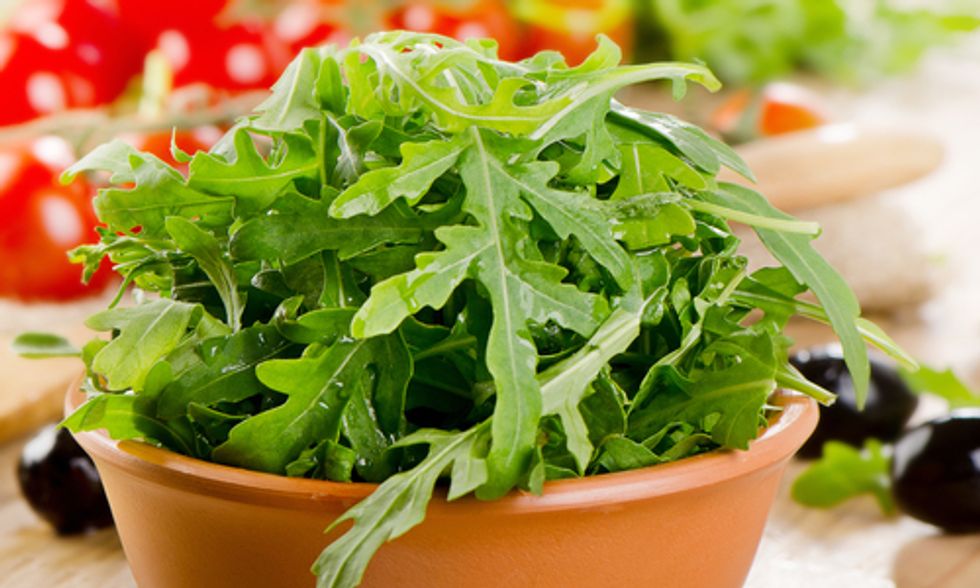 Arugula has been used as an aphrodisiac since the first century. Photo courtesy of Shutterstock
Arugula is also known by other names such as salad rocket, garden rocket, roquette, rucola, rugula or colewort. The scientific name of arugula is Eruca sativa.
"Arugula is an elixir that gives flavor to life."
—Dennis Lybeer
9 Arugula Health Benefits
1. Cancer Fighting Powerfood
Arugula is one of the brassica family vegetables along with broccoli, cauliflower and cabbage. These vegetables are high in fiber and antioxidants, and also rich in glucosinolates, which studies show may reduce the risk of developing lung, prostate, breast and pancreatic cancer.
2. Rich in Chlorophyll
Chlorophyll can help to prevent liver and DNA damage from aflatoxins. To get the most chlorophyll in arugula, it is best to eat it raw.
3. Hydrating Leafy Green
Arugula is composed of 90 percent water. That's why it's a perfect hydrating and cooling food in the summer.
4. Good for Bone Health

Vitamin K is needed for bone health; it is needed for the absorption of calcium into the bones and teeth. Half cup of arugula contains 10.9 micrograms of vitamin K. Three cups of arugula daily will supply you with 100 percent of your bodies need of vitamin K. It also contains eight times more calcium than iceberg lettuce.
5. Helps Reduce Inflammation in the Body

It contains indole-3-carbinol and isothiocyanates, which have been shown to suppress the production of inflammation in the body.
6. Cleanses and Detoxifies the Body

The fiber content helps clean out the colon promoting healthy bowel movements. The phytochemicals, antioxidants and essential minerals found in arugula help cleanse out toxins in the body.
7. Protects the Aging Brain From Cognitive Decline
Arugula is high in most B vitamins but contains especially high amounts of folate. In high-functioning older adults, low levels of folate have been shown to be a risk factor for cognitive decline.
8. Weight Loss

Arugula in your diet can benefit you with so many nutrients. The extra benefit is that two cups contain only 80 calories, making it a good choice for those on a diet.
9. Aphrodisiac
Arugula has used as an aphrodisiac since the first century. Research has shown us that the trace minerals and antioxidants in dark, leafy greens are essential for our sexual health. They help block environmental contaminants which are thought to be negative to our libido.
A study, published March 2013 in the journal of Al-Nahrain University, found that arugula leaf extracts boosted testosterone levels and sperm activity in mice. The results suggest that the phytochemicals and/or nutrients in arugula may have aphrodisiac properties.
"The rocket excites the sexual desire of drowsy people."
—From a poem by Virgil, one of Rome's greatest poets
Trivia:
Arugula was used as a potent aphrodisiac during the ancient civilization of Rome.

Love potions were made using arugula and other herbs like lavender in ancient times.

Arugula seeds are pressed to make Taramira oil, used in pickling, cooking and salad dressing in northern India.

Ancient Romans ate it for good luck.
Tips for Eating or Cooking:
This green is popular in Italian cuisine.

Eating arugula raw will likely provide your body with more of the healthy isothiocyanates than eating cooked arugula. However, by eating lightly cooked arugula, your body will absorb more of certain nutrients and carotenoids than when it is raw.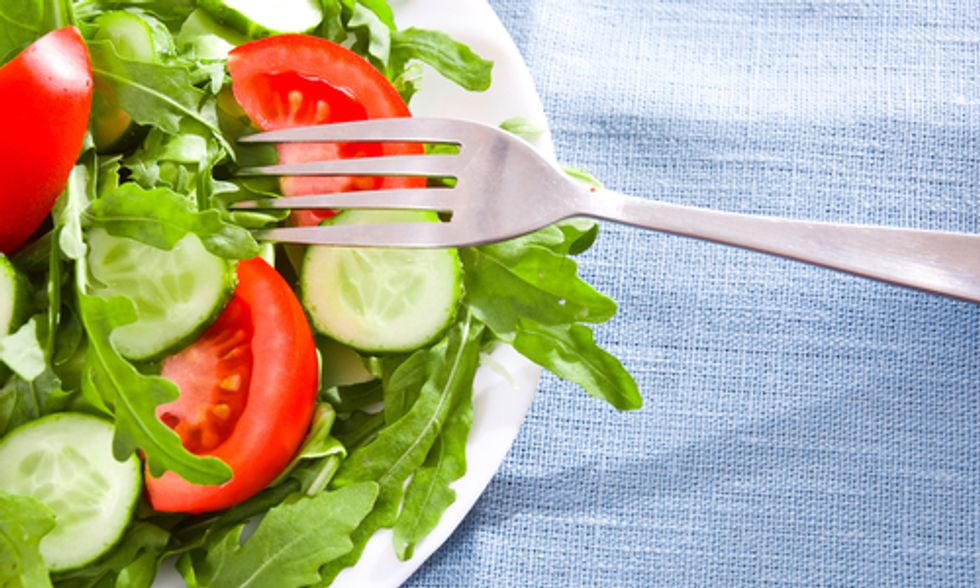 Arugula is high in most B vitamins but contains especially high amounts of folate. Photo courtesy of Shutterstock
Please Note: Arugula is relatively lower in oxalate content than spinach, purslane, mustard greens, celery, etc. The greens can be safely used during pregnancy and lactation.
Click Here for Pointers on How to Grow and Store Urugula (and Some Fascinating History)
My Favorite Arugula Recipes:
Arugula Pesto:
This tasty recipe achieves a cheesy flavor without dairy.
Quinoa Arugula Salad
: Full of protein from the quinoa and pumpkin seeds, this can be a meal all by itself.
EcoWatch Daily Newsletter
The CDC has emphasized that washing hands with soap and water is one of the most effective ways to prevent the spread of COVID-19. Guido Mieth / Moment / Getty Images
The Centers for Disease Control has emphasized that washing hands with soap and water is one of the most effective measures we can take in preventing the spread of COVID-19. However, millions of Americans in some of the most vulnerable communities face the prospect of having their water shut off during the lockdowns, according to The Guardian.
A California newt (Taricha torosa) from Napa County, California, USA. Connor Long /
CC BY-SA 3.0
Aerial photos of the Sierra Nevada — the long mountain range stretching down the spine of California — showed rust-colored swathes following the state's record-breaking five-year drought that ended in 2016. The 100 million dead trees were one of the most visible examples of the ecological toll the drought had wrought.
Now, a few years later, we're starting to learn about how smaller, less noticeable species were affected.
Disinfectants and cleaners claiming to sanitize against the novel coronavirus have started to flood the market.
Natthawat / Moment / Getty Images
Disinfectants and cleaners claiming to sanitize against the novel coronavirus have started to flood the market, raising concerns for the U.S. Environmental Protection Agency (EPA), which threatened legal recourse against retailers selling unregistered products, according to The New York Times.
A customer packs groceries in reusable bags at a NYC supermarket on March 1, 2020. Eduardo Munoz Alvarez/Getty Images
The global coronavirus pandemic has thrown our daily routine into disarray. Billions are housebound, social contact is off-limits and an invisible virus makes up look at the outside world with suspicion. No surprise, then, that sustainability and the climate movement aren't exactly a priority for many these days.
Ingredients are displayed for the Old School Pinto Beans from the Decolonize Your Diet cookbook by Luz Calvo and Catriona Rueda Esquibel. Melissa Renwick / Toronto Star via Getty Images
By Molly Matthews Multedo
Livestock farming contributes to global warming, so eating less meat can be better for the climate.