This website uses cookies to ensure you get the best experience while browsing it. By clicking 'Got It' you're accepting these terms.


The best of EcoWatch, right in your inbox. Sign up for our email newsletter!
7 Arrested in Solidarity With the People of Porter Ranch
Jan. 19, 2016 07:28AM EST
Energy
In his famous Letter from a Birmingham Jail, the Reverend Martin Luther King, Jr., wrote, "Injustice anywhere is a threat to justice everywhere."
In that spirit, and as part of the ongoing civil disobedience campaign against gas storage called We Are Seneca Lake—of which I am part—seven protesters from six different New York counties declared their support for the residents of Porter Ranch, California, where a massive leak from an underground gas storage facility has sickened and displaced thousands of families and shows no sign of abating.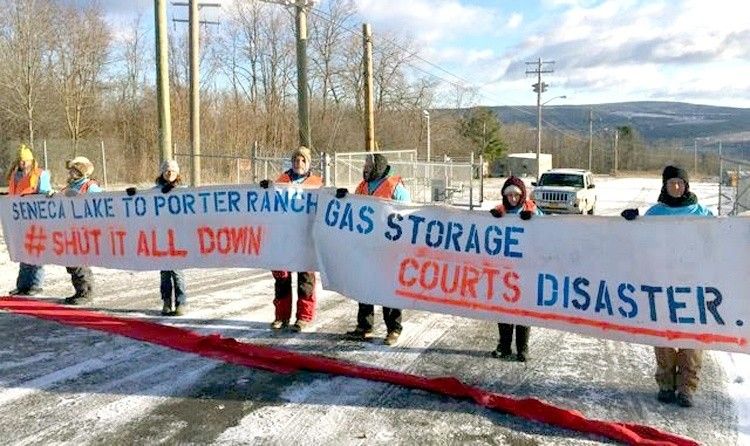 The seven formed a human chain across the north entrance of Crestwood Midstream on Route 14 at8:45 a.m. Monday morning. While blocking all traffic entering and leaving the facility, the group offered a statement of solidarity with the people of Porter Ranch before their arrest by Schuyler County deputies at 9:15 a.m.
The blockaders held banners that said, "Seneca Lake to Porter Ranch: Shut It All Down" and "Gas Storage Courts Disaster."
All those arrested were transported to the Schuyler County Sheriff's department, charged with disorderly conduct, and released. The total number of arrests in the sixteen-month-old civil disobedience campaign now stands at 467.
The uncontrolled gas leak at the Aliso Canyon gas storage facility—the single largest in the U.S.—was discovered on Oct. 23, 2015. California Gov. Brown declared a state of emergency on Jan. 6. Thus far, more than 2,500 families have fled their homes and more than 1,000 children have been relocated to other schools. Health officials now acknowledge they initially underestimated the scope of the gas leak and the possible attendant health risks. Self-reported health complaints include nausea, dizziness, vomiting, shortness of breath and headaches.
As We Are Seneca Lake protesters noted in their declaration of support, the massive gas leak at Porter Ranch is a problem with no end in sight and no obvious solution: "People of Porter Ranch, we know your lives were upended because no one replaced a safety valve at the bottom of the well. We don't believe we have bottom safety valves here either ... What affects you directly today could affect us directly tomorrow."
Elizabeth Peet, 48, of the Town of Hector in Schuyler County, said, "Today as we celebrate the birthday of Dr. Martin Luther King, Jr., I am reminded that my civic responsibility includes civil disobedience while my elected officials continue to fail to protect our lake and surrounding communities from dangerous gas storage expansion."
Michael Black, 63, of Lakemont in Yates County, said, "I was born in Schuyler County and have lived on the shores of Seneca Lake for nearly a half century. I now live seven miles from Crestwood. What happens here happens to me as well. If the gas storage facility here were to leak—as is happening in southern California—I could be in danger. If it explodes I would likely be killed."
The We Are Seneca Lake movement opposes Crestwood's plans for methane and LPG storage in lakeside salt caverns and has been ongoing since October 2014.
Crestwood's methane gas storage expansion project was approved by the Federal Energy Regulatory Commission in October 2014 in the face of broad public opposition and unresolved questions about geological instabilities, fault lines, and possible salinization of Seneca Lake, which serves as a source of drinking water for 100,000 people.
The seven arrested Monday were: Richard Battaglia, 53, Richford, Tioga County; Michael Black, 63, Lakemont, Yates County; Caroline Byrne, 39, Ithaca, Tompkins County; Angela Cannon-Crothers, 50, Naples, Ontario County; Kim Knight, 31, Covert, Seneca County; Stacey McNeill, 45, Ithaca, Tompkins County; and Elizabeth Peet, 48, Hector, Schuyler County.
Below is the full text of the message that I delivered to the people of Porter Ranch on behalf of We Are Seneca Lake. And you can watch my statement via video here:
Seneca Lake Stands with Porter Ranch: Shut It All Down!
In his famous Letter from a Birmingham Jail, Martin Luther King, Jr. declared, "Injustice anywhere is a threat to justice everywhere. We are caught in an inescapable network of mutuality, tied in a single garment of destiny. Whatever affects one directly, affects all indirectly."
Today, on the national holiday celebrating the birth of Dr. King, we gather near the shoreline of Seneca Lake in New York State, on a simple driveway to make our own declaration.
This is not just any driveway. It's contested ground. In the last 16 months, there have been 460 arrests on this strip of pavement for civil disobedience in objection to the expansion of underground gas storage in old salt mines on the banks of our beautiful lake. Some of us have gone to jail.
Today, we affirm our network of mutuality with people who live three time zones away in a California community called Porter Ranch.
The wind chill on this hillside is minus one degree, and we are cold. But we know that people of Porter Ranch are suffering magnitudes more. The leak from Aliso Canyon underground gas storage facility near Porter Ranch has been pouring 1,000 tons of climate-killing methane into the air every hour for the past three months. We all share the same atmosphere.
We know it's the biggest gas leak in U.S. history. We know it's an official state of emergency. We know there is no end in sight and there is no clear way to fix it.
We know that the fumes from this single leak have sickened people and dropped birds, dead, from the sky. We know that the risk of a massive fire is so great that planes cannot fly over the site and cellphones and watches are forbidden on the site.
We know that more than 2,500 Porter Ranch families have been forced to evacuate and children have been forced to change schools.
Meanwhile, seven different efforts to plug the faulty well that is the source of the leak, has only further destabilized the situation, expanding a crater around the wellhead that threatens the possibility of a full blow-out. And the attempts by Southern California Gas to drill a relief well will take at least six more weeks—and may not work either. These are hard truths to hear. But we hear them.
And we watched closely last Friday when people gathered in front of the Environmental Protection Agency offices and urged the EPA to entirely shut down the Aliso Canyon gas storage facility, which is not a specially engineered tank but simply a big hole in the ground left over from drilling and extracting oil. The people said, "Shut it all down!"
So, we want you to know that we are listening. And we, who stand right now, right here, on top of decrepit salt caverns that are slated to serve as storage vessels for massive amounts of pressurized gas echo your words back to you. Like your depleted oil field, our salt caverns were never engineered to hold natural gas either.
People of Porter Ranch, we know your lives were upended because no one replaced a safety valve at the bottom of the well. We don't believe we have bottom safety valves here either.
Seneca Lake and Porter Ranch are tied in a single garment of destiny. What affects you directly today could affect us directly tomorrow. We look at the myriad injustices that you are now compelled to endure, and we see our own future.
Martin Luther King urged us to confront injustice and bend the arc of history in another direction. And he gave us some tactics to use in our efforts. One of them is non-violent civil disobedience. That's what we are doing today. We do it to amplify your own message. And we do it in the fervent hope that we can change our story, that there will be no Porter Ranch at Seneca Lake.
We Are Seneca Lake and we join you in saying, "Shut it all down!"
YOU MIGHT ALSO LIKE
3 'Knitting Nannas' Arrested Protesting 850 Proposed Gas Wells
Real-Time Carbon Clock Shows Climate Change 'Danger Zone' Is Imminent
Hillary Clinton Demands Action on Flint Water Crisis at #DemDebate
12 Experts Comment: What Oil Below $30 Means for Efforts to Tackle Climate Change
EcoWatch Daily Newsletter
Blueberry yogurt bark. SEE D JAN / iStock / Getty Images Plus
Having nutritious snacks to eat during the workday can help you stay energized and productive.

A 2017 flood in Elk Grove, California. Florence Low / California Department of Water Resources
By Tara Lohan
It's been the wettest 12 months on record in the continental United States. Parts of the High Plains and Midwest are still reeling from deadly, destructive and expensive spring floods — some of which have lasted for three months.
Mounting bills from natural disasters like these have prompted renewed calls to reform the National Flood Insurance Program, which is managed by Federal Emergency Management Agency and is now $20 billion in debt.
Jennifer A. Smith / Moment / Getty Images
By Brenda Ekwurzel
When temperatures hit the 80s Fahrenheit in May above latitude 40, sun-seekers hit the parks, lakes, and beaches, and thoughts turn to summer. By contrast, when temperatures lurk in the drizzly 40s and 50s well into flower season, northerners get impatient for summer. But when those 80-degree temperatures visit latitude 64 in Russia, as they just did, and when sleet disrupts Mother's Day weekend in May in Massachusetts, as it just did, thoughts turn to: what is going on here?
By Paula Ezcurra and Octavio Aburto
Thousands of hydroelectric dams are under construction around the world, mainly in developing countries. These enormous structures are one of the world's largest sources of renewable energy, but they also cause environmental problems.
Activists in North Dakota confront pipeline construction activities. A Texas bill would impose steep penalties for such protests. Speak Freely / ACLU
By Eoin Higgins
A bill making its way through the Texas legislature would make protesting pipelines a third-degree felony, the same as attempted murder.
An Australian flag flutters in the wind in a dry drought-ridden landscape. Virginia Star / Moment / Getty Images
Australia re-elected its conservative governing Liberal-National coalition Saturday, despite the fact that it has refused to cut down significantly on greenhouse gas emissions or coal during its time in power, The New York Times reported.
Tree lined street, UK. Richard Newstead / Moment / Getty Images
A tropical storm above Bangkok on Aug. 04, 2016. Hristo Rusev/ NurPhoto / Getty Images
By Jeff Turrentine
First off: Bangkok Wakes to Rain, the intricately wrought, elegantly crafted debut novel by the Thai-American author Pitchaya Sudbanthad, isn't really about climate change. This tale set in the sprawling subtropical Thai capital is ultimately a kind of family saga — although its interconnected characters aren't necessarily linked by a bloodline. What binds them is their relationship to a small parcel of urban land on which has variously stood a Christian mission, an upper-class family house, and a towering condominium. All of the characters have either called this place home or had some other significant connection to it.