6 Years of Powerful Resistance to Keystone XL
Sep. 22, 2014 09:30AM EST
Energy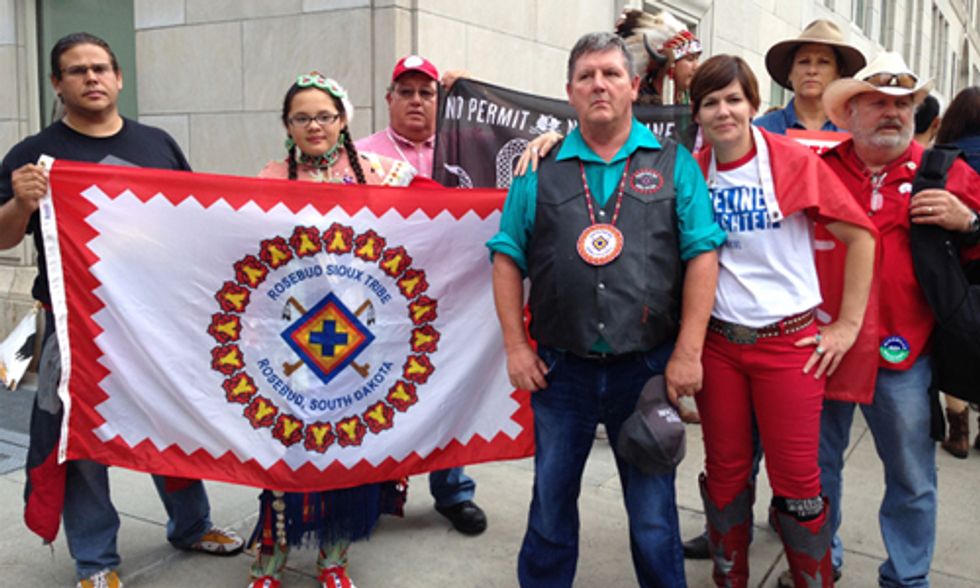 Six years ago climate activists, Native American groups, ranchers, farmers, students and other began their ongoing campaign to block the proposed construction of the Keystone XL pipeline, intended to carry tar sands oil from Alberta, Canada to the Gulf of Mexico to be shipped overseas.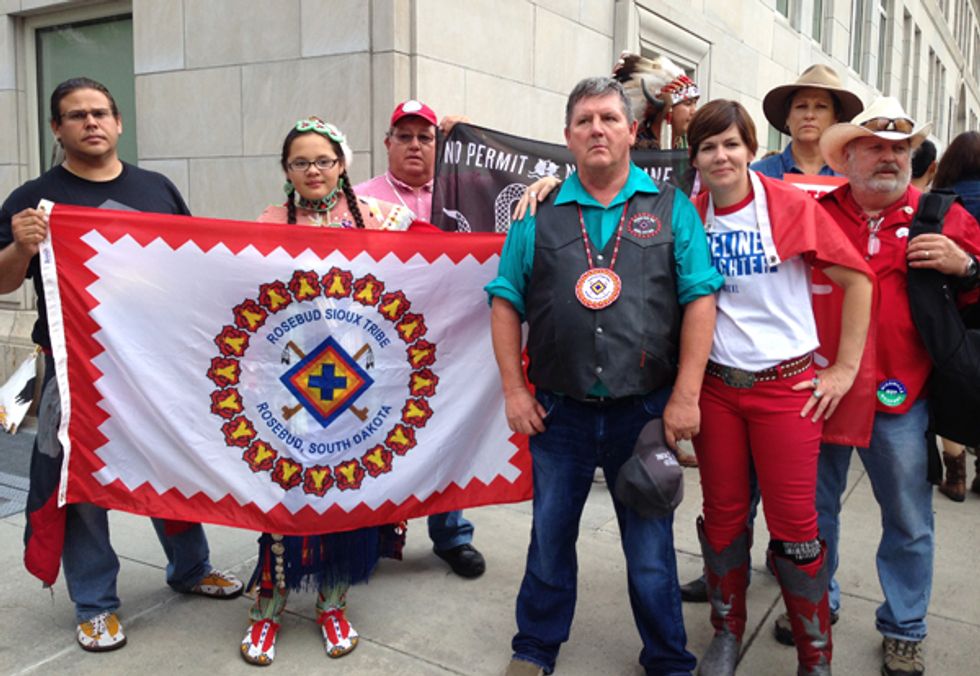 In that time, more than 2,000 activists have been arrested, more than 50,000 rallied in Washington, D.C. in February 2013 to protest the pipeline, and countless small groups have gathered in their own communities to demonstrate against it. Because the pipeline is unbuilt, 1,818,530,000 barrels of tar sands oil remain in the ground, and more than one billion metric tons of CO2 has been keep out of the atmosphere.
Friend of the Earth has a counter that tracks the amount of oil untapped and the amount of carbon pollution prevented. You can follow it here.
"Over the past six years, the Keystone XL fight has helped to galvanize a grassroots climate movement that is marching in the streets of New York City and beyond," said Friend of the Earth president Erica Pica
"Before Keystone XL, a new fossil fuel infrastructure project was fait accompli. Americans are fed up with dirty air and water as well as being second-class citizens to corporate profits. Across the United States, ordinary peoples are challenging pipelines, rail expansions, port expansions and liquefied natural gas facilities. Companies that wish to pollute our climate and threaten the health of millions of citizens in the pursuit of fossil fuels now have a fight on their hands, from teachers, native tribes and nations, farmers, nurses, scientists, students; activists all."
The final decision to green-light the project now rests with President Obama, who is under pressure from corporations and Congress to do so. Opponents have shown their determination to continue blocking it as well.
"President Obama, the will of the people is clear: It's not enough to delay this pipeline—it's time to deny it," said Pica.
YOU MIGHT ALSO LIKE
Cumulative Climate Impacts of Tar Sands Pipelines
Author Q&A: John H. Cushman Jr. Discusses His Comprehensive New Book on Keystone XL 
56 Senators Try to Force Keystone XL Pipeline Past President Obama and the Public
EcoWatch Daily Newsletter