This website uses cookies to ensure you get the best experience while browsing it. By clicking 'Got It' you're accepting these terms.
6 Healthy Reasons to Add Lemon to Your Water
Dec. 07, 2014 09:58AM EST
Food
Lemon water looks so clean and healthy, so fresh and bright. It's got a crisp, tart edge that makes you feel like it MUST be good for you—and it is.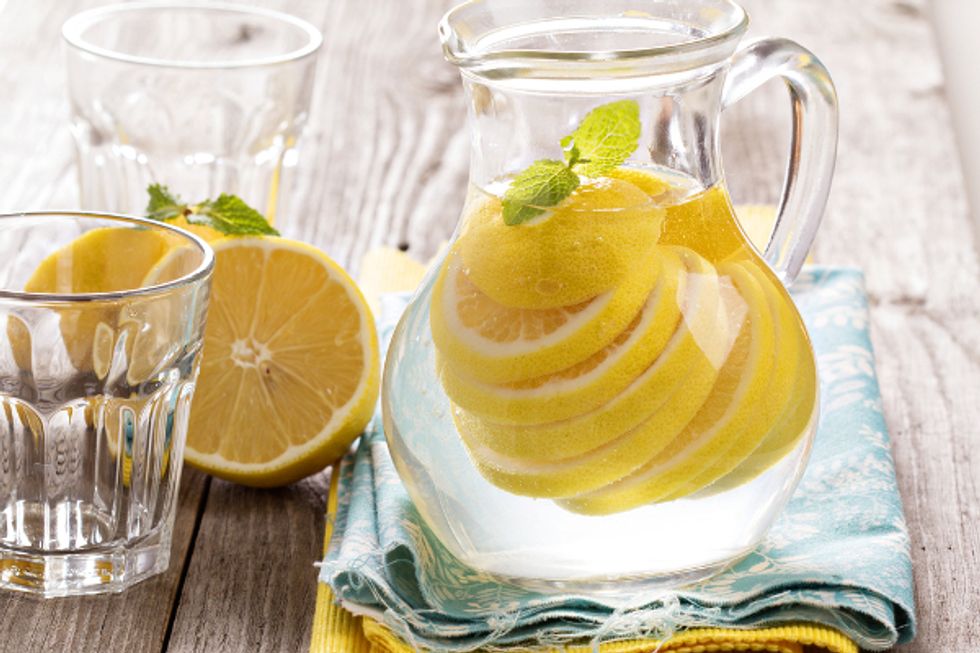 Photo credit: Shutterstock
Everyone knows drinking plenty of water is a good thing. It's probably the most beneficial, low-calorie (no calorie!) thing you can drink. But sure, it can be boring, and adding a zingy twist of lemon can brighten it up. You're still close to virtually no calories (an entire lemon contains less than 20), and that splash of lemon adds so many other benefits too.
1. Lemon, like all citrus fruits, is packed with vitamin C. That's an antioxidant that repairs cell damage, helps slow aging diseases, including cardiovascular diseases and cancer, and keeps your eyes healthy.
2. It also helps fight the effects of aging on the skin. And coupled with that hydrating swig of water, it's like a double dose of the fountain of youth.
3. We're not sure we buy into the whole thing of body "cleanses," but lemon most likely does help flush toxins from your body.
4. Lemon can help settle your stomach and improve your digestion, especially when paired with warm water or maybe a little mint, which is known to settle queasy stomachs and suppress nausea.
5. Lemon contains anti-inflammatories and anti-bacterial properties that can help strengthen your immune system to fight off those colds and flu bugs that float around in the winter. It can diminish the scratchy feeling of a sore throat too.
6. Lemon can make your breath feel and smell fresher. Don't believe the hype about it causing damage to your enamel. In small quantities in water, there's little risk.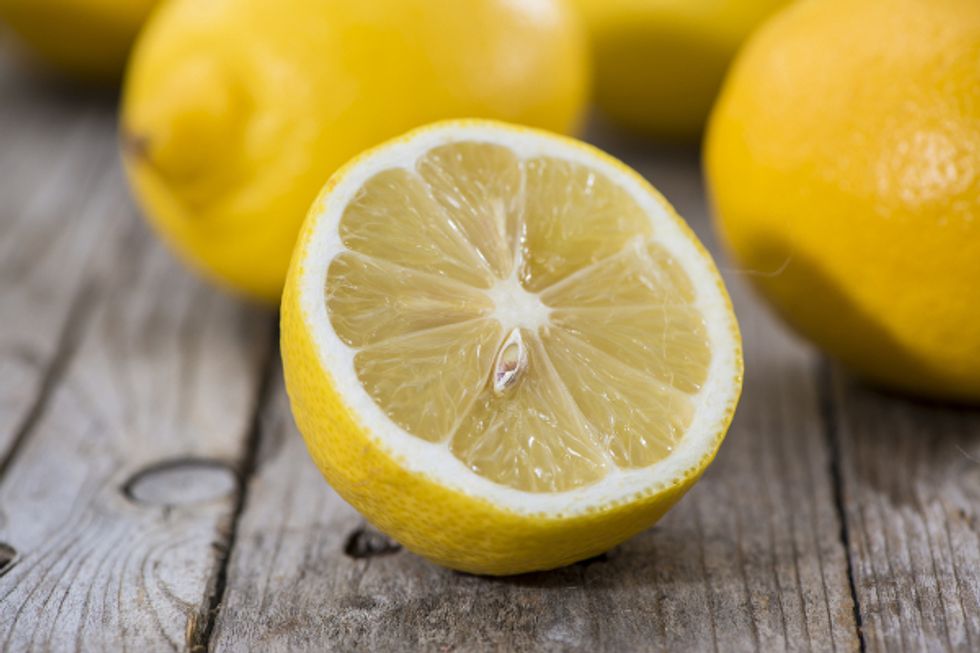 Photo credit: Shutterstock
Keep in mind, we're talking about adding a squeeze of fresh lemon to your water, not buying a bottled lemon water which may have added sugars and preservatives. That kind of spoils the entire idea, and the bottle contributes to the trash that's piling up on our planet. Just mix up a pitcher and keep it chilling in your fridge.
YOU MIGHT ALSO LIKE
Why Antioxidants in Superfoods Are Essential to Your Diet
Cranberries: One of the World's Most Powerful Antioxidants
EcoWatch Daily Newsletter
Aerial view of Ruropolis, Para state, northen Brazil, on Sept. 6, 2019. Tthe world's biggest rainforest is under threat from wildfires and rampant deforestation. JOHANNES MYBURGH / AFP via Getty Images
By Kate Martyr
Deforestation in Brazil's Amazon rainforest last month jumped to the highest level since records began in 2015, according to government data.
A total of 563 square kilometers (217.38 square miles) of the world's largest rainforest was destroyed in November, 103% more than in the same month last year, according to Brazil's space research agency.
From January to November this year an area almost the size of the Caribbean island of Puerto Rico was destroyed — an 83% overall increase in destruction when compared with the same period last year.
The figures were released on Friday by the National Institute for Space Research (INPE), and collected through the DETER database, which uses satellite images to monitor forest fires, forest destruction and other developments affecting the rainforest.
What's Behind the Rise?
Overall, deforestation in 2019 has jumped 30% compared to last year — 9,762 square kilometers (approximately 3769 square miles) have been destroyed, despite deforestation usually slowing during November and December.
Environmental groups, researchers and activists blamed the policies of Brazil's president Jair Bolsonaro for the increase.
They say that Bolosonaro's calls for the Amazon to be developed and his weakening support for Ibama, the government's environmental agency, have led to loggers and ranchers feeling safer and braver in destroying the expansive rainforest.
His government hit back at these claims, pointing out that previous governments also cut budgets to environment agencies such as Ibama.
The report comes as Brazil came to loggerheads with the Association of Small Island States (AOSIS) over climate goals during the UN climate conference in Madrid.
AOSIS blasted Brazil, among other nations, for "a lack of ambition that also undermines ours."
Last month, a group of Brazilian lawyers called for Bolsonaro to be investigated by the International Criminal Court over his environmental policies.
Reposted with permission from DW.
The Carolina parakeet went extinct in 1918. James St. John /
CC BY 2.0
The Carolina parakeet, the only parrot species native to the U.S., went extinct in 1918 when the last bird died at the Cincinnati Zoo. Now, a little more than 100 years later, researchers have determined that humans were entirely to blame.
Pexels
Vitamin C is a very important nutrient that's abundant in many fruits and vegetables.
BLM drill seeders work to restore native grasses after wildfire on the Bowden Hills Wilderness Study Area in southeast Oregon, Dec. 14, 2018. Marcus Johnson / BLM / CC BY 2.0
By Tara Lohan
In 2017 the Thomas fire raged through 281,893 acres in Ventura and Santa Barbara counties, California, leaving in its wake a blackened expanse of land, burned vegetation, and more than 1,000 destroyed buildings.