This website uses cookies to ensure you get the best experience while browsing it. By clicking 'Got It' you're accepting these terms.
If you're hungry, you should be able to eat food and your hunger will subside. However, it's not always quite that simple. Certain foods—even "healthy" ones—can affect your hormones in a way that encourages increased hunger—not something most of us desire. What foods make you hungrier? Generally, starches and sweets are the culprits. They cause blood sugar spikes and drops that tell the body it needs more sugar to fuel itself. However, eating these foods tactically can reduce their resulting spike and prevent excess eating. The following 6 foods should be consumed in the presence of other balancing foods.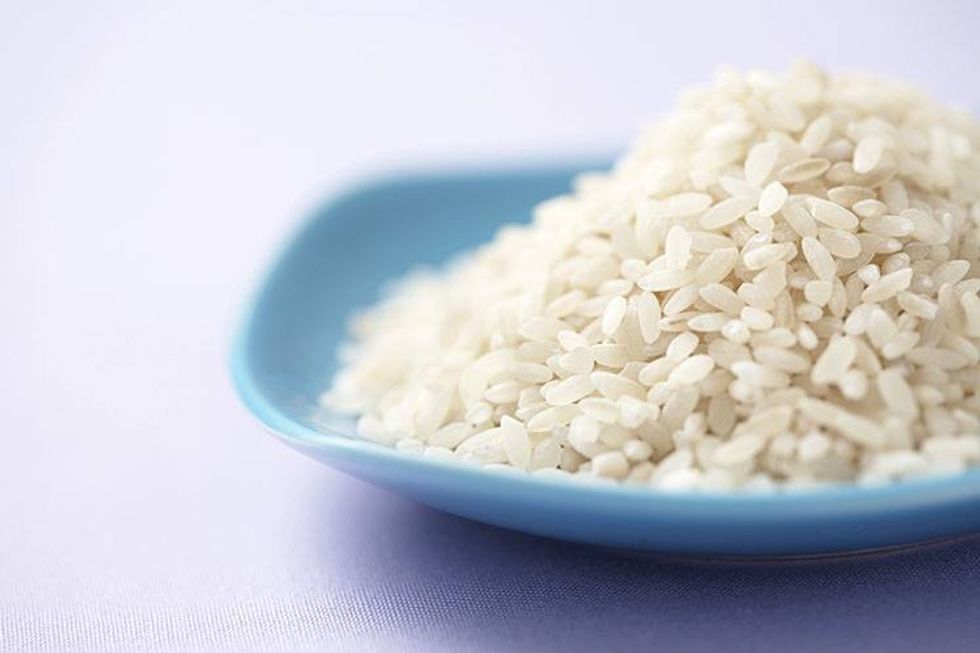 White rice is a simple starch that's broken down rapidly in the body, leading to a surge of energy followed by a blood sugar crash and, inevitably, hunger.
1. Dried fruit
Fruit is fantastic for you, but eating dried fruit on its own can skyrocket blood sugar levels and lead to a sugar drop, which will cause you to become hungry soon after your snack. Instead, try snacking on a bit of dried fruit with a little bit of fat or protein to slow the absorption of the sugar; dried apricots or currants with a handful of nuts or a high-protein yogurt or even a small piece of jerky. Be especially careful with consuming dried fruit, as its candy-like sweetness makes it easy to overindulge. In general, berries are relatively lower on the glycemic index, so dried berries (as long as there is no sugar added) are a good, high fiber, dried fruit choice as they'll offer the most sustained form of energy.
2. Granola
If you start your morning with a hearty bowl of granola or whole grain cereal, you may find yourself growing ravenously hungry again within an hour or two. The body is most primed to run on fat and protein in the morning, so overwhelming it with carbohydrates (especially sweetened granola) can throw off your hunger hormones and insulin levels for the rest of the day. If you love granola, try one that is high in nuts and coconut, low in sugar and eat a small quantity of it with some greek yogurt. This will provide the smoothest insulin spike.
3. Juice (even green ones)
Fresh juices can be an excellent supplement to the diet. However, if you're constantly relying on juice to get you through the day, you may be spiking your insulin levels and increasing your hunger hormones. By nature, juices have no fiber, which means you absorb their nutrients immediately. The problem is, when we throw a lot of sweet fruits in there (because, let's face it, kale and celery don't make for the tastiest juice), we are filling our bodies with unfettered sugars that also get absorbed quickly. Filling a green juice with apples, oranges and whatever other sweet fruits to make it more palatable destroys some of the benefits of drinking juice. If you make your own juice at home, fill it with lots of green and add flavors like lemon, ginger and carrot for subtle sweetness that won't spike sugar levels and lead to hunger.
4. White rice
White rice is a simple starch that's broken down rapidly in the body, leading to a surge of energy followed by a blood sugar crash and, inevitably, hunger. While it may be easy to avoid white rice in daily life, sushi can present a tantalizing issue. If you love sushi, make sure you balance out the simple carbohydrates with a good portion of protein (perhaps a starter of miso soup?) and healthy fats (like a salmon avocado roll—yum!). If you make sushi at home, use black or brown rice in lieu of white for less of a starchy insulin spike.
5. Pretzels
Sure, they have no fat, but that's not necessarily a good thing. Snacking on pretzels throughout the day provides little nutritional value while doing little to satisfy your hunger. If you're craving pretzels, it's probably more of an emotional craving for crunch than an actual hunger craving. If you must have pretzels, eat them with a protein-dense dip, like one made from greek yogurt.
6. Alcohol
This shouldn't surprise anyone. Alcohol is notorious for increasing hunger. When alcohol is processed in the body, it acts as a sugar and floods the body with insulin. Plus, alcohol reduces your inhibitions and encourages you to nibble and overeat. To avoid completely overwhelming your body with sugar and throwing your hormones out of whack, drink in moderation and never drink on an empty stomach. Ideally, consume a meal of protein and greens before drinking rather than a carb-heavy meal, which will only contribute to blood sugar spikes.
YOU MIGHT ALSO LIKE 
This Is What a Soda Commercial Would Look Like If They Were Telling the Truth
EcoWatch Daily Newsletter
Coral restoration in Guam. U.S. Pacific Fleet / CC BY-NC 2.0
By Erica Cirino
Visit a coral reef off the coast of Miami or the Maldives and you may see fields of bleached white instead of a burst of colors.
Cracker Lake, Glacier National Park, Montana. Jacob W. Frank / NPS / Flickr
By Jason Bittel
High up in the mountains of Montana's Glacier National Park, there are two species of insect that only a fly fishermen or entomologist would probably recognize. Known as stoneflies, these aquatic bugs are similar to dragonflies and mayflies in that they spend part of their lives underwater before emerging onto the land, where they transform into winged adults less than a half inch long. However, unlike those other species, stoneflies do their thing only where cold, clean waters flow.
Augusta National / Getty Images
By Bob Curley
The new chicken sandwiches at McDonald's, Popeyes, and Chick-fil-A all contain the MSG flavor enhancement chemical.
Experts say MSG can enhance the so-called umami flavor of a food.
The ingredient is found in everything from Chinese food and pizza to prepackaged sandwiches and table sauces.
McDonald's wants to get in on the chicken sandwich war currently being waged between Popeyes and Chick-fil-A.
Protesters march during a "Friday for future" youth demonstration in a street of Davos on Jan. 24 on the sideline of the World Economic Forum annual meeting. FABRICE COFFRINI / AFP / Getty Images
By Andrea Germanos
Youth climate activists marched through the streets of Davos, Switzerland Friday as the World Economic Forum wrapped up in a Fridays for Future demonstration underscoring their demand that the global elite act swiftly to tackle the climate emergency.
chuchart duangdaw / Moment / Getty Images
By Tim Radford
The year is less than four weeks old, but scientists already know that carbon dioxide emissions will continue to head upwards — as they have every year since measurements began — leading to a continuation of the Earth's rising heat.