6 Foods That Can Actually Make You Hungrier
If you're hungry, you should be able to eat food and your hunger will subside. However, it's not always quite that simple. Certain foods—even "healthy" ones—can affect your hormones in a way that encourages increased hunger—not something most of us desire. What foods make you hungrier? Generally, starches and sweets are the culprits. They cause blood sugar spikes and drops that tell the body it needs more sugar to fuel itself. However, eating these foods tactically can reduce their resulting spike and prevent excess eating. The following 6 foods should be consumed in the presence of other balancing foods.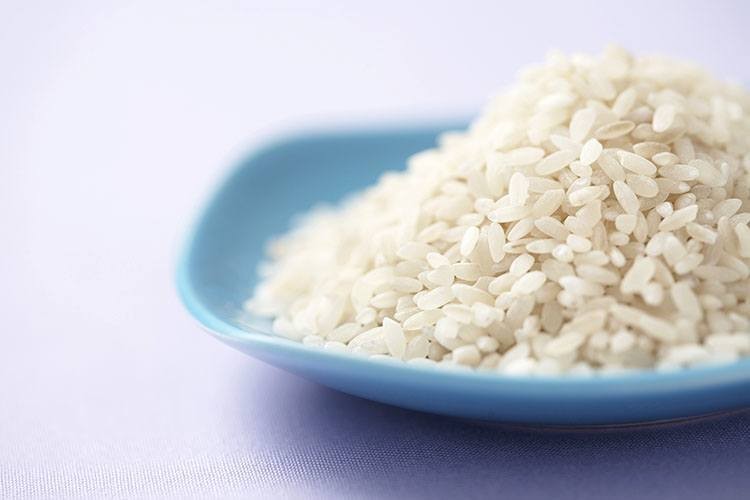 White rice is a simple starch that's broken down rapidly in the body, leading to a surge of energy followed by a blood sugar crash and, inevitably, hunger.
1. Dried fruit
Fruit is fantastic for you, but eating dried fruit on its own can skyrocket blood sugar levels and lead to a sugar drop, which will cause you to become hungry soon after your snack. Instead, try snacking on a bit of dried fruit with a little bit of fat or protein to slow the absorption of the sugar; dried apricots or currants with a handful of nuts or a high-protein yogurt or even a small piece of jerky. Be especially careful with consuming dried fruit, as its candy-like sweetness makes it easy to overindulge. In general, berries are relatively lower on the glycemic index, so dried berries (as long as there is no sugar added) are a good, high fiber, dried fruit choice as they'll offer the most sustained form of energy.
2. Granola
If you start your morning with a hearty bowl of granola or whole grain cereal, you may find yourself growing ravenously hungry again within an hour or two. The body is most primed to run on fat and protein in the morning, so overwhelming it with carbohydrates (especially sweetened granola) can throw off your hunger hormones and insulin levels for the rest of the day. If you love granola, try one that is high in nuts and coconut, low in sugar and eat a small quantity of it with some greek yogurt. This will provide the smoothest insulin spike.
3. Juice (even green ones)
Fresh juices can be an excellent supplement to the diet. However, if you're constantly relying on juice to get you through the day, you may be spiking your insulin levels and increasing your hunger hormones. By nature, juices have no fiber, which means you absorb their nutrients immediately. The problem is, when we throw a lot of sweet fruits in there (because, let's face it, kale and celery don't make for the tastiest juice), we are filling our bodies with unfettered sugars that also get absorbed quickly. Filling a green juice with apples, oranges and whatever other sweet fruits to make it more palatable destroys some of the benefits of drinking juice. If you make your own juice at home, fill it with lots of green and add flavors like lemon, ginger and carrot for subtle sweetness that won't spike sugar levels and lead to hunger.
4. White rice
White rice is a simple starch that's broken down rapidly in the body, leading to a surge of energy followed by a blood sugar crash and, inevitably, hunger. While it may be easy to avoid white rice in daily life, sushi can present a tantalizing issue. If you love sushi, make sure you balance out the simple carbohydrates with a good portion of protein (perhaps a starter of miso soup?) and healthy fats (like a salmon avocado roll—yum!). If you make sushi at home, use black or brown rice in lieu of white for less of a starchy insulin spike.
5. Pretzels
Sure, they have no fat, but that's not necessarily a good thing. Snacking on pretzels throughout the day provides little nutritional value while doing little to satisfy your hunger. If you're craving pretzels, it's probably more of an emotional craving for crunch than an actual hunger craving. If you must have pretzels, eat them with a protein-dense dip, like one made from greek yogurt.
6. Alcohol
This shouldn't surprise anyone. Alcohol is notorious for increasing hunger. When alcohol is processed in the body, it acts as a sugar and floods the body with insulin. Plus, alcohol reduces your inhibitions and encourages you to nibble and overeat. To avoid completely overwhelming your body with sugar and throwing your hormones out of whack, drink in moderation and never drink on an empty stomach. Ideally, consume a meal of protein and greens before drinking rather than a carb-heavy meal, which will only contribute to blood sugar spikes.
YOU MIGHT ALSO LIKE 
This Is What a Soda Commercial Would Look Like If They Were Telling the Truth
Laurie Woolever
By James O'Hare
There are 20 million people in the world facing famine in South Sudan, Somalia, Nigeria and Yemen. In developed nations, too, people go hungry. Venezuela, for instance, is enduring food insecurity on a national level as a result of economic crisis and political corruption. In the U.S., the land of supposed excess, 12.7 percent of households were food insecure in 2015, meaning they didn't know where their next meal would come from.
Keep reading...
Show less
Melwater, Greenland ice sheet. Diane Tuft
Artists are taking the climate crisis into frame and the results are emotional, beautiful and stirring.
So you've seen the best climate change cartoons and shared them with your friends. You've showed your family the infographics on climate change and health, infographics on how the grid works and infographics about clean, renewable energy. You've even forwarded these official National Oceanic and Atmospheric Administration graphs that explain the 10 clear indicators of climate change to your colleagues at the office.
Keep reading...
Show less
May. 27, 2017 01:11PM EST
As the Trump administration moves full speed ahead on boosting the oil and fossil fuel industry, opposition to increased pipeline construction is cropping up in different communities around the country.
Keep reading...
Show less
May. 27, 2017 01:02PM EST
Minke whale stranding near Havergate Island in Suffolk. MCGA.
By Simon Evans
Last Saturday, two dead whales washed up on the coast of Suffolk, in eastern England, and a third was spotted floating at sea.
What happened next illustrates how news can spread and evolve into misinformation, when reported by journalists rushing to publish before confirming basic facts or sourcing their own quotes.
Keep reading...
Show less
May. 27, 2017 01:22PM EST
By Monica Amarelo and Paul Pestano
Sun safety is a crucial part of any outdoor activity for kids, and sunscreen can help protect children's skin from harmful ultraviolet rays. Kids often get sunburned when they're outside unprotected for longer than expected. Parents need to plan ahead and keep sun protection handy in their cars or bags.
Keep reading...
Show less
May. 27, 2017 01:02PM EST
By Joe McCarthy
A lot of people take part in community clean-up efforts—spending a Saturday morning picking up litter in a park, mowing an overgrown field or painting a fence.
Keep reading...
Show less
May. 26, 2017 03:22PM EST
Rink Glacier in western Greenland, with a meltwater lake visible center. NASA/OIB
Scientists have had their eyes on Greenland as its iconic glaciers have begun disappearing due to a warming climate. But, what they didn't expect to see was a whole new type of melting.
Keep reading...
Show less
May. 26, 2017 03:40PM EST
A coalition of conservation groups and others announced Thursday that a historic number of comments and petitions of support have been submitted to the U.S. Department of the Interior in support of Bears Ears National Monument. Despite the entirely inadequate 15-day comment period ending on May 26, more than 685,000 comments in support of Bears Ears National Monument have been collected.
Keep reading...
Show less


Get EcoWatch in your inbox