This website uses cookies to ensure you get the best experience while browsing it. By clicking 'Got It' you're accepting these terms.
5 Reasons We Should Be Concerned about Fracking
Feb. 06, 2012 08:50AM EST
Energy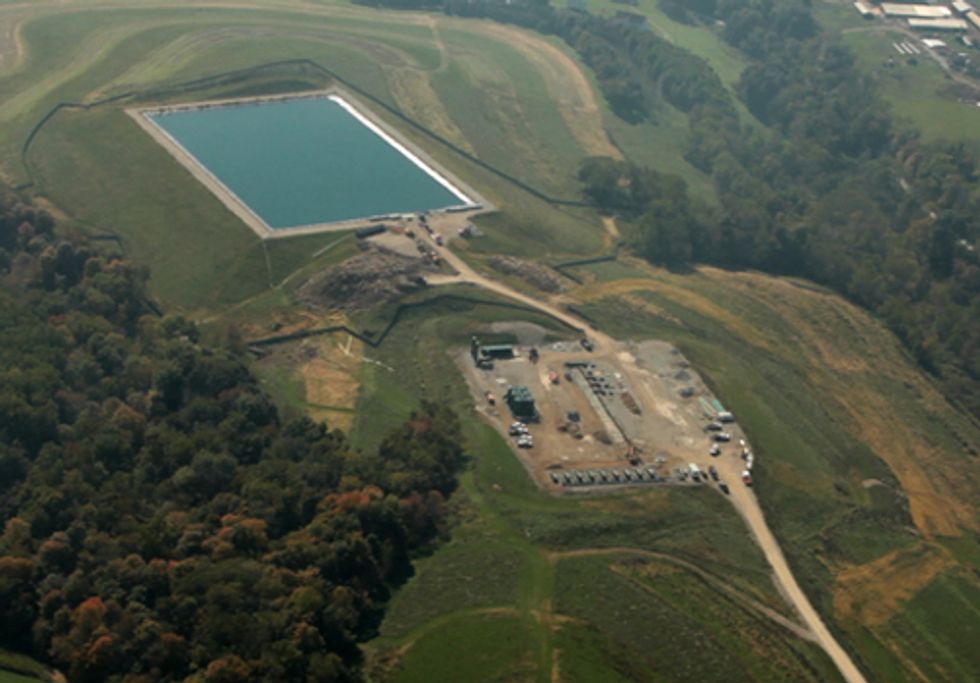 We all know that the affordability, efficiency, and sustainability of cleaner, greener energy will be a major challenge for this century. Some have called natural gas a better and cleaner energy source. Yet, even if we set aside this hot air, the process of extracting the gas (called hydraulic fracturing or fracking) proves problematic for both environmentalists as well as those in proximity to the wells. This article covers five major problems with fracking, based on two SnagFilms from the After the Gas Rush series, you can view by clicking here.
1. Water Pollution
The fracking process involves pumping large quantities of water, chemicals, and sand deep underground. This process produces a huge amount of pressure, which both extracts the natural gas and forces much of the water back to the surface.
The major concern with polluted water is that the salts, radium, other heavy metals, and benzene (a carcinogenic and flammable chemical) are forced back up to the surface with the rest of the wastewater. For efficiency, fracking companies want to reuse this wastewater and they subsequently treat the water so that the excess waste does not plug up parts of the well. Consequently, the products that have been removed (radium, and some other heavy metals) are disposed of. However, the water that gets reused still contains salts and benzene. The water is then pumped back underground, endangering aquifers.
 2. Proximity to Residential Areas—Fumes and Earthquakes
In addition to the risk of water contamination for those near fracking sites, wells also produce excess gases, which are either simply released into the air or burned upon their release. These fumes both leave an odor as well as present the possibility of negative health effects for those in proximity to the wells. Such effects include dizziness, confusion, and nasal bleeding. There is also growing evidence to support the theory that fracking can produce minor earthquakes within the vicinity of fracking wells. This may not be as surprising as it sounds considering the amount of pressure (around 8,000 pounds per square inch) that the gas extraction process exerts on shale rock deep beneath the surface.
 3. Property Rights
It is often the case that when someone buys a property, his or her rights do not extend to the subterranean levels where fracking companies aim to extract natural gas. These multinational companies purchase/lease the mineral rights to the land, and thus they legally are allowed to accesses those minerals through drilling as long as they pay damages to the surface owner (these damages are often do not satisfactorily cover the actually property loss, as average Americans find themselves up against massive corporate interests). Additionally many leases do not require companies to compensate landowners for water contamination. Many American landowners, farmers, and families are thus placed at the mercy of drilling companies who can legally exercise their mineral rights largely regardless of what lays on the surface.
4. Lack of Governmental Regulation
Aside from the government's lack of regulations on carbon emissions, the disposal of fracking waste products needs better oversight. As noted, the wastewater that rises to the surface during fracking is treated and then reused. After treatment, the waste that is extracted from the wastewater is placed in a landfill, as it is exempt from federal regulations pertaining to toxic waste. This lack of regulation does not recognize the fact that such waste can be extremely dangerous for the environment. As described, the cancerous and flammable benzene, other heavy metals, radium, and corrosive salts remain in the waste. However, regardless of how dangerous these chemicals may be, it is not treated as hazardous waste. If the waste is treated as normal garbage, then these toxic materials may endanger people's health and the environment's wellbeing for years to come.
5. Industry Growth
Compounding all of these factors is the fact that the natural gas industry is ballooning. In After the Gas Rush, Roshini Thinakaran states that in Pennsylvania alone 50,000 new wells will be permitted to be drilled over the next two decades. The result of this will be both an explosion in the burning of natural gas as well as in water contamination. One million gallons of toxic wastewater will be produced by each well within the first thirty days of its operation. One can only imagine the degree of environmental damage these wells may have after only a year's time. Similar expansion is also occurring in states such as New York, West Virginia and Ohio.
Below is SnagFilms's After the Gas Rush series. In the films, Roshini Thinakaran leads us into Pennsylvania to see how fracking affects the environment and the lives of those living within the vicinity of fracking wells. We invite you to watch the films here or at snagfilms.com and share them with others interested in the subject.
To see After the Gas Rush, click here.
For more information, click here.
EcoWatch Daily Newsletter
Doctors report that only 1 in 4 children are getting the recommended 60 minutes of physical activity per day. Ronnie Kaufman / DigitalVision / Getty Images
By Dan Gray
Pediatricians are being urged to start writing "exercise prescriptions" for the children they see in their office.
A First Nations protester walks in front of a train blockade in Tyendinaga, near Belleville, Ontario, Canada on Feb. 21, 2020. LARS HAGBERG / AFP via Getty Images
An indigenous rail blockade that snarled train travel in Canada for more than two weeks came to an end Monday when police moved in to clear protesters acting in solidarity with another indigenous community in British Columbia (B.C.), which is fighting to keep a natural gas pipeline off its land.
A rainbow snake, a rare reptile spotted in a Florida county for the first time in more than 50 years, seen here on July 5, 2013.
Kevin Enge / FWC Fish and Wildlife Research Institute / Flickr
A Florida hiker recently stumbled across a slithering surprise — a rare snake that hadn't been spotted in the area for more than 50 years.
We need our government to do everything it can to stop PFAS contamination and exposure from wreaking havoc in communities across the country. LuAnn Hun /
Unsplash
By Genna Reed
The EPA announced last week that it is issuing a preliminary regulatory determination for public comment to set an enforceable drinking water standard to two of the most common and well-studied PFAS, PFOA and PFOS.
This decision is based on three criteria:
PFOA and PFOS have an adverse effect on public health
PFOA and PFOS occur in drinking water often enough and at levels of public health concern;
regulation of PFOA and PFOS is a meaningful opportunity for reducing the health risk to those served by public water systems.
Charging EVs in Stockholm: But where does a dead battery go? Ranjithsiji / Wikimedia Commons
By Kieran Cooke
Driving an electric-powered vehicle (EV) rather than one reliant on fossil fuels is a key way to tackle climate change and improve air quality — but it does leave the old batteries behind as a nasty residue.