This website uses cookies to ensure you get the best experience while browsing it. By clicking 'Got It' you're accepting these terms.
4 Yoga Inversions That Will Improve Your Health
Jun. 24, 2016 09:07AM EST
Health + Wellness
By Maggie McCracken
Inverting—positioning your body so that your feet are higher than your heart—holds a number of health benefits. Seniors are especially likely to benefit from inverting, but everyone can enjoy improved circulation, reduced foot and leg swelling, a rush of oxygen to the brain and perhaps even relief from back pain if they include regular inversions in their yoga practice.
---
However, going upside down can be scary. It's important to know how to get started safely. Before attempting any inversions, be sure to check with your doctor, particularly if you have elevated blood pressure. Ladies will also want to refrain from inverting during their period.
Once you've been given the go-ahead, you're ready to go upside down! Work with a yoga teacher if you're new to an inversion practice. Here are a few basic inversions ranging from beginner to advanced to get you started.
Viparita Karani (Legs-Up-the-Wall Pose)
Viparita karani might not even look like a yoga pose at first glance. It's a very simple asana that can be practiced by almost anyone who's in good health and it's often associated with restorative yoga, a type of practice that involves meditation, slow movement, rest and deep breathing to reduce stress.
To get into viparita karani, all you need to do is lie with your butt against the wall. Slowly bring your feet up so they're at a 90-degree angle with your upper body. Close your eyes and breathe deeply. Keep your arms wherever it feels comfortable.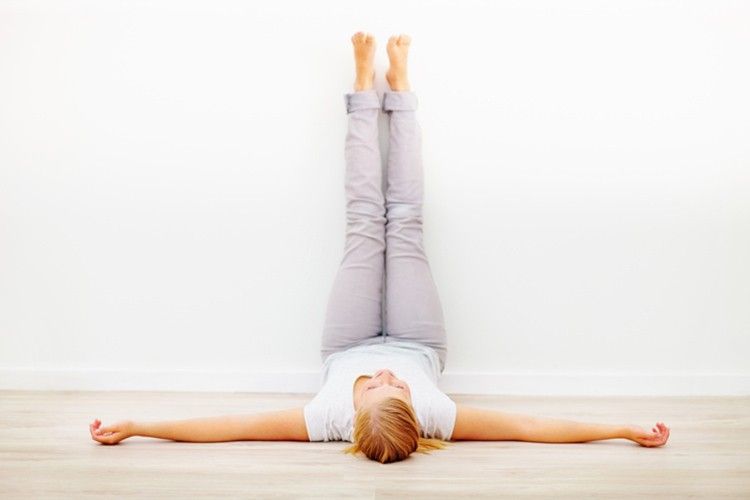 Sarvangasana (Shoulder Stand)
If you've been practicing yoga for a while, you may be ready to attempt the shoulder stand. It's important not to try this one if you have any neck issues and safety is always a priority. To help avoid injury, never turn your head or move your neck while you're in this pose.
To get into the pose, start by lying on your back. Use your core muscles to lift your legs and feet into the air, bringing your hips along for the ride. Anchor your hands right against your hip bones and rest on your elbows. You don't need to go up too high if you don't want to, but the eventual goal is to have your feet, hips and shoulders in the same line. Avoid collapsing your upper body and neck by taking care to keep your chin away from your chest.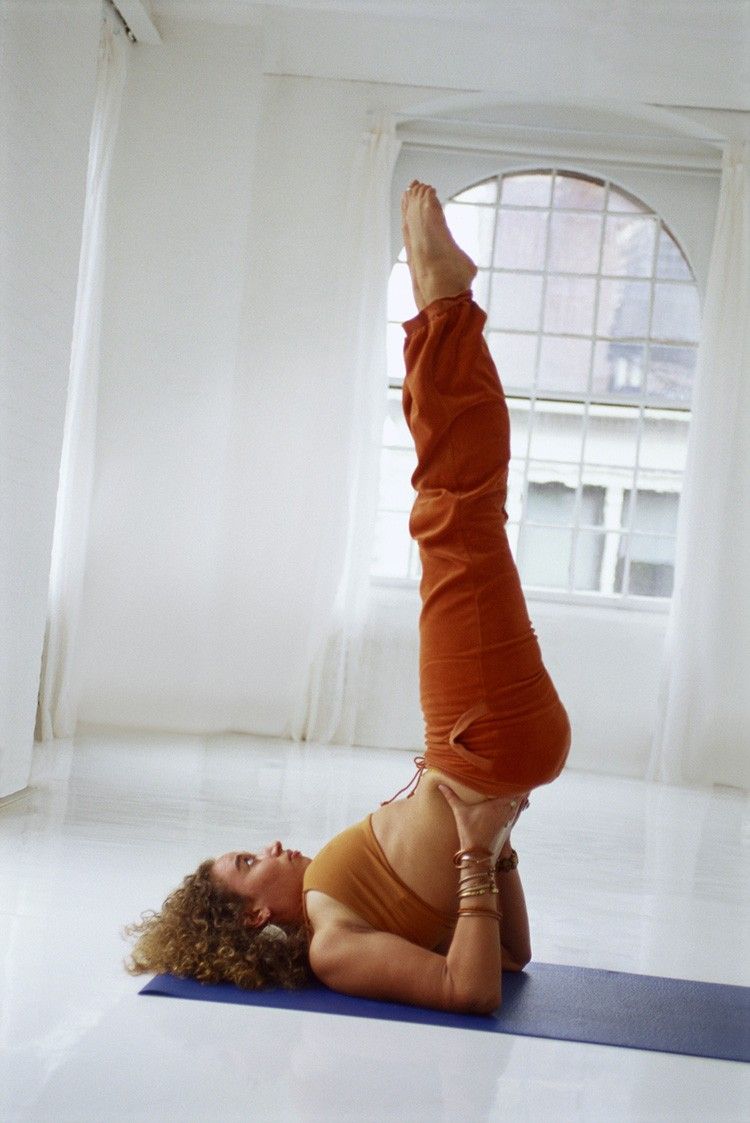 Adho Mukha Vrksasana (Handstand)
Believe it or not, most yoga teachers are instructed to teach their students to handstand successfully before moving on to headstand! You can switch the progression if you really want to, but the idea behind this is that you build muscle in the shoulders before putting any weight directly on your head in order to protect the neck.
If you feel ready to attempt a handstand, you may want to begin with a wall behind you. Balancing straight up is pretty difficult and requires a lot of practice—pretty much everyone starts out using a wall for support.
You're going to begin in downward-facing dog with your hands a few inches away from the wall. You shouldn't be starting from a standing position and using momentum to get into the pose. Instead, you should be using your core muscles to get your feet above your head.
Start building these muscles by doing repeated kicks upward. Pick one leg to lead and then use the other to push off from the floor. Use your abs to bring your leading foot closer and closer to straight above your head. Then repeat these exercising with your other foot leading.
After you've built up enough core strength, you'll have the ability to bring your legs up over your hips. Attempt to get your shoulders, hips and feet in a straight line, resting your feet on the wall behind you for as long as is necessary.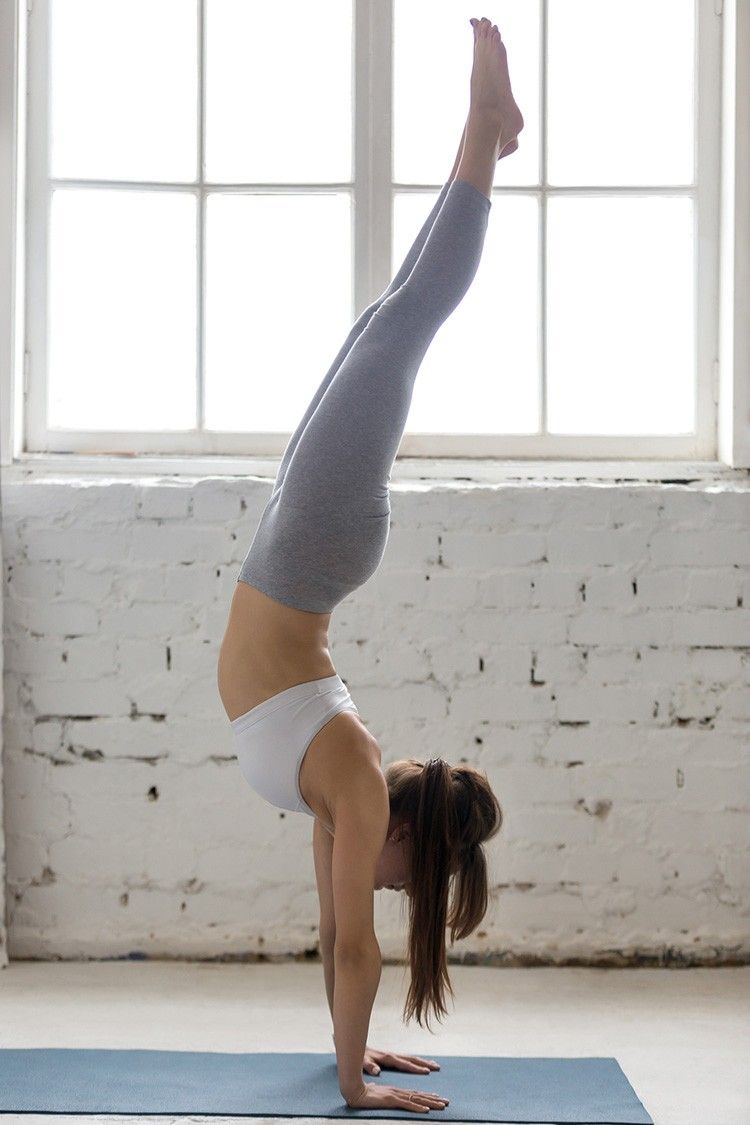 Sirsasana (Headstand)
Finally (or perhaps next-to-last if you've chosen to try headstand before handstand), it's time to move into shoulder stand. Make sure you build up a good muscle base in your shoulders before attempting this pose. This will help keep weight off your neck so that you can practice safely and avoid injury. This is another position you'll probably want to do against a wall, at least to start.
Start off in a tabletop-like pose with your knees on the floor and your elbows beneath your shoulders, clasping your hands together and resting them on the floor in front of your elbows. Move up onto your toes while you simultaneously put your head down in between your elbows—kind of like a downward-facing dog, but with your elbows and head on the floor instead of your palms. Just like you'd do in a handstand, use your core to pull your feet above your hips, one at a time.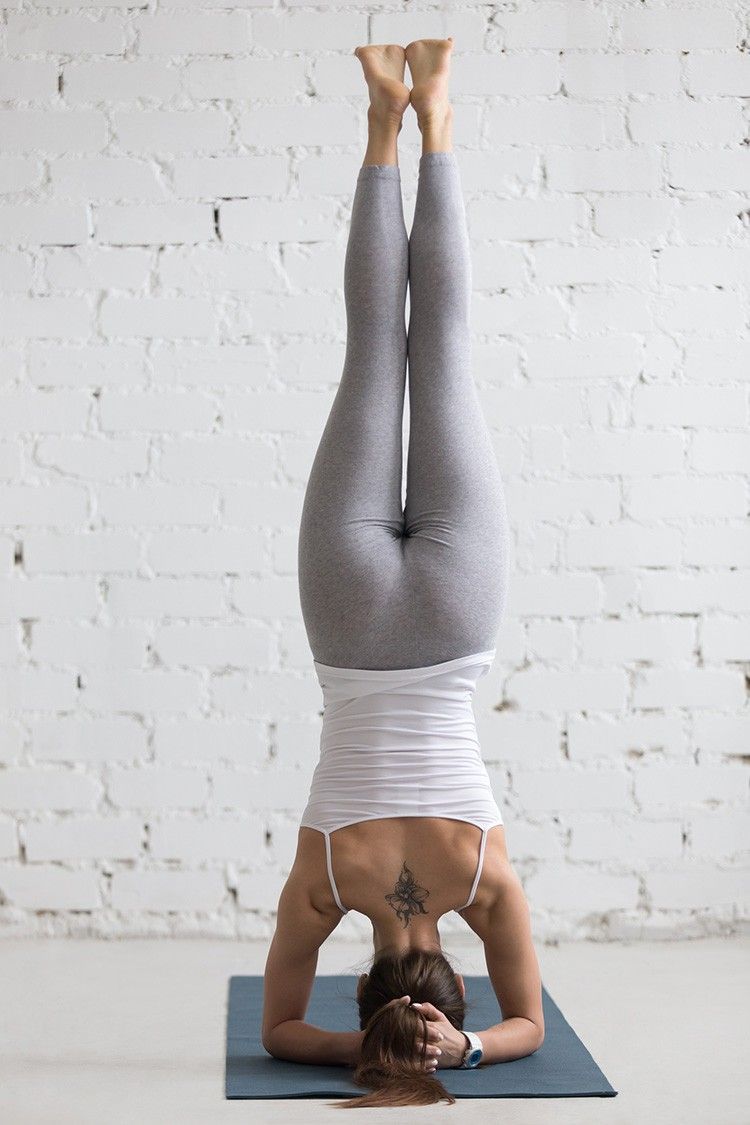 EcoWatch Daily Newsletter
Protesters hold a banner and a placard while blocking off the road during a protest against Air pollution in London. Ryan Ashcroft / SOPA Images / LightRocket / Getty Images
By Jessica Corbett
Dozens of students, parents, teachers and professionals joined a Friday protest organized by Extinction Rebellion that temporarily stalled morning rush-hour traffic in London's southeasten borough of Lewisham to push politicians to more boldly address dangerous air pollution across the city.

Jose A. Bernat Bacete / Moment / Getty Images
By Bridget Shirvell
On a farm in upstate New York, a cheese brand is turning millions of pounds of food scraps into electricity needed to power its on-site businesses. Founded by eight families, each with their own dairy farms, Craigs Creamery doesn't just produce various types of cheddar, mozzarella, Swiss and Muenster cheeses, sold in chunks, slices, shreds and snack bars; they're also committed to becoming a zero-waste operation.

By Jessica A. Knoblauch
Summers in the Midwest are great for outdoor activities like growing your garden or cooling off in one of the area's many lakes and streams. But some waters aren't as clean as they should be.
That's in part because coal companies have long buried toxic waste known as coal ash near many of the Midwest's iconic waterways, including Lake Michigan. Though coal ash dumps can leak harmful chemicals like arsenic and cadmium into nearby waters, regulators have done little to address these toxic sites. As a result, the Midwest is now littered with coal ash dumps, with Illinois containing the most leaking sites in the country.

picture-alliance / AP Photo / NOAA Pacific Islands Fisheries Science Center
The Group of 20 major economies agreed a deal to reduce marine pollution at a meeting of their environment ministers on Sunday in Karuizawa, Japan.
Pope Francis holds his General Weekly Audience in St. Peter's Square on Aug. 29, 2018 in Vatican City, Vatican. Giulio Origlia / Getty Images
Pope Francis declared a climate emergency Friday as he met with oil industry executives and some of their biggest investors to urge them to act on the climate crisis.
A vegetarian bowl with quinoa fritters. Westend61 / Getty Images
By Ketura Persellin
You've likely heard that eating meat and poultry isn't good for your health or the planet. Recent news from Washington may make meat even less palatable: Pork inspections may be taken over by the industry itself, if a Trump administration proposal goes into effect, putting tests for deadly pathogens into the hands of the industry.
Florida's Deerfield Beach International Fishing Pier, where the record-breaking beach cleanup took place Saturday. Jeffrey Greenberg / Universal Images Group via Getty Images
More than 600 people gathered on a Florida beach Saturday to break the world record for the largest underwater cleanup of ocean litter.