This website uses cookies to ensure you get the best experience while browsing it. By clicking 'Got It' you're accepting these terms.
4 Natural Supplements That Are as Powerful as Drugs
Feb. 26, 2015 02:41PM EST
Popular
By Kris Gunnars
Most supplements don't really work, or at least haven't been proven to work. However, there are some exceptions to this. In fact, a few supplements are so effective that they are comparable to pharmaceutical drugs.
Here are four natural health boosting supplements that are as powerful as drugs (if not more):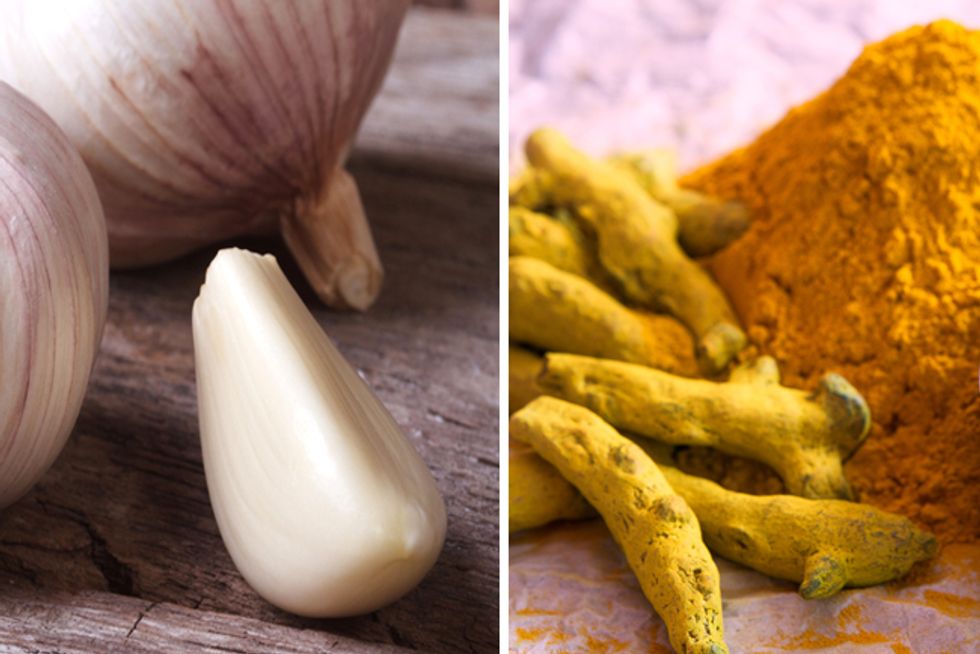 Photo credit: Shutterstock
1. Berberine Drastically Lowers Blood Sugar Levels and Improves Metabolic Health
Berberine is a bioactive substance that is extracted from certain plants.
It isn't well known, but may just be the single most powerful supplement on earth.
Berberine provides all sorts of health benefits, but is particularly effective at lowering blood sugar levels (1).
It is believed to lower blood sugar via numerous mechanisms, including reducing glucose production in the liver and improving insulin sensitivity (2, 3).
Studies have shown that taking berberine can lower blood sugar levels to a similar extent as the popular diabetes drug metformin (4).
In a study of 116 patients with type 2 diabetes, berberine lowered fasting blood sugar levels by 20 percent and HbA1c (a marker for long-term blood sugar levels) by 12 percent (5).
Berberine is also very effective at improving other health markers. It leads to major reductions in total and LDL cholesterol, and lowers blood triglycerides and blood pressure levels, which should lead to a reduced risk of heart disease (1, 6, 7, 8).
Berberine has also been shown to have anti-bacterial effects, and may be protective against heart failure, cancer and Alzheimer's disease (9, 10, 11, 12).
Keep in mind that berberine is a very powerful supplement, with a wide range of biological effects, so use it with caution.
Definitely consult with your doctor if you are currently taking any other medications.
Bottom Line: Berberine is a powerful supplement. It can lead to major reductions in blood sugar levels and improvements in most major risk factors for heart disease, to name a few.
2. Curcumin (From Turmeric) is a Potent Anti-Inflammatory Agent
Turmeric is a popular spice, known for giving curry its yellow color.
It has been used in India for thousands of years as a medicinal herb.
Turmeric contains a powerful biologically active substance called curcumin, which has been studied thoroughly in recent years (13).
Curcumin fights inflammation at the molecular level by blocking an inflammatory signalling molecule called NF-kB (14, 15).
It is so effective that it has compared favorably to anti-inflammatory drugs in some studies, without any major side effects (16, 17).
For example, it has been shown to be very effective in treating arthritis. In a study of 45 patients with rheumatoid arthritis, 500 mg of curcumin per day was more effective than the anti-inflammatory drug diclofenac (18).
Curcumin also has numerous other health benefits. It is a powerful antioxidant, can improve heart health, and may help prevent cancer and Alzheimer's (19, 20, 21 22).
According to one study, curcumin can also help fight depression. In this study of 60 depressed patients, curcumin was as effective as the antidepressant drug prozac (23).
Curcumin is poorly absorbed, so it is better to get a supplement that also contains piperine/bioperine, which has been shown to enhance absorption by 2,000 percent (24).
Bottom Line: Curcumin is the biologically active agent in turmeric. It is a very powerful anti-inflammatory substance that may help fight numerous diseases.
3. Red Yeast Rice Contains a Natural Statin, Which Can Lower Cholesterol and Help Prevent Heart Disease
Statin drugs are among the most widely prescribed drugs in the world.
They inhibit the production of cholesterol in the liver, leading to significantly reduced cholesterol levels in the blood.
Interestingly, an extract of a type of fermented rice called red yeast rice may have similar effects.
Red yeast rice contains a substance called monacolin K, which is identical to the statin drug Lovastatin (25).
According to a review that looked at 93 controlled trials, red yeast rice can lower total cholesterol by 34 mg/dL, LDL by 28 mg/dL, triglycerides by 35 mg/dL and increase HDL (the "good" cholesterol) by 6 mg/dL, on average (26).
In a massive Chinese study of 5,000 heart attack patients, red yeast rice lowered the risk of subsequent heart attacks by 45 percent and reduced the risk of dying during the study period by 33 percent (27).
Unfortunately, the amount of the active ingredient can vary up to 100-fold, depending on which brand of red yeast rice you get (28).
Therefore, there is no guarantee that you are getting a pharmacologically active dose, and it may not work as well as it did in the studies.
Keep in mind that, although "natural," red yeast rice functions just like a statin drug, and may have similar side effects.
Definitely do not take this supplement without speaking to your doctor first.
Bottom Line: Red yeast rice contains a substance that is identical to the statin drug Lovastatin. It can significantly reduce cholesterol levels, and lowers the risk of heart attacks and death in people who already have heart disease.
4. Garlic Can Cause Major Reductions in Blood Pressure
Garlic is arguably one of the tastiest ingredients in the world.
It has been used as a medicinal plant for a very long time, including by the Greeks and the Romans (29).
The main effects of garlic are mediated by its active compound, allicin, which is highly beneficial for heart health (30).
Studies have shown that garlic can lower total and LDL cholesterol by about 10-15 percent, on average (31, 32, 33).
Even more importantly, it can significantly lower blood pressure, a major risk factor for heart attacks, strokes, kidney disease and early death (34, 35).
In people with high blood pressure, garlic can lower systolic blood pressure by 8.4 mmHg, and diastolic blood pressure by 7.3 mmHg, on average (36).
In one study of 210 people with high blood pressure, aged garlic extract was even more effective than the blood pressure lowering drug atenolol (37).
Garlic also appears to be effective at boosting immune function and helping to fight the common cold, the world's most common infectious disease.
In one study, it reduced the number of colds by 63%, and reduced the duration of cold symptoms by 70%, or from an average of 5 days to an average of 1.5 days (38).
Bottom Line: Garlic has a wide range of biological effects. It can lower blood pressure, improve cholesterol levels and help fight the common cold.
Take Home Message
Supplements, no matter how effective, can never replace a healthy lifestyle with real food, exercise and good sleep.
That being said, these natural supplements may be useful for people who need some "biological assistance," but still want to keep things as natural as possible.
Keep in mind that these supplements are incredibly powerful, and should be treated with respect.
If you currently have a medical condition or take any medication, then consult with your doctor before trying any of this out.
This article was reposted from our media associate Authority Nutrition.
YOU MIGHT ALSO LIKE
12 Fruits and Veggies You Should Avoid (If Buying Non-Organic)
3 Alternatives to Cow's Milk for Kids
EcoWatch Daily Newsletter
Penguins are seen near the Great Wall station in Antarctica, Feb. 9, days after the continent measured its hottest temperature on record at nearly 65 degrees Fahrenheit. Xinhua / Liu Shiping / Getty Images
By Richard Connor
Scientists have recorded Antarctica's first documented heat wave, warning that animal and plant life on the isolated continent could be drastically affected by climate change.
The Athos I tanker was carrying crude oil from Venezuela when a collision caused oil to begin gushing into the Delaware River.
U.S. Department of the Interior
A case that has bounced around the lower courts for 13 years was finally settled yesterday when the U.S. Supreme Court upheld a lower court decision, finding oil giant Citgo liable for a clean up of a 2004 oil spill in the Delaware River, according to Reuters.
The buildings of downtown Los Angeles are partially obscured in the late afternoon on Nov. 5, 2019, as seen from Pasadena, California, a day when air quality for Los Angeles was predicted to be "unhealthy for sensitive groups." Mario Tama / Getty Images
The evidence continues to build that breathing dirty air is bad for your brain.
Wave power in Portugal. The oceans' energy potential is immense. Luis Ascenso, via Wikimedia Commons
By Paul Brown
The amount of energy generated by tides and waves in the last decade has increased tenfold. Now governments around the world are planning to scale up these ventures to tap into the oceans' vast store of blue energy.
Yellowstone National Park closed to visitors on March 24, 2020 because of the Covid-19 virus threat. William Campbell-Corbis via Getty Images
When the novel coronavirus started to sweep across the country, the National Park Service started to waive entrance fees. The idea was that as we started to practice social distancing, Americans should have unfettered access to the outdoors. Then the parking lots and the visitor centers started to fill up, worrying park employees.