30 Easy Ways to Lose Weight Naturally
Jan. 06, 2016 02:44PM EST
Food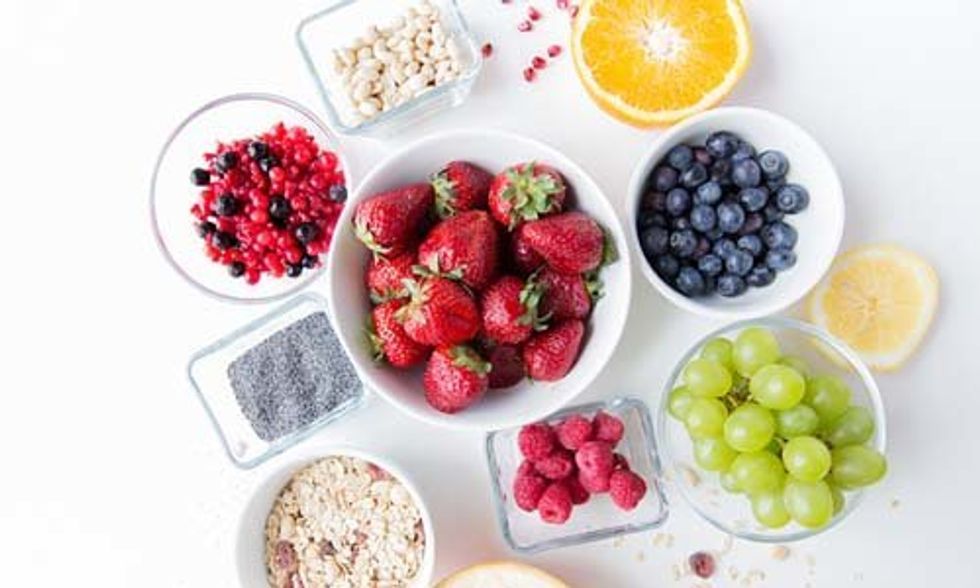 There is a lot of bad weight loss information on the Internet.
Much of what is recommended is questionable at best and not based on any actual science.
However, there are several natural methods that have actually been proven to work.
Here are 30 easy ways to lose weight naturally, which are supported by science.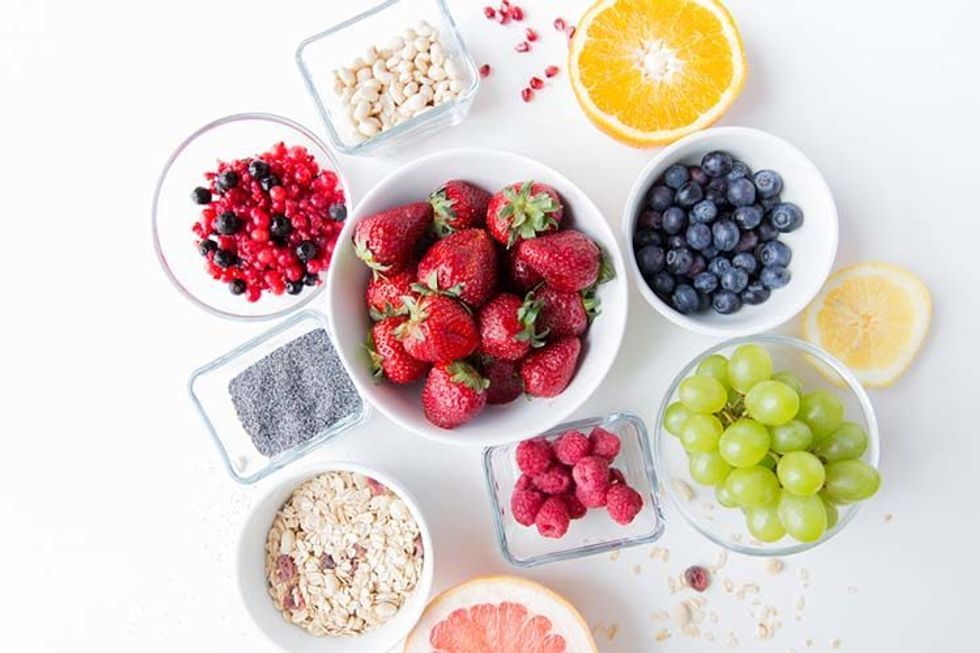 Photo credit: Shutterstock
1. Add Protein to Your Diet
When it comes to weight loss, protein is the king of nutrients.
Your body burns calories when digesting and metabolizing the protein you eat, so a high-protein diet can boost metabolism by up to 80-100 calories per day (1, 2).
A high-protein diet can also make you feel more full and reduce your appetite. In fact, some studies show that people eat more than 400 fewer calories per day on a high-protein diet (3, 4).
Even something as simple as eating a high-protein breakfast (like eggs) can have a powerful effect (4, 5, 6).
2. Eat Whole, Single-Ingredient Foods
One of the best things you can do to become healthier is to base your diet on whole, single-ingredient foods.
By doing this, you eliminate the vast majority of added sugar, added fat and processed food.
Most whole foods are naturally very filling, making it a lot easier to keep within healthy calorie limits (7).
Furthermore, eating whole foods also provides your body with the many essential nutrients that it needs to function properly.
Weight loss often follows as a natural "side effect" of eating whole foods.
3. Avoid Processed Foods
Processed foods are usually high in added sugars, added fats and calories.
What's more, processed foods are engineered to make you eat as much as possible. They are much more likely to cause addictive-like eating than unprocessed foods (8).
4. Stock Up on Healthy Foods and Snacks
Studies have shown that the food you keep at home greatly affects weight and eating behavior (9, 10, 11).
By always having healthy food available, you reduce the chances of you or other family members eating unhealthy.
There are also many healthy and natural snacks that are easy to prepare and take with you on the go.
These include yogurt, whole fruit, nuts, carrots and hard-boiled eggs.
5. Limit Your Intake of Added Sugar
Eating a lot of added sugar is linked with some of the world's leading diseases, including heart disease, type 2 diabetes and cancer (12, 13, 14).
On average, Americans eat about 15 teaspoons of added sugar each day. This amount is usually hidden in various processed foods, so you may be consuming a lot of sugar without even realizing it (15).
Since sugar goes by many names in ingredient lists, it can be very difficult to figure out how much sugar a product actually contains.
Minimizing your intake of added sugar is a great way to improve your diet.
6. Drink Water
There is actually truth to the claim that drinking water can help with weight loss.
Drinking 0.5 liters (17 oz) of water may increase the calories you burn by 24–30 percent for an hour afterward (16, 17, 18, 19).
Drinking water before meals may also lead to reduced calorie intake, especially for middle-aged and older people (20, 21).
Water is particularly good for weight loss when it replaces other beverages that are high in calories and sugar (22, 23).
7. Drink (Unsweetened) Coffee
Fortunately, people are realizing that coffee is a healthy beverage that is loaded with antioxidants and other beneficial compounds.
Coffee drinking may support weight loss by increasing energy levels and the amount of calories you burn (24, 25, 26).
Caffeinated coffee may boost your metabolism by 3–11 percent and reduce your risk of developing type 2 diabetes by a whopping 23–50 percent (27, 28, 29).
Furthermore, black coffee is very weight loss friendly, since it can make you feel full but contains almost no calories.
8. Supplement With Glucomannan
Glucomannan is one of several weight loss pills that has been proven to work.
This water-soluble, natural dietary fiber comes from the roots of the konjac plant, also known as the elephant yam.
Glucomannan is low in calories, takes up space in the stomach and delays stomach emptying. It also reduces the absorption of protein and fat, and feeds the beneficial gut bacteria (30, 31, 32).
Its exceptional ability to absorb water is believed to be what makes it so effective for weight loss. One capsule is able to turn an entire glass of water into gel.
Read page 1
9. Avoid Liquid Calories
Liquid calories come from beverages like sugary soft drinks, fruit juices, chocolate milk and energy drinks.
These drinks are bad for health in several ways, including an increased risk of obesity. One study showed a drastic 60 percent increase in the risk of obesity among children, for each daily serving of a sugar-sweetened beverage (33).
It's also important to note that your brain does not register liquid calories the same way it does solid calories, so you end up adding these calories on top of everything else that you eat (34, 35).
10. Limit Your Intake of Refined Carbs
Refined carbs are carbs that have had most of their beneficial nutrients and fiber removed.
The refining process leaves nothing but easily digested carbs, which can increase the risk of overeating and disease (36, 37).
The main dietary sources of refined carbs are white flour, white bread, white rice, sodas, pastries, snacks, sweets, pasta, breakfast cereals and added sugar.
11. Fast Intermittently
Intermittent fasting is an eating pattern that cycles between periods of fasting and eating.
There are a few different ways to do intermittent fasting, including the 5:2 diet, the 16:8 method and the eat-stop-eat method.
Generally, these methods make you eat fewer calories overall, without having to consciously restrict calories during the eating periods. This should lead to weight loss, as well as numerous other health benefits (38).
12. Drink (Unsweetened) Green Tea
Green tea is a natural beverage that is loaded with antioxidants.
Drinking green tea is linked with many benefits, such as increased fat burning and weight loss (39, 40).
Green tea may increase energy expenditure by 4 percent and increase selective fat burning by up to 17 percent, especially harmful belly fat (41, 42, 43, 44).
Matcha green tea is a variety of powdered green tea that may have even more powerful health benefits than regular green tea.
13. Eat More Fruits and Vegetables
Fruits and vegetables are extremely healthy, weight-loss-friendly foods.
In addition to being high in water, nutrients and fiber, they usually have very low energy density. This makes it possible to eat large servings without consuming too many calories.
Numerous studies have shown that people who eat more fruits and vegetables tend to weigh less (45, 46).
14. Count Calories Once in a While
Being aware of what you're eating is very helpful when trying to lose weight.
There are several effective ways to do this, including counting calories, keeping a food diary or taking pictures of what you eat (47, 48, 49).
Using an app or another electronic tool may be even more beneficial than writing in a food diary (50, 51).
15. Use Smaller Plates
Some studies have shown that using smaller plates helps you eat less, because it changes how you see portion sizes (52, 53).
People seem to fill their plates the same, regardless of plate size, so they end up putting more food on larger plates than smaller ones (54).
Using smaller plates reduces how much food you eat, while giving you the perception of having eaten more (55).
16. Try a Low-Carb Diet
Many studies have shown that low-carb diets are very effective for weight loss.
Limiting carbs and eating more fat and protein reduces your appetite and helps you eat fewer calories (56).
This can result in weight loss that is up to three times greater than that from a standard low-fat diet (57, 58).
A low-carb diet can also improve many risk factors for disease.
17. Eat More Slowly
If you eat too fast, you may eat way too many calories before your body even realizes that you are full (59, 60).
Faster eaters are much more likely to become obese, compared to those who eat more slowly (61).
Chewing more slowly may help you eat fewer calories and increase the production of hormones that are linked to weight loss (62, 63).
18. Replace Some Fat with Coconut Oil
Coconut oil is high in fats called medium-chain triglycerides, which are metabolized differently than other fats.
Studies show that they can boost your metabolism slightly, while helping you eat fewer calories (64, 65, 66).
Coconut oil may be especially helpful in reducing the harmful belly fat (67, 68).
Note that this does not mean that you should add this fat to your diet, but simply replace some of your other fat sources with coconut oil.
19. Add Eggs to Your Diet
Eggs are the ultimate weight loss food. They are cheap, low in calories, high in protein and loaded with all sorts of nutrients.
High-protein foods have been shown to reduce appetite and increase fullness, compared to foods that contain less protein (69, 70, 71, 72).
Furthermore, eating eggs for breakfast may cause up to 65 percent greater weight loss over 8 weeks, compared to eating bagels for breakfast. It may also help you eat fewer calories throughout the rest of the day (4, 5, 6, 73).
20. Spice Up Your Meals
Chili peppers and jalapenos contain a compound called capsaicin, which may boost metabolism and increase the burning of fat (74, 75, 76, 77).
Capsaicin may also reduce appetite and calorie intake (75, 78).
Read page 1
21. Take Probiotics
Probiotics are live bacteria that have health benefits when eaten. They can improve digestive health and heart health and may even help with with weight loss (79, 80).
Studies have shown that overweight and obese people tend to have different gut bacteria than normal-weight people, which may influence weight (81, 82, 83).
Probiotics may help regulate the healthy gut bacteria. They may also block the absorption of dietary fat, while reducing appetite and inflammation (84, 85, 86).
Of all the probiotic bacteria, Lactobacillus gasseri shows the most promising effects on weight loss (87, 88, 89).
22. Get Enough Sleep
Getting enough sleep is incredibly important for weight loss, as well as to prevent future weight gain.
Studies have shown that sleep-deprived people are up to 55 percent more likely to become obese, compared to those who get enough sleep. This number is even higher for children (90).
This is partly because sleep deprivation disrupts the daily fluctuations in appetite hormones, leading to poor appetite regulation (91, 92).
23. Eat More Fiber
Fiber-rich foods may help with weight loss.
Foods that contain water-soluble fiber may be especially helpful, since this type of fiber can help increase the feeling of fullness.
Fiber may delay stomach emptying, make the stomach expand and promote the release of satiety hormones (93, 94, 95).
Ultimately, this makes us eat less naturally, without having to think about it.
Furthermore, many types of fiber can feed the friendly gut bacteria. Healthy gut bacteria have been linked with a reduced risk of obesity (96, 97, 98).
Just make sure to increase your fiber intake gradually to avoid abdominal discomfort, such as bloating, cramps and diarrhea.
24. Brush Your Teeth After Meals
Many people brush or floss their teeth after eating, which may help limit the desire to snack or eat between meals (99).
This is because many people do not feel like eating after brushing their teeth. Plus, it can make food taste bad.
Therefore, if you brush or use mouthwash after eating, you may be be less tempted to grab an unnecessary snack.
25. Combat Your Food Addiction
Food addiction involves overpowering cravings and changes in your brain chemistry that make it harder to resist eating certain foods.
This is a major cause of overeating for many people and affects a significant percentage of the population. In fact, a recent 2014 study found that almost 20 percent of people fulfilled the criteria for food addiction (100).
Some foods are much more likely to cause symptoms of addiction than others. This includes highly processed junk foods that are high in sugar, fat or both.
The best way to beat food addiction is to seek help.
26. Do Some Sort of Cardio
Doing cardio—whether it is jogging, running, cycling, power walking or hiking—is a great way to burn calories and improve both mental and physical health.
Cardio has been shown to improve many risk factors for heart disease. It can also help reduce body weight (101, 102).
Cardio seems to be particularly effective at reducing the dangerous belly fat that builds up around your organs and causes metabolic disease (103, 104).
27. Add Resistance Exercises
Loss of muscle mass is a common side effect of dieting.
If you lose a lot of muscle, your body will start burning fewer calories than before (105, 106).
By lifting weights regularly, you'll be able to prevent this loss in muscle mass (107, 108).
As an added benefit, you'll also look and feel much better.
28. Use Whey Protein
Most people get enough protein from diet alone. However, for those who don't, taking a whey protein supplement is an effective way to boost protein intake.
One study shows that replacing part of your calories with whey protein can cause significant weight loss, while also increasing lean muscle mass (109, 110).
Just make sure to read the ingredients list, because some varieties are loaded with added sugar and other unhealthy additives.
29. Practice Mindful Eating
Mindful eating is a method used to increase awareness while eating.
It helps you make conscious food choices and develop awareness of your hunger and satiety cues. It then helps you eat healthy in response to those cues (111).
Mindful eating has been shown to have significant effects on weight, eating behavior and stress in obese individuals. It is especially helpful against binge eating and emotional eating (112, 113, 114).
By making conscious food choices, increasing your awareness and listening to your body, weight loss should follow naturally and easily.
30. Focus on Changing Your Lifestyle
Dieting is one of those things that almost always fails in the long term. In fact, people who "diet" tend to gain more weight over time (115).
Instead of focusing only on losing weight, make it a primary goal to nourish your body with healthy food and nutrients.
Eat to become a healthier, happier, fitter person—not just to lose weight.
This article was reposted from our media associate Authority Nutrition.
YOU MIGHT ALSO LIKE
Dr. Mark Hyman: 10 Reasons Why You Should Eat Fat to Get Thin
Omega-3: How Much Do I Need for Optimal Health?
In "Weather," Jenny Offill tells the story of a librarian named Lizzie who prepares for a climate apocalypse. Andrew Merry / Getty Images
By Suzanne Cords
One day Lizzie, the first-person narrator of the novel, receives an old book as a gift, with a dedication wishing the reader to be among the survivors. Like the preppers who build bunkers and stockpile supplies in remote areas to be ready for the end of the world, Lizzie is convinced that the end of the world is definitely near in times of a threatening climate disaster.
Lizzie, who lives in New York with her husband and son, is a university campus librarian. She worries about almost everything: her brother, an ex-junkie, or her dental insurance and the future in the face of the apocalypse. She is obsessed with reading reference books and articles about climate change.
She also devours words of wisdom, including about Buddhist spirituality: "A visitor once asked the old monks on Mount Athos what they did all day, and was told: We have died and we are in love with everything." But nothing can lift her spirits.
'Lizzie Is Just Like Us'
Lizzie observes rich New Yorkers plan their move to regions that are less threatened by climate change, something she simply cannot afford. Sometimes she watches disaster movies, which lead her to worry even more.
Above all, she is a gifted observer of her fellow human beings. "Young person worry: What if nothing I do matters? Old person worry: What if everything I do, does?"
Lizzie, the U.S. author told DW, is a bit like the rest of us — well aware of the climate crisis, but because she cares and worries about so many other things, that awareness falls by the wayside. That's how she felt herself, Jenny Offill said, but the more she looked into the issue, the more she saw a need for action on her part, too.

"I also was trying to see if there was a way to make it funny, because, you know, so much of the world of prepping and imagining disaster is actually sort of strangely funny."
The novel was shortlisted for the 2020 UK's Women's Prize for Fiction and has now been released in German translation.
Climate Activist With a Vision
But then, there is also this serious, scientifically based concern about what climate change means. In the past, says Offill, artists were the ones who would predict disasters; today it's the experts, as well as the students she teaches. In the end, their fears and their justified anger motivated her to take a closer look at the issue. Today, she is a climate activist herself, and is involved in initiatives along with many other artists.
Lizzie, the heroine of Weather, hasn't gotten that far. But she voices her fears, and that's a start. "Of course, the world continues to end," says Sylvia, a mentor of Lizzie's, at one point — and commences to water her garden. There is hope after all.
Reposted with permission from Deutsche Welle.
EcoWatch Daily Newsletter
A Shell oil drilling rig off the coast of Alaska in the Chukchi Sea on May 21, 2015. Orjan F. Ellingvag / Corbis via Getty Images
By Jake Johnson
A federal appeals court on Tuesday dealt the final blow to former President Donald Trump's attempt to open nearly 130 million acres of territory in the Arctic and Atlantic Oceans to oil and gas drilling.
Electric vehicles are the cars of the future. sl-f / Getty Images
By 2035, every new car and truck sold in the U.S. could be an EV, a new report says.
Accelerations in technology and especially battery affordability, paired with new policy, mean the dramatic transition would save American drivers $2.7 trillion by 2050, an average savings of $1,000 per household per year.
The ramp up in EV production would also create 2 million new jobs by 2035. Battery prices have fallen 74% since 2014, and their unexpectedly rapid fall is a key driver of the cost savings.
EVs are far simpler mechanically, and more efficient, than internal combustion engine (ICE) vehicles, which translates to reduced climate pollution and lower costs for consumers.
Strengthened vehicle efficiency standards and investment in fast charging infrastructure are needed to accelerate the transition, which would prevent 150,000 premature deaths and save $1.3 trillion in health environmental costs by 2050.
For a deeper dive:

The Guardian, Fast Company, E&E, Morning Consult, Canary Media

For more climate change and clean energy news, you can follow Climate Nexus on Twitter and Facebook, sign up for daily Hot News, and visit their news site, Nexus Media News.
The Gowanus Canal in Brooklyn, New York, a polluted nearly 2 mile-long waterway that is an EPA Superfund site. Jonathan Macagba / Moment / Getty Images
Thousands of Superfund sites exist around the U.S., with toxic substances left open, mismanaged and dumped. Despite the high levels of toxicity at these sites, nearly 21 million people live within a mile of one of them, according to the U.S. Environmental Protection Agency (EPA).
The National Weather Service station in Chatham, Massachusetts, near the edge of a cliff at the Monomoy National Wildlife Refuge. Bryce Williams / National Weather Service in Boston / Norton
A weather research station on a bluff overlooking the sea is closing down because of the climate crisis.
The National Weather Service (NWS) station in Chatham, Massachusetts was evacuated March 31 over concerns the entire operation would topple into the ocean.
"We had to say goodbye to the site because of where we are located at the Monomoy Wildlife Refuge, we're adjacent to a bluff that overlooks the ocean," Boston NWS meteorologist Andy Nash told WHDH at the time. "We had to close and cease operations there because that bluff has significantly eroded."
Chatham is located on the elbow of Cape Cod, a land mass extending out into the Atlantic Ocean that has been reshaped and eroded by waves and tides over tens of thousands of years, The Guardian explained. However, sea level rise and extreme weather caused by the climate crisis have sped that change along.
"It's an extremely dynamic environment, which is obviously a problem if you are building permanent infrastructure here," Andrew Ashton, an associate scientist at Cape-Cod based Woods Hole Oceanographic Institution, told The Guardian. "We are putting our foot on the accelerator to make the environment even more dynamic."
This was the case with the Chatham weather station. It used to be protected from the drop into the ocean by about 100 feet of land. However, storm action in 2020 alone washed away as much as six feet of land a day.
"We'd know[n] for a long time there was erosion but the pace of it caught everyone by surprise," Nash told The Guardian. "We felt we had maybe another 10 years but then we started losing a foot of a bluff a week and realized we didn't have years, we had just a few months. We were a couple of storms from a very big problem."
The Chatham station was part of a network of 92 NWS stations that monitor temperature, pressure, humidity, wind speed and direction and other data in the upper atmosphere, The Cape Cod Chronicle explained. The stations send up radiosondes attached to weather balloons twice a day to help with weather research and prediction. The Chatham station, which had been observing this ritual for the past half a century, sent up its last balloon the morning of March 31.
"We're going to miss the observations," Nash told The Cape Cod Chronicle. "It gives us a snapshot, a profile of the atmosphere when the balloons go up."
The station was officially decommissioned April 1, and the two buildings on the site will be demolished sometime this month. The NWS is looking for a new location in southeastern New England. In the meantime, forecasters will rely on data from stations in New York and Maine.
Nash said the leavetaking was bittersweet, but inevitable.
"[M]other nature is evicting us," he told The Cape Cod Chronicle.