This website uses cookies to ensure you get the best experience while browsing it. By clicking 'Got It' you're accepting these terms.
3 EV Trends This Car-Buying Season
Mar. 26, 2014 02:33PM EST
Business
Springtime is the time of year where we start to see the first signs of growth; the green shoots of what will turn into a verdant garden or a bountiful harvest. As the first quarter of 2014 comes to a close, we are seeing some encouraging signs that both electric vehicle sales and their benefits will continue to grow this year.
Fuel cell vehicles are coming
Toyota and Hyundai will be rolling out their new fuel cell vehicles within a year. Hyundai's hydrogen-powered SUV will be leased in Southern California starting this spring and Toyota will follow with a sporty sedan in early 2015 in "significant numbers," according to the manufacturer.
Hydrogen fuel cells marry the advantages of clean, efficient electric vehicles with the convenience of fast refueling. Hydrogen made today from natural gas gives about the same total emissions per mile as charging a plug-in vehicle with electricity generated from natural gas. But hydrogen can (and will, based on California's renewable hydrogen requirements) also be made from renewable sources like biomass and solar power, so in the future hydrogen-powered vehicles will be even cleaner.
A key advantage of hydrogen fuel cell vehicles is that they can be refueled at a filling station in a short time. This means that drivers who would rather not plug in a battery electric car can still use a clean electric motor to get around. The filling time is about the same as a gasoline vehicle, about five to ten minutes for a 300-mile range.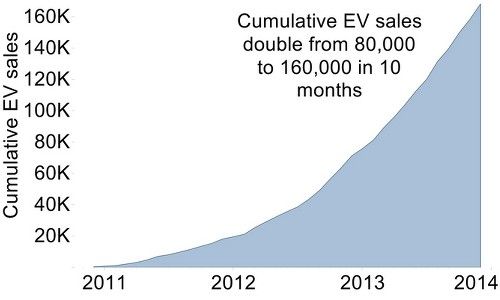 EV sales doubled in 2013 and more plug-in models are on the horizon
Sales of EVs, including both plug-in hybrids and battery electrics, continue to rise. More than 90,000 EVs were sold in the U.S. in 2013—more than double 2012 EV sales. In California, sales of EVs also increased more than 100 percent in 2013 compared to the previous year, and the state was home to nearly half (46 percent) of all new plug-in vehicles in the U.S. In 2013, plug-in cars were 2.5 percent of new vehicle sales in California.
Looking forward to 2014, new models of EVs will hit showrooms this year. BMW is already reporting significant interest in its upcoming battery electric i3 car and other EVs from Kia, Cadillac and VW are either in showrooms or on the way. As new models and types of electric vehicles become available, consumers will have more choices to reduce fuel costs and emissions than ever before.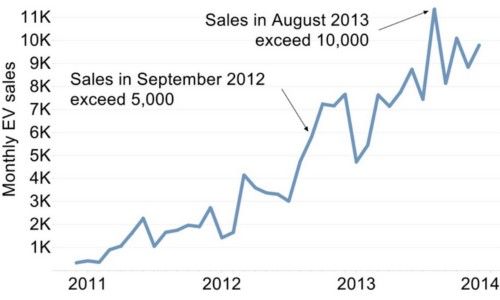 The benefits of electric vehicles are growing
Electric vehicles are reducing oil consumption and global warming emissions while saving consumers millions of dollars at the pump. Americans have purchased almost 170,000 plug-in vehicles in the last three years. These vehicles are avoiding the burning of 45 million gallons of gasoline per year and saving Americans over $100 million per year in avoided fuel costs.
Californians have saved the most, cutting $40 million in annual fuel costs and reducing emissions of carbon dioxide by 140 thousand tons per year.
If the spring's trends continue, these benefits will only increase.
———
Related Content:
EV and Hybrid Sales Surged by 84 Percent in 2013
How Tesla's Massive 'Gigafactory' Could Lead to 500,000 EVs Per Year
Electric Vehicles Vs. Hybrids: The Face-off For Distance, Efficiency and Reliability
EcoWatch Daily Newsletter
Tuna auctions are a tourist spectacle in Tokyo. Outside the city's most famous fish market, long queues of visitors hoping for a glimpse of the action begin to form at 5 a.m. The attraction is so popular that last October the Tsukiji fish market, in operation since 1935, moved out from the city center to the district of Toyosu to cope with the crowds.

gmnicholas / E+ / Getty Images
Kristan Porter grew up in a fishing family in the fishing community of Cutler, Maine, where he says all roads lead to one career path: fishing. (Porter's father was the family's lone exception. He suffered from terrible seasickness, and so became a carpenter.) The 49-year-old, who has been working on boats since he was a kid and fishing on his own since 1991, says that the recent warming of Maine's cool coastal waters has yielded unprecedented lobster landings.
Aerial view of lava flows from the eruption of volcano Kilauea on Hawaii, May 2018. Frizi / iStock / Getty Images
Hawaii's Kilauea volcano could be gearing up for an eruption after a pond of water was discovered inside its summit crater for the first time in recorded history, according to the AP.
The Eqip Sermia Glacier is seen behind a moraine left exposed by the glacier's retreat during unseasonably warm weather on Aug. 1 at Eqip Sermia, Greenland. Sean Gallup / Getty Images
hadynyah / E+ / Getty Images
By Johnny Wood
The Ganges is a lifeline for the people of India, spiritually and economically. On its journey from the Himalayas to the Bay of Bengal, it supports fishermen, farmers and an abundance of wildlife.
The river and its tributaries touch the lives of roughly 500 million people. But having flowed for millennia, today it is reaching its capacity for human and industrial waste, while simultaneously being drained for agriculture and municipal use.
Here are some of the challenges the river faces.
By Jake Johnson
As a growing number of states move to pass laws that would criminalize pipeline protests and hit demonstrators with years in prison, an audio recording obtained by The Intercept showed a representative of a powerful oil and gas lobbying group bragging about the industry's success in crafting anti-protest legislation behind closed doors.
Reposted with permission from our media associate Common Dreams.

DESIREE MARTIN / AFP / Getty Images
Wildfires raging on Gran Canaria, the second most populous of Spain's Canary Islands, have forced around 9,000 people to evacuate.