This website uses cookies to ensure you get the best experience while browsing it. By clicking 'Got It' you're accepting these terms.
24 Fruits and Veggies That Will Add Years to Your Life
Sep. 14, 2015 12:57PM EST
Food
It may come as a shock to regular readers of health publications, but there is no such thing as a superfood. While sensational headlines are full of magical foods that can transform your life, no particular food can cure a disease unless your disease is caused by the lack of a particular nutrient a particular food may contain.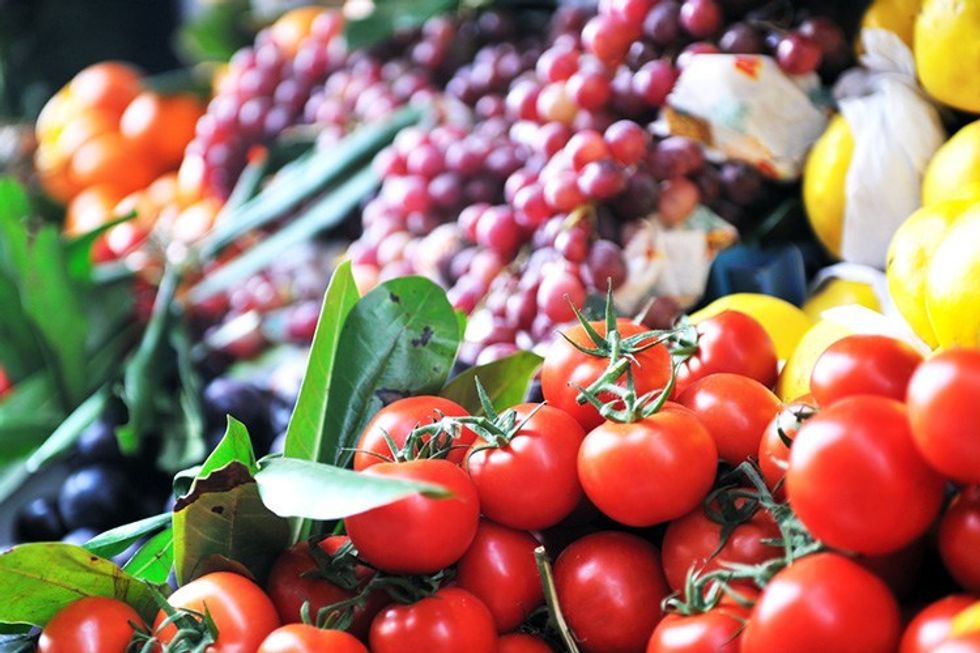 Real foods, on the other hand, contain all the valuable macro- and micro-nutrients that make them essential to maintaining your well-being. Fruits and vegetables, no surprise, top the list of real foods we should be eating plenty of. Photo credit: Shutterstock
Scurvy, for instance, which is caused by a lack of vitamin C, might be cured by consuming oranges. No single food will add years to your life, make you jump higher, melt your body fat, erase your crow's feet or smooth your cellulite. Scientific studies have shown us that no particular diet, be it high-protein, low-carbohydrate, vegan, paleo, low-fat, gluten-free, low-glycemic, dairy-free or any combination thereof is the best diet. Rather, it seems the magic bullet is choosing a variety of real foods and avoiding processed foods as much as possible. Eating a diet rich in a variety of the right foods will increase the odds in your favor of living a longer life free of chronic illness.
Processed foods are all the products you find in your supermarket, mostly in the middle aisles, packaged in jars, cans, boxes and other assorted containers. While the long list of additives in these foods will not, for the most part, harm you (unless you have a particular allergy), these foods do not contain the nutrition that real foods, the ones you usually find on the perimeter of your supermarket, contain. Processed foods, in order to preserve them and fit them into packages, have had vital ingredients removed and then, to make them taste better, usually have had loads of sugar and salt added back in. Real foods, on the other hand, contain all the valuable macro- and micro-nutrients that make them essential to maintaining your well-being. Fruits and vegetables, no surprise, top the list of real foods we should be eating plenty of.
Here are 24 fruits and vegetables that you should consider including in your diet:
Fruits
1. Raspberries
Raspberries are rich in quercetin and gallic acid, which are flavonoids linked to healthy heart function and they provide protection against obesity. Raspberries have also been shown to promote healthy cell life and regulate normal cell death.
2. Oranges
Oranges are high in vitamin C, a powerful antioxidant that helps protect the body against free radicals, which are roaming atoms with an unpaired electron. Free radicals can damage cells. Vitamin C renders free radicals harmless by pairing off the free electron. Oranges also contain a flavonoid called herperidin, which is contained in the white part of the orange peel. Hesperidin has been shown to help regulate blood pressure.
3. Bananas
Technically an herb, not a fruit, the banana is a terrific source of potassium, which is essential to good cardiovascular health. Bananas also help the body absorb calcium and are a great source of vitamin B6, which helps the body produce serotonin, a brain neurotransmitter that can help stave off depression.
4. Kiwi
Kiwi has even more vitamin C than oranges, along with vitamin E and other antioxidant nutrients. This along with potassium, fiber, magnesium and zinc make kiwi a nutritional powerhouse.
5. Pomegranates
Another fruit rich in vitamin C, pomegranates have the additional appeal of being low in calories. They also contain a host of polyphenols, which are micronutrients linked to a possibly reduced risk of cancer.
6. Grapefruit
Grapefruits are low in calories, high in vitamin C and other nutrients that help support clear skin, regulate digestion and strengthen cardio health.
7. Tangerines
Like oranges, tangerines are loaded with antioxidants, only more of them. Add to this plenty of soluble and insoluble fiber to help support weight management and digestive health and tangerines are an excellent food choice. Not only this, but they contain lutein and zeaxanthin, nutrients that support eye health and flavonoids that may lower your risk of type 2 diabetes and cardiovascular disease.
8. Blueberries
Blueberries are blue due to the presence of a natural plant chemical called anthocyanin, a powerful antioxidant that may help enhance vision health, regulate blood sugar and improve memory function.
Vegetables
9. Eggplant
Eggplant contains a host of phytochemicals that help support health, chief among them chlorogenic acid, which is one of the most powerful antioxidants found in our foods.
10. Avocado
Forget the myth that the avocado is a fat bomb. In truth, the avocado contains almost 20 vitamins and minerals and the fat it contains is the good kind that actually lowers your cholesterol levels.
11. Tomato
Tomatoes are a nutritionally potent fruit disguised as a vegetable. They are chock-full of a phytochemical called lycopene, which appears to protect cell DNA and is believed to act as a powerful anti-carcinogen.
12. Mushrooms
This delicious fungi contains ergothioneine, an antioxidant that may help fight off cancer. Additionally, mushrooms are high in vitamin D and riboflavin.
13. Fennel
Fennel has a variety of antioxidants and nutrients, as well as a phytonutrient called anethole that may help ward off chronic disease by reducing inflammation.
14. Garlic
This little bulb packs a nutritional wallop. Garlic has anti-viral qualities, sulfur-containing nutrients that aid in immunity and joint health and properties that aid in cardiovascular protection.
15. Broccoli sprouts
Broccoli sprouts are tiny little powerhouses that help support the lungs, skin, kidneys and liver, are rich in plant chemicals that may help fight cancer and have antioxidant properties to boot.
16. Kale
Kale seems to be the food fad of the moment, but it is no joke. Like tangerines, kale is rich in lutein and zeaxanthin, which support eye health, as well as various micronutrients that support bone health and may help lower cancer risk.
17. Swiss chard
Swiss chard is like a leaf that's been working out in the gym: It contains vitamins A, C, E, K, the Bs, calcium, potassium, fiber, zinc, selenium and choline.
18. Sweet potatoes
Sweet potatoes have a load of vitamin A to support eye health as well as sexual health. They also have a powerful antioxidant called glutathione, which is thought to enhance your immunity to disease, Lots of B vitamins, potassium and fiber, too.
19. Spinach
Spinach is a great green veggie source for folate, which is essential for developing fetuses. Also, an excellent source of vitamin A, iron, potassium, zinc, calcium and selenium. Good for cell protection and thyroid function. And makes you strong like Popeye.
20. Cauliflower
Cauliflower is chock-full of nutrients that can help fight cancer. Combined with turmeric, a spice used in many Indian dishes, it has been shown to offer particular protection against prostate cancer.
21. Collard greens
In the same family as broccoli and Brussels sprouts, collard greens contain vitamin A to support eye, skin and tooth health. Like the rest of its family, it may be a potent cancer and cholesterol fighter.
22. Beets
In addition to a bevy of antioxidants, beets have nutrients that help lower your blood pressure and your bad cholesterol level.
23. Onions
Like the equally smelly garlic clove, onions contain sulfurous compounds that have anti-viral properties. They are also a good source of quercetin, which appears to be a powerful anti-inflammatory that can support your heart and reduce allergy symptoms.
24. Winter squash
The beta-carotene that gives this squash its orange color helps support eye health, protects against infections and may possibly ward off age-related illnesses like macular degeneration.
Larry Schwartz is a Brooklyn-based freelance writer with a focus on health, science and American history. 
YOU MIGHT ALSO LIKE
10 Probiotic-Rich Foods to Supercharge Your Diet
8 Health Foods That Can Harm You If You Eat Too Much of Them
EcoWatch Daily Newsletter
Biosolids are applied to fallow wheat fields to build healthy soils at Boulder Park, Washington. King County
By Sarah Wesseler
Talk of natural climate solutions typically conjures up images of lush forests or pristine wetlands. But in King County, Washington, one important natural solution comes from a less Instagram-worthy source: the toilets of Seattle.

A video shows a woman rescuing a koala from Australia's wildfires.
VOA News / YouTube screenshot
More than 350 koalas may have died in the wildfires raging near the Australian town of Port Macquarie in New South Wales, but one got a chance at survival after a woman risked her life to carry him to safety.
Jair Bolsonaro pictured at a presidential debate in Brasilia, Brazil June 6, 2018. REUTERS / Adriano Machado /
CC BY-NC 2.0
A healthy diet may reduce hearing loss later in life, according to a new study. PamelaJoeMcFarlane / E+ / Getty Images
Weight loss aside, there is no shortage of benefits to eating healthier: a lower risk of heart disease and cancer, reduced gut inflammation and preventing memory loss later in life, to name a few. A healthy diet may also reduce hearing loss later in life, according to a new study out of Brigham and Women's Hospital.
Tesla co-founder and CEO Elon Musk discusses vehicle dimensions in front of the newly unveiled all-electric battery-powered Tesla Cybertruck at Tesla Design Center in Hawthorne, California on Nov. 21. FREDERIC J. BROWN / AFP via Getty Images
Tesla just unveiled its first electric truck.
CEO Elon Musk showed off the new design at a launch event at the company's Design Studio in Hawthorne, California Thursday.